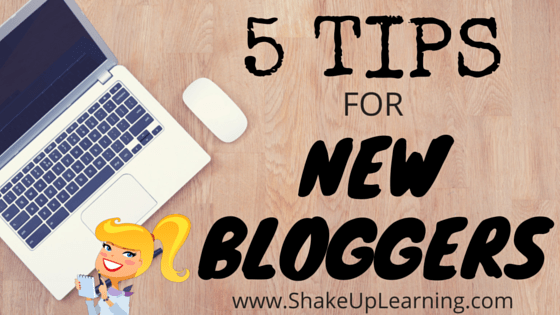 Blogging can be intimidating! There are so many amazing bloggers out there, and it is easy to talk yourself out of sharing your voice. But remember your voice matters! Everyone has something that is uniquely you to share with the world. Back in June, I shared my reluctant journey into blogging and issued a challenge to other educators holding back: The #ShakeUpLearning Challenge: Share Your Voice! I still consider myself a relatively new blogger. I am not an expert. I am still learning and growing as a blogger, but I think it is important to share what I have learned with my readers. Remember, the best bloggers are learners first, not writers! Sharing is caring! Below are my five tips for new bloggers.
1. It's Worth the Risk!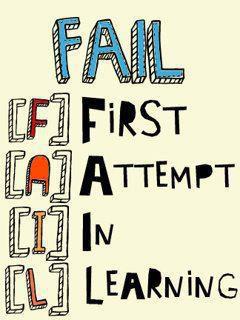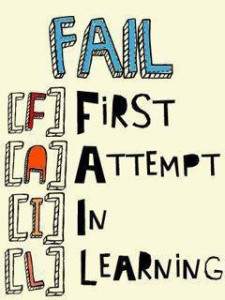 F.A.I.L.
Here is a link to my first blog post: A Perfectionist with Paralysis: Why I'm Finally Blogging. It was not a long post and didn't include any tips or tricks, but just me putting myself out there. I took a risk, just like I encourage teachers to do in my workshops. I had to model the skills or risk becoming a fraud. So I did it, and just like the graphic in my first post, it was a F.A.I.L., or First Attempt in Learning. (I still love that acronym!) I wasn't sure where this was going, but I was all in!
Don't wait until your blog is perfect. Perfect is the enemy of done. Just jump in and put your words out there.
2. Educational Bloggers and Blog Readers are Caring and Supportive.
To be honest, I was very nervous when I hit publish for the first time. I really didn't want anyone to look at it until I had more content. (Terrible, I know!) I received my first comment the same day, which was also a little terrifying. The comment was encouragement from a friend. I'd like to send a special thank you to my friend and colleague, Dr. Brian Brown (Doc Brown), for leaving my very first comment and encouraging me to keep going.
This is the first thing you should know about becoming an educational blogger: We are a pretty nice crew! Now don't get me wrong, I've had my share of naysayers and trolls, but for the most part, I have felt fully supported and encouraged by my own PLN and beyond. Being a teacher is tough…We all know that! So I think we all appreciate those that are willing to share their tips and ideas. Sharing is caring people!–SERIOUSLY!
3. Set Realistic Goals.
When I first started, my goal was to post once a week. For the most part, I was able to stick with that and then some. Life gets busy, and if you let it, a blog can become a second job. Decide what is doable for you and your schedule, but set a goal to write on a regular basis. Be honest with yourself, and set reminders for drafting and posting so you don't forget your goals!
4. Let Passion Be Your Driver.
I am very much an edtech geek, and enjoy learning and sharing with teachers. My number one goal is always to improve teaching and learning. I want to be a difference-maker and reach as many students as I can…Oh! And I want to have lots of fun along the way!
Carefully consider the reasons you want to blog, and what topics you will blog about. Make sure it is something you can talk/write about for days on end. The moment blogging becomes a chore, take a step back and remember why you started it. Your blog should be about something you are passionate about, or you will never stick with it.
5. Encourage Reader Interactions and Be Social.
(So maybe this is three tips in one, but they are all connected.) Always remember, blogging IS a social media platform. Many people may not know this about me, but I am very much an introvert. Some days it can be a struggle for me to put myself out there, and to network face-to-face. It's definitely easier to do this online. So be sure that you ALLOW comments on your blog, and give readers a question or call to action to encourage them to leave a comment. This is something I am working to improve upon. So PLEASE feel free to leave comments! I try very hard to respond to all of the comments I receive.
In addition to being social on your own blog, If you want to start a successful blog that people actually read, you must be active on at least a couple social media platforms besides the blog itself. So get rid of your Twitter egg, and stop lurking. Join the conversation, join twitter chats, and share on other platforms that you like. You don't have to do them all, but do what works for you and share great content, not just your own. (I am a HUGE fan of Google+! Check it out, and connect with some AMAZING educators and communities. Here are 5 Reasons Educators Should Use Google Plus.)
What's holding you back? Did you take the #ShakeUpLearning challenge and start a blog? Did you keep posting? Please share in the comments below! I'd love to hear from you.
Kasey will be presenting at the following upcoming events:
© Shake Up Learning 2023. Unauthorized use and/or duplication of this material without express and written permission from this blog's author and/or owner is strictly prohibited. Excerpts and links may be used, provided that full and clear credit is given to Kasey Bell and Shake Up Learning with appropriate and specific direction to the original content on ShakeUpLearning.com. See: Copyright Policy.