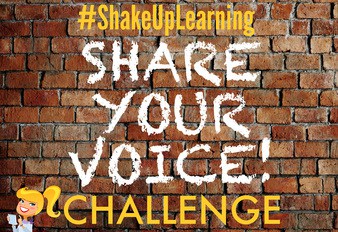 The #ShakeUpLearning Share Your Voice Challenge!Today, I am delivering a five-minute Ignite presentation at ISTE. The subject of my Ignite is my reluctant journey into blogging. Below is a summary of my presentation and a challenge for educators. Will you take the challenge?
---
A Perfectionist with Paralysis: Letting Go and Sharing Your Voice!
I didn't think my voice mattered. I didn't think I had anything original to share. Why would anyone listen to me when there were so many other amazing educational bloggers sharing resources online–doing it better than I ever could. Why would I want to leave my perfectly comfortable position as a lurker on the sidelines? What if I fall flat on my face? These were the thoughts that haunted me before I committed to becoming a blogger.
I had started a blog several times with the best of intentions. I spent countless hours researching the best platforms, templates, plugins, hosting options, and developing the perfect title for my blog–never satisfied with the results and never getting my feet off the ground. I would never be good enough. I was a perfectionist with paralysis.
When I was a classroom teacher, my students occasionally blogged. Now, as an instructional leader, I encourage teachers to blog with their students. However, I was not an example for them to follow. I let my excuses get in the way. I let my fear of rejection and failure hold me back. Feelings of inadequacy and rejection had immobilized me.
I wanted to launch my blog not only with the perfect content, but also with perfectly customized images and stellar resources and stand out in the crowd of educational bloggers. I wanted it to be EPIC from day one.
My blog will never be perfect, that was just an excuse. So, I decided to let it go and focus on another skill that I speak on almost daily: risk taking! So in January of 2014 (see my first blog post here), I took a risk and put myself out there, put my blog out there, imperfections and all. I finally decided to go all in. I had to overcome my fear of not being good enough. I no longer let my need for perfection, however unattainable, stand in the way of my contribution to the world.
First, let me tell you that educational bloggers and blog readers are VERY forgiving and supportive. The first time someone pointed to a mistake on my blog, I took it personally and would worry about it for days. But the more content I created, and the more support I felt from the community, the more my insecurities melted away. Yes, I made and still do make a lot of mistakes, but I have learned to let it go. Most of the time, criticism from fellow educators is handed out with a dose of kindness and compliments. We are very lucky to be in a community of educators that offer grace and overwhelming support for one another.
I never expected blogging to flip my career on its head, but it did! Honestly, I never thought about the community that I was joining or creating on my own until it was there. Educators began leaving comments, sharing their ideas and greatly expanding my personal learning network. I have connected with some of the most inspiring teachers in the world! I would not be standing before you today if it weren't for the support and encouragement of the educators who believed in me, and showed me the value of my authentic voice. My voice does matter! I do have something to contribute to the global educational community…and so do you AND your students!
I am not an expert. I am a learner, a learner first! We are all growing and learning together, and should always be first and foremost learners. And guess what? The best bloggers are learners, not writers. And the moment you begin sharing original thoughts, ideas and content for online, you have become an educational leader and example for your students and peers.
---
The Share Your Voice Challenge
Are you still sitting on the sidelines? This is my challenge to other educators that are like me: What are you holding back? What risks do you need to take to push yourself further, to push your students further? While I believe there is value in blogging for educators at any level, that may not be your calling. What are your God-given talents? What is your passion?  Be yourself and let your personality shine through everything that you do. Every single person in this audience has something unique to share, something that is authentically you, and other educators and students can learn from you.
We live in a connected world, where your voice can be heard if you want it to be. And guess what, the more we model connecting, curating and sharing our own unique passions for our students, he more likely they are to take a risk and share their own voice.
Every voice matters! Don't be afraid of failure, or let your need for perfection paralyze your contribution to the world. I invite you all to my blog, shakeuplearning.com, to take the challenge to Shake things up and Share YOUR VOICE!
If you are willing to accept the challenge and try something new like blogging to share your own unique voice and passions, leave a comment below and share the risk you plan to take. This risk may be blogging, or anything else you feel led to try. I've also created a badge for you to use on your website, blog, or wherever you like. Be sure to use the #shakeuplearning hashtag to share your journey on social media. I can't wait to see and hear from you!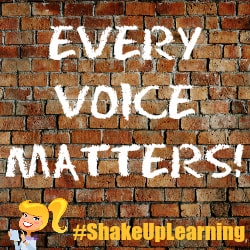 every_voice_matters_badge.jpg
File Size:
118 kb
File Type:
jpg
---
© Shake Up Learning 2023. Unauthorized use and/or duplication of this material without express and written permission from this blog's author and/or owner is strictly prohibited. Excerpts and links may be used, provided that full and clear credit is given to Kasey Bell and Shake Up Learning with appropriate and specific direction to the original content on ShakeUpLearning.com. See: Copyright Policy.