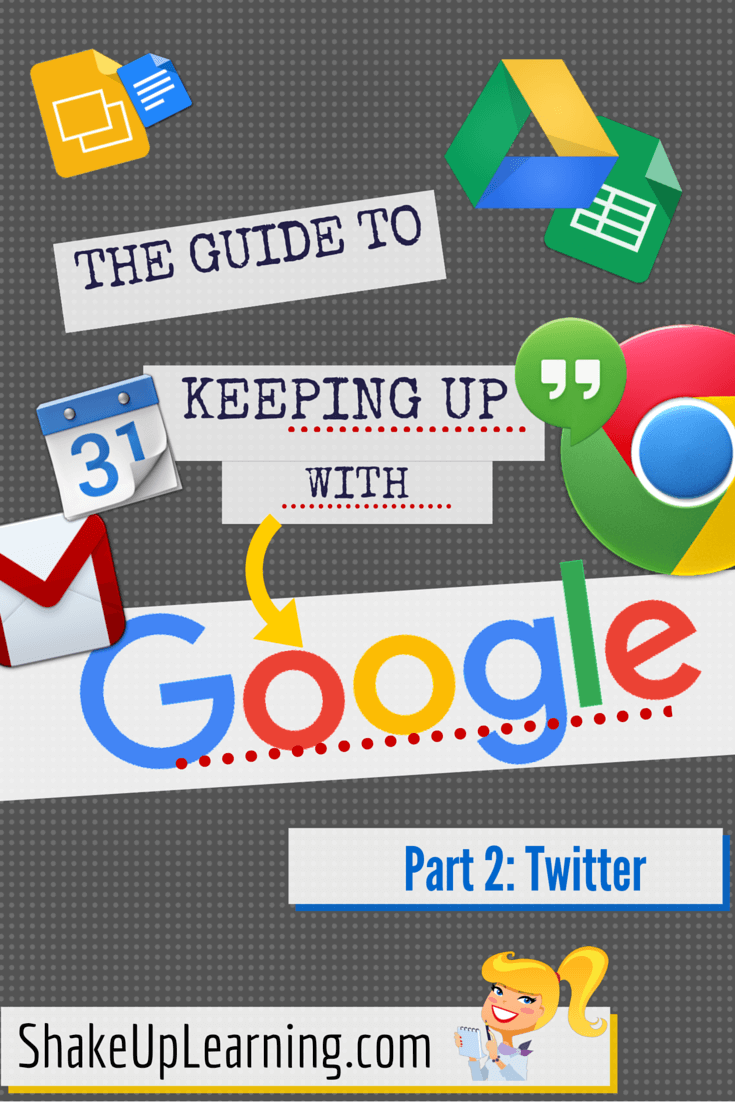 Keeping Up with Google!
As you probably know, keeping up with Google is a challenge for anyone. That's why I have put together The Guide to Keeping Up with Google! In Part 2 of this guide, I am going beyond the hashtags to share who I follow on Twitter for all things Google. Twitter is a fantastic resource for learning and is a mainstay of my PLN. Below are some of my favorite Google enthusiasts to follow on Twitter, as well as some of Google's very own twitter accounts and Googlers, where they share the latest updates and tips. There are more than 50 Twitter accounts on this list! Follow these accounts on Twitter to find the latest Google Apps for Education resources, ideas for classroom application, tutorials, and more!
Did you miss the other parts in this series?
Click here to access the entire blog series on Keeping Up with Google!
[Tweet "The Guide to Keeping Up with Google – Part 2: Twitter"]
Google has several official twitter accounts, and I have shortened that list to the ones that I find the most useful in education and in my personal use of Google Apps and products. As I said before, find what is most useful for you in this list!
[Tweet "Are you following all the Google Accounts on Twitter?"]
Official Google Twitter Accounts:
Want more? Click here to explore the entire Google Twitter directory.
---
The Official Googlers
In case you didn't know it, when someone is referred to as a "Googler," it doesn't mean they have mad search skills, it means they work for Google. The official Googlers have a lot to offer across social media! Here are some official Googlers, including the new CEO, product presidents and managers, members of the Google for Education Team, and more (in alpha order):
[Tweet "Follow these official Googlers on Twitter to stay up to date on Google!"]
---
Organizations and Companies to Follow for All Things Google:
---
MVP #GAFE and #Google Tweeters
There are so many great educators to follow on Twitter that this list could go on forever. And trust me, I tried to find the best of the best for you! These are my MVPs for Google info on Twitter, listed in alpha order. Please share your favorites in the comments below! I'm sure there are many more to add to this list!
---
Be sure to explore all parts of this series: The Guide to Keeping Up with Google!
---
Who do you follow on Twitter to stay up-to-date with all things Google? Please share in the comments below!
© Shake Up Learning 2023. Unauthorized use and/or duplication of this material without express and written permission from this blog's author and/or owner is strictly prohibited. Excerpts and links may be used, provided that full and clear credit is given to Kasey Bell and Shake Up Learning with appropriate and specific direction to the original content on ShakeUpLearning.com. See: Copyright Policy.