In this episode, Kasey follows up with a former on-air coaching guest, Vicki Heupel. Vicki shared in
episode 26 her struggles with making collaboration meaningful.
Listen in to hear how she took Kasey's advice and took her lesson to the next level.
Her students are collaborating, thinking critically, and using Google Sheets!
How do you facilitate collaboration with your students?
Do they discuss? Do they think critically?
Listen to this article.
Take Student Collaboration to the Next Level
Vicki has been teaching high school science in Big Fork, Montana for the past 25 years. Her experience as a veteran teacher provides an idea-packed episode. There is guaranteed to be an idea to help any teacher incorporate more meaningful collaboration in their classroom. 
After Vicki talked with Kasey on-air in episode 26, she went to work making changes to her digestive system lesson plans. For two years Vicki has been reflecting and making changes to this lesson. As her thinking has evolved she has also incorporated new classroom systems to support collaborative work. 

Learning When to Make Changes
All teachers know that our students can often teach us as much as we're teaching them. Vicki made changes to her original lesson based on her conversation with Kasey. But she also learned a lot from her students. 
She spent time going back through the original questions Kasey asked during their coaching call to help reflect on the changes. Through her reflection process, the goal, as well as her thinking, changed. Originally, Vicki thought she needed to add collaboration. However, she began to see that students were not producing thoughtful answers that supported their claims based on the data they analyzed. 
Changing the Goal
With this discovery, Vicki realized that students were only seeing their data, whereas she was seeing all the data. This gave her the idea that students needed to submit their data in a spreadsheet so every student in the class could see all the data being collected. This gave students a much larger picture to look at for analyzing the data and digging deeper into it.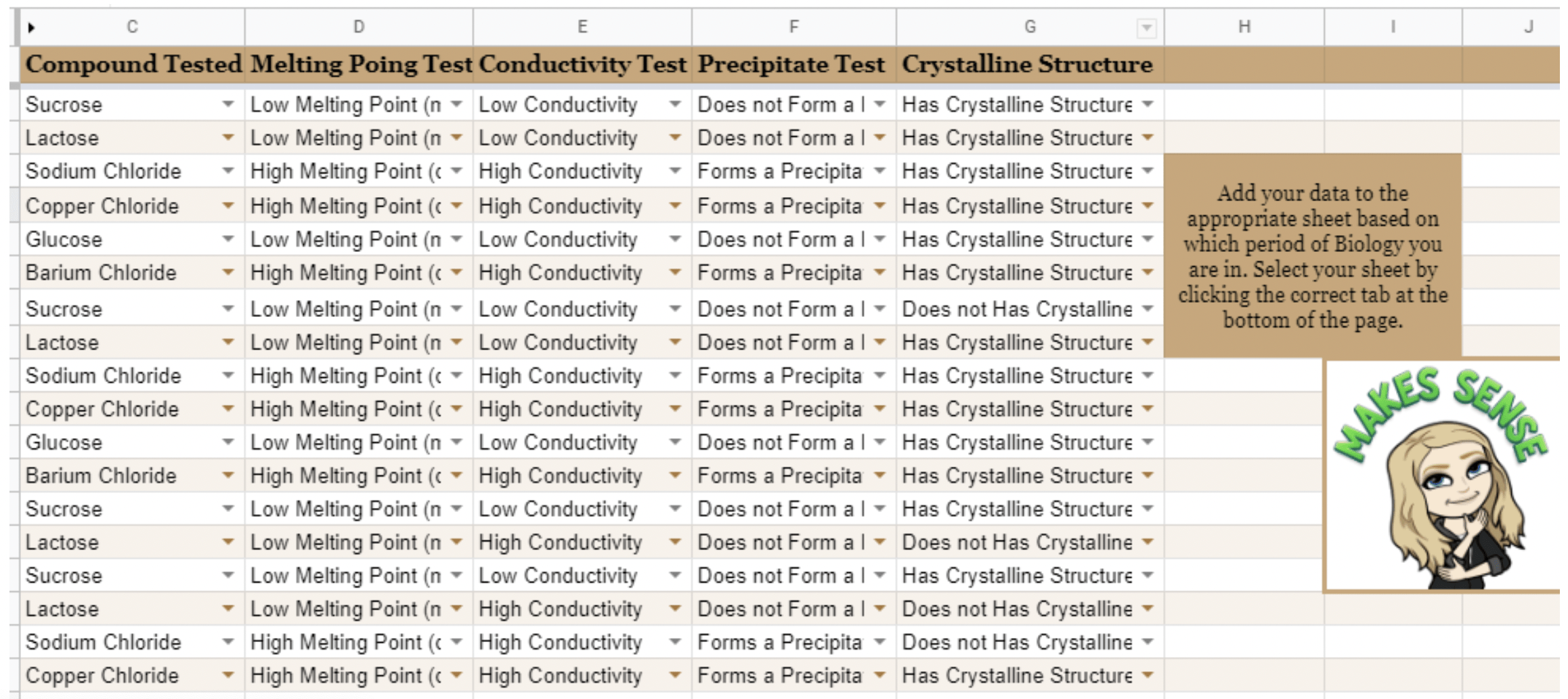 Sharing on the Google Sheet wasn't enough. Vicki decided what students really needed was time to work with her in small groups. This gave her the opportunity to explicitly teach the process of analyzing data. Posing specific questions to show students what critical thinking looks like. Small group instruction also gave her the chance to ensure all of her students were understanding the process. 
This teaching method allows Vicki to model noticing and wondering. She can think aloud then ask specific, yet leading questions to draw more critical thinking from her students. Providing this time for students to think, talk, and collaborate was exactly what they needed to write deeper answers. 
Learn more about how Vicki uses Google Sheets for Collaboration here.

Thinking About Collaboration
Often teachers, like Vick ishares, initially think about collaboration as an action, something for kids to do. After reading an Edutopia article, Vicki realized that she was asking her students to collaborate more than she originally thought. According to this same article, 5 Strategies to Deepen Student Collaboration, classroom collaboration should be used for complex or time-consuming tasks. The kind that requires multiple minds working together giving multiple perspectives. There are four other strategies shared in the article, which Vicki used to evaluate her own use of classroom collaboration. 
Reflecting on her practices, Vicki discovered the power of station work in the high school classroom. Having students work through stations gave students a chance to reinforce teamwork skills and continue to teach content. Stations also freed Vicki to work with small groups of students allowing them to discuss their findings in more depth and come to a consensus. 

Adding Support
One of the best parts about small group instruction is the individualized learning that teachers can provide for their students. Vicki shares that she helped her students by directing their thinking with sentence starters. This opened their eyes to trends they weren't seeing on their own. Working in small groups also provides a safe space for quiet, more reserved students to share ideas. 
Vicki also talks about how this process helps kids make connections in their English classes. Defending their claims with evidence is the same process for writing arguments. The terminology is all the same giving kids a strong knowledge base for both subjects. 
Another support for students came through a personal conference Vicki held. She shares how one student struggled to write specific answers rather than vague generalizations. Providing that extra one-on-one teaching gave that student and Vicki more confidence. The more teachers practice new teaching strategies the more confidence they gain to continue building these strategies as part of their routines. 
The advice that Vicki shares shows how modeling for students was one of the best changes she made to her teaching practices. Giving students someone to think with has made all the difference. 
About Vicki Heupel
Twitter: @33heupel
Website: https://sites.google.com/view/heupel/home
Location: Kalispell, Montana, United States
Title: High School science teacher
School District/Campus: SD #38/ Bigfork High School
My name is Vicki Heupel (hi-pull). I am a high school Science teacher in Bigfork, Montana. My husband and I have been married 20 years & have 2 high school boys. I have been teaching for 25 years and I currently teach high school Biology, Forensics, and Astronomy. I originally got into teaching because I wanted to create high school science classes that gave students to more opportunities to engage in the doing of science. More experiments, more building, and more hands-on learning. Google Certified Educator Level 1
© Shake Up Learning 2023. Unauthorized use and/or duplication of this material without express and written permission from this blog's author and/or owner is strictly prohibited. Excerpts and links may be used, provided that full and clear credit is given to Kasey Bell and Shake Up Learning with appropriate and specific direction to the original content on ShakeUpLearning.com. See: Copyright Policy.