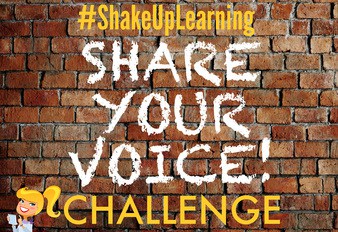 Last summer I posted the Share Your Voice Challenge during my ISTE Ignite presentation, encouraging other educators to share their unique voices online via blogging, podcasting, or other mediums. (See the original #ShakeUpLearning Share Your Voice Challenge posted here.) Since I have the privilege of doing another Ignite-style talk at the 2016 TCEA Conference, I want to check-in to see what progress you have made in sharing your voice, your stories, and your learning online.
If you missed the original post, go back and check it out. It is my story, my fears and my decision to start blogging and share my voice with the world. I didn't think anyone would ever read this blog! Don't let your fears hold you back from sharing your authentic voice. Every single one of you has something unique to share, and other teachers can learn from you. There is even a badge for you to show your commitment to this challenge.
[Tweet "What risks are you taking in 2016 to push yourself further, to push your students further? #shakeuplearning"]
So this is the check-in for those that decided to stop lurking and share your voice. I know many of you started a blog after the challenge was issued, so how's it going? Have you continued to blog, to share your voice? What risks are you taking in 2016 to push yourself further, to push your students further? Please share in the comments below.
Looking to get started with blogging? Here are 5 Tips for New Bloggers.
---
© Shake Up Learning 2023. Unauthorized use and/or duplication of this material without express and written permission from this blog's author and/or owner is strictly prohibited. Excerpts and links may be used, provided that full and clear credit is given to Kasey Bell and Shake Up Learning with appropriate and specific direction to the original content on ShakeUpLearning.com. See: Copyright Policy.