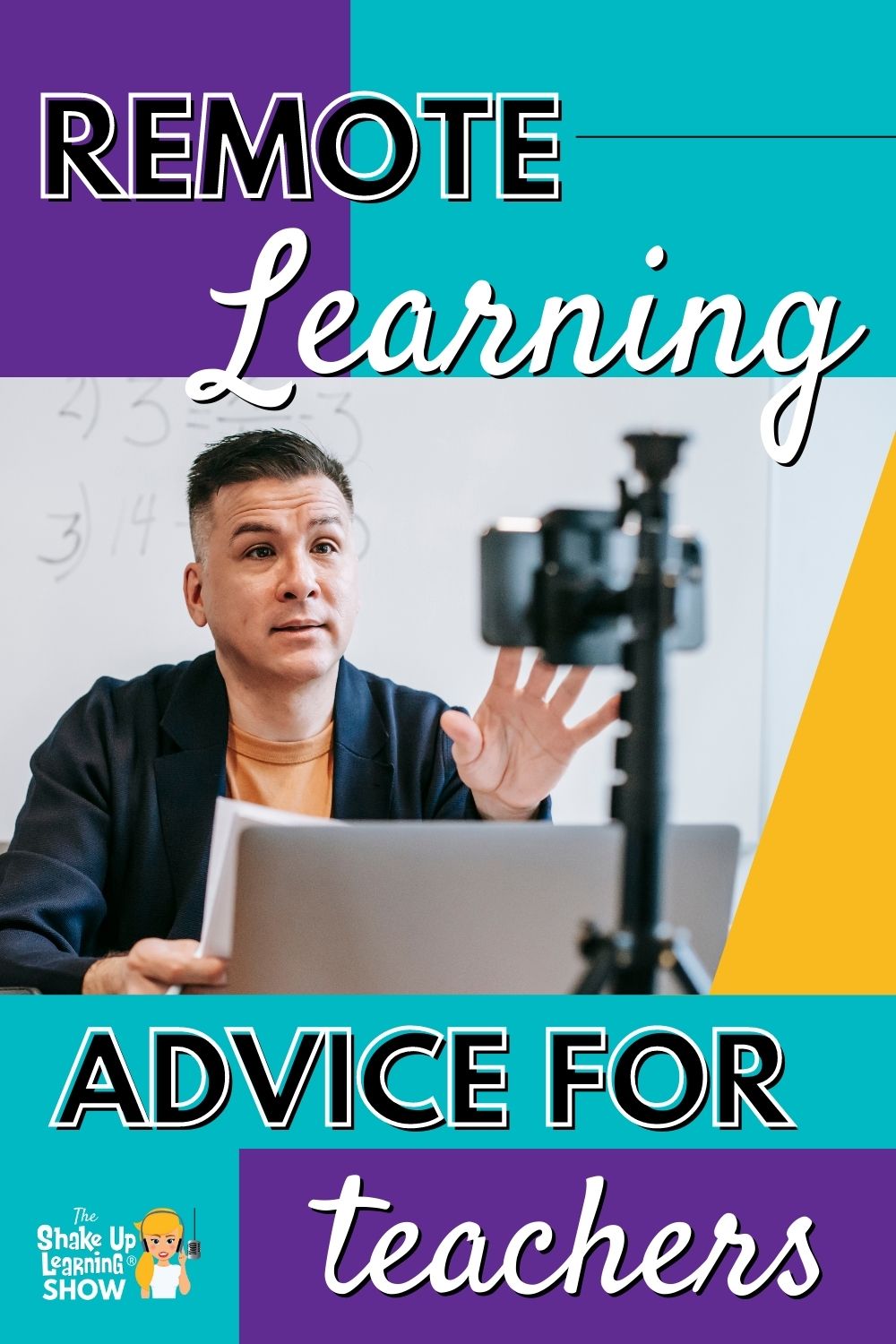 In this episode, Kasey chats with Shake Up Learning Team member Jen Giffen about remote learning.
As many schools face staff shortages and need to go remote, let's get some teaching advice to help make the most of remote learning.
Jen offers practical ideas and tips that will help you teach remotely!
Jen works as a teacher-librarian in Canada, just north of Toronto.
She's been an educator for 21 years and has worn many hats, some of which include an EdTech specialist, an English teacher, and a high school librarian. 
Listen to this article.
Remote Learning Advice for Teachers
When the pandemic hit in mid-March Jen's school went into asynchronous learning. At the time she was working as a teacher-librarian, her first year in this position, so navigating that online was tricky. The need for tech support was in high demand and that became her role. 
In year two of the pandemic, Jen's district shut down all of the libraries within the district and began a virtual school. This required more staff so Jen became an English teacher once again. This current school year is working as a hybrid model allowing Jen to be back in the library again supporting in any way possible. However, with the climb of illness, the government and district have been working on making school a safer place to be. To do this they went back into remote learning after the winter break. So Jen has experienced a lot of in and out of school throughout this pandemic situation. 


What the Pandemic Taught Us
In the first round of shutdowns and remote learning, many educators scrambled to make the best out of a completely new situation. Some Northern schools had started the use of virtual days rather than taking calamity days completely off. Now that so many teachers have the experience of teaching virtually many schools have kept this option for when severe weather strikes. 
Having been through a round of virtual teaching many educators are now more equipped to understand what has worked and what will not work. They are much more familiar with the tools they can use and students are more experienced with the tools as well. 
Making a quick shift with digital tools is easier for many teachers. It seems that many teachers have begun using more digital tools in their in-person instruction as well. Jen shares how she feels that teachers are utilizing digital tools in a way that now goes beyond substituting paper for computer. 
Jen also shares how the digital divide has become more apparent. Understanding which students need more tech support allows teachers to make quick pivots because they now know which questions to ask students. Students have also become more proficient with the tech needed for remote learning. 


Best Advice
Jen took to Twitter to gather advice from colleagues and here's what they all had to share. 
1. Slow Down
During a period of remote learning, timing is going to take much longer. There are also likely situations where older siblings may need to babysit younger siblings. Or perhaps younger siblings are in need of help from an older sibling who isn't available. Checking in with students to learn about their situation is important. 
2. Routines
Utilize your LMS for establishing a schedule for the week. Slides Mania is a great place to snag a free template for schedules. When it comes to creating an assignment schedule consider your learners. Chunking assignments that will take several days to complete can be helpful. 
Communicate with students about how you've organized the LMS page for them. Jen shares an example where her students shared that they were only looking in the Google Classroom To-Do List rather than taking a look at the stream or classwork page. Helping students understand how to navigate the LMS.


3. Making Connections
Allow students to chat with each other. Socializing for the younger students who may not own devices for doing this on their own time. Kids need a chance to talk with their classmates. Perhaps even add a time to meet on video with students for help or casual conversation.  
4. Have Fun
Consider the ways that you can interact with students while teaching through video conference. Engage in ways that can be used in both the classroom and online. 
In this season, while teachers are continuing to move in and out of comfort zones and overwhelmed in so many ways, continue to support each other. Sharing what you're learning through this season helps others. Continue to connect with other teachers on all the social media platforms and of course here on the podcast. 
About Jen Giffen
Jen is a Teacher Librarian and EdTech Consultant. She has an M.Ed. from the University of Toronto and a specialist in Education Technology. Google Innovator, sketchnoter, podcaster, and dad joke aficionado, Jen seeks to ensure learning is authentic and relevant, especially for struggling students.
Current Certifications: Google Certified Educator Level 1, Google Certified Educator Level 2, Google Certified Trainer, Google Certified Innovator, Apple Teacher
Jen's most popular presentations topics: Sketchnoting, Google tools, keynotes, and Flipgrid
© Shake Up Learning 2023. Unauthorized use and/or duplication of this material without express and written permission from this blog's author and/or owner is strictly prohibited. Excerpts and links may be used, provided that full and clear credit is given to Kasey Bell and Shake Up Learning with appropriate and specific direction to the original content on ShakeUpLearning.com. See: Copyright Policy.