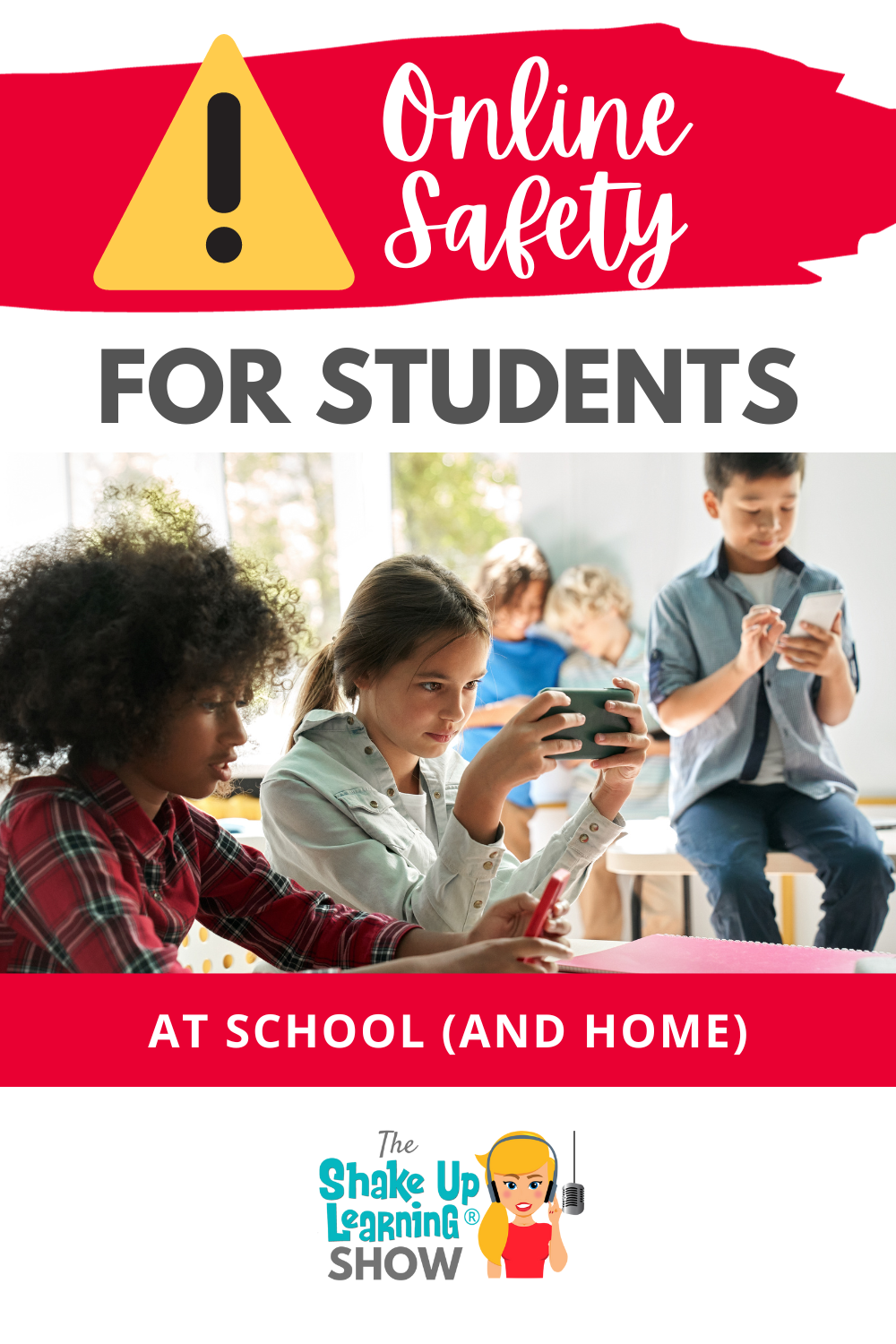 In this episode, I'm chatting with Chris McKenna, the founder of Protect Young Eyes.
Chris has some powerful insights into the effects of the online world on kids.
It's not their fault.
It's hard being a kid in this world.
Kids are faced with adult-level content, technology addictions, and distractions like never before.
Find out why Chris thinks that cell phones don't belong in schools, why we should delay access, and how to better protect our students (and children) in a technology-driven world.
Listen to the full podcast episode.
Online Safety for Students at School (and at home)
Online safety for children is a very important topic and something that many teachers, school leaders, and parents will find helpful.
Chris McKenna has some fascinating information that will help us better prepare students for the future and protect them online.
As a teacher and parent, I have felt called to do more to help protect our children.
While exciting and shiny, technology has also led to some disturbing behaviors, mental health problems, and addictions in children.
As an edtech advocate, I don't want to ignore the elephant in the room but bring the essential topics to the forefront so we can do what's best for kids.
While I want to use technology for good (and to improve learning and engagement), I also want us to be aware of what is happening to our students.
What is Protect Young Eyes?
PYE shows families, schools, and churches how to create safer digital spaces. They do this through their website resources, presentations, and a private learning community where you can "go slow" and learn with other like-minded families and schools #delayistheway.
*Related: 10 Reasons to Think Before You Share Photos of Children Online
Classroom Behaviors
Many teachers are leaving the classroom because of unprecedented student behaviors. Some believe these behaviors are at least partly due to the tremendous amount of time spent on screens, games, and disconnected from human interaction and regulating their emotions.
Teachers who have been teaching for decades will tell you that kids now are different. Their behavior is different. Their emotions are different. Their mental health is different.
Chris believes it is tremendously difficult for most children to use technology that wasn't built for their developing minds.
Chris suggests that we delay as much as possible–technology introduction, giving kids their own devices, and especially giving kids access to things like social media.
"There are very few children that I want to put into any digital space and just say "good luck," because none of them were designed with them in mind" – Chris McKenna.
It's Not Their Fault
Our first response to kids struggling to put away their phones and devices should be, "It's not your fault."
The fourteen-year-old version of most of us would do the exact same thing.
Chris says we should know and understand that while teaching kids today is tough, it's even more challenging to be a kid in today's world.
*Related: Protecting Students in a Digital World
Get Phones Out of Schools
In an article from The Atlantic by Jonathan Haidt, he says, "They impede learning, stunt relationships, and lessen belonging. They should be banned."
Many teachers believe they are competing with phones for their students' attention.
Chris says he could write an entire book based on the Instagram comments from teachers about the article (embedded below).
View this post on Instagram
Balance Risk and Reward
Only when technologies are held to different standards and guidelines for children, like many other countries outside the U.S., and there are harsh penalties for non-compliance, Chris believes that the risks that technology presents to our most vulnerable are not worth the reward.


10 Best Practices for a Tech-Ready School
Chris has ten best practices for a Tech-Ready School:
Create a technology purpose statement.
Use a classroom implementation model.
Create age/grade learning outcomes or standards.
Execute a balanced professional development plan.
Use a student code of conduct or acceptable use policy.
Implement and oversee a robust school network monitoring program.
Implement an incident response system.
Incorporate a digital wellness curriculum for students.
Provide digital wellness education for families.
Implement an "away for the day" personal device policy.
Continuous Improvement
Significant changes do not happen overnight. We must continue to learn, research, and implement best practices to do what's best for our students and children.
What conversations need to happen in your classroom? in your school?
Leave a comment below with your thoughts.
About Chris McKenna
Former consultant and youth ministry director. Author of resources for families and churches on digital safety and pornography. His 2019 US Senate testimony catalyzed new online child protection laws and earned PYE the Dignity Defense Alert Award. Now an advisor to legislators and global tech companies on policies and feature improvements. The PYE team performs hundreds of presentations globally and was featured in the Childhood 2.0 movie. Chris is married to Andrea, enjoys family road trips, nature, running, and candy, and is a father to four.
© Shake Up Learning 2023. Unauthorized use and/or duplication of this material without express and written permission from this blog's author and/or owner is strictly prohibited. Excerpts and links may be used, provided that full and clear credit is given to Kasey Bell and Shake Up Learning with appropriate and specific direction to the original content on ShakeUpLearning.com. See: Copyright Policy.