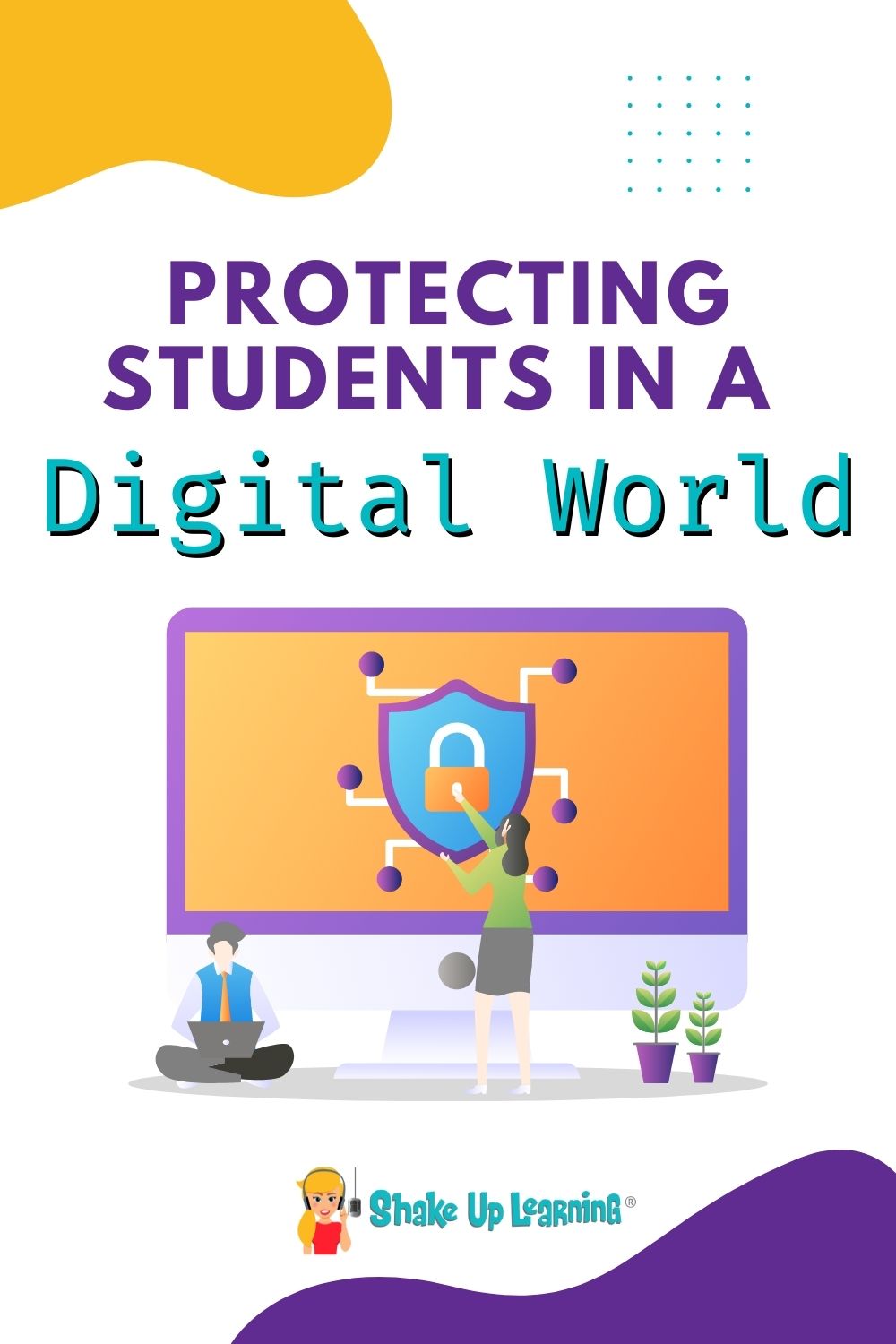 In this episode, Kasey chats with noted education technology author, podcast host, and edtech CEO, Al Kingsley. Kasey and Al discuss how to protect students online and the ever-growing need for digital citizenship skills.
He's been in edtech for more than 30 years and has written and spoken extensively on student privacy and security, from enabling active, life-saving student interventions to data security and personal privacy. 
Listen to this article.
Protecting Students in a Digital World
It's a Triangle, Not a Line
Most people recognize, Kingsley says, the fine line between privacy and security for students. 
We want teachers to know, for example, if a student is trying to access inappropriate, even dangerous online resources or if they're being bullied or in distress.  At the same time, we also understand that technology can be intrusive and unnecessarily restrictive. It's a fine line.
But, he says, that line isn't a line – it's more like a triangle. 
Kingsley says the most overlooked point in this discussion is that students spend much more time online, outside educational environments than they do in them. As such, whatever that security and intervention balance is inside an education technology setting, it's entirely absent or ambiguous, everywhere else. As such, educators have to prepare students to manage their own online activities and protect themselves. 
Education technology, Kingsley says, should do more than safely deliver education, it should educate students about using technology outside of education. 
According to Kingsley, those three points make up the safety, intervention, and responsibility triangle of online education technology.


Digital Risk
As educators, and perhaps parents, it's important to consider what data is being collected, who has access to it, where that data is being stored, and for how long it is stored. These elements help us to assess whether or not the risk for our children is too high to have their information in that digital space. 
We rarely think about how our adult professional and personal lives are captured in the digital world. It's become part of everyday life. However, with our children, there is a greater sense of caution when it comes to their digital lives. In the past few years, students' digital world has become amplified in the conversation about educational technology. Schools were forced to take risks in order to continue delivering a learning experience. 
Kingsley shares his enthusiasm for the rise of trying out new technologies, however, he makes the point that there should be a process in place for making choices about which programs to use. Teachers generally decide to use a tech tool for its pedagogical purposes. While this is a fundamental purpose, it's becoming increasingly important to also make choices based on the privacy protections that come with the technology. 
Communication and transparency are what Kingsley identifies as ways to help empower both educators and parents. Sharing the process for which technology tools are chosen to be used within a school district helps ease any frustrations that may be felt by teachers wanting to use certain tools. Parents' frustrations can be eased by sharing a compilation of core tools being used within a building or district. Understanding the markers of protection necessary for a tool to meet in order for the school to choose it can also help ease concerns by teachers and parents. 


Privacy with Video Conferencing
Kingsley recognizes that when the shift from in-person to online took place the immediate response was to simply put the technology in the teacher's hands to keep learning moving forward. Then there was a bit more to think about and many schools recognized the need for professional development in the logistics of using the technology. 
Unfortunately, for many schools, the need for sharing best practices for delivering learning through an online setting was either the last step in the process or not addressed at all. Many teachers were forced to figure it out on their own. 
When it comes to best practices with video conference teaching, Kingsley shares that each setting or situation can be different and should be considered when making decisions. It's also important for schools to have policies clearly stated and taught to their student bodies. Part of teaching students digital citizenship is the expectation of video conferencing etiquette. They should be mindful of their surroundings, what they're wearing, and the functionality of their computer and microphone. 
Kingsley makes a good point that educators include a student's digital footprint under the umbrella of teaching digital citizenship and it should also be included that they learn how to be physically present online. Basic behaviors are expected and taught inside the classroom so it should also be an expectation that there is a standard of behavior during video conference learning. 


Integrating Digital Citizenship Concepts
Whether we like it or not, digital life is part of our landscape. The children sitting in today's classroom will likely have professions that have yet to be created in this present moment. The narrative in the professional world is changing with the addition of metaverse and augmented reality. Kingsley shares his personal opinion about the balance of teaching knowledge and skills. He feels these two are often out of sync. Today, knowledge is readily available to almost everyone. However, the skills to obtain that knowledge and evaluate its authenticity require critical thinking. 
In the UK, children between the ages of 4 and 7 are learning basic concepts of interacting online much like they would be taught about engaging with strangers in person. Recognizing that physical safety correlates with interacting online. 
Other concepts being discussed at this early age include password safety and keeping personal information personal. Instruction about positive interactions with peers is also part of the early conversations. As children get older, the conversation transitions to online friendships and understanding the concepts of clickbait and phishing. 
Kingsley makes the point that often educators do not feel confident with these topics enough to empower their learners with this knowledge. He advocates for schools to establish a digital strategy or vision that begins with a foundation of protection for students and teachers. With the urgency of navigating learning through the digital world that these past few years has forced upon education, schools need to walk back to the start line of equipping their educators. 
These last few years have also amplified sharing in the digital world. Kingsley points out that if the world of education expects teachers to utilize a digital platform for enhancing and delivering learning then the safeguards to protect our students must also be included. 

Safety of Sharing
Kasey has talked often about students encountering a future opportunity that "Googles" them only to find negative or character damaging content online. So many people in modern society have become comfortable with living online that we often do not consider our safety. Kingsley shares that there is a balance to be established because technology does empower us. 
Kingsley points out that many schools, around the world, focus on the completion and level of academic success a child graduates from school with. This is great, but navigating their digital world, safely, is necessary for our 21st-century students. 
Introducing these concepts at a young age is incredibly important because children are living in a digital world outside of the classroom. Kingsley emphasizes how many schools having success with these concepts include student input. Allowing students to be involved in the delivery of some of the digital content and making it part of the broader school ethos shows great success. 
Lifelong Learners
Teachers are always learning as much or more than their students. Technology continues to evolve and be part of our classrooms. The pandemic alone has taught us a number of lessons. Kingsley mentions how video can replace lengthy newsletters or emails to parents. As educators learn to use tech tools more efficiently and effectively, it allows for them to bring parents into the classroom and tech conversation. A necessary conversation for adults to engage in to ensure our children are protected.  
About Al Kingsley
Noted education technology author, podcast host, and edtech CEO, Al Kingsley is a valuable resource on tech teaching and learning. He's been in edtech for more than 30 years and has written and spoken extensively on student privacy and security, from enabling active, life-saving student interventions to data security and personal privacy.
Al Kingsley is CEO of edtech company

NetSupport

,

an international software company developing market-leading solutions designed to support the effective use of instructional technology in classrooms alongside eSafety technologies to safeguard students online.
Al was appointed the Chair of the Cambridge & Peterborough county SEND panel in 2018 to steer focused improvements across the Local Authorities Special Educational needs and Disabilities support provisions.
He sits on the Regional Schools Commissioners Headteacher Board for North London and the South East.
Al is also a 2020 EdTech 50 winner.
© Shake Up Learning 2023. Unauthorized use and/or duplication of this material without express and written permission from this blog's author and/or owner is strictly prohibited. Excerpts and links may be used, provided that full and clear credit is given to Kasey Bell and Shake Up Learning with appropriate and specific direction to the original content on ShakeUpLearning.com. See: Copyright Policy.