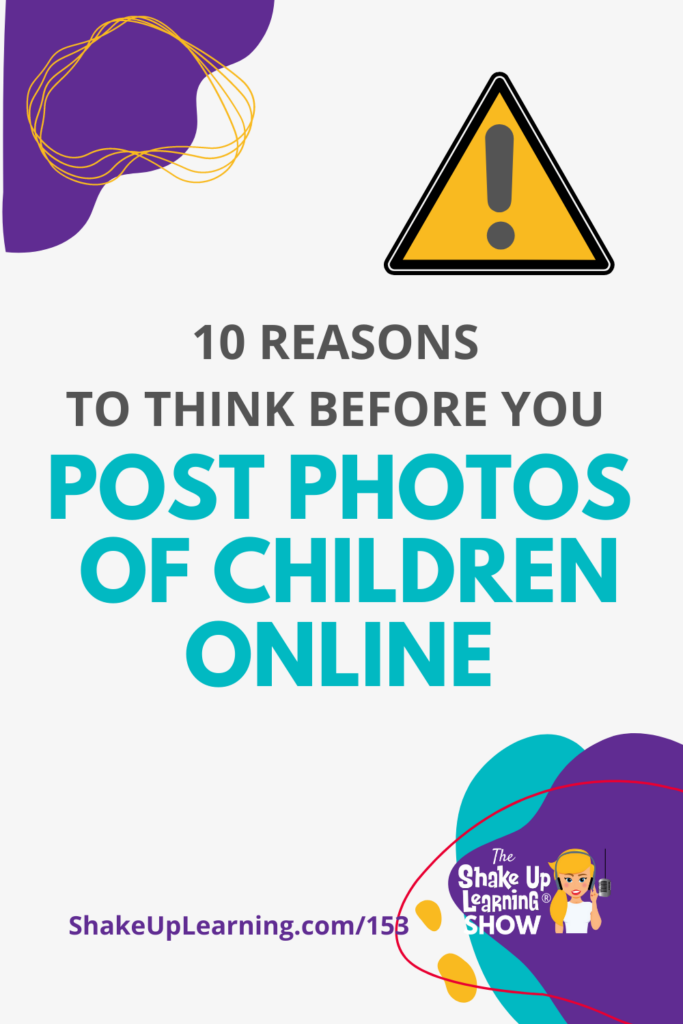 The photo may seem innocent to you.
You may have parents' permission and be sharing something awesome, beautiful, or even funny, but there's a dark side to the Internet that every teacher, administrator, and parent should know.
Please think before sharing ANY photos of ANY child online.
Here are 10 Reasons to Think Before You Share Photos of Children Online.
Listen to this article.
10 Reasons to Think Before You Share Photos of Children Online
This post and episode may hit a bit differently, but it's one that is near and dear to my heart. I feel like I must speak out and be an advocate for our children and students.

Recently, I have been doing a lot of research about the risks of sharing pictures of children online.
As a parent and a teacher, I feel like I must advocate for our children and share this information. There is no 100% safe way to share a child's image or information online.
I have personally struggled with the idea of sharing my beautiful son online. While I am bursting with pride as a parent, I am also aware of many dangers online. So, I did my research and there is so much that parents, teachers, and schools should be aware of.
The purpose of this post is to grow awareness, not to point fingers. Make your own educated decisions about what is right for the children in your life.
Before we dive in, I want to clarify something I have talked about in the past, sharing student work for an online, authentic audience. This is still important! Kids need an audience, but remember, we do not need to share names, faces, or identifying information in order to give students an audience for their work. (I talk a lot about his idea in my books.)
As parents, we have to think about whether we are sharing this for ourselves or for the good of our children?
As teachers, we have to think about whether we are sharing this for ourselves or our school, or for the good of our students?
This question comes up a lot in a book I'm reading, Growing Up Shared: How Parents Can Share Smarter on Social Media—and What You Can Do to Keep Your Family Safe in a No-Privacy World.
3 Kinds of Parent Sharers 
Casual proud parent

Sharenting: the habitual use of social media to share news, images, etc. of one's children

Influencer – Mommy ran accounts
Kinds of School Sharers (still developing this list!)
Casual school pride

Over-eager documentarians

Teacher influencers

Student influencers
The list shared in this post and podcast episode could be much longer than just ten! Below are 10 Reasons to Think Before Sharing Photos of Children Online.

#1 Protect Children's Privacy and Story
Are you posting for you or for the child?
"I've decided that I want to protect my child's digital footprint so that when she grows up, she can be whoever she wants to be without information I've put out there getting in the way." – Growing Up Shared: How Parents Can Share Smarter on Social Media—and What You Can Do to Keep Your Family Safe in a No-Privacy World.
Privacy is very hard to protect these days. Will the child appreciate what has been shared and told about their life, their struggles, and their successes? Will they like knowing that personal and even intimate moments have been shared and talked about by strangers?
#2 Data Mining and Tracking
All images and information are being tracked by big data companies. I say this all the time, "You must both fear and respect Google (and Facebook, etc.) because they know a lot about you." If you think they aren't using facial recognition on the children in your photos, you are naive.
Our children and students are now data points being tracked throughout their entire lives. Data is big money these days. Are you willing to share that information? Is it your information to share?
#3
Protect Children
from Pedophiles
The dark web is a reality and there are so many horrible human beings that can take an innocent picture of a child's first steps, or winning the volleyball championship and turn it into something vile.
There is a gruesome underground world where images found online are regularly exchanged, rated, and discussed in horrifying ways. They even have their own code and emoji.
The Creepiest New Corner Of Instagram: Role-Playing With Stolen Baby Photos
Do you know who is following your account?
Do you want your photo in the hands of a pedophile?
#4 Protect Children from Creepy Photo Editing
I had no idea that there's a world of sharing among pedophiles where they regularly take normal, appropriate photos and edit them into something sexual. It makes me sick. I don't even want to say more than that. This should scare you! 
Do you want your photo edited into something inappropriate and sexual?
#5 Identify Theft & Digital Kidnapping 
Yes, this happens to children. Identity theft is a massive problem for adults, but did you know there are people collecting tiny tidbits of information about children and stealing their identities too?
Almost every photograph contains embedded information that you may not even be aware you are sharing like time and location. But there are clues in photos that could also be used against you.
Have you heard of digital kidnapping? It's a thing! People can take your photos and post them online and claim the children belong to them. The crazy things people do these days.


#6 Embarrassment
Maybe I should have started here with something as simple as an embarrassment. Remember when your mom would bring out the baby book and show it to visitors at your home, perhaps your new boyfriend! In my day that was embarrassing. Now put that on steroids with high-resolution photos and VIDEOS and share it with the whole world!
Will students appreciate that TikTok dance and song with them in the background while you make extra cash?
Will your child appreciate your advocacy when they are overcoming handicaps, obstacles, or just throwing a fit and you hit their face with a slice of cheese? Or will they be mortified? Is it your story to tell?
Will the child be embarrassed now or in the future? What are the consequences of that?
Are we teaching our students how to protect themselves online?
#7 Bullying
Many kids are already being bullied about their photos online. A bully needs very little to hurt someone. Something that seems cute and funny when they are small can be fodder for a kid looking to be hurtful.
I'm a firm believer in advocacy, but what is the cost of sharing a child's handicap, illness, or even wearing a helmet as an infant?
Could the child be bullied for the image shared?
Digital citizenship is more important than ever. Our children and students need to know how to behave online and protect their information.
#8 Inappropriate Online Contact
Check your followers and comments! (Or check those of some influencers you follow.)
There are fake accounts of course, but there are plenty of grown men following underage girls and commenting. I even found a mommy-ran account selling pictures of her 11-year-old child with subscription packages! (OMG!)
"Any time a [child's] picture is shared, digitally, on social med, you should assume it can get out of your control." – Leah Plunkett, author of Sharenthood: Why We Should Think before We Talk about Our Kids Online
#9 Stalkers
Do you think you've hidden your location? Think again, especially if you work at a public school! Posting a picture from a public park? They will show up and find you there, too. Maybe you think they can't figure out where you live? They can…just ask the girl that was confronted by a gunman at her door.
I've seen many news stories on stalkers finding and endangering both adults and children. I recently saw a mother posting about someone showing up at the park where she regularly takes her children (and takes pictures from) to meet the "TikTok famous" mother and child. Stalkers need very little information to find you, your child, or your school.
#10
Long-Term Effects are Unknown 
The bottom line is that this is still something so new that we do not yet know the long-term ramifications for our children and students.
All we can do is try to protect them while we can, and teach them to protect themselves.


Advice for Schools and Teachers:
Think beyond FERPA! Just because we have permission to post doesn't mean we should. What is the value? Who does it serve?
Rethink your school policies when it comes to information shared online.

Educate your teachers, staff, students, and parents in online safety and digital citizenship. 

You don't have to share names, faces, or personal information to share exciting things happening at schools.

Highlight student work and accomplishments rather than their face or identifying information.

Ask for student permission too!
Tips for Sharing and Posting
Avoid sharing any identifying information

Birthday

Location

school

Parks

Neighborhood

Vacation

Nothing even close to nude, even with babies–what seems cute and innocent to you is NOT to a predator, especially with some photo editing software.

Pay attention to your followers!

Make your account private, o

r consider other ways to share with family and friends
© Shake Up Learning 2023. Unauthorized use and/or duplication of this material without express and written permission from this blog's author and/or owner is strictly prohibited. Excerpts and links may be used, provided that full and clear credit is given to Kasey Bell and Shake Up Learning with appropriate and specific direction to the original content on ShakeUpLearning.com. See: Copyright Policy.