In this guest post by Lisa Johnson (a.k.a. TechChef4U), Lisa shares a great idea for some creative journaling.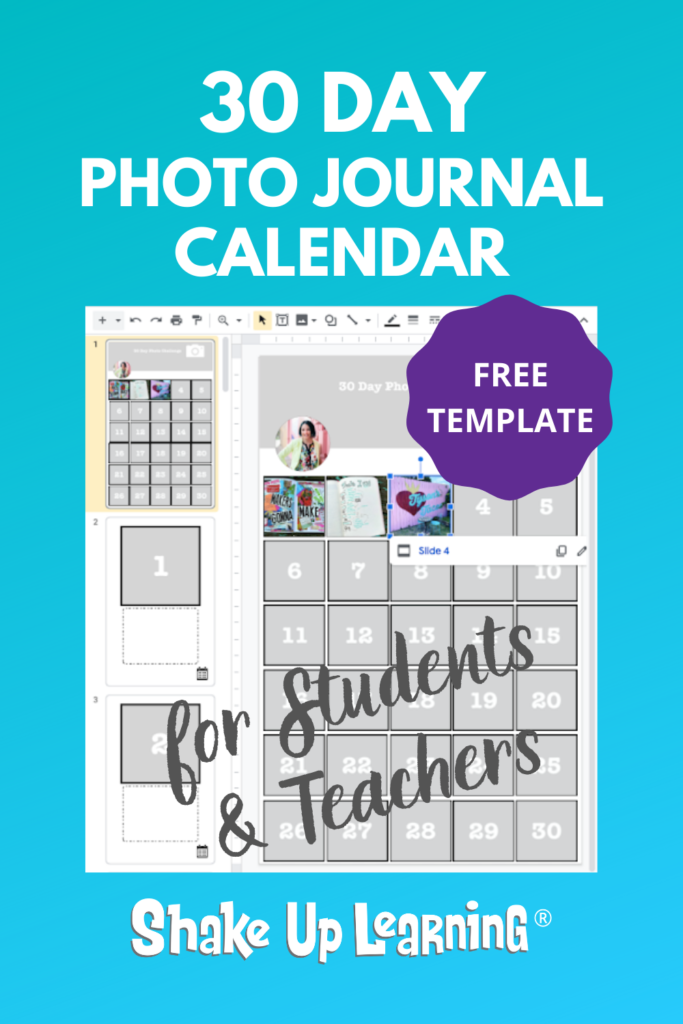 In the age of COVID-19, stress, anxiety, has pushed many teachers and students to the edge.
Journaling is a healthy way to express your emotions. Some have even called it a "Quarantine Journal."
With the 30 Day Photo Journal, teachers and students can express themselves through images.
Lisa has provided a ton of great implementation ideas, examples, and even a FREE template to get you started!
30 Day Photo Journal Calendar (FREE Template) by Lisa Johnson
We are living in unprecedented times.
This school year, self-care, executive functioning skills, and social-emotional learning will be key, not only for our students but for our staff.
These are topics that are very near and dear to my heart. As an educator, an adult with ADD and anxiety, and a mother of a child on the spectrum, I know first hand how important time management, self-care, routine, reflection, metacognition, habit tracking, mental health, and managing distractions are.

How the 30 Day Journaling Challenge Began…
When we started the quarantine, I found that journaling and keeping lists helped quite a bit, AND as it turned out, so did many people from all over the world.
I curated about 60+ examples here.
Based on my experiences with journaling and some of the examples I had reviewed, I decided to create a 30 Day Journaling Challenge with DBC Inc that encompassed all of these ideas here.
It was such a blast to have educators from all over participate and share their inspiring ideas each day on the prompt (their submissions can be found here at #creativelyproductive and #JournalLAP on Twitter). And that got me to thinking…
A Tour of the 30 Day Photo Journal Template
As you now know, I love journaling AND I also love creating templates for others to use.
The 30 Day journaling challenge I mentioned above has been updated and is available in the CP Doc Locker (info linked below). It is not tied to a specific month. You can pick and choose the prompts you would like to use. And the prompts should be appropriate for students and staff alike.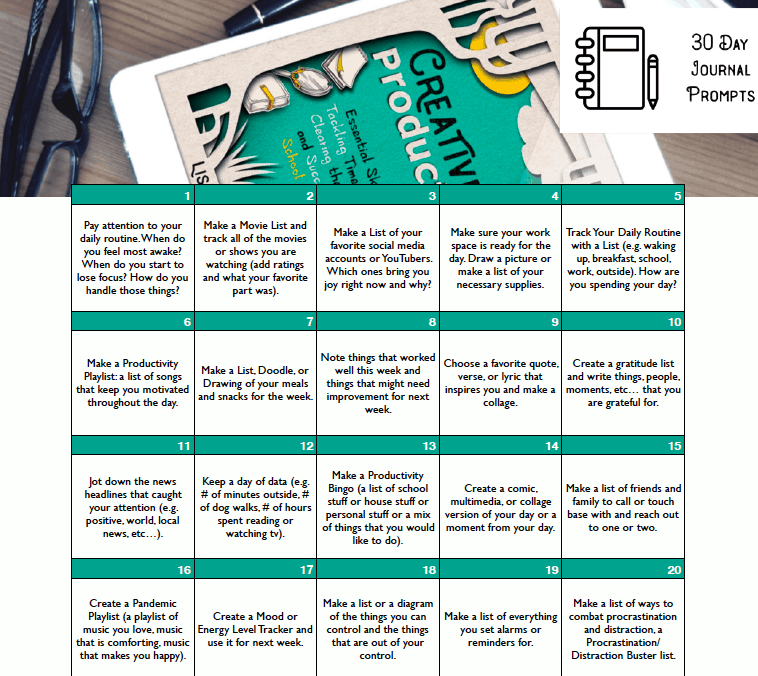 So now onto the template. In late 2019 I shared my idea for an Instagram template on the Shake Up Learning podcast (this calendar template is similar in nature to that idea). Later, I created 6 FREE google templates for creative productivity (which BTW could be used in conjunction with the 30 day journal template).


I digress. Everyone that participated in the initial challenge shared a post each day. The downside is that these aren't all in one spot because there really isn't an easy way to do that without using a tool like Padlet or Wakelet and if you do this with students (especially in an online environment), you probably want to streamline the process. So… the template emerged. Actually, there are 2 templates and I want to walk you through both and how they might be used: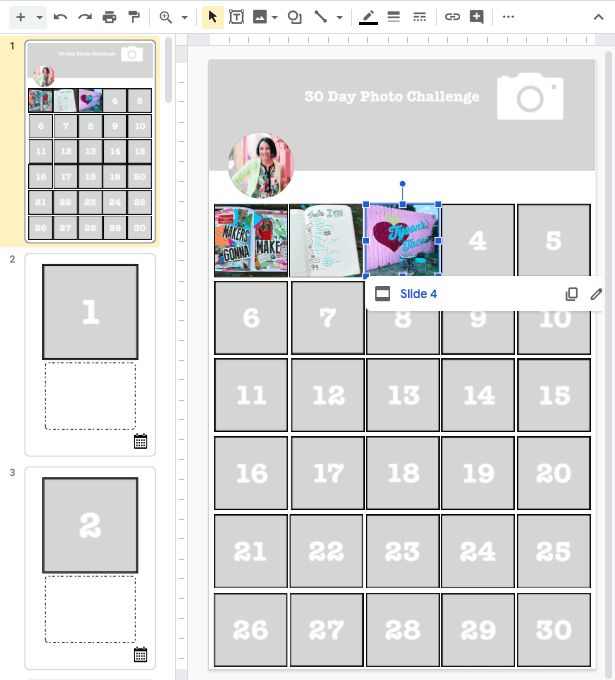 Multiple Versions: I created multiple versions of the template so it is accessible no matter what device students or staff are using. There is a Google Slides and a Keynote version and they are both editable. (The keynote version can upload a video a day or a photo day).
Single and Deluxe: I made a simple version and a deluxe version. The simple version is just a one page blank photo calendar (basically slide 1 of the deluxe version). The deluxe version (pictured above) has each day linked to another slide where the photo is larger and there is space to write/journal/link expand on their photo. And there is a calendar icon in the bottom right hand corner of each slide that links to the main calendar (slide 1).
Functionality: The template is intended to be used as such so each numbered square retains the size and form when you replace it with an image. The deluxe version links each small square to the slide with the corresponding larger square. Both templates have a place to add a profile pic and a banner image.
Flexibility: These are designed to be extremely flexible and could be used in countless ways. Here are a few:

Prompts: Use the calendar in conjunction with the prompts I shared or design your own 30 days of prompts (30 people, artists, authors, books, animals, places that inspire you OR 30 quotes or vocabulary words, scientific concepts, etc…).
Freeform: It could be more freeform where students share their mood, a daily gratitude, favorite quote, or perhaps one thing they learned each day (the photos can be of something they draw in analog or all done digitally).
Mix: These could also be used as a mix of both… perhaps one week is all doodles, another week is a picture you take around your house/school in reference to a prompt, another pictures of vocabulary words or concepts, etc… (obviously this would differ based on the grade level and content area).
The sky's the limit on what you can do with a tool like this. If you end up using the templates and/or the prompts, I would love to see! Please tag me @TechChef4u on Twitter and Facebook or @NoteChef4u on Instagram. Oh and if you would like more resources to support "Journaling in a Time of Uncertainty", I have curated many of those here (including an analog and digital supply list).
How to Access the Templates
Thanks for letting me share my tips for creative productivity!
All of these FREE templates can be found in the exclusive Creatively Productive Doc Locker on the Creatively Productive companion site.
📷📅 Photo Calendar (Google Slides / Keynote)
📷📅 Photo Calendar DELUXE (Google Slides / Keynote)
---
About Lisa Johnson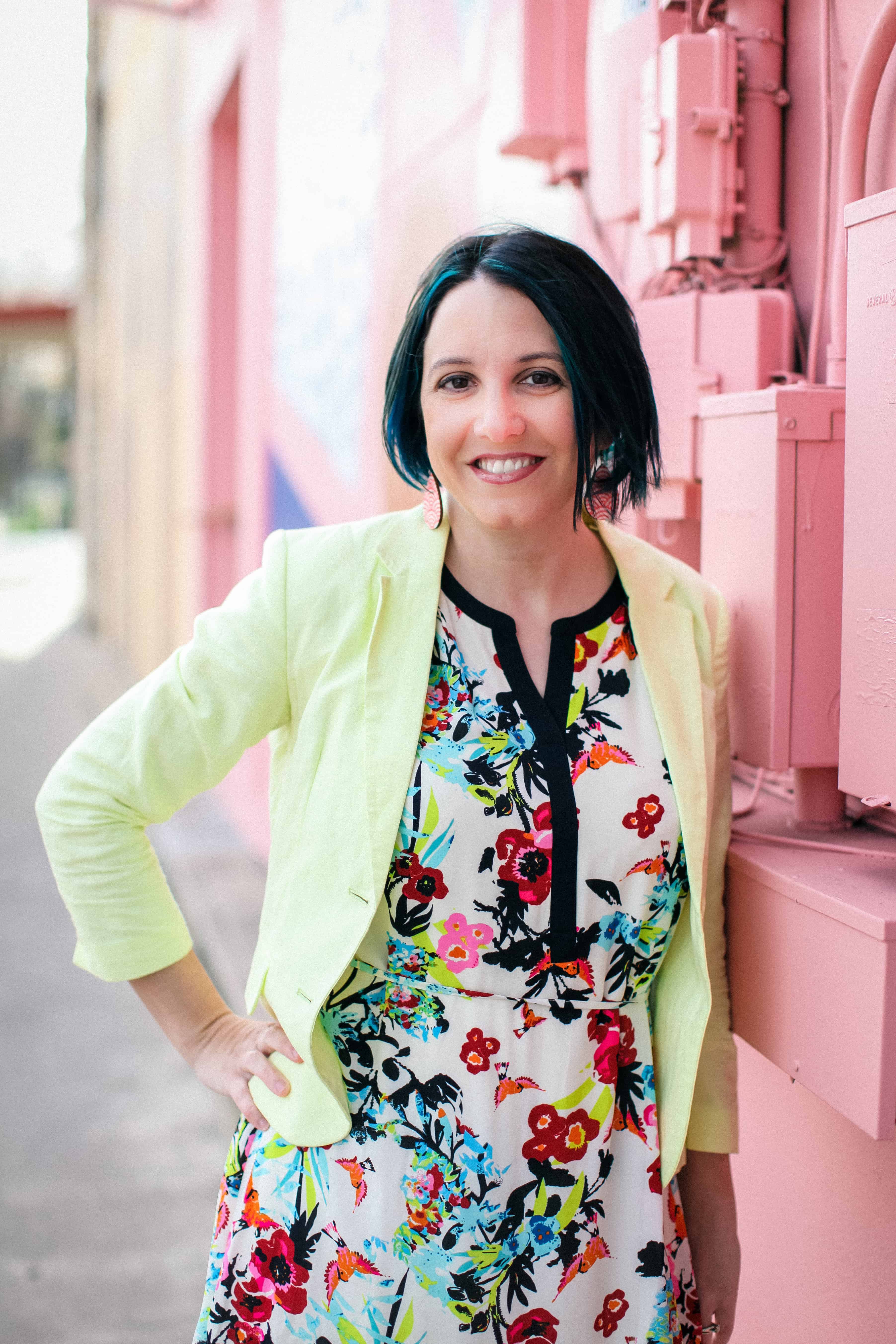 Twitter: @TechChef4U
Website: https://techchef4u.com
Location: Austin, Texas, USA
Title: Educational Technologist
School District/Campus (or Employer): Eanes ISD / Westlake High School
Bio: Lisa Johnson (better known as TechChef4u) has 18+ years of edu experience ranging from teaching HS English & MS Math to international curriculum development, creating and presenting workshops, and even running technology integration camps across the state. She holds a Master's Degree in Curriculum, Instruction, & Tech and currently serves as an Educational Technologist for Eanes ISD which proudly supports an 1:1 iPad initiative from K-12.
Additionally, she has been recognized and selected as an Apple Distinguished Educator and PBS Digital Innovator. Lisa is passionate about college and career-ready skills, social-emotional learning, instructional design, digital portfolios, research and curation, slide design, and professional development for students.
She is a recognized voice in the edusphere and has been featured in the publications "iPads in Education for Dummies" and "The Missing Voices in Ed Tech" and has co-authored the global iBook hit "Hot Apps 4 HOTS." Apple Distinguished Educator, PBS Digital Innovator, SmartBrief & Edutopia Blogger, Lisa enjoys "cooking up" purposeful, engaging, authentic resources to meet educator's needs.
Her latest recipes are the books "Cultivating Communication in the Classroom" and "Creatively Productive". In her spare time, she delights in house sprucing, reading, bullet journaling, filing away productivity hacks, snuggling with her two new kittens, and traveling to places near and far, and discovering new Netflix series with her hubby.
© Shake Up Learning 2023. Unauthorized use and/or duplication of this material without express and written permission from this blog's author and/or owner is strictly prohibited. Excerpts and links may be used, provided that full and clear credit is given to Kasey Bell and Shake Up Learning with appropriate and specific direction to the original content on ShakeUpLearning.com. See: Copyright Policy.