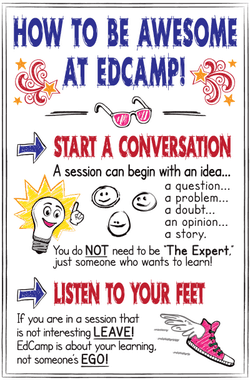 The #EdCamp Revolution is here to stay! Have you attended an EdCamp yet? Well, you should!
In case you haven't been paying attention, the EdCamp movement is changing the way educators connect and learn. Every educator, teacher, administrator, consultant–anyone in the field of education should experience an Edcamp.
Here is the How to Be Awesome at Edcamp poster that I have shared through social media many times before. This poster is meant to guide the EdCamp experience, and help EdCampers remain in the spirit of the unconference, which is participant-driven! EdCamp sessions are not planned, and definitely not prepared PowerPoint presentations. Let discussion and participants guide the learning!
[Full disclosure: I did NOT create this. The graphics were created by Tom Nielsen, a colleague of mine. The original content was passed on to me through social media, and I am not sure who wrote the words. (Please let me know so that I can give credit.)]
Below the poster is a link to a folder with multiple versions (.png and .pdf) of the poster to be used by other EdCampers and EdCamp organizers. Feel free to share and use.
---
What do you love about EdCamp? Please share in the comments below!
Related Posts:
© Shake Up Learning 2023. Unauthorized use and/or duplication of this material without express and written permission from this blog's author and/or owner is strictly prohibited. Excerpts and links may be used, provided that full and clear credit is given to Kasey Bell and Shake Up Learning with appropriate and specific direction to the original content on ShakeUpLearning.com. See: Copyright Policy.