Dynamic Learning with G Suite
Ready to move the learning in your classroom from static, one-and-done activities, to more dynamic learning—Dynamic Learning with G Suite? This post will show you how you can use G Suite tools to support dynamic learning experiences for your students!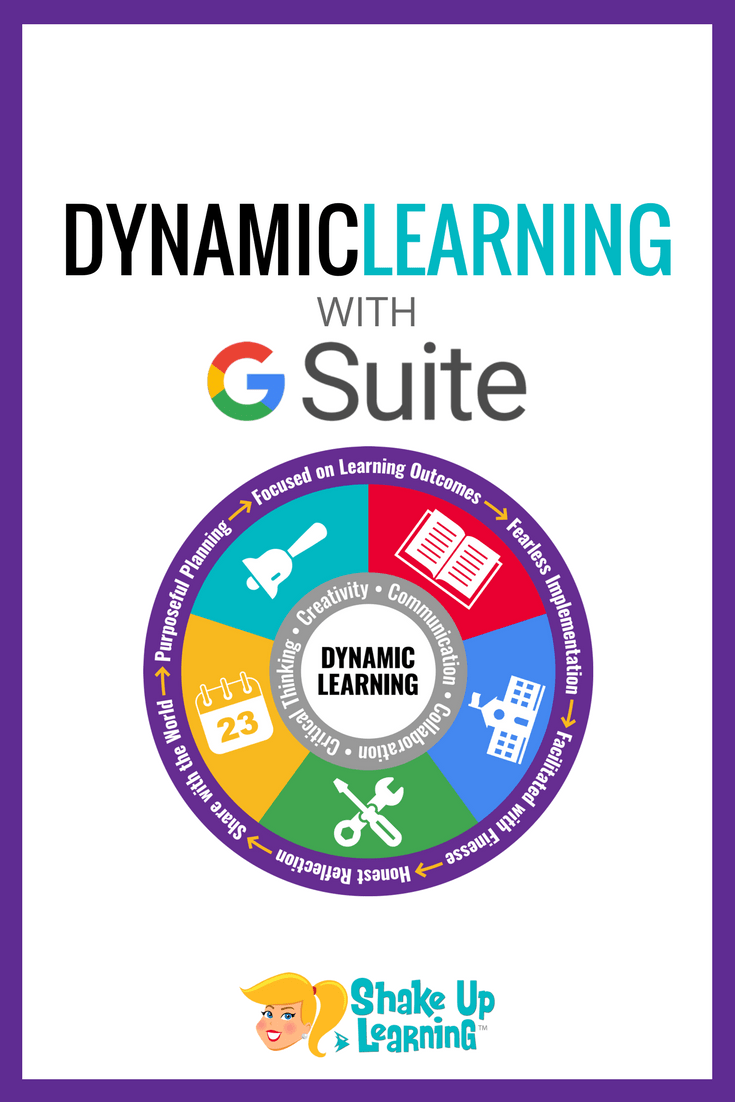 Technology presents us with a unique opportunity in education, an opportunity to create more dynamic learning experiences for our students. We have to start thinking differently about our assignments. One-and-done doesn't cut it anymore. The learning needs to live, grow, connect, and go beyond traditional ideas. We need Dynamic Learning!
This post is NOT about Google or G Suite, but how to use these tools to support dynamic learning in the classroom.
Dynamic Learning is an idea that I have been sharing over the last few months and something I am exploring in-depth in my upcoming book: Shake Up Learning: Practical Ideas to Move Learning from Static to Dynamic.
I am #superexcited to share this with you! Go to ShakeUpLearningBook.com and join the waitlist to get all the details, and for a chance to win a copy!
[Tweet "Dynamic Learning with #GSuiteEdu! #googleedu #shakeuplearning #edtech"]
Earlier this month, I had the honor to share several presentations at TCEA (Texas Computer Educators Association, an ISTE affiliate) in my home state of Texas. Dynamic Learning with G Suite was one of the sessions I presented for Google. It was a hit! So I decided I better share with the Shake Up Learning readers. I think you are going to love this!
What is Dynamic Learning?
Just in case you missed my earlier posts on the topic, here's how I define Dynamic Learning:
Dynamic Learning is characterized by constant change and activity. This learning takes place organically, growing and evolving through more unconventional means, with the learner collaborating, creating, and communicating to demonstrate progress and mastery. Dynamic Learning also extends beyond the boundaries of a traditional school day, beyond the physical location of the classroom, beyond using tools as digital substitutes, or even the traditional notion of hard-and-fast due dates.
The Dynamic Learning Characteristics
When you think DYNAMIC, I want you to think BEYOND! (Read full definitions here.)
– BEYOND the Bell: a lifelong learning mindset for students.
– BEYOND the Grade Level and Subject Area: helping students tap into passions and interests that are outside the given curriculum.
– BEYOND the Walls: publishing student work for a global audience, and bringing in global connections and collaborations.
– BEYOND the Tools: using digital tools to do new things.
– BEYOND the Due Date: mentoring and coaching students to continue learning even after the project has been assessed.
Dynamic Learning with G Suite
Below are just a few ideas for using G Suite tools to support Dynamic Learning, including links to templates, directions, and more.
Empowering Students to Set Their Own Learning Goals
Goal setting is one important way to empower student learners, in fact, it's in the ISTE standards! Help students set meaningful learning goals for your classroom, AND help students set THEIR OWN, personal learning goals!
Student-Created Vision Boards with Google Slides
BEYOND the Bell
BEYOND the Tools
Any grade level
Any subject area
---
A vision board is a collection of images and words that represent the things you want in life–the things you want to do, the things you want to learn, the things you want to be. Using Google Slides in combination with some new add-ons, students can create some powerful vision boards as they set their own learning goals. (Learn more here.)
Google Keep for Student Goal Setting
---
Start simple: Ask students, What are 3 things that would make today great.
Try to keep them from being "grade," focused
Using G Suite to Start a Discussion
Start a discussion with students about their learning. What do they like? What do they struggle with? What would they learn if they had complete control over time and place? Remember, this is more of a mindset than a specific skill.
Google Groups

Discussion

Blogger

Blog with Comments

Interactive Google Slide Deck

Google Forms Survey
---
Using G Suite to Move BEYOND the Tools
Using Digital Tools to Do NEW Things: Think beyond just using Microsoft Word or Google Docs to type a paper. Presentation applications alone can be used for many more things than just a presentation. Matt and I even did an episode of the Google Teacher Tribe Podcast on this topic: Google Slides Can Do Whaattt??!! Think about how you and your students can get creative and use new digital tools in unexpected ways.
---
Giving Students Choice: Probably one of the best ways to explore this idea is to give students choice in creating and demonstrating their learning.
Build Choice into Hyperdocs
---
Using G Suite to Publish Student Work for the World
(product, performance, progress, EVERYTHING!)
Publish Student Work for a Global Audience: It's amazing how much this will change the quality of what they publish. (Every Student Should Publish for the World!)
Embed G Suite files in other websites
---
I've only scratched the surface of what I shared in my presentation. You can access all of my TCEA presentations on this page.
---
Want to learn more idea like this? You will love my new book!

Check out my new book, Shake Up Learning: Practical Ideas to Move Learning From Static to Dynamic.
About the Shake Up Learning Book
Technology is not a magic solution for education. It is an opportunity! An opportunity to shake things up, to connect and grow, and to create dynamic learning experiences for our students!
In this three-part book, you will explore WHY it's time to Shake Up Learning, WHAT changes we can make in our classrooms to support dynamic learning experiences, and HOW to plan meaningful lessons for your classroom.
Shake Up Learning is a powerful guide and planning tool to help educators at all grade levels make the most of technology. Educator and blogger Kasey Bell guides you through the process of using technology and proven techniques to make learning dynamic.
You'll discover . . .
Practical strategies to help move from static teaching to dynamic learning
Straightforward and easy-to-use templates for crafting engaging learning opportunities
Tips and tricks for fearless implementation of powerful lesson plans
Advice for moving from one-and-done activities to learning that evolves and inspires throughout the school year—and beyond!
---
---
Be DYNAMIC and SHAKE UP LEARNING in Your Classroom This Year!
But wait…There's more!
With this book, I have also created several interactive resources, templates, and downloads, all available on ShakeUpLearningBook.com.
Get the FREE Shake Up Learning Quickstart Guide
An online community
Discussion Questions, Chapter Actions, and Embedded Resources for all 20 Chapters!
An interactive companion website to help you continue and deepen the learning
A lesson plan database (submit and search for dynamic lesson plans)
Tons of free resources, videos, templates, and downloads, all available on the website: ShakeUpLearningBook.com.
Shake Up Learning QUICKSTART GUIDE
Join the email list to get the latest information about the Shake Up Learning Book AND Get the FREE 20-Page Quickstart Guide that will help you Shake Up Learning in your classroom this year!
---
© Shake Up Learning 2023. Unauthorized use and/or duplication of this material without express and written permission from this blog's author and/or owner is strictly prohibited. Excerpts and links may be used, provided that full and clear credit is given to Kasey Bell and Shake Up Learning with appropriate and specific direction to the original content on ShakeUpLearning.com. See: Copyright Policy.