Sarah McKinney is a former kindergarten teacher and is currently a K-12 Instructional Technologist in South Carolina.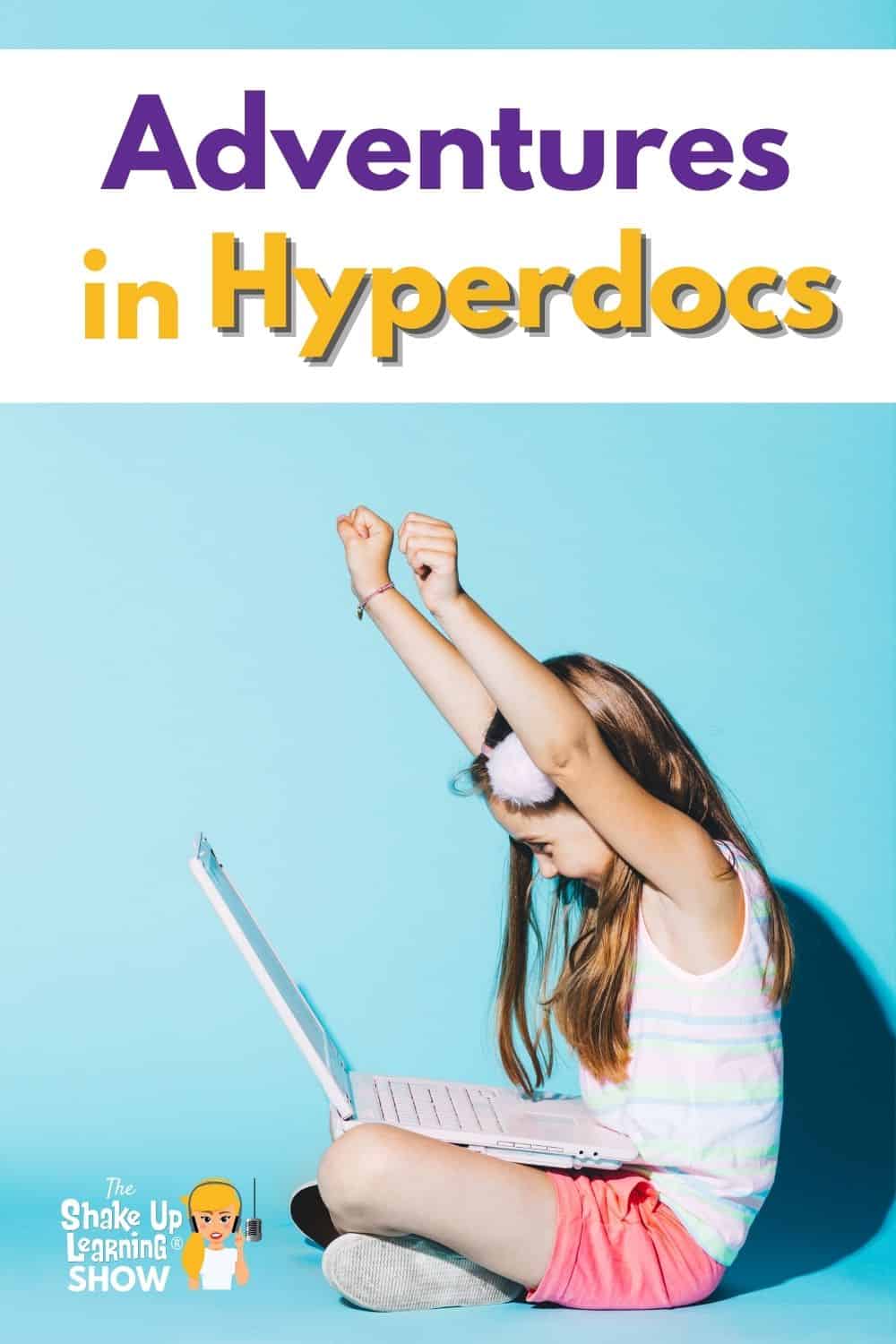 She also just joined the Shake Up Learning Training Team!
She is passionate about using technology to allow for choice, enhance student engagement, and provide opportunities for creation and collaboration.
In this podcast episode, Kasey takes a deep dive with Sarah about creating and using Hyperdocs in the classroom.
A learning experience completely centered around students that will revolutionize your lesson plans. 
Listen to this article.
As an instructional technologist, Sarah wears many hats and actively engages with many tech tools for educators. Seesaw, a digital tool that helps students demonstrate and share their learning, is one of the tools Sarah regularly shares with the educators in her district. This summer Seesaw will be hosting a virtual conference where you can hear Sarah share ideas for building community. She will share ideas for districts, buildings, as well as classrooms. 
An Introduction to Hyperdocs
As Sarah was stepping out of the classroom and into her new role, she spent time looking for ways to help teachers incorporate technology that would provide engaging and effective learning. This is when she discovered the Hyperdoc Handbook, which introduced her to a new engaging way to package lessons. 


Defining Hyperdocs
Sarah explains how using Hyperdocs brings joy back into lesson creation. Hyperdocs move teachers away from duplicating a paper worksheet into a digital one. They allow teachers to go beyond a digital document with a series of links. Most of all, Hyperdocs take students beyond the learning of recall. A Hyperdoc is a completely student-centered learning experience. 
Another common misconception of Hyperdocs is that they are the same as a choice board. While Hyperdocs do in fact include elements of choice, they are more comprehensive than a choice board. Within a Hyperdoc, depending on the goals and outcomes, a teacher can use Google Docs or Slides, SeeSaw, Nearpod, YouTube videos, and a host of other tech tools. The beauty of a Hyperdoc is that the teacher can tailor the learning experience. 
Hyperdoc Structure
When creating a Hyperdoc, teachers want to first, as with all lessons, consider the end goal or objective for the students. Sometimes a smaller goal can mean a short-term Hyperdoc with only a few steps included from the learning cycle. Teachers might consider a longer time period to complete the full Hyperdoc learning cycle, for multiple goals or products.


The typical learning cycle includes each of the following: engage, explore, explain, apply, share, reflect, and extend. Students work through various materials and methods for learning content, at each of these stages, then demonstrate their understanding before moving on to the next. In Kasey's book, Shake Up Learning, she included a Hyperdoc unit designed to accompany the novel Wild Robot. 
Taking a look at the learning cycle used throughout examples can spark ideas for teachers in making their own Hyperdoc lessons. Both Kasey and Sarah suggest looking through a lot of different examples, rather than only searching through a specific content category. For example, all subjects teach vocabulary. Browsing many examples will help generate ideas for different ways to include vocabulary in a Hyperdoc you might create. 


Where to Find Examples and Templates
One of the best places to find free examples and templates to create your own is in the Teachers Give Teachers collection. Here you can search for different subjects to find, and then share, a complete Hyperdoc lesson or the template for one. 
Another great option when creating a Hyperdoc lesson is to work with colleagues. Bringing several minds together for ideas and splitting up the workload of creating each component can bring about a powerhouse Hyperdoc learning experience for students. 
Best Practices for Creation
Always start with your audience in mind. Sarah explains how Hyperdocs can be used with Pre-K through 12 students, but there is also a place for administrators to use Hyperdocs for their staff. Knowing which tech tools the audience will feel comfortable with is also important to consider. 
Hyperdocs can be used for a single concept or short-term lesson, but they can also be used for a longer unit or portfolio type of learning experience. Deciding the length from the start will help keep the learning focused. It is best to choose one focus or topic when packaging the learning. 
What sets a Hyperdoc apart from other teaching tools is the interactivity of the learning. Be sure to include those interactive elements with a variety of options. Remember, it's not a document filled with links. There are so many options to choose from, so start small and grow as you go. Teachers have used this pandemic season to grow when it comes to using technology. The Hyperdoc learning experience can be one of those tools to bridge the in-person and remote learning needs. 
About Sarah McKinney
Sarah McKinney is a former kindergarten teacher and is currently a K-12 Instructional Technologist in South Carolina. She is passionate about using technology to allow for choice, enhance student engagement, and provide opportunities for creation and collaboration.
Current Certifications: Google Certified Educator Level 1, Google Certified Educator Level 2, Google Certified Trainer, Adobe, Seesaw Educator/Ambassador, Flipgrid Certified Level 1 and 2 Educator
Sarah's most popular presentations topics: Seesaw, Google tools, breakouts, Hyperdocs, Flipgrid, Book Creator, Adobe Spark, Nearpod, and student choice
© Shake Up Learning 2023. Unauthorized use and/or duplication of this material without express and written permission from this blog's author and/or owner is strictly prohibited. Excerpts and links may be used, provided that full and clear credit is given to Kasey Bell and Shake Up Learning with appropriate and specific direction to the original content on ShakeUpLearning.com. See: Copyright Policy.
Shake Up Learning QUICKSTART GUIDE
Join the email list to get the latest information about the Shake Up Learning Book AND Get the FREE 20-Page Quickstart Guide that will help you Shake Up Learning in your classroom this year!