4 Ways to Blend Learning with InsertLearning
InsertLearning is an extension that lets you turn websites into interactive lessons, and it is the perfect companion to your blended learning lesson plans. This extension is AWESOME, y'all!!!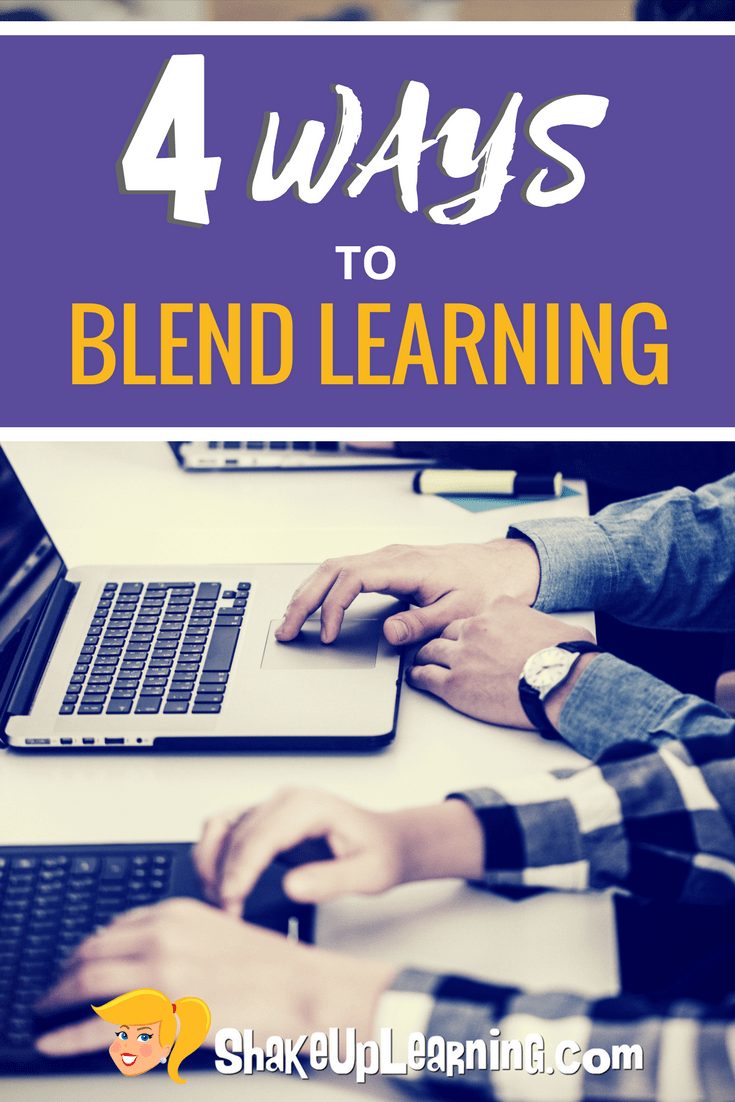 You know how it seems that when you create a lesson these days that you need like twelve links to bring the lesson together–the link to the directions, link to a Google Slide deck, link to a discussion question, link to a YouTube video. What if you could have your cake and eat it too? What if you could have all the pieces on one webpage (not just as links)? Let's discover four super cool ways to blend learning with InsertLearning.
Please note, this is NOT a sponsored post, nor will I receive any compensation if you decide to purchase. I am just a fan of this freemium product.
What is InsertLearning?
InsertLearning will let you turn any webpage into an interactive lesson. Formerly known as Docent EDU and developed by two high school teachers who wanted to create a richer learning experience for their students, this webtool has made some amazing progress. InsertLearning has this fantastic toolbar that will allow you to highlight text, add sticky notes, insert questions, videos, or even a discussion all inside the webpage! How cool is that? Oh yeah, and you can then assign it to your students. WHOA!!!
[Tweet "4 Ways to Blend Learning with @InsertLearning! #edtch #gsuiteedu #18challenges"]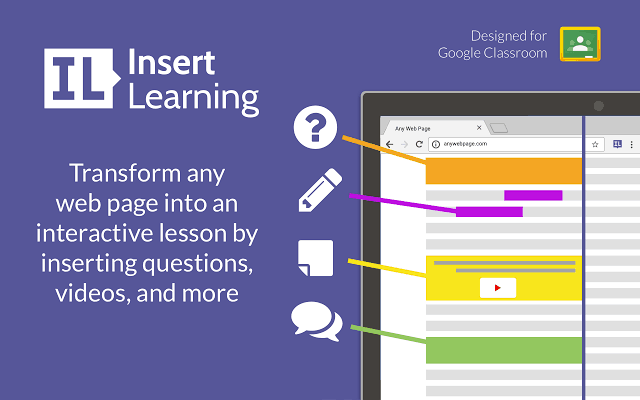 Install InsertLearning
To get started, install the Chrome extension. After the installation, InsertLearning will walk you through the toolbar and an example. Easy-peasy, lemon-squeezy!
Choose Your Web Content
To get started with your first lesson, find the online content you would like to use–an article, video, etc. If you don't want to start from scratch, check out their lesson plan library. Once you have chosen your content, decide what you want to add from the Insert Learning toolbar options. There are five different types of interactivity you can add to spice up that content, make it more engaging, and help students retain relevant information.
4 Ways to Blend Learning with the Insert Learning Toolbar
Here is the Insert Learning toolbar, which contains four different district types of tools that we can use to blend with our face-to-face learning experiences.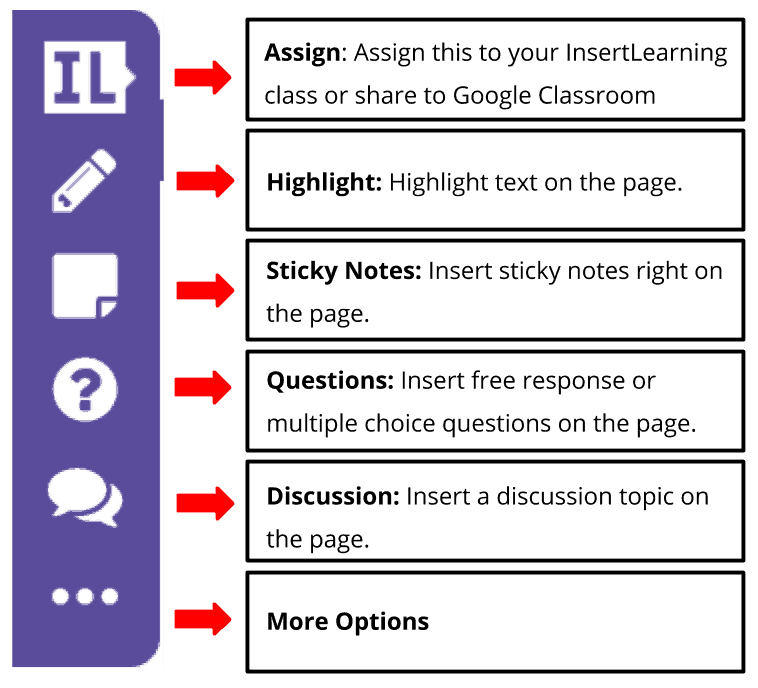 1 – Highlight
I'm a big fan of using the highlight tool. Highlighting gives students a visual guide to important information, such as dates, vocabulary words, events, and essential sentences and paragraphs. You can also change the color of the highlights and color code the information.

2 – Sticky Notes
Yes! Adding digital sticky notes on a website is now easier than ever and a great way to add additional guidance for students. You can use these in your lessons for actual notes, directions for the assignment, anecdotes, a pause and reflect reminder, or even links, and yes, links to YouTube videos that magically embed right there on the page.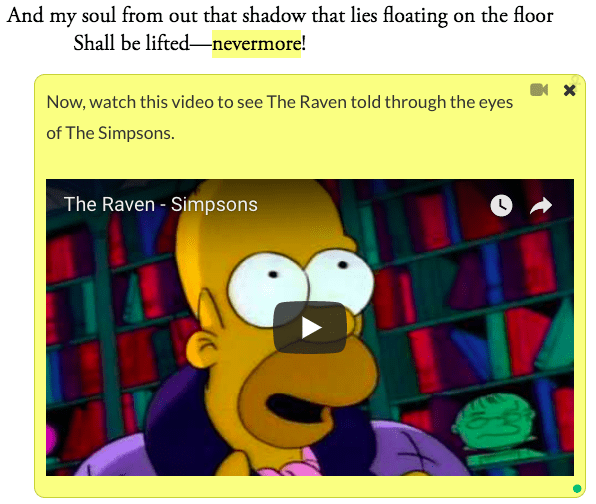 >>> Embed YouTube Video in a Google Doc!
You heard me! This extension makes it possible to embed a YouTube video into your Google Doc–something we've always wanted! When you click on the extension while editing a Google Doc, you will be prompted to, "publish and make a lesson," the Google Doc. This essentially turns your documents into a plain webpage that is then compatible with all the features, including the sticky note feature above that will embed videos! Awesome, right? (Want a tutorial on all these features? Enroll in the 18 Challenges Online Course.)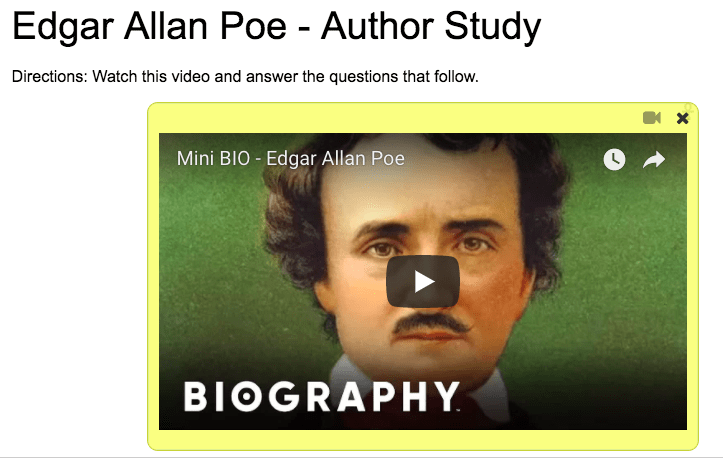 [Tweet "Whoa!!! You can embed YouTube Videos in a Google Doc with @InsertLearning! #gsuiteedu"]
3 – Insert Free Response or Multiple Choice Questions
It's easy for kids to get lost or distracted on a page. Checks for understanding can help them stay on track. With the InsertLearning extension, you can quickly add a free response question for longer answers or reflection, or you can add a multiple choice question.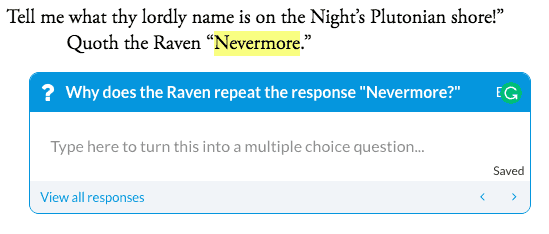 4 – Discussion
Add some discussion questions, or topics and students can readily respond right there on the page. This is a great way to get kids talking that wouldn't usually speak up in class to share out loud.

---
Two Ways to Create a Lesson
1 – Click on the InsertLearning extension while on any web page you want to use in your lesson.
2 – Find relevant, engaging content by searching their public library of lessons.
Assign to Students
Once you've created your lesson, you can assign to students in your InsertLearning classes or connect directly to Google Classroom!

G Suite Integration
If that's not enough, InsertLearning has a ton of features that make it the perfect companion for G Suite users.
– Chromebook compatible
– Sign-in with Google account
– Share directly to Google Classroom
– Enhance published Google Docs with videos and more
– Insert a YouTube video at the right moment in the text
5 Lessons Free!
InsertLearning is a freemium application, but you get your first five lessons for free. Find out more about their pricing options at InsertLearning.com. Honestly, I think it's worth the $40/year. (Note: This is NOT a sponsored post, nor will I receive any compensation if you decide to purchase.)
BONUS: Get the 18 Challenges for Teachers in 2018 eBook (form below) that includes a coupon code for one full month for FREE!
What do you think? Have you tried it? Will you try it? Install it today and let me know what you think.
---
Become a Learning Blender by Joining the 18 Challenges!
Did you know that InsertLearning is included my 18 Challenges for Teachers in 2018? It's included in the FREE Course eBook (form below), but you can get hands-on with a video tutorial in my online course! Oh, and I might just give you a coupon code as well! (Read my previous blog post to learn more: 18 Challenges for Teachers in 2018.)
The 18 Challenges for Teachers in 2018 ONLINE COURSE! (FREE for Subscribers!)
This year I created an online course to help you learn about each concept, idea, or app more in-depth AND earn all eighteen badges! How fun is that! The course is video-based and completely self-paced, so you can work on the challenges in any order you like. It's learning on-demand!
So if you want to dig deeper into each challenge and gets hands-on instruction and tutorials, and earn all of the super cool badges, join the 18 Challenges for Teachers in 2018 Online Course.
Self-paced
Video-based lessons
PDF Downloads
Free resources, templates, and apps
Coupon Codes for Pear Deck and InsertLearning
Earn all 18 Badges
6 hours professional learning credit
---
© Shake Up Learning 2023. Unauthorized use and/or duplication of this material without express and written permission from this blog's author and/or owner is strictly prohibited. Excerpts and links may be used, provided that full and clear credit is given to Kasey Bell and Shake Up Learning with appropriate and specific direction to the original content on ShakeUpLearning.com. See: Copyright Policy.