85+ Awesome Apps that Integrate with Google Classroom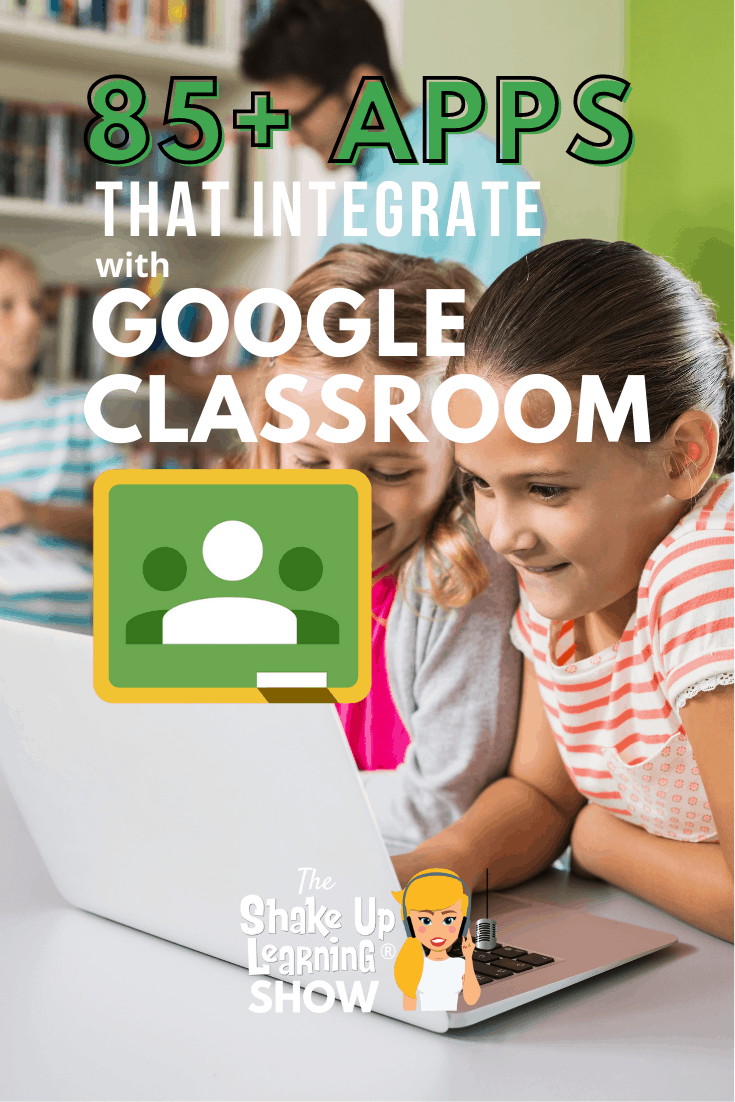 Check out this list of more than 85 Awesome Apps that Integrate with Google Classroom!
Did you know that Google Classroom plays well with others?
Yep! Google is known for making their applications open to working with third-party applications, and Google Classroom is no exception.
I have put together a list of 85+ Apps that Integrate with Google Classroom, making it even easier to create lessons and announcements with your favorite apps and resources.
Use this list to explore apps you may already be using, or find new ones that will allow you to share easily to Google Classroom.
Ready to find apps that make Google Classroom even better? Check out these 85+ Applications that Integrate with Google Classroom.
Listen to this article:
Episode 115
Episode 53
---


85+ Awesome Applications that Integrate with Google Classroom
Hundreds of education applications work with Google Classroom. These integrations save teachers and students time and make it seamless to share information between Classroom and their favorite apps.
Use this list to explore apps you may already be using, or find new ones that will allow you to share easily to Google Classroom.
---
Actively Learn works seamlessly with Google Classroom. Teachers can easily sync Classroom rosters to Actively Learn and sync Actively Learn assignments and grades back to Google Classroom.
Additio App is a productivity suite for teachers to stay organized and efficiently contact students and families. It offers many helpful tools, like a powerful gradebook and a robust lesson planner.
Teachers can link to or create new Classroom classes based on their Aeries classes, and import scores into the Aeries grade book.
With this integration, Classroom classes can automatically be created based on classes in Aladdin. Assignments and grades can also be synced between Aladdin and Classroom.
Alma is the first Student Information System to integrate directly with Google Classroom. With this integration, teachers can synchronize assignments and grades, and tech teams can batch create and manage Google Classroom classes across their schools and districts.
Educational K-12 programs and resources from the American Museum of Natural History. Use the Share to Classroom button to share relevant articles, curriculum, and resources.
Empower students to become savvy, safe digital citizens with this all-in-one classroom management, content filtering, and reporting solution.
ASSISTments is a forever free online math platform that makes it easy for teachers to assign online from their curriculum, and assess student progress in the classroom or remotely. When working on assignments within ASSISTments, students get immediate feedback as they go and teachers get actionable data, which they use to focus instructional time where students need the most support.
Automate the tasks you do outside of the classroom! Bakpax uses AI to grade assignments in seconds and convert content to digital. Save time and give instant feedback.
BookWidgets provides templates for interactive exercises. Teachers can choose between more than 40 different widgets or templates to engage students.
With BrainPOP, teachers can import their classes directly from Google Classroom into My BrainPOP. SSO-ready student accounts are automatically created when a teacher imports a class, allowing students to log into BrainPOP through the Google launcher menu.
A creation and presentation tool for students and educators to create interactive classroom content, allowing learners of all ages to visualize concepts and communicate creatively. Simply create your assignment, note, class reminder, activity, or project, and share it to the students in your Google Classroom.
CK-12 Foundation provides a library of free online textbooks, videos, exercises, flashcards, and real-world applications for over 5000 concepts from arithmetic to history.
With the Classcraft integration, teachers can pull rosters from Google Classroom and provision accounts in a single click. Teachers can give students points in the game for turning in assignments on time and convert their Classroom results into game points.
CodeHS is a comprehensive platform for helping schools teach computer science. We provide web-based curriculum, teacher tools and resources, and professional development.


CurrikiStudio is a rapid authoring tool that allows content creators to easily build interactive content for today's learners with no coding required.
Engage students in grades 6-12 with data in science and math including making publication-quality graphs of data in seconds and conduct animated hypothesis tests.
A collection of unique and engaging digital math activities, which are free for you and your students.
Discovery Education ignites student curiosity and inspires educators to reimagine learning with award-winning digital content and professional development.
DOGO Media is the leading online network empowering kids to engage with digital media in a fun, safe and social environment. Used by millions of students and teachers from around the world, our websites have quickly grown into a community of kids and educators engaging positively with current events, books, and movies.
Explore ready-to-go free lesson plans or adopt Drawp with the existing curriculum as students use voice, text, art, and proven bilingual scaffolds to interact with content.
Increase reading engagement, improve literacy skills, and track students' progress with Dreamscape's adaptive literacy platform.
Many teachers and even entire governments around the world already view Duolingo as the perfect blended learning companion for their language classrooms. Duolingo lessons give each student personalized feedback and practice, preparing them to get the most out of classroom instruction.
Teachers can import their class rosters from Google Classroom into Edcite, and then send Edcite assignments to their students in Classroom. When students access these assignments, they are automatically logged into their Edcite accounts using single sign-on.
Make any video your lesson. Pick a video, add your magical touch and track your students' understanding. With the EDpuzzle integration, teachers can automatically import all Classroom courses and students at sign up.
Syncing with Google Classroom creates class rosters in Edulastic and keeps them up to date. Teachers can then share Edulastic assessments right in students' Classroom feeds, allowing them to access the assignment without entering another password or navigating to the Edulastic site.
An innovative and personalized way to use your existing textbooks.
Thanks to this Google Classroom integration, teachers and admins can seamlessly manage licenses via Explain Everything Discover.
Teachers can create music notation and composition assignments in Google Classroom using Flat Education, the online music notation software. Teachers can synchronize existing Classroom rosters and design new music activities accessible to students from Classroom.
Flipgrid is a website that allows teachers to create "grids" of short discussion-style questions that students respond to through recorded videos. Each grid is effectively a message board where teachers can pose a question and their students can post 90-second video responses that appear in a tiled "grid" display. Easily share links to Flipgrids and add them to assignments in Google Classroom.
Fluency Tutor is a web-based application that provides tools to enable students to practice reading aloud and to record pre-assigned passages called "assessments" or tests. Easily assign reading passages as assignments in Google Classroom.
Let teachers see live student responses and track student growth to standards.
Gale's research resources include unique online databases, library primary sources, newspaper digital archives, eBooks, courses and large print books.
Monitor students behavior on G Suite and Chrome devices with this security and audit tool.
GeoGebra's K-12+ STEM curriculum materials can be inserted into Google Classroom as tasks with just a few clicks. More than 700,000 materials (plus more added daily!) are available to meet the STEM needs of students and teachers.
GoGuardian Teacher allows teachers to mirror the classrooms they've set up in Classroom, syncing student enrollment, class period, and subject across platforms. Students and teachers can benefit even more from their Chromebooks with streamlined setup and use.
Help students build executive functioning skills with this one-stop shop for digital school work.
InsertLearning is a Chrome extension that lets you turn websites into interactive lessons. You can add sticky notes, links, videos, discussion questions, multiple choice questions and more! Then easily share your lesson with students in Google Classroom.(See also 4 Ways to Blend Learning with InsertLearning.)
With the Kami integration, teachers can distribute assignments, worksheets, and curriculum resources in PDF format for students to complete and easily turn in.
Khan Academy supports teachers with rigorous personalized learning tools and data-driven insights – all for free. Now, teachers can import their Google Classroom rosters into Khan Academy and directly assign Khan Academy content to their students through Classroom.
Ignite the next generation of content creators with this safe publishing platform that empowers students to share their voice.
Kodable teaches kids to code at home or at school with fun games and gives teachers a complete K-5 coding curriculum for the classroom.
Kurzweil3000.com delivers anytime, anywhere access to key reading supports for those individuals with the cognitive ability, but not the literacy skills, to learn from age appropriate content.
Keep students engaged and learning in a safe digital environment with LanSchool Air's simple classroom management software –available on Chromebooks, Mac, and Windows.
LearnZillion is a website that provides teachers with a library of interactive math and language arts lessons, videos, quizzes, and assignments for students. LearnZillion tracks student progress and achievement on the lessons and quizzes and reports the results to the teacher's dashboard for assessment.
Little SIS for Classroom auto-creates Google Classroom classes and auto-syncs class rosters from student information exports, making it easier for schools to adopt and maintain Google Classroom at scale.
Listenwise is an award-winning listening skills platform. We harness the power of listening to advance literacy and learning in all students. Our collection of podcasts and public radio keeps teaching connected to the real world and builds student listening skills at the same time.
Lucidpress is a web-based drag and drop publishing app, enabling anyone to create stunning content for print and digital.
Makers Empire 3D is designed to help K-8 teachers integrate 3D design and printing into their teaching practice effectively and efficiently.
This integration syncs Classroom with MathGames.com, a source for math games and skill practice online. Teachers can automatically create and sync math assignments within Classroom and track students' progress.
Mote is a FREE Chrome extension that allows you to leave voice notes and feedback on the web and in Google Classroom, and much more! (Learn more about Mote.)
Shake Up Learning listeners can get an exclusive 3-month trial for Mote Unlimited by going to justmote.me/shakeuplearning. 
Nearpod is an interactive presentation and assessment tool that can be used to amazing effect in the classroom. The app's concept is simple. A teacher can create presentations that can contain Quiz's, Polls, Videos, Images, Drawing-Boards, Web Content and so on.
Allows teachers and students to search 360,000+ educator-vetted, standards-aligned, open education resources–all in one place.
With the Google Classroom integration, teachers using Newsela can sign up, import classrooms, and share assignments directly with Google Classroom. This makes it faster and easier for teachers to get started using Newsela.
Explore, assign, and track K-12 lessons that integrate coding and STEAM into all subjects and get students working beyond screens–in school and at home.
Padlet is an online virtual "bulletin" board, where students and teachers can collaborate, reflect, share links and pictures, and more. (Share to Classroom available in Padlet Backpack version.)
PBS LearningMedia™ is your destination for direct access to thousands of classroom-ready, curriculum-targeted digital resources. PBS LearningMedia builds on the strength of public media and is designed to improve teacher effectiveness and student achievement. Resources are aligned to Common Core and national standards and include videos and interactives, as well as audio, documents, and in-depth lesson plans. You can browse by standards, grade level, subject area, and special collections. You can also favorite and share resources with your class and colleagues. Best of all, PBS LearningMedia's basic service is free for PreK-12 educators.
With Pear Deck and Google Classroom, it's easy for teachers to connect all of the devices in the room together in an interactive lesson. There's no need for codes or URLs that take students so long to type!
A sophisticated similarity detection tool that helps both teachers and students to automate the writing assessment process. It catches synonyms, word rearrangements and word substitutions.
This integration makes it seamless for teachers to assign Quizizz games to their class. Students can join a Quizizz game with one click and all their performance data is sent back to Classroom.
Quizlet makes simple learning tools that let you study anything. Start learning today with flashcards, games and learning tools — all for free.
Wonderfully intuitive and easy-to-use, Read&Write for Google Chrome™ provides personalized support to make documents, web pages and common file types in Google Drive (including: Google Docs, PDF, ePub & Kes) more accessible. It's designed to help everyone engage with digital content in a way that suits his/her abilities and learning styles.
SalamanderSoft Active Directory will automatically create and maintain Google Classroom classes directly from your management system, including calendar timetables and guardians.
Integrates with Google Workspace for education to share content, assessments, and rosters with single sign-on access.
The award-winning, non-profit Science Buddies empowers K-12 students, parents, and teachers to quickly and easily find free project ideas and help in all areas of science from physics to food science and music to microbiology.
Schoolytics helps educators and administrators generate insights on student learning by connecting the dots across tools like Google Classroom, Meet, Drive, assessment data, and more.
Schoolrunner is a tool for data analysis that unites academic and cultural insights within one intuitive system. With this integration, teachers can load student grades from Classroom directly into Schoolrunner's grade book.
Screencastify Submit allows you to request videos from anyone (including your students). To use it, just create an assignment, share the link wherever, and watch the videos roll in to your Google Drive.
Leverage this MIS to G Suite tool to sync users and teaching groups, and timetables to Google Calendar. You can even manage Classrooms, reporting, and room booking.
Create music, podcasts, language exercises and much more in Soundtrap. With the Google Classroom integration, teachers can invite students, follow their progress and create assignments.
Transform teaching materials of speech or text into animated videos for effective learning that keeps students' attention longer.
Make writing projects more inspiring by enabling students to publish and narrate their own books, individually or with students around the world.
Studyo is a complete planner solution for schools, incorporating centralized timetables, workload management and integration with an LMS as well as Google Classroom to pull assignments. Students can also enter their own tasks or plan all steps of teacher-published tasks together.
Take your curriculum and put it to music to drive engagement, retention, and achievement in and out of the classroom.
Sutori is a collaborative presentation tool for the classroom for all age groups and content areas. It provides a canvas for assignments and lesson plans.
Sycamore syncs class rosters, assignments, attachments, and grades into the Sycamore gradebook to produce reports for teachers.
Use this powerful gradebook and school portal to get help with grades, assessments, attendance, lesson plans, skills and standards, and more using Administrator's Plus SIS.
Make learning fun with Tes Teach with Blendspace, the free and easy edtech tool teachers love for lessons, projects, presentations, and more. No planning needed. (Learn more: Create Interactive Lessons for Google Classroom.)
Today displays all of a student's Google Classroom Classwork and provides planning tools to decide when the student will accomplish next steps.
Tynker's Google Classroom integration streamlines the process of importing students to Tynker, assigning Tynker lessons, and viewing grades.
TypingClub is a typing and keyboarding website (and Chrome and mobile app) with lessons and incentives that help kids learn to touch-type (typing using all fingers, without looking at the keyboard).
Blend classroom lectures with interactive assignments, make distance learning more effective, or use Versal at the administrative level for student orientation and professional development.
IXL provides unlimited practice in more than 7000 topics, covering math, language arts, science, social studies, and Spanish. Interactive questions, awards, and certificates keep kids motivated as they master skills.
Unicheck is a plagiarism checker for Google Classroom. Reports compare student work with internet sources and databases and highlight similarities.
Save, organize and share content from across the web with Wakelet. Find out how Wakelet can transform the classroom for teachers and students.
WeVideo is the complete, feature-packed video editing and digital storytelling platform for today's classrooms. You can easily share your finished videos to Google Classroom with a click of a button.
Writable is a guided writing practice program for grades 3-12. With hundreds of customizable assignments, Writable helps teachers save time on instruction and feedback. The program works alongside Google Classroom/Docs to scaffold writing, deliver feedback, speed up grading, and monitor growth.
---
The Google Classroom Master Class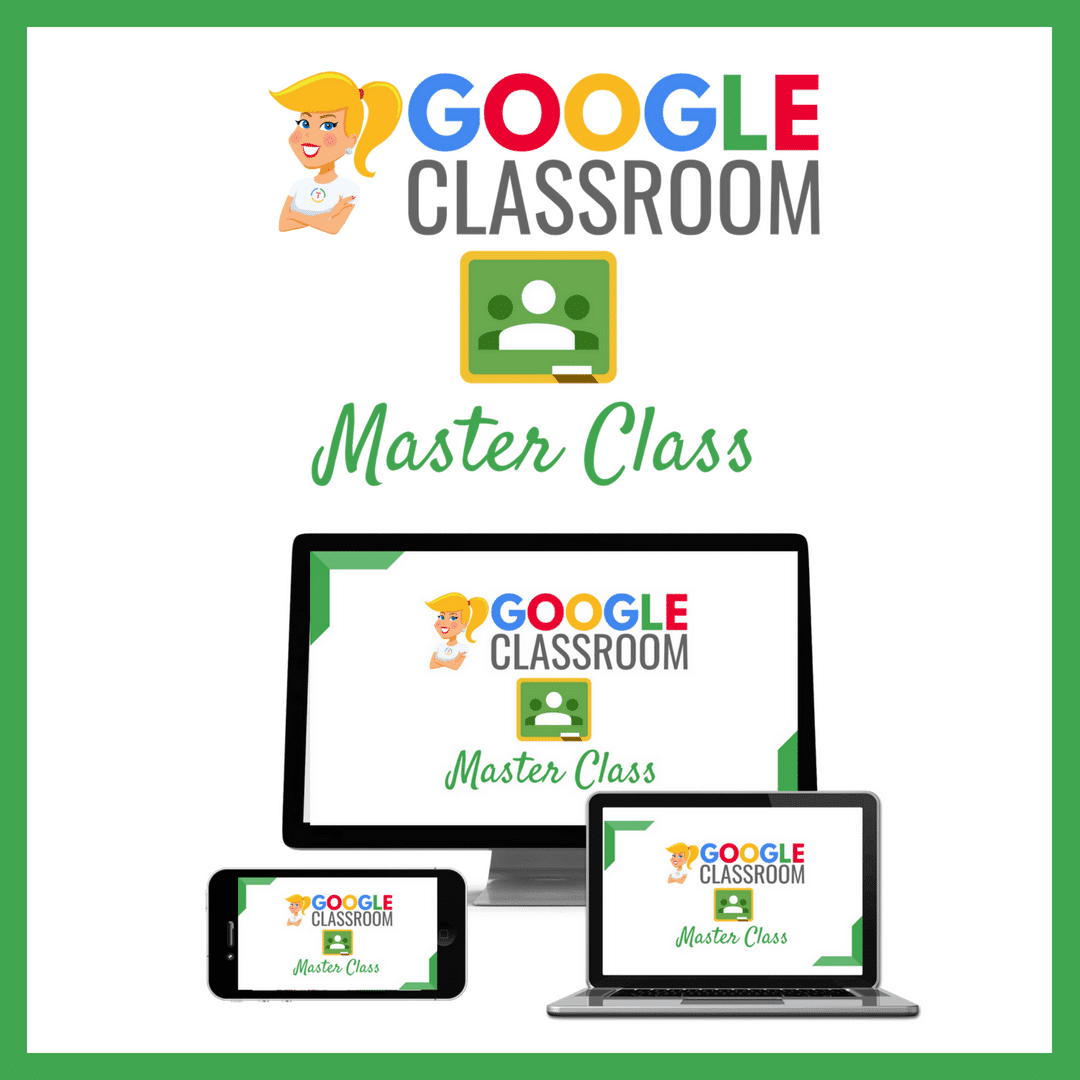 Learn all about the new updates to Google Classroom and take your skills to the next level.
This course will give you everything you need to get started using Google Classroom and best practices to help you make the most of this tool.
Perfect for beginner to intermediate skill levels! Consider this your video guide to Google Classroom!
---
Learn All About the Course
---
Who Should Join the Google Classroom Master Class?
Beginners can learn everything they need to get started.
Intermediate-level users can focus on learning more advanced features, tips and tricks, and best practices.
Go at your own pace.
Let's dig in! This class is for all skill levels!
What's Included in the Google Classroom Master Class?
Self-paced
Video-based lessons
6 BONUS Lessons
PDF Downloads
Supporting Resources
Best Practices and Tips
6 hours of professional learning credit
Bulk license discounts
Get your whole team, campus, or district on board
---
Click here to learn more and to ENROLL TODAY!
---
© Shake Up Learning 2023. Unauthorized use and/or duplication of this material without express and written permission from this blog's author and/or owner is strictly prohibited. Excerpts and links may be used, provided that full and clear credit is given to Kasey Bell and Shake Up Learning with appropriate and specific direction to the original content on ShakeUpLearning.com. See: Copyright Policy.