TES Teach with Blendspace is the perfect platform for creating interactive lessons to engage your students and share via Google Classroom. This easy-to-use application allows you to create a blended lesson, presentation or project quickly and easily. Oh, and a big bonus: not only does TES Teach integrate with Google Classroom, but it also connects to your Google account and allows you to blend all of your favorite Google apps into one lesson. And guess what? It's all FREE!
[Tweet "Create Interactive Lessons for Google Classroom with @TES_Teach!"]
---
What is TES Teach with Blendspace?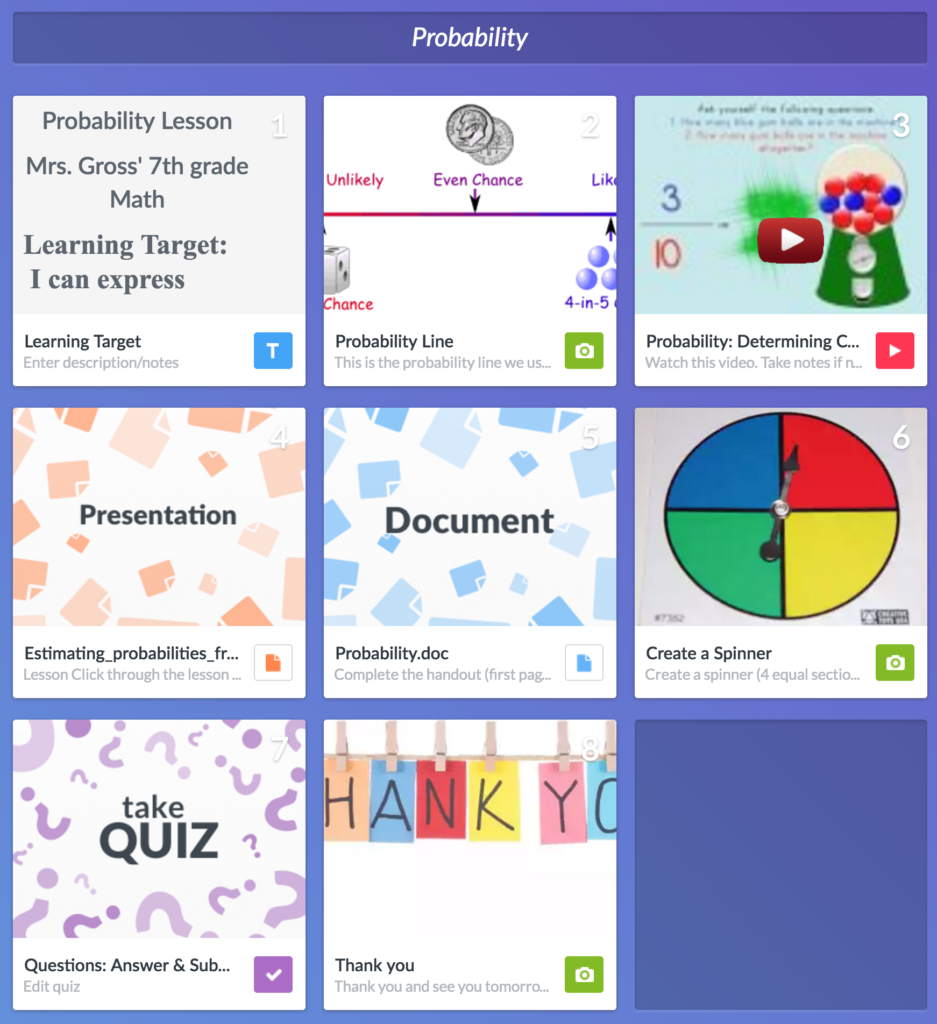 The TES Teach with Blendspace platform allows you to bring all of your digital content into one, easy-to-follow lesson, including content from the web, YouTube, Google Images, Flickr, Google Drive, Dropbox, and upload your own media. You can also tag your lessons with Common Core standards. The drag-and-drop interface is easy and intuitive. You can create a lesson in as little as five minutes. You also have the option to add additional descriptions and directions for your students. You can even add a quiz and embed discussions, and TES Teach will track your students' responses!
---
The lesson can then be shared with students via a unique link, Google Classroom, Facebook, Twitter, email, QR code, or embed the lesson on your own website. So many options to make this platform work for you and your students! The lesson itself is almost like a playlist where students can navigate in the order as designed or select parts of the lesson to do. They can also use TES Teach to create presentations and other projects.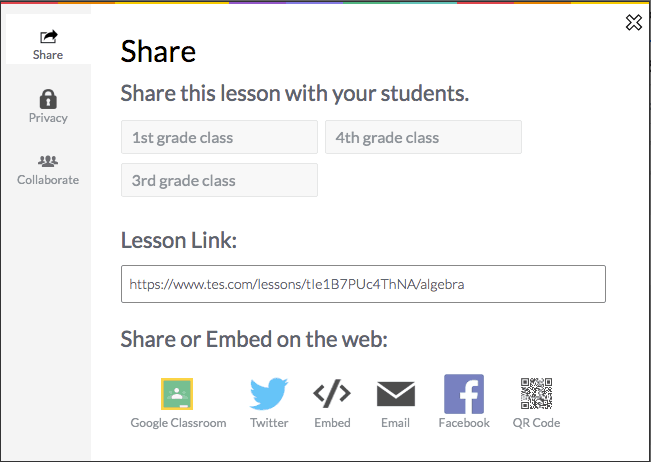 Google Apps Integration
This post would not be complete if I didn't mention that TES Teach is also a Google for Education partner with multiple ways to integrate Google Apps. No need to create a new account. You can just log in with your Google account. (That's one less password to remember!) Not only can you share your lessons to Google Classroom (as mentioned above), but you can also easily connect to Google Drive. Once you create your account, click the new lesson button to begin designing your first lesson. Here you will see the option to connect to Google Drive. With just a couple clicks, you can give TES Teach permission to link to your Google Drive files and easily search and add any files you want to the lesson.
Using Google Chrome or Chromebooks? Be sure you get the TES Teach with Blendspace Chrome App.
Using TES Teach with Google Classroom
TES Teach iPad App
You can also bring the power of TES Teach to your iPad! TES has also released a FREE iPad app so you can continue to create and learn on your iPad devices. The iPad app gives you the same functionality as the web browser version.
FEATURES:
 Free for educators, parents, and students
 Create unlimited interactive lessons, presentations, and projects by dragging-
and-dropping web content, your own files, and assessments in one place
 Add photos from your camera roll
 Browse, bookmark, copy, and adapt lessons created by others in the Library
 Edit, view, and share your own lessons created on the web
 Discuss and comment directly on learning resources
 Take quizzes and instantly receive results
Download the Teach with Blendspace app here.
Awesome Lesson Ideas
Looking for lesson ideas? Don't miss the TES Lessons Library,  where you can search for free lessons by subject and grade level. You can copy the lessons to make them your own. Sharing is caring! You can also incorporate free activities, games, presentations, and lesson plans using the TES Resources Search tab. No need to start from scratch!
There are thousands of free resources created by teachers and FOR teachers. You will also find some lessons here that have been designed to work with Google Expeditions! So if you are just getting started with Google Cardboard and the fantastic new Google Expeditions, be sure you visit this page.
Get Started with TES Teach
Ready to get started? Below is a quick start video and here is a Quick Start Guide to help walk you through the process.
Don't forget to share your lessons! I'd love to see how you are using TES Teach with Blendspace in your classroom, so be sure to share in the comments below!
**Note: This is a sponsored post. I received compensation in exchange for writing this review. I only write about products that I like and believe are useful to teachers and students. The review and opinions in this post are that of Kasey Bell and Shake Up Learning.
---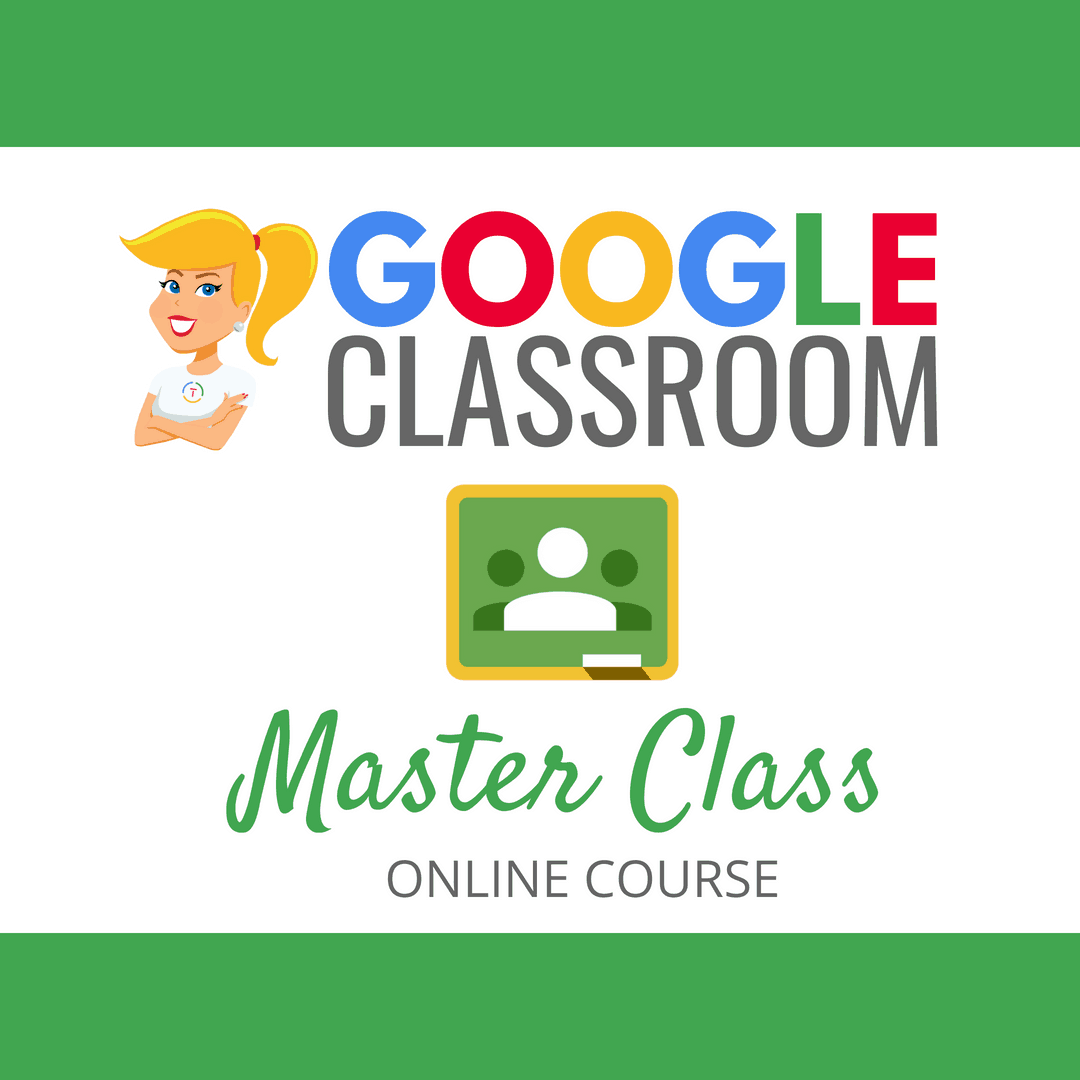 Learn all about the new updates to Google Classroom and take your skills to the next level. This course will give you everything you need to get started using Google Classroom and best practices to help you make the most of this tool.
Perfect for beginner to intermediate skill levels! Consider this your video guide to Google Classroom!
Click here to learn more and to ENROLL TODAY!
---
© Shake Up Learning 2023. Unauthorized use and/or duplication of this material without express and written permission from this blog's author and/or owner is strictly prohibited. Excerpts and links may be used, provided that full and clear credit is given to Kasey Bell and Shake Up Learning with appropriate and specific direction to the original content on ShakeUpLearning.com. See: Copyright Policy.