Virtual Reality in the Classroom – Part 2
*This post is sponsored by Samsung. All thoughts and opinions are my own.*
Virtual Reality has the power to transform the future of learning. By giving students an interactive, three-dimensional learning environment, we have the potential to reach learners in ways previously never conceived. For a closer look at the future of virtual reality in education, dive into this article from the Samsung Insights blog: Immersive Virtual Reality: The Next Frontier in Education. The article explores the growth of virtual reality and the implications in both K-12 and higher education.
Imagine for a moment immersing your students in the ultimate learning environment for your lesson…What does it look like? How can students interact with the environment? How can this environment better engage students and help them form a deeper understanding of the content? Imagine the possibilities of virtual learning environments and transporting your students to places they could never go before!
Did you miss Part 1 in this series? Getting Started with Virtual Reality and Google Expeditions
---
Part 3: How to Choose a Virtual Reality Device for Your Classroom
---
The Ultimate Google Cardboard and Expeditions Resource Guide
[Tweet "How to Use Virtual Reality and Google Expeditions in the Classroom #ARVRinEDU #edtech #googleedu"]
Playing around with VR, Google Cardboard, or another headset is easy on your own or sharing with a couple of students or friends, but how do we bring this to the masses—the entire classroom of students? This part is not so easy, but many are beginning to find ways to make it happen. Let's explore the application of virtual reality in the classroom.
The Impact of Virtual Reality on Education
Below is a great TEDx Talk by Alex Faaborg, a virtual reality designer for Google who talks about designing virtual reality for education.
How to Use Virtual Reality and Google Expeditions in the Classroom
As you begin to dip your toes (and your students') into the virtual reality waters, you will discover an ever-burgeoning supply of resources and videos to support your curriculum and learning goals. Let's first explore what Google Expeditions has to offer.
In case you missed Part 1 of this series, Google defines this product as, "Google Expeditions enable teachers to bring students on virtual trips to places like museums, underwater, and outer space. Expeditions are collections of linked virtual reality (VR) content and supporting materials that can be used alongside existing curriculum. These trips are collections of virtual reality panoramas — 360° panoramas and 3D images — annotated with details, points of interest, and questions that make them easy to integrate into curriculum already used in schools. Google is working with a number of partners, including: WNET, PBS, Houghton Mifflin Harcourt, the American Museum of Natural History, the Planetary Society, David Attenborough with production company Alchemy VR and many of the Google Cultural Institute museum partners to create custom educational content that spans the universe."
The video below will help you see the possibilities of Google Expeditions in the classroom, as we see it from the eye of a middle school student.
[Tweet "Reach learners in new ways with Virtual Reality and Google Expeditions @SamsungEdu"]
There are HUNDREDS of Google Expeditions now available and shared on this spreadsheet. Here you can discover all of the virtual field trips that are available, as well as additional lesson plans and materials that are available and crowd-sourced from other teachers. You can also share your own. So not only can you explore the globe with your students, but you can also take college tours (see also: Virtual Reality Tours Can Help Every Student Pick the Right College from the Samsung Insights blog), and explore career expeditions as well.
You can use the Google Expeditions app without Google Cardboard or any type of VR headset. It is not technically VR or immersive, but high definition 360 video exploration. This is not quite as engaging, but still a useful tool if you do not have access to a class set of devices and headsets. 360 videos can be shared by two or three students on one compatible device or part of a learning station.
Take the time to explore the spreadsheet of Expeditions to see if any of these expeditions fit well into your curriculum.
We will explore additional ways to use virtual reality beyond Google Expeditions later in this series. So stay tuned for even more resources.
Be Cautious with Their Young Eyes
When you open the Expeditions app on iOS or Android, you will first see the guidelines that you must review and accept. Google Expeditions is only for users older than age 7, and should not be used without adult supervision.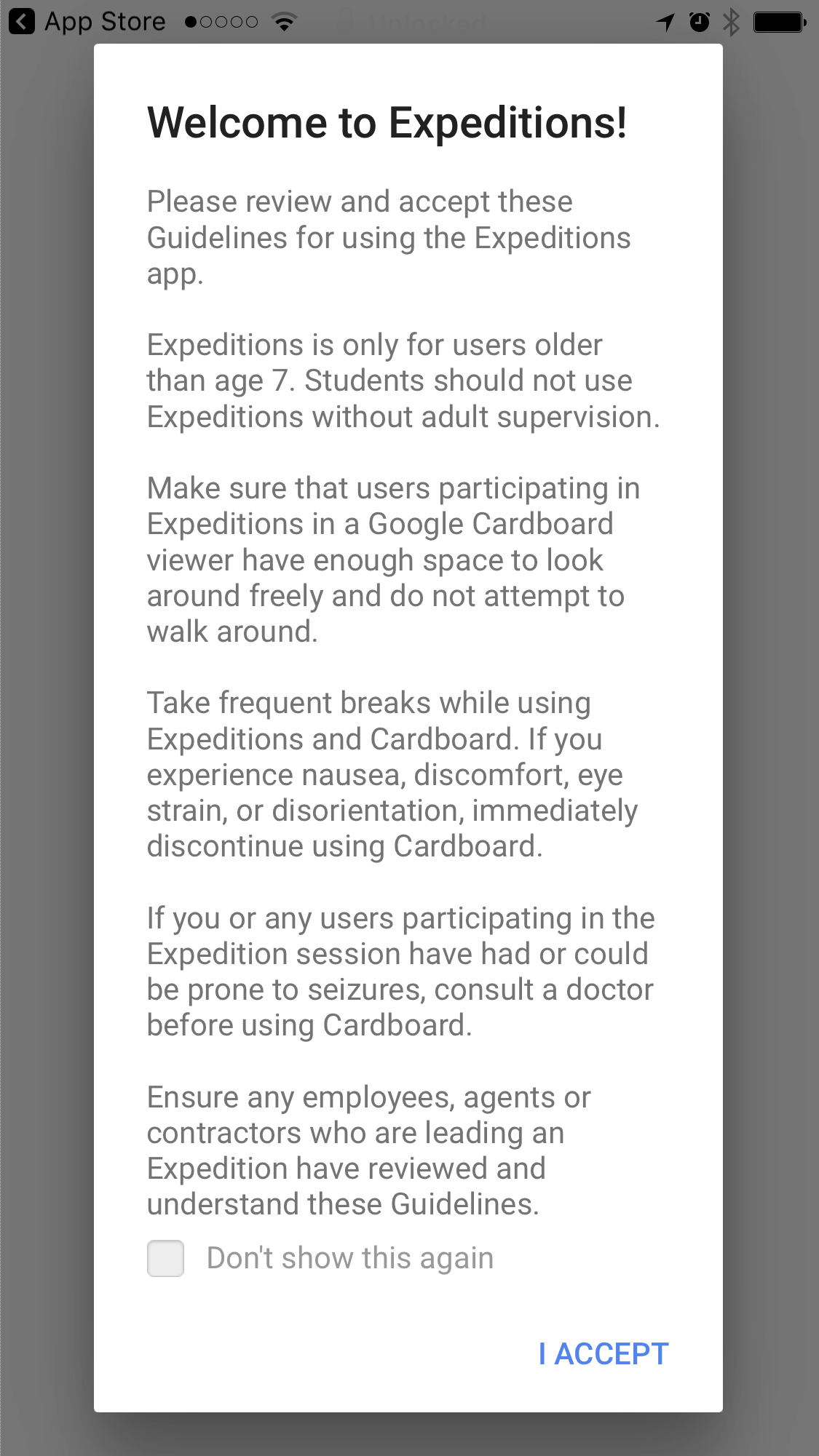 A Note About Age Restrictions: There are applications for VR at any grade level. However, most manufacturers do not recommend extended time with VR headsets for those under the age of 12-13.
Oculus Rift and Samsung's Gear VR headset have a 13+ age rating. Sony's PlayStation VR is not to be used by children under the age of 12. And though some do not specify an age limit, most encourage you to be cautious with children under 12. This is just like any device that requires your eyes to stay focused on something up close for extended periods of time. There's nothing inherent to virtual reality itself that has been found to be harmful. Remember to TAKE FREQUENT BREAKS when using VR with students. If you would like to learn more, check out this article from Digital Trends: Is VR Safe for Kids?
After accepting the Expeditions guidelines, you have the option to "learn more," which will take you to the Google Expeditions support page which was also shared in Part 1 of this series.
[Tweet "Remember to TAKE FREQUENT BREAKS when using VR with students @SamsungEdu"]
Be a Guide or Be An Explorer
Once you have identified an Expedition to integrate into your classroom, take the time to play and explore on your own so you know what to expect before trying it in the classroom. This could be a fun experiment during a department meeting!
After you have accepted the Google Expeditions guidelines, the app will prompt you to choose your role. You can choose to be the leader of an expedition (the teacher role) or be an explorer (the student role). Then you will confirm which Google account you wish to use. Next, the app will begin looking for "explorers" that are on your wifi. Although VR requires a smartphone device, they only need wifi access. The app is very user-friendly and will walk you through each step. As the leader, you can see where your explorers are in the expedition, as well as highlights and details that you can share with your students along the way. There are even guiding questions to help engage your students in the content.
For a great step-by-step guide, please visit Michael Fricano's awesome blog, Edtechnocation, and check out the awesome Expeditions Guide he created for teachers.  (Thanks, Mike!)
Where you decide to go from here, is up to you. Will Google Expeditions enhance the learning in your classroom? Only you know the answer to that. It is definitely a great place to start.
Virtual Reality Resources for Teachers (and more coming soon!)
I have been curating VR resources, including those for Google Expeditions on a Pinterest Board, and a YouTube Playlist. I will share more resources in the coming posts in this series, but if you are ready for more, feel free to explore!
[pinterest-master]
In the next post in this series, we will look at moving beyond Google Expeditions. Stay tuned for more, and subscribe to Shake Up Learning to get all the updates!
Did you miss Part 1 in this series? Getting Started with Virtual Reality and Google Expeditions
Part 3: How to Choose a Virtual Reality Device for Your Classroom
The Ultimate Google Cardboard and Expeditions Resource Guide
---
---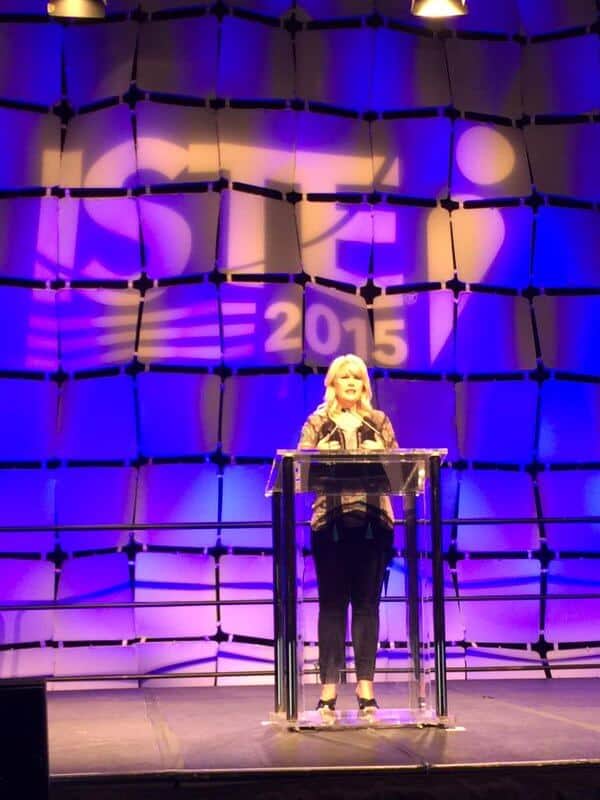 Want to Shake Things Up in Your School or District? Bring Kasey Bell and Shake Up Learning to You!
Ready to shake things up in your school or at your event? Email me at 
Kasey[at]ShakeUpLearning.com
, or submit this 
PD request form
 to bring Shake Up Learning to your 2017 event.
---
Below are just a few of the keynote presentations and workshops that I deliver across the globe:
Change is the New Black: Embrace the Digital Learning Revolution (keynote)
Geeking Out Over Google Classroom
How to Get Google Certified!
Transform the Learning with Google Expeditions and Virtual Reality
Interactive Learning with Google Drawings
G Suite for Administrators
Digital Differentiation with G Suite
and many more!
---
Testimonials
Here is what others have said about Kasey Bell's presentations:
"Thank YOU for an outstanding presentation this morning. I received so many wonderful comments about your keynote at our conference. These attendees didn't just say they "liked" it; they each offered a specific point from your presentation to share with me that impacted their thinking about "change" or the integration of technology & instruction. Now that's an effective presentation!" – Jane McKinney
---
"Great session. Loved the 'treasures' theme throughout. Great, quick overview of tools and classroom applications for Google Apps." – Chad Kafka
---
"If you are attending a conference, follow these steps:
1. Search by presenter.
2. Find Kasey Bell.
3. Put all her sessions on your schedule!
You will learn so much and have a great time doing it!" – Stacy Menifee
---
"Best session I went to…..So much wonderful information and every bit of it useful!" – Luanne Rowland
---
© Shake Up Learning 2023. Unauthorized use and/or duplication of this material without express and written permission from this blog's author and/or owner is strictly prohibited. Excerpts and links may be used, provided that full and clear credit is given to Kasey Bell and Shake Up Learning with appropriate and specific direction to the original content on ShakeUpLearning.com. See: Copyright Policy.