Testimonials from Presentations, Workshops and Keynote Speaking Engagements by Kasey Bell.
Did you see me present and like what you saw? Fill out this form and leave me some feedback. I'd love to hear from you!
"Kasey Bell was amazing, I appreciated her energy, expertise, and experience. The examples, strategies, and resources she shared were so valuable and accessible for people at all levels. Thank you so much for the opportunity to hear her speak and learn from/with her. I could spend hours hearing her talk about her ideas." – ERLC Innovation Summit in Edmonton, Canada participant
"I saw both of Kasey's presentations and i have to say that she was amazing! She touched on numerous ways to integrate tech differently into my classroom without skimming and did not overwhelm us. I am thinking and reflecting even more the next day now! " – ERLC Innovation Summit in Edmonton, Canada participant
"You are AMAZING! I am inspired every time I hear you present! My brain is in overload! Can't wait to try the new things I learned today in Google Keep!  Thank you!!" – Tonya Gaunt
"Awesome information, take aways that can be used in the classroom tomorrow. Thanks for sharing your resources. You were very engaging and motivational." – Dara Kappel
"Thank you for providing information in a way that makes sense! I usually go to tech based PD and feel lost, but you were amazing at making Google Classroom feel easy to use and accessible!
I now feel like implementing Google Classroom for this school year is the right decision — be prepared for emails asking questions as I get the hang of it! 😉 " – Anastasia Armstreet
"Your knowledge of G suite tips and tricks made the presentation fun. Thanks for sharing real examples." – Ann Carol Grant
"As always, Kasey delivers amazing resources in informative and concise presentations. Thank you so much for your thoughtful organization of all things Google." – Lesley Garcia
"LOVED all the great resources! Can't thank you enough. Excited and ready to start using them with my students and teachers." – Laurie
"Best session I went to at FETC…..So much wonderful information and every bit of it useful!" – Luanne Rowland
"Your passion in what you do is inspiring I left your class with a lot of great information that I will pass to my fellow teachers Thank You" – Joseph Tellez
"If you are attending a conference, follow these steps:
1. Search by presenter.
2. Find Kasey Bell.
3. Put all her sessions on your schedule!
You will learn so much and have a great time doing it!" – Stacy Menifee
 "I second that Stacy! Kasey Bell is a great presenter and resource!!" – Andrea McCorquodale
"Had opp to see Kasey @ #TCEA today. Loved her enthusiasm, energy and knowledge! Want to learn more from her!" – LaDonna
"Kasey is a great presenter! Loved her energy. You will walk out of her session with so many tools for your classroom. Thank you Kasey! @MrsLindaMarie" – Linda Salinas
"Thank you so much for your session on being a Google Addict. I loved all of the apps that you showed. I will certainly use these and share these with my teachers at work. Loved your enthusiasm! Will" – @Elem_Tech_Coah
"Loved session on Google apps for iOS devices!! Solves some issues for my T's!!" – Joanna Moreland
"Kasey is so knowledgeable and her presentations are first rate. I learned a ton from her at TCEA on Google, apps, and ipad goodness." – Amanda Hamilton
"Love the opportunity to participate with Kasey! Follow her on Twitter. She is always a tweet away to answer a question, brainstorm, and help find a solution. Glad she is in my ESC!" – Angela Smyers
"So much information! Great ideas for differentiating with digital tools." – Kate Ewalt
"Great session on differentiation with Google Apps. I got lots of resources to use. Love it!!" – Janice Skipwith
"Thank you SO much, Kasey, for an outstanding presentation!! Your instruction was clear, interesting, and very useful. I am excited to share the strategies you shared with my students!!" – Ann McCafferty
"I really enjoyed your presentation on Differentiated Apps for Google at the Summit in Charlottesville. It was really great to see how we can differentiate based upon different ability level or based on their knowledge about a topic. Thank you so much for sharing your powerpoint as well so that we can go back and revisit. Sometimes these summits are overwhelming so it nice to be able to go back once we are home. I was already sharing ideas from your lesson at lunch! 🙂" – Emily Vidt
"Great sessions Kasey! I enjoy using resources from your blog. 🙂" – Paula Pulley
"Great session. Loved the 'treasures' theme throughout. Great, quick overview of tools and classroom applications for Google Apps." – Chad Kafka
"Great Job. Learned lots (took notes but appreciate the links) I love my iPad but just got a Chrome book too! So iphone, ipad, macbook pro and chrome book. Loved the apps for iOS Thank you." – Cynthia
"Awesome session!! I got some great ideas. I have been a fan for quite some time and have use your cheat sheets for our teachers in several technology trainings!! Thank you, I love your gooey google." – Brenda Sherwood
"Good presentation! Good selection of resources without being overwhelming. The importance of identifying goals/objectives before "gamifying" the classroom was presented well." – Rhonda Artho
"Great presentation on the Golden Treasures of Google (cute theme too). Lots of info and good Google tools to play with!" – Rhonda Artho
"Outstanding sessions Kasey, a must for anyone wanting to implement the use of Google in your classrooms!" – Toni
"Great job today, Kasey!! I learned so much from your sessions today at TCEA Jamboree in Amarillo. Thank you for all the terrific info!!" – Janice Stewart
"This session was very helpful and easy to follow! Thanks for the great info!" – Shelley
"Thank you for an aamazing session @Ignite15 conference! The Best of Both the Worlds! Google Apps for the iPad! Definitely a great session for 1:1 classrooms, schools, and districts with iPads!" – Kelly
"You are an amazing, hard working wonderful communicator and collaborator. I can't say thank you enough for how easy you make it to learn and the phenomenal resources you provide. Thank you, thank you, thank you!" – Kitty Trip
"Kasey I have followed you for quite some time. I was so happy to meet with you and learn even more. Your presentation was so full of ideas and information I will have to process everything!!! So enjoyed the time!! – Pamila Rowe
"Thank YOU for an outstanding presentation this morning. I received so many wonderful comments about your keynote at our conference. These attendees didn't just say they "liked" it; they each offered a specific point from your presentation to share with me that impacted their thinking about "change" or the integration of technology & instruction. Now that's an effective presentation!" – Jane McKinney
"A blog you can count on ! Always something to "take away" for class use. A great use of your precious planning period." – Ann Kohler
"The presentation was rapid fire. I absorbed every word, every app, every extension. It was fast paced yet all information presented is made available digitally. I didn't have take notes. I showed up and participated! Great experience. I look forward to many more presentations with you." – Marie Adamson
"Awesome presentation, has so many useful and amazing tools for differentiating and integrating Google into the classroom." – Koda
"Thank you! I have attended many technology conferences, and I learned more in your one session than I have learned in a wknd conference. Your tools are engaging and I will begin using them immediately." – Stephanie
"Absolutely amazing and so applicable to my classroom!" – Peggy Veal
"Thank you so much! Your presentation was PACKED with things I will use next week. Just need to decide where to start. Thank you so much. Well worth the hike to the big room!" – Cindy Skinner
Summary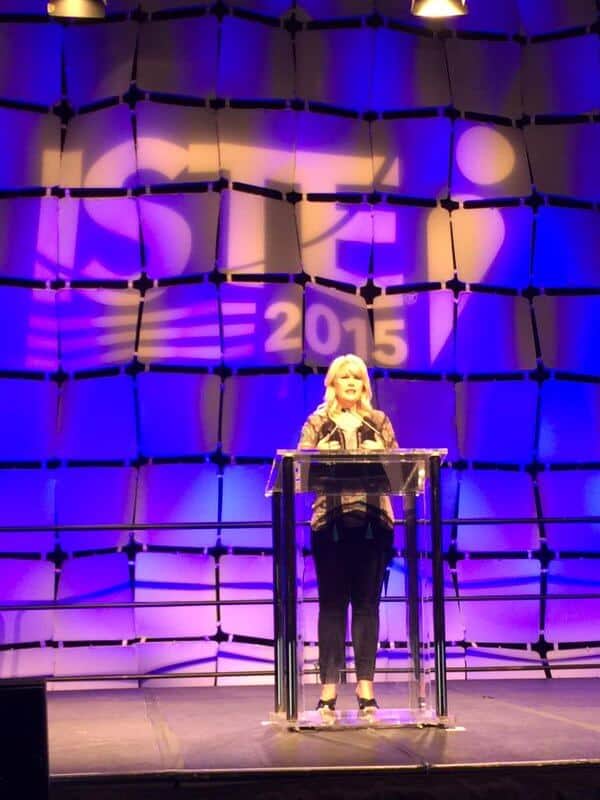 Article Name
Testimonials of Kasey Bell's Work
Description
Testimonials from Presentations, Workshops and Keynote Speaking Engagements by Kasey Bell.
Author