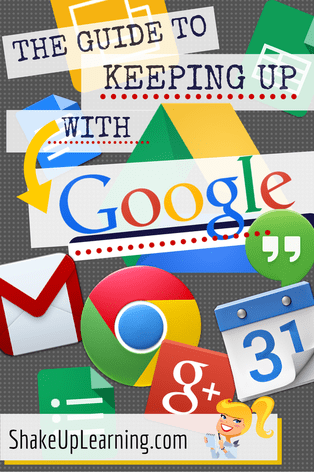 Hashtags, Twitter, G+, Communities, Blogs and YouTube Channels You Should Follow!
I often get asked, "How do you keep up with Google?" Well, first let me say that it's almost impossible! However, social media is how I attempt to stay abreast of all things Google. So I decided to compile a list of people, blogs, communities, and YouTube channels that I follow. Below is a start… It is far from comprehensive, but below you will find links to great educators, official Google accounts and blogs, and much, much, more! I'm sure this list will get updated periodically, so stay tuned for more!
#Hashtags
Twitter and Google+
Follow these Tweeps and Googlers for great ideas, resources and the latest and greatest on all things Google!
Google+ Communities
One of my favorite features of G+ are the communities. Be sure you check out my
5 Reasons Educators Should Be on G+
. You can find a community of educators on just about any topic on G+. Below are just a few of my favorite Googley communities.
Blogs and Websites
Below are just a few blogs and websites to follow for all things Google.
YouTube
Subscribing to YouTube Channels is a great way to stay up-to-date on Google Apps. Below are a few of my favorite channels.
Kasey will be presenting at the following events this summer:
Instructional Technology Symposium
Revolutionizing Learning in RCISD
© Shake Up Learning 2023. Unauthorized use and/or duplication of this material without express and written permission from this blog's author and/or owner is strictly prohibited. Excerpts and links may be used, provided that full and clear credit is given to Kasey Bell and Shake Up Learning with appropriate and specific direction to the original content on ShakeUpLearning.com. See: Copyright Policy.