Ready to transform the classrooms in your school?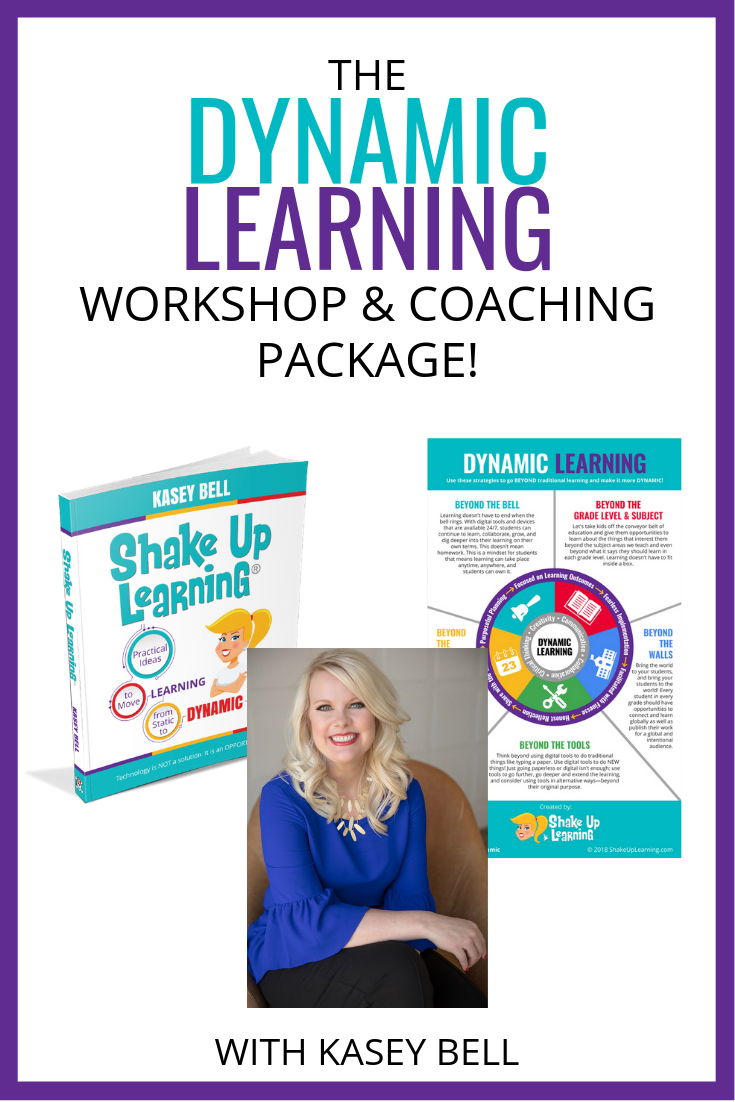 This three-day workshop and coaching package will help you and your teachers make meaningful technology integration a reality!
Technology is not a magic solution for education. It is an opportunity!
An opportunity to shake things up, to connect and grow, and to create dynamic learning experiences for our students!
Is the learning in your classroom static or dynamic?
Does your classroom offer one and done types of learning activities, or does the learning grow, inspire, and evolve throughout the year and beyond?
With digital tools that are available 24/7, the learning doesn't have to stop when the bell rings, or when the worksheet is turned in. The learning takes on a life of its own; it becomes dynamic.
Dynamic Learning is at the heart of my book, Shake Up Learning: Practical Ideas to Move Learning From Static to Dynamic.
[Tweet "The Dynamic Learning Workshop and Coaching Package! Transform your campus! #edtech"]


The Two-Day Workshop
In this face-to-face workshop, which I also offer as an online course, we will spend two, full days digging into the Dynamic Learning Framework, my best practices for MEANINGFUL technology integration.
All participants will receive a signed copy of Shake Up Learning.
Day 1 Outline 
Below is a rough outline of what to expect on day one of the workshop.
Introduction
Ice Breaker Pre-Assessment
Book Tour/Overview of Workshop
Why Shake Up Learning
Top 20 Tech Tips
Move From Static to Dynamic

DNA of Dynamic Learning
Essential Components
The 4 C's
ISTE Standards for Students

The Dynamic Learning Framework

Beyond the Bell
Beyond the Grade Level and Subject
Beyond the Walls
Beyond the Tools
Beyond the Due Date

Student Voice and Choice

Digital Choice Boards
Day 2 Outline
Below is a rough outline of what to expect on day two of the workshop.
Review yesterday, answer lingering questions
Easy Lesson Plan Makeovers (Do This, Not That)
Dynamic Learning Model Lessons
How to Plan a Dynamic Learning Experience

The DLE Template

Fearless Implementation
Honest Reflection
Share with the World
Time to Plan the Dynamic Learning Experience that will be implemented in the classroom before Kasey's coaching visit.
Day 3 Coaching Visit
Day three is a follow-up day scheduled several weeks after the workshop so that teachers have had time to implement their Dynamic Learning experience in their classrooms.
Kasey will meet one-on-one with each teacher to discuss how the implementation went and using coaching questions and strategies, Kasey will coach these teachers to help them improve their lessons.
After reflecting on their lessons, teachers will make any necessary revisions to their DLE and upload it to the Lesson Plan database to share with the world.
Bring this Workshop & Coaching Package to Your School
Fill out the form below to request this package and get a quote for your school.
(Kasey's calendar typically books 6 months or more in advance!)
Trouble viewing the form below? Click here.
The Dynamic Learning Workshop (Online Course)
This workshop is also offered as an online, self-paced course. You can learn more about the course and purchase here. We also offer discounts for groups of 15 or more, as well as site license options.
© Shake Up Learning 2023. Unauthorized use and/or duplication of this material without express and written permission from this blog's author and/or owner is strictly prohibited. Excerpts and links may be used, provided that full and clear credit is given to Kasey Bell and Shake Up Learning with appropriate and specific direction to the original content on ShakeUpLearning.com. See: Copyright Policy.
Shake Up Learning QUICKSTART GUIDE
Join the email list to get the latest information about the Shake Up Learning Book AND Get the FREE 20-Page Quickstart Guide that will help you Shake Up Learning in your classroom this year!