Jimmy Fallon cracks me up, and I love to find ways to use some of his Tonight Show games in the classroom.
In this post, I'm going to show you how to Teach Like the Tonight Show: Mad Lib Theater in the Classroom.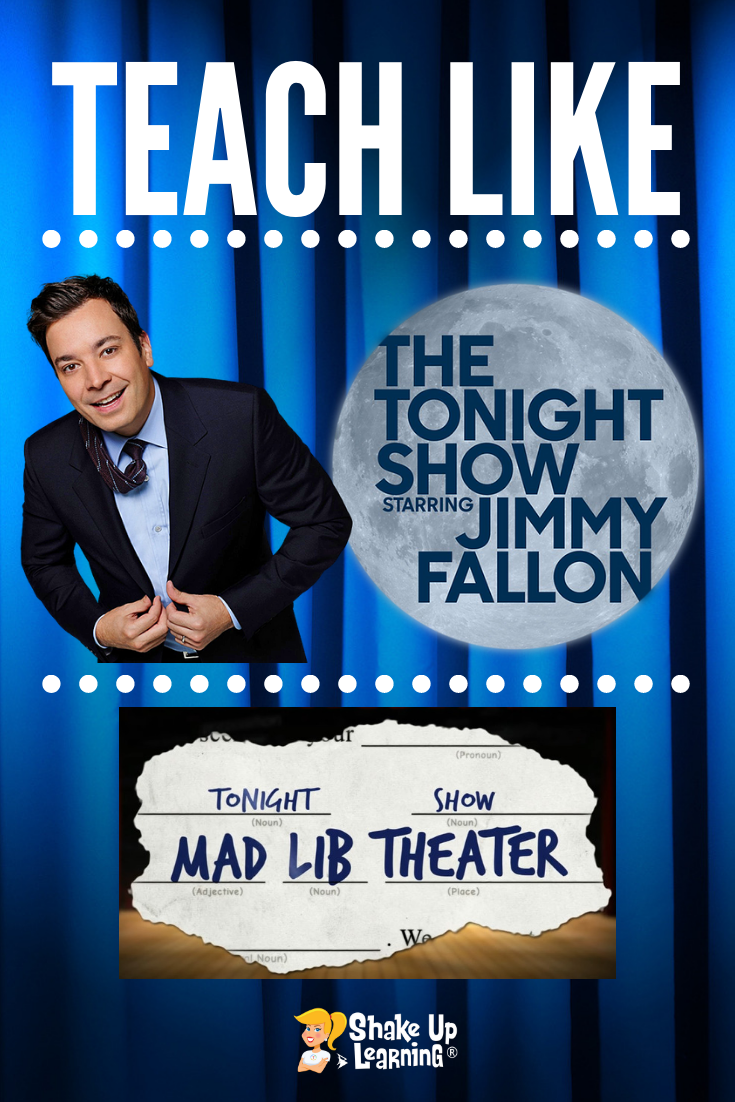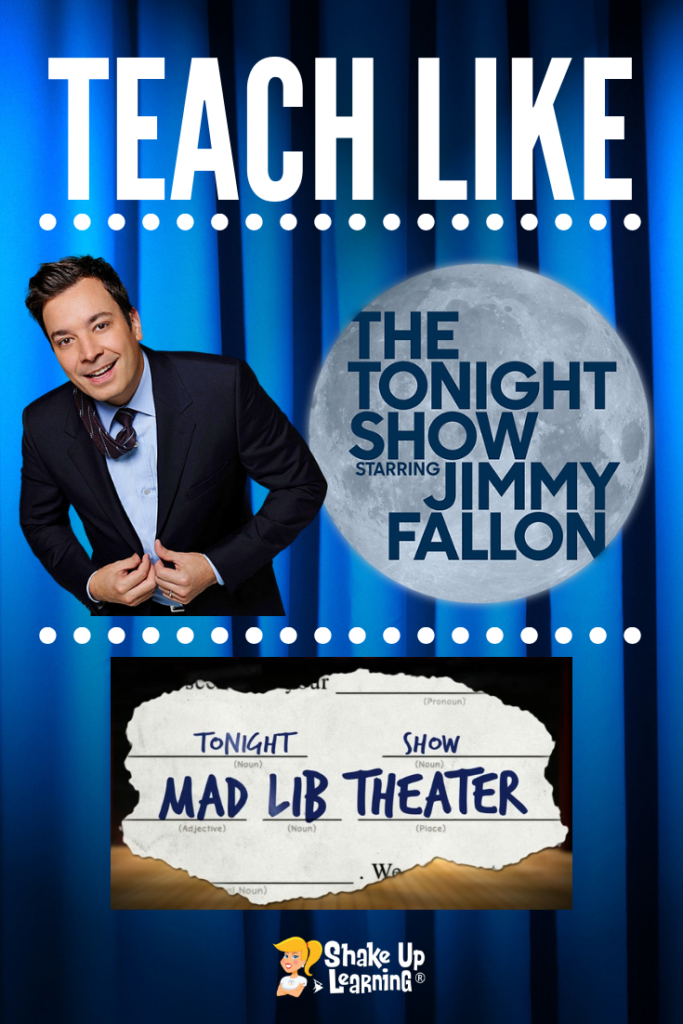 This is the fourth post in a series I have done over the years. Check out the previous posts here.
I'm a Jimmy Fallon fan. Not crazy, stalker, or anything. I just like the fact that he and his SNL and Tonight Show friends have made me laugh over the years. I mean come on! He was in the cowbell skit! (classic)
Last Thanksgiving, I had the privilege of seeing Jimmy in person at a Tonight Show rehearsal. It was AH-MAZING!
I wish I could show you pictures of what it's like to be inside that Studio 6B at Rockefeller Center, but they didn't allow cameras.
(But I got a t-shirt! LOL!)
So maybe I should get to the point?
Why Teach Like Jimmy Fallon?
I love to make people laugh, especially kids.
Did you know that if you are laughing while you are learning, you are more likely to remember it?
[Tweet "Teach Like @FallonTonight: Mad Lib Theater #shakeuplearning"]
Humor in the Classroom Do's:
Do use humor have fun
Do use humor to develop a community
Do use humor to enhance content
Do use age-appropriate humor
Do use humor to break up the mundane
Do use humor in transitions
---
Humor in the Classroom Don'ts:
Don't use sarcasm

Don't use inappropriate humor

Don't use humor that is at the expense of someone's feelings

Don't overuse
---
Mad Lib Theater
On the Tonight Show with Jimmy Fallon, they play a little game called Mad Lib Theater and it's exactly what you expect. Jimmy's guest fills in the blanks on a Mad Lib, then they act it out in a skit. So funny!
Watch the video below with the hilarious Kristen Wiig to get the idea:
How to Put an Educational Twist on This Game
So now you are probably thinking, "Okay, Kasey, this is funny, but how will this help my students learn?"
Here are a few ideas:
Use the Mad Lib to retell a story, novel, word problem, experiment, or historical event in a new way.
Create your own Mad Lib with a theme connected to your unit of study, using new vocabulary, important facts, dates, word problems, steps in the experiment etc. Reserve the blanks for less import words and ideas. Students complete in pairs or groups and then act out.
Have students write their own Mad Libs, exchange with a partner or another group to complete and act out.
Let them go big with this! Give them time to prepare costumes for the theme, but no peeking at the final script until show time!
Get creative! I'm sure this can spark many other fantastic ideas!
Of course, your Mad Lib can be digital! Docs, slides, forms, part of a Hyperdoc, whatever!
---
Check out the other Teach Like the Tonight Show ideas:
---
© Shake Up Learning 2023. Unauthorized use and/or duplication of this material without express and written permission from this blog's author and/or owner is strictly prohibited. Excerpts and links may be used, provided that full and clear credit is given to Kasey Bell and Shake Up Learning with appropriate and specific direction to the original content on ShakeUpLearning.com. See: Copyright Policy.