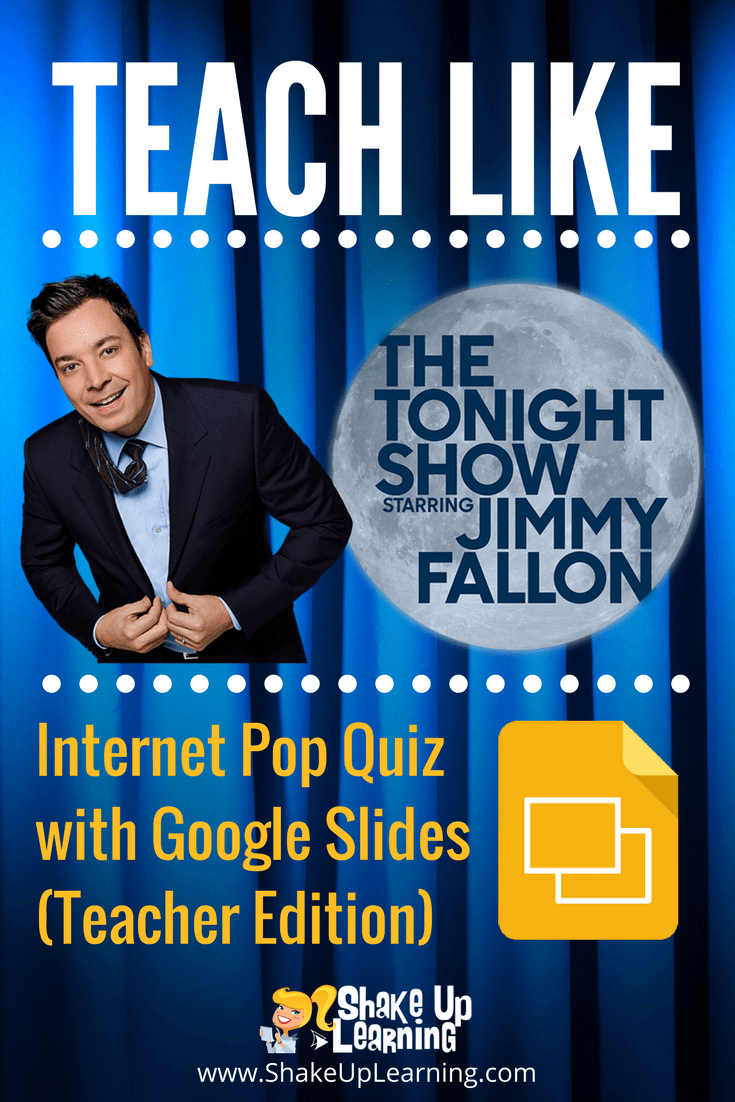 Take the Internet Pop Quiz
(Teacher Edition)
Bring the fun and laughter of Jimmy Fallon and The Tonight Show into your classroom AND your professional development! In this post, I will show you how to use Jimmy's Internet Pop Quiz as a model for a "Get to Know You," game with a Googley twist!
One person that always makes me laugh is Jimmy Fallon. He has revolutionized late night television. One of my favorite parts of The Tonight Show with Jimmy Fallon are the games that he plays with his guests. They are often times very child-like games (minus the drinking games). These are games that a lot of times are twists on old favorites, funny ways to use apps and technology, or completely outside the box games that make me go, "How did they think of that!" Nevertheless, I laugh. I laugh hard. Sometimes I learn a little bit about Jimmy and his guests. But what I love most about some of these games is that they can easily be transferred to the classroom and used to engage students with meaningful content.
[Tweet "Teach Like @FallonTonight: Internet Pop Quiz w/ #GoogleSlides (Teacher Ed.) #googleedu #edtech #gsuiteedu #gttribe"]
The Internet Pop Quiz
Jimmy uses The Internet Pop Quiz as a way to get to know his guests. It's usually something recorded behind the scenes and not on stage. This game is a fun way to break the ice and get to know your students. This is a game probably best for the secondary classroom and adults, although I'm sure it could be adapted for the younger grades as well. I use this game in workshops and add my special spin on things. Instead of just recording a video, I have teachers answer their pop quiz questions on Google Slides. The slides can then be shared with the group and, of course, they learn some new Google Slides skills along the way.
Below is an example of The Internet Pop Quiz with Joe Manganiello:
The Internet Pop Quiz (Teacher Edition)
I kept some of the questions from Jimmy's various versions, but I also put a little teacher twist on a few. I think you will see how easy you can adapt these for your classrooms.
Here are my Internet Pop Quiz questions:
What's the last thing you ordered online?
What's your record for the most episodes of a TV show watched in one sitting?
What's your most-used app?
What's your most-used app in the classroom?
What's your phone wallpaper?
Who's the last person you texted?
What's the weirdest tweet in your Twitter feed right now?
What's the best selfie or pet pic you've taken recently?
Who's your fave person to follow on Twitter or Instagram right now?
What would you want to experience in virtual reality?
Who is the most unexpected or surprising celebrity that you follow?
Camera roll roulette! Rules: open your camera roll, scroll for 3 seconds, then tap on a photo to show your partner.
[Tweet "Play a little Camera Roll Roulette in your next training! #edtech #edchat #SUL #googleedu"]
---
Take the Internet Pop Quiz (and Share!)
As a fun little bonus, I'd love to get to know the Shake Up Learning readers a little bit better. Take the quiz using my Google Slides template, (on mobile? make a copy instead) and feel free to have fun with it and spice it up–Shake Things Up!!
STEP 1: Take the Quiz using the Google Slides template
STEP 2: Share in the Shake Up Learning Facebook group or on social media using the #SUL hashtag! (Don't forget to make your slides public or anyone with the link!)
STEP 3: Read and respond to your colleagues, and connect with new people.
[Tweet "I'm taking The Internet Pop Quiz (Teacher Edition)! #edtech #edchat #SUL #gsuiteedu"]
My Answers to The Internet Pop Quiz!
Get to know me a little bit as well! My Answers to The Internet Pop Quiz are embedded blow. You can also leave me a comment in Google Slides if you want.
---
More Ideas from The Tonight Show with Jimmy Fallon
---
© Shake Up Learning 2023. Unauthorized use and/or duplication of this material without express and written permission from this blog's author and/or owner is strictly prohibited. Excerpts and links may be used, provided that full and clear credit is given to Kasey Bell and Shake Up Learning with appropriate and specific direction to the original content on ShakeUpLearning.com. See: Copyright Policy.