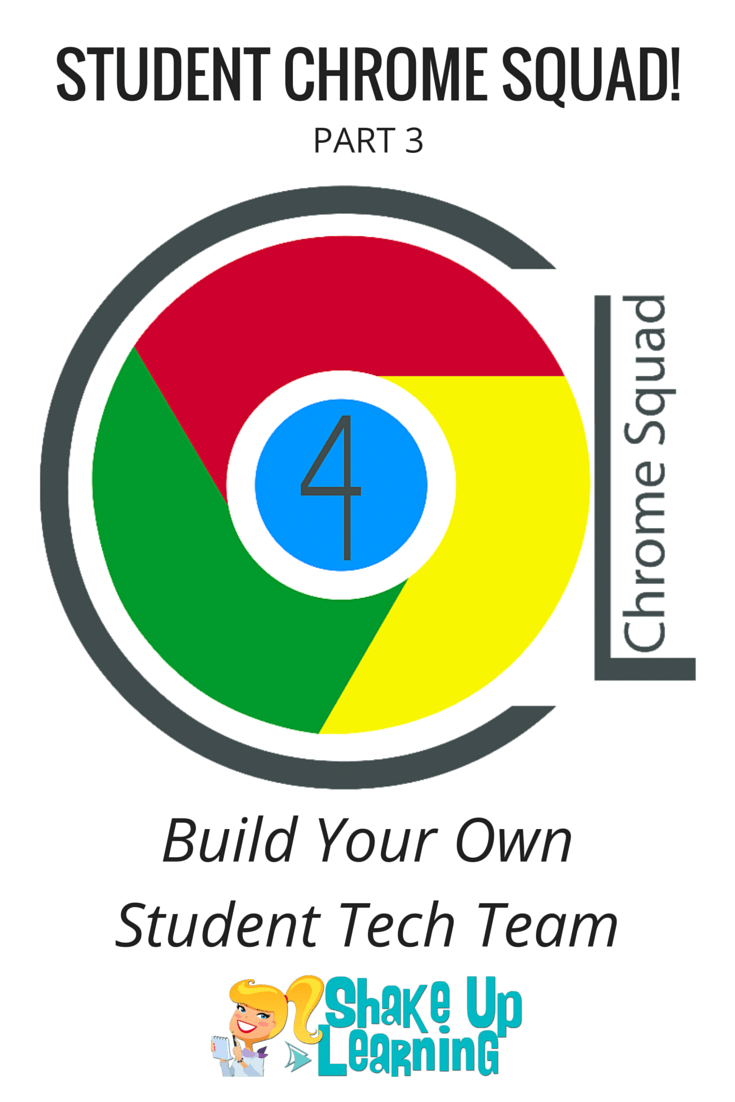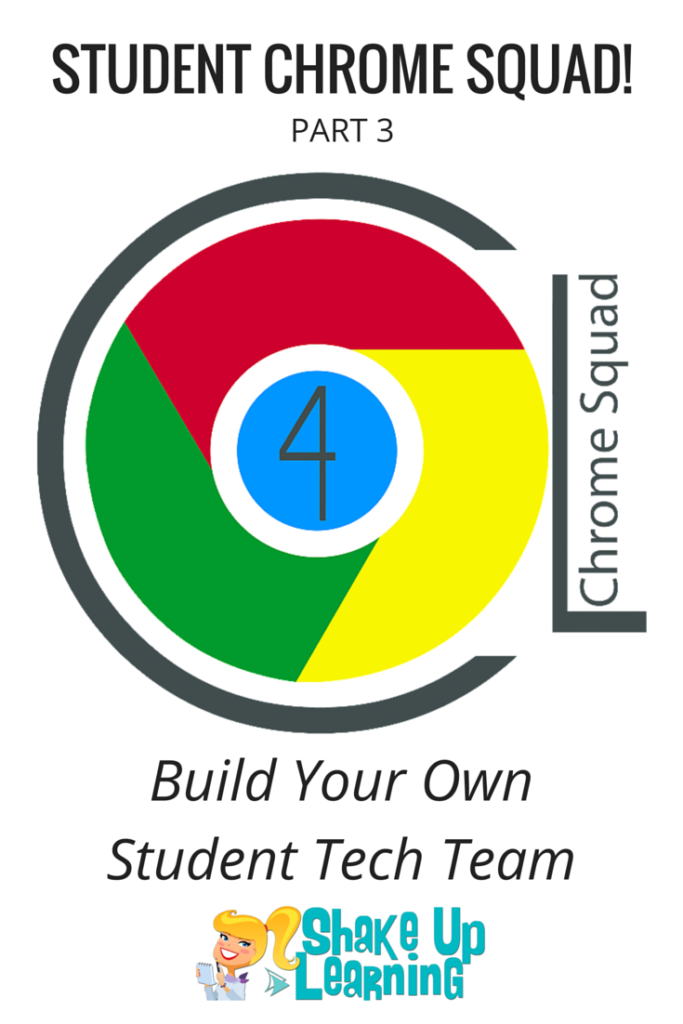 This is a guest post, authored by my friend and colleague, Cody Holt from Royse City ISD in Royse City, Texas. After 11 years as a high school Language Arts teacher, Cody made the transition to the world of instructional technology and his toughest challenge ever–teaching teachers. As a Digital Learning Specialist for Royse City ISD, Cody gets the privilege to help teachers navigate instruction in a digital age; specifically, how to incorporate digital tools to positively impact learning. Cody is also the Director of C4L Operations and the Chrome Squad Internship (C4L is our district 1-1 initiative). When not neck deep in Chromebooks Cody spends his time with his wonderful wife Jennifer and their three amazing kids: Kollyn, Reese, and Tucker.
---
Did you miss the other parts in this series?
---
Kasey's Notes:
I have had the privilege of working with the wonderful leaders and teachers of Royse City ISD over the last few years, and watching this Student Chrome Squad come to fruition has been such a joy for me as a teacher. Supporting a 1-to-1 initiative is not an easy task, but empowering students to help with the initiative is a brilliant idea.
I have seen these students present at conferences in Texas several times, and they never fail to impress me! Please watch this video to see just what a powerful team of student interns this group is and think about how this can help your school.[Tweet "Build Your Own Student Chrome Squad! #gafe"]
---
---
Resources for Building Your Own Student Internship
In the previous two parts of this series, I shared the journey that led to the formation of the Chrome Squad–an elite team of student interns. In the final part of this series, I feel it prudent to give you some help creating your own team of super powered teenagers (don't worry, it isn't as scary as it sounds).  I firmly believe each environment has its own unique variables so I won't be giving you the "Idiot's Guide to Student Internship" version of this.  Instead, I will share the resources I have and let you start your own journey.[Tweet "Resources for Building a Stu Internship Program"]
---
Selecting Interns
It is okay to have an application process, especially if you are new to the school or don't know the students, but teacher–and student if possible–input is key to making sure you are getting the right group of students together.  That is why I created a teacher advisory group to help me.  When forming that teacher group make sure to create a motley crew so you will gain input from all aspects of campus life.  The teacher advisory group has been instrumental in choosing the right interns.  
---
It is also a good idea to interview the candidates and ask non-traditional questions that highlight those character traits you want in your interns.  My favorite question that we asked this year was, "If you were given the time in school, the resources, and the permission to do/make/create anything you want, what would it be?"  It allowed the candidate to show what they were passionate about and let us see how their passion might fit in with Chrome Squad.  
---
If you follow a process similar to the Chrome Squad selection process (recommendations> teacher vetting> interviews) you will often end up with the best kids in the school.  It can be hard to turn down  one of them.  It's like someone placing all the flavors of Blue Bell in front of you and asking you to pick just one.  It is torture.  This is where team dynamics come into play.  Can they handle the stress of working alone?  Will they work well with the rest of the team?  Can they be equal measures leader and follower?  In the end I selected members that wanted to help others, better the school, were willing to put their wants aside for the good of the team, and pass the "talents" test.
---
The Talents test is the idea that if you give them something and time to work on it, the end result of that process will be greater than the initial investment.
---
Selecting a Leader
It is a little weird writing this part because, well, I'm talking like I have it all together. I don't, but this is the leader I want to be and the brief glimpses of these traits in me has helped shape the Chrome Squad.  So here I go.
---
It is also important to have the right adult leading the group.  They should be someone that can command respect by serving and teaching the interns well.  Someone who will say, "I love your idea so much that I am going to take your workload today so you can focus on making it a reality."  Someone that encourages innovation and pushes the interns to be better.  A leader that can set up the boundaries for the interns to work in that are broad enough to allow freedom, but firm enough that the interns have structure to depend on.  (I think I got that last one from a parenting book somewhere.)
---
Structure
Speaking of structure. I set up the basic framework for the Chrome Squad so they knew the non-negotiables.  They will be respected and respectful. They will be about helping others. They will be problem solvers and creators. They will be diligent.  They will be awesome.  I made it clear what the consequences would be for violating a non-negotiable:  dismissal from the Chrome Squad.  You can check out the Chrome Squad policies here.  The rest of the structure for the team developed as they made the program their own.  Check part two of this series to see how the Chrome Squad organized themselves.  As the Chrome Squad continues to evolve our structure will evolve with it.  I recommend you let the structure of your team be organic so that it can develop and adapt to future changes.  
---
Space
Once you have interns and structure to operate in, the interns will need a place to work.  The space should be welcoming to students and suitable for working.  The space we designed was colorful, yet calm, with "pub style" tables, couches and a standing height whiteboard table.  This gave the Chrome Squad a place to call their own.  It is their room to make inviting to guests and to take responsibility for.
---
Who to Talk To
Because this is only year two of this program I don't have a vast library or resources curated to share with you, but what I do have is a Twitter handle, email address, and phone number.  Feel free to contact me with questions.  I would love to help you setup your own student internship.
---
Cody Holt
holtn[at]rcisd.org
---
Recommendations
Finally (sort of), the Chrome Squad has had a few opportunities to speak about their success and share their recommendations on what to do to run a student intern program that works.  Here are a few of their top dos and a few don'ts.
---
Do:
Put the right team of students together

Push them beyond what they think they can do

Allow the freedom to be awesome

Get the right adult for the job (Someone that has a clear vision, but open to the path to get there)

Make the program your own

Expect problems and roll with them
[Tweet ""Do allow s's to be AWESOME!" – @beard_speak"]
---
Don't:
Expect to "cookie-cutter" another program

Be afraid of failure

Quit when failure happens

Be closed to adapting
---
Closing
So here we are at the end of, as the wonderful Kasey Bell says, "LONG!", three part series on creating a student internship and what can I say–the Chrome Squad is amazing!  People look at me and say "Wow! You have done an amazing job!"  I blush and try to put the focus back on the kids, because they are the miracle workers.  I play my small part in the story and let the real stars do the shining.  
---
If you would like to know more about the Chrome Squad and Connected for Learning you can find us online at www.ConnectedforLearning.org , on Twitter @chrome_squad, or contact me at holtn[at]rcisd.org.
---
Did you miss the other parts in this series?
© Shake Up Learning 2023. Unauthorized use and/or duplication of this material without express and written permission from this blog's author and/or owner is strictly prohibited. Excerpts and links may be used, provided that full and clear credit is given to Kasey Bell and Shake Up Learning with appropriate and specific direction to the original content on ShakeUpLearning.com. See: Copyright Policy.