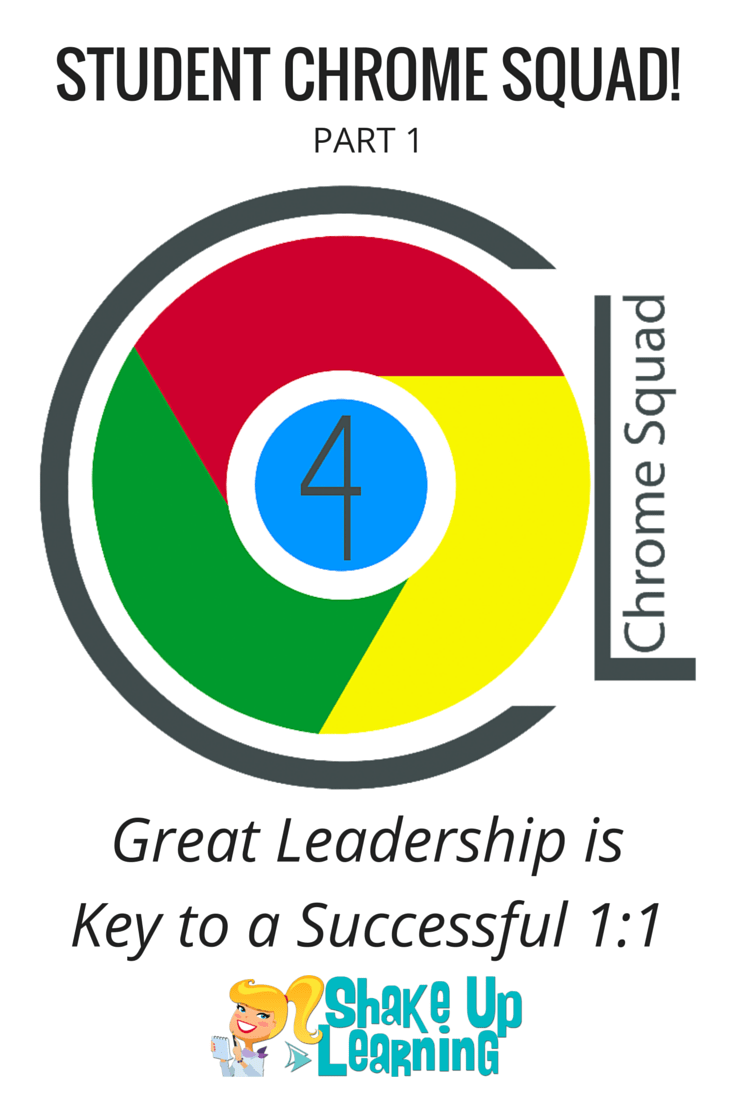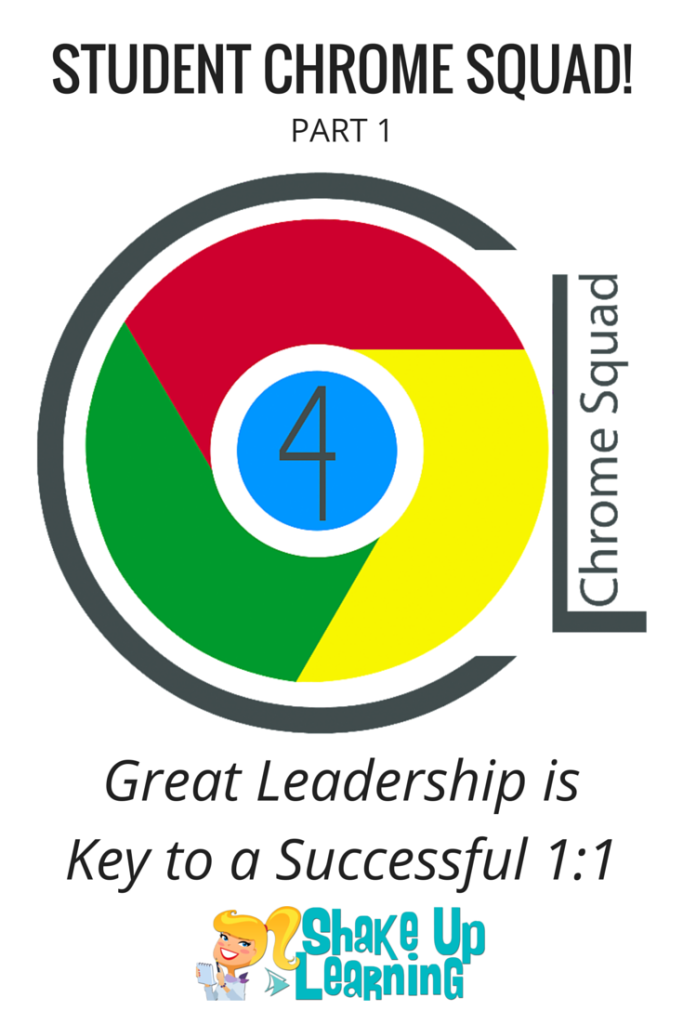 This is a guest post, authored by my friend and colleague, Cody Holt from Royse City ISD in Royse City, Texas. After 11 years as a high school Language Arts teacher, Cody made the transition to the world of instructional technology and his toughest challenge ever–teaching teachers. As a Digital Learning Specialist for Royse City ISD, Cody gets the privilege to help teachers navigate instruction in a digital age; specifically, how to incorporate digital tools to positively impact learning. Cody is also the Director of C4L Operations and the Chrome Squad Internship (C4L is our district 1-1 initiative). When not neck deep in Chromebooks Cody spends his time with his wonderful wife Jennifer and their three amazing kids: Kollyn, Reese, and Tucker.
---
Supporting a 1-1 Initiative is no small feat, and Royse City ISD is setting the bar high with great leadership, and an amazing idea for a student internship program called, "The Chrome Squad." In this three-part series, learn what makes this program such a success! Be sure to check out the Connected 4 Learning website that these students created to support teachers and students on their campus.
---
Great Leadership is the Key to a Successful 1:1
In this three part series I would like to share the journey of how the Chrome Squad, an elite group of student interns that support my district's 1-1 program, came to be, but first a disclaimer.
[Tweet "Check out this great idea for a Student Chrome Squad!!"]
---
Someone asking me to talk about the success of the Chrome Squad feels like being asked to not only tell your life story but to tell the life story of your parents as well.  What I mean is the Chrome Squad is less than a year old and is the product of not just my efforts, but of many others.  To start with the conception of the Chromies (as they call themselves) is to miss so much of what makes them work.  It is like explaining what makes me, well me, without talking about those that influenced me.  Some people don't like sharing their stories, but I find it encouraging to share, so share the Chrome Squad life story–with all its caveats and flashbacks–I will.
---
Let's talk about what you can expect out of this series of articles so you have an idea of what you are getting into.
I won't be giving ten tidy steps to creating a student internship program, though I would love to help you create one.  

I will be sharing our journey to where we are and where we are going.  

I will also talk about the hiccups

I will share and invite to ask more questions
---
Leaders Set the Foundation for 1:1 and The Chrome Squad
Six years ago (or maybe longer–kids have killed my memory) Kevin Worthy came to Royse City as our Superintendent of Schools and a vision in tow.  It was a simple, but powerful vision:  be all about the kids and be innovative.  It took a few years and a strategic plan, but we progressed as a district on those two fronts.  Part of that strategic plan was to move 1-1 with our students.  We saw districts that tried and failed because of poor planning, poor training, poor infrastructure, or a combination thereof.  It was decided to take a more measured approach.  The first step was to get the right people in place.  Three years ago RCISD hired Zach Snow as the Instructional Technology Coordinator and did the crazy thing of placing him not in the technology department, but the newly reorganized curriculum department head by Assistant Superintendent Julia Robinson. This is a seemingly small distinction, but if the focus was going to be on instruction and not on the technology, then department placement is key.  
[Tweet "The first step in a successful 1:1 is getting the right leaders in place! @beard_speak"]
---
Over the next two years, Zach created and groomed a team of classroom teachers on each campus to provide professional development for teachers.  The team, the iCoaches, focused on training teachers to effectively use technology to impact student learning.  They were provided training and support by Zach and the always awesome Kasey Bell.  This is where I enter the narrative.  At the time, I was in my sevenish year (can you tell I'm not good at remembering dates) of teaching high school English.  I became part of the iCoach team as one of the three members from the high school.  As a teacher, I believe my job is to inspire my students and facilitate their learning, so I stir their appetite and set the table for learning.  The students do the rest.  That mindset and the ability to work with and train teachers made me a great fit for the vision that Kevin and his team had for Royse City.
---
The last missing member of the team was a CTO, who embraced and supported the vision of RCISD.  That came with Stuart Burt a year ago.  With Stuart and myself added we were able to move forward with a 1-1 and empower students to be leaders.  Finally, the silent partner in all of this is our awesome school board who caught the vision early and supported it all the way.
[Tweet "Student Chrome Squad (Part 1): Great Leadership is Key for 1:1"]
---
While this is all happening research, testing, upgrading of infrastructure and training were being done to prep the district to go 1-1.  We also realized early on that the conversation needed to switch from 1-1 to resourcing students.  After all, it is about the students, not the technology, leading us to developed the framework for our program (we never call it an initiative) Connected for Learning (C4L): connecting students with the resources to Collaborate, Create, think Critically, and Connect with the world.
---
I know what you are thinking at this point:  "that is a whole lot of backstory, and you haven't even mentioned the Chrome Squad."  That is a good point, but I hope you see there is no Chrome Squad without the right leadership in place to support such a program.  But, fear not I am ready to tell you about the Chrome Squad and will happily do so in the next installment: Part 2 – Building the Chrome Squad, and Part 3 – Build Your Own Student Tech Team.
---
Follow these Royse City ISD accounts on Twitter:
---
---
© Shake Up Learning 2023. Unauthorized use and/or duplication of this material without express and written permission from this blog's author and/or owner is strictly prohibited. Excerpts and links may be used, provided that full and clear credit is given to Kasey Bell and Shake Up Learning with appropriate and specific direction to the original content on ShakeUpLearning.com. See: Copyright Policy.