The Lowdown on the New Google Sites
Here's the lowdown on the New Google Sites: The Good, The Bad, and Nothing Ugly! As I mentioned in an earlier post, There's a New Google Sites Coming, what is now being referred to as the "classic" Google Sites was long overdue for an update. I usually referred to Google Sites as an acquired taste because it was so antiquated and most users are turned off within the first few minutes of trying it. However, "classic," sites was and is still a powerful tool for teachers and students. The new Sites is slick and beautiful, and very easy to use, BUT it is still missing some of the features that make the "classic" sites so powerful.
Both classic sites and the new Google Sites are available now, so to help you decide whether you are ready to make the leap to the new Sites. And given that the new Google Sites biggest strength is the beautiful design, I am breaking this down into The New Google Sites: The Good, The Bad, and Nothing Ugly.
First of all, Google doesn't want you making ugly sites! Yep! It's all but impossible to make an ugly site with the new design features in Google Sites. You have to use a theme, which includes a set of colors, fonts and other design elements that cannot be customized.
[Tweet "The Good, The Bad, and Nothing Ugly About the New Google Sites #SUL #googleedu #gttribe"]
The Good:
Access
Accessing the new Google Sites is even easier now that it's a part of Google Drive. Create a new Google Site from the "New," button in Drive. You will also see your sites listed in Google Drive. (Sweet!)
You can also access via the new homepage, which looks similar to other Google Drive counterparts' homepages: sites.google.com/new. If you still see the classic sites homepage, you can click on "New Google Sites," from the menu.
Navigation
One of the most confusing parts of classic sites is navigation. The new Google Sites has a very simple and clean navigation. Google has made use of the same design elements we see in other products, like using the predictable three lines to represent the menu and the three dots to represent more actions.
Responsive Design
The new Google Sites is a responsive design website, meaning it will adjust and resize to the size of the screen on your device–a much-needed update! Responsive design means this will be easier for students to view on mobile devices. You can click on the preview button (eye icon at the top of the page) to see what your site will look like published. There are also icons in the bottom-right to let you preview how it will look on tablets and phones.
Beautiful Themes
So remember, Google is making it hard to make an ugly Google Site. Part of that requirement is the use of themes. They are clean, professional, and combine complementary colors, fonts, etc. This makes formatting a breeze! Classic Sites requires a lot of work to create something that is not only clean but beautiful.
Click and Drag Editing
To add elements to your pages, simply click and drag what you want onto the page. This is how you add text, images, embed Google Drive files, etc. Easy peasy!
Auto-Save
I have gotten used to my auto-saving Google Docs, Slides…everything! So it always felt antiquated and cumbersome to have to remember to click, "save," in classic sites. Auto-save in the new Google Sites is expected and greatly appreciated. (Keep in mind that although your site will auto-save, it doesn't auto-publish. You will have to publish your site for others to view.)
Create a Site in Minutes
With everything so streamlined and easy to navigate, you can create a site with little to no training in just a few minutes. I like things that save me time!
The Bad:
Very Little Customization
With forced themes, fonts, formatting, you have very little room to customize. You can upload your own header images, but not the kind of control and customization that we have come to love about classic Google Sites.[Tweet "What's still missing in the New Google Sites? #SUL #gttribe #googleedu"]
What's Missing (and it's a lot!)
Editing HTML and CSS
No true embed code
No page types, which means no blog page, no file cabinet option, etc.
No external links in the navigation
No table of contents option
Nesting of pages is limited to one level, meaning one level of subpages.
Editing still requires the desktop version of Chrome or Firefox.
---
The Ugly:
While technically there isn't anything ugly about the new Google Sites because they actually have made it hard to make an ugly Google Site, but the missing features will make it hard for me to make the switch just yet. I use Google Sites for workshops and training, and I just can't do the things that I need to do.
I will forgo the beauty of the new sites for the features I need until Google gives us more of what's missing. What about you? Have you made the switch? Please share in the comments.
[Tweet "Here are some great resources to help get started with the New Google Sites! #SUL #gttribe #googleedu"]
Resources for Learning the New Google Sites:
---
Coming Soon! The Google Certified Educator Academy!
Ready to get become a Google Certified Educator in 2017? Shake Up Learning will be offering online courses to help you prepare for the Level 1 and Level 2 exams. Join this exclusive email list and get your FREE download: How to Pass the Google Certified Educator Exams. You will be the first to know about these courses and when they will be released. Stay tuned for more! The home for information about the new Google Certified Educator Academy can be found here: GoogleCertifiedEducator.com.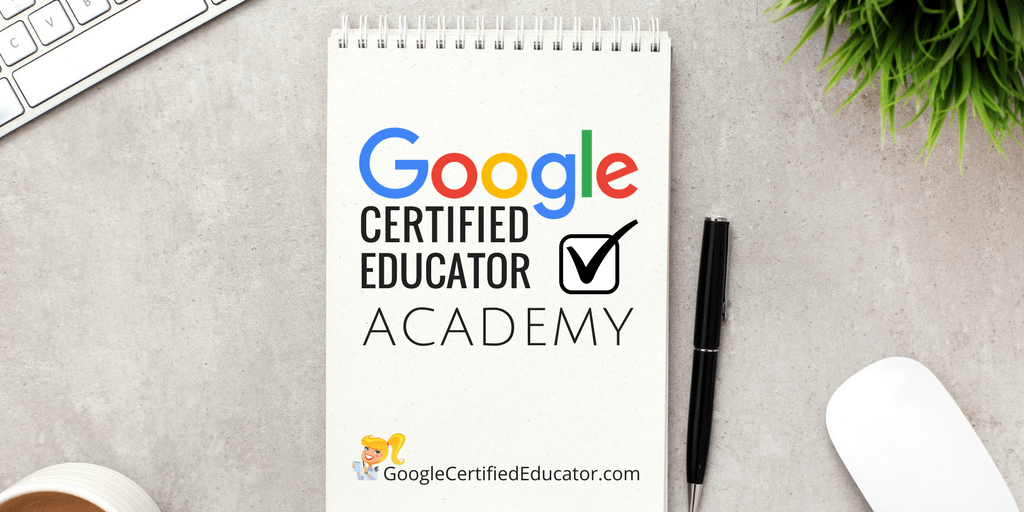 ---
© Shake Up Learning 2023. Unauthorized use and/or duplication of this material without express and written permission from this blog's author and/or owner is strictly prohibited. Excerpts and links may be used, provided that full and clear credit is given to Kasey Bell and Shake Up Learning with appropriate and specific direction to the original content on ShakeUpLearning.com. See: Copyright Policy.