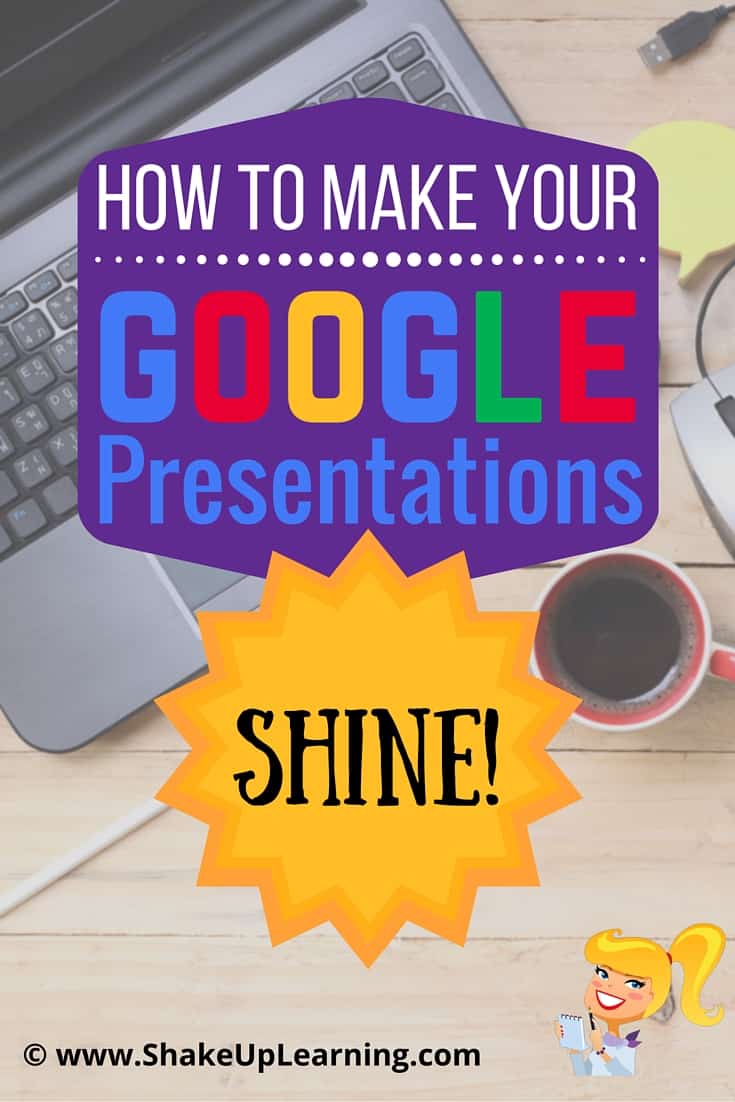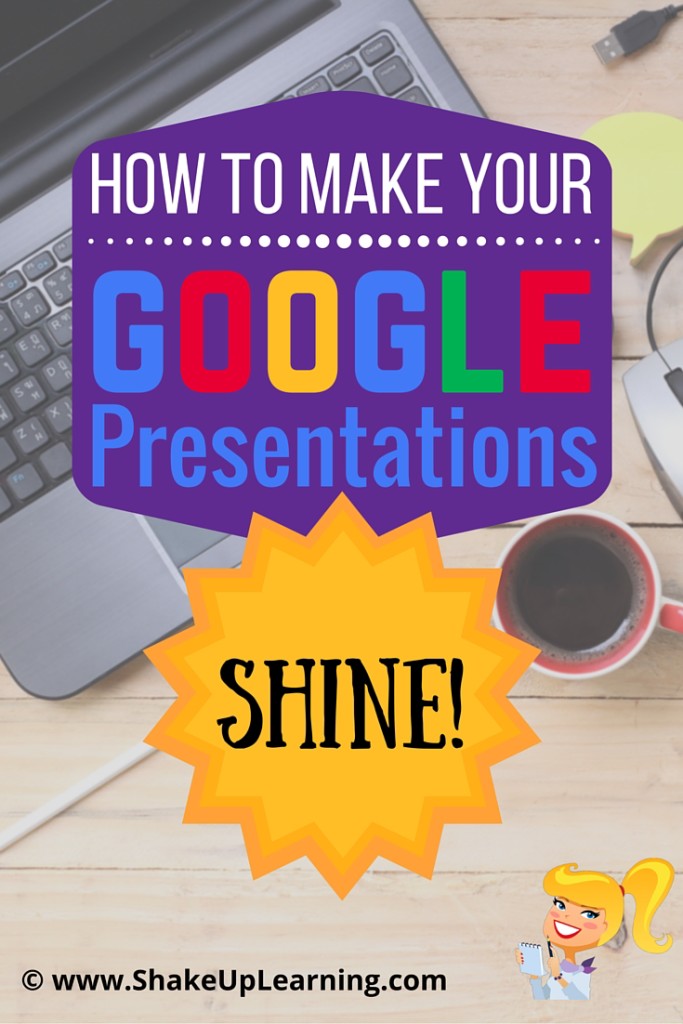 I create almost all of my presentations in Google Slides. Google Slides gives me the flexibility I need to be creative, add my own branding, and to share and access from anywhere on any device. I have seen some amazing Google Slides presentations, and I have seen some that made my skin crawl. Standing out as a presenter is not easy, so I decided to share some of my best tips and tricks in this new series: How to Make Your Google Presentations Shine! Welcome to Part 1: Templates.
---
Until recently, one of the biggest complaints I would hear about Google Slides was the lack of professional looking templates. Well, that's old news! Google Slides now has some amazing new templates that will make your presentation shine! Not only that, but we also have access to some great third-party templates that give us, even more, options to stand out from the crowd. Of course, these options also help our students produce more professional looking slides and improve their presentation skills. Anyone else tired of seeing the same templates over and over again?
---
[Tweet "How to Make Your Google Presentations Shine!"]
---
Google Slides Templates
If you aren't familiar with the
Google Slides homepage
, navigate to slides.google.com and take a look. At the top, you will see a few suggested templates. Click on the "more" option near the top-right to drop-down, even more, templates to fit your presentation needs.
---
---
I often use Google Slides to create projects other than presentations, like creating eBooks. (See my post:
How to Create an eBook with Google Slides
.) There are so many other awesome ways we can use Google Slides in the classroom. Teachers can use slides to create certificates, interactive lessons, and more. (See my post on using
Google Slides to Create a Magnetic Poetry
activity.) In the new template gallery, you will find templates for all kinds of purposes including:
---
Book Reports
Certificates
Portfolios
Lesson Plans
and more!
---
There are some great options to choose from, and you can customize these templates using the Master Slide (more on that in a coming post). For now, just moving away from the same generic look and feel of most presentations will help set you apart from the pack. Don't forget to share these options with your students as well!
[Tweet "3 Resources for Fun Google Slides Templates"]
---
Slides Carnival is a third-party option that has really stepped up the template game! Slides Carnival offers BEAUTIFUL templates with lots of different looks and colors to help set the tone for your presentation. Tip: Don't choose the featured or most popular templates, dig in and search to find something that no one else is using. Remember, you want your presentation to stand out above the rest! You want your students or audience to ask: How'd she do that? Below is a screenshot of just a few of the fantastic options you will find on SlidesCarnival.com.
[Tweet "Kick your presos up a notch with Slides Carnival!"]
---
---
---
Another third-party option for great Google Slides templates is FreeGoogleSlidesTemplates.com. Here you will find another gallery of great looking templates that you can choose from and preview. Below is a screenshot of some of the templates you can find on Free Google Slides Templates.
---
---
A Note About Presentation Size
It's important to consider where you will be projecting your slides when considering the size of your presentations. If you will be presenting on an old, more square projector and screen, the 4:3 option is best. But these days, most projectors are widescreen and if you choose 4:3, as I see a lot of presenters doing, you will have black bars on the sides of your presentation—filling in the gap. Choose one of the widescreen options for newer projectors: 16:9 or 16:10. I usually go for 16:9.
---
Where do you find your favorite templates for Google Slides? Please share in the comments below.
---
Want more Google Slides Ideas?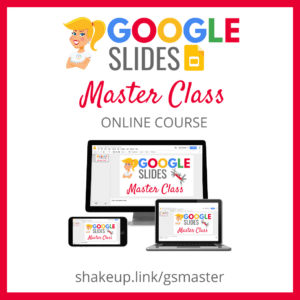 I frequently refer to Google Slides as the Swiss Army Knife of the G Suite tools because it is capable of being so much more than a presentation tool. In this course, you will learn how to use Slides in new and unexpected ways in your classroom that will engage your students and make learning more dynamic!
K-12 teachers are going to LOVE THIS COURSE!
This class is perfect for beginner to intermediate users to take their skills to the next level and become a Google Slides Master!
(Prerequisite: basic knowledge of slides, how to access and create new slides.)
Click here to learn more and to ENROLL TODAY!
---
Learn All About the Course
What's Included?
Self-paced
Video-based lessons
3 BONUS Lessons!!!

Bonus 1: Stop-Motion Animation
Bonus 2: How to Create Magnetic Poetry with Slides and Drawings
Bonus 3: 50 Google Slides Lesson and Project Ideas

Supporting Resources
Best Practices and Tips
6 hours of professional learning credit
Purchase orders are accepted (Just email Kasey[at]ShakeUpLearning.com (replace [at] with @.)
Bulk license discounts
Get your whole team, campus, or district on board
---
Click here to learn more and to ENROLL TODAY!
---
© Shake Up Learning 2023. Unauthorized use and/or duplication of this material without express and written permission from this blog's author and/or owner is strictly prohibited. Excerpts and links may be used, provided that full and clear credit is given to Kasey Bell and Shake Up Learning with appropriate and specific direction to the original content on ShakeUpLearning.com. See: Copyright Policy.