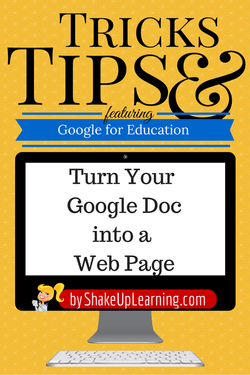 Publish Your Google Doc to the Web! Such an easy way to create a clean and simple web page!
This is another one my favorite tips for Google Apps! I use this feature to quickly publish information online. Sometimes you really don't want to just share a document. You may not need others to view it as a document, and or those who are not familiar with Google Docs the viewing feature can be confusing.
Google Drive users can easily convert docs, sheets and slides to publish web pages, and even get embed code! Teachers can easily share information with parents and students. It's also a great way to make interactive learning menus.
---
This feature is so easy to use!

Inside the Google Doc that you wish to publish, go to File>Publish to the Web from the Google Docs menu.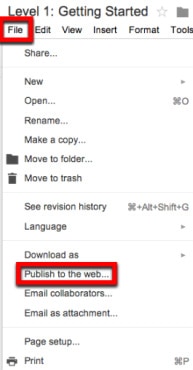 Then click "start publishing." Leave the box checked to automatically publish any changes you make to the Google Doc–no need to republish every time you make changes! There will also be a pop-up confirmation window to make sure you want to publish to the web.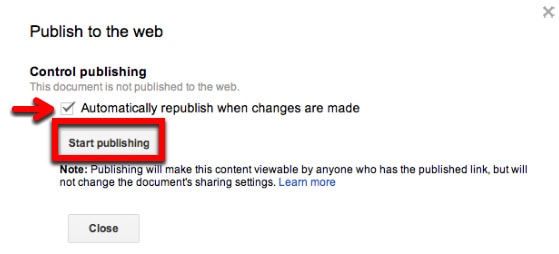 After you have confirmed publishing, you will be given a unique URL to the published web page, and embed code.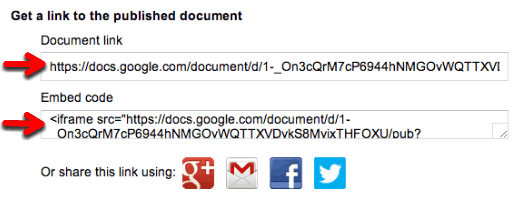 Voila! A clean and simple web page that updates auto-MAGICALLY when you update the Google Doc. There are so many ways this can be used in the classroom and beyond!
How have you utilized this feature? Please share in the comments below.


Want more Google Tricks and Tips? Click here!
© Shake Up Learning 2023. Unauthorized use and/or duplication of this material without express and written permission from this blog's author and/or owner is strictly prohibited. Excerpts and links may be used, provided that full and clear credit is given to Kasey Bell and Shake Up Learning with appropriate and specific direction to the original content on ShakeUpLearning.com. See: Copyright Policy.