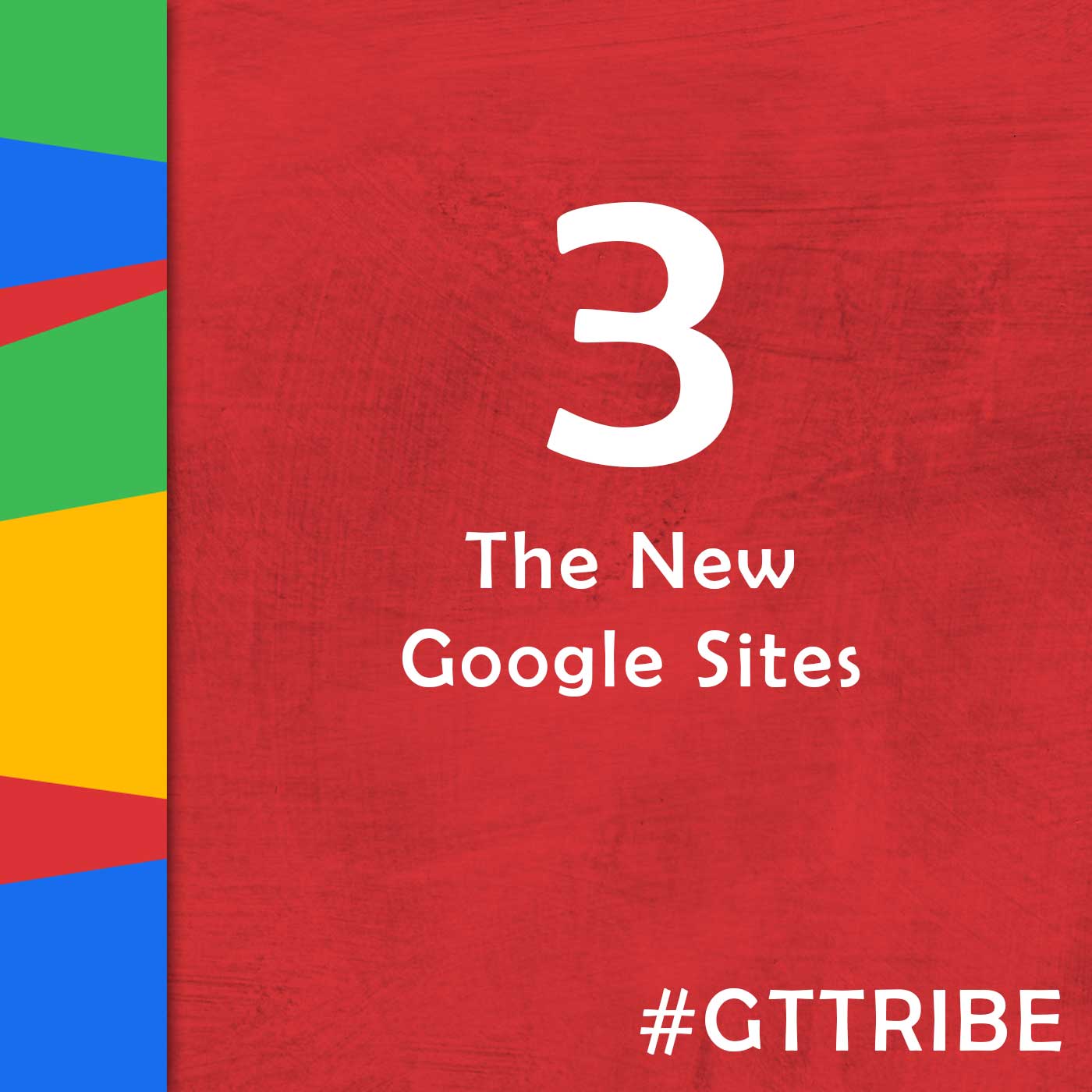 All About the New Google Sites in Episode 3 of The Google Teacher Tribe Podcast
In this episode, Matt and I discuss the new version of Google Sites, what we like, what we don't, and ways to use it in the classroom. We also have some Google news and updates to share, and some great resources from our blogs.
You can play the first episode using the player below, or subscribe on iOS, Android, Stitcher or RSS.
Show Notes and additional resources and links are below.
[Tweet "Listen to Episode 3 of the Google Teacher Tribe Podcast and learn about the new Google Sites! #gttribe #googleedu #edtech"]
Subscribe to the Podcast
You can subscribe to the Podcast on iOS, Android, Stitcher or RSS.
[Tweet "I just subscribed to the Google Teacher Tribe Podcast, and YOU should too! #gttribe #googleedu"]
Episode 3 Show Notes:
Google News and Updates
---
The New Google Sites
The new Google Sites allows for a beautiful design with easy-to-use drag and drop elements including Google files (Docs, Slides, Sheets, Forms, Charts).
The new sites also allow creators to embed maps, YouTube videos, calendars on easy to manage and arranged pages. The themes are elegant to design easily and collaborate to let others edit a site.
Great a good entry point for newer users and those that don't need fancy options when designing websites.
---
Ways to Use Google Sites in the Classroom
Websites for projects
Parent portal
Video repository
ePortfolios
Training site
---
Google Sites Resources
---
On the Blogs
---
Mailbag from Our Listeners
Paula Frank (Christ the King School in Little Rock, AR): Have you heard when we GSUITE users will be able to use Google Play Store? As of last week, it is still grayed on our chrome flip books. Want to get those android apps to my kindergarten and 1st-grade teachers.
Answer: https://support.google.com/chrome/a/answer/7131624
Heather Kilgore from Commerce ISD in Commerce, Texas left as awesome iTunes review!
We got a Speakpipe message from Italy!
---
Submit Your Questions to the Podcast
We would love to answer your questions on air! Please feel free to submit your questions here and leave us a voicemail so we can play your question for our listeners.
https://googleteachertribe.com/feedback 
---
Leave Us a Review!
We would love to hear what you think about The Google Teacher Tribe Podcast. Please leave us a review in iTunes and help other teachers find this free resource! Here's how to leave a review on an iPhone or iPad.
Don't have an iDevice? Leave a comment below to let us know your thoughts!
---
Become a VIP Member of the Google Teacher Tribe
Are you a VIP??? Become a VIP and join our exclusive email list! This list will give you VIP access to early information about our podcast when the episodes will air, and special resources just for our Google Teacher Tribe!! Just fill out this form.
Follow Us on Social Media
Use the #gttribe hashtag to share with The Tribe!
---
Sponsor The Google Teacher Tribe Podcast
The Google Teacher Tribe Podcast has some spots open for sponsors and advertisers. If you are interested, fill out this form, and we will contact you with more information.
---
Connect with Shake Up Learning
Email me directly: Kasey[at]ShakeUpLearning.com
Click on any of the icons below to connect with Kasey Bell and Shake Up Learning on social media.
---
© Shake Up Learning 2023. Unauthorized use and/or duplication of this material without express and written permission from this blog's author and/or owner is strictly prohibited. Excerpts and links may be used, provided that full and clear credit is given to Kasey Bell and Shake Up Learning with appropriate and specific direction to the original content on ShakeUpLearning.com. See: Copyright Policy.