In this episode, Kasey talks with Shake Up Learning trainer, Tammy Lind, on the hidden treasure of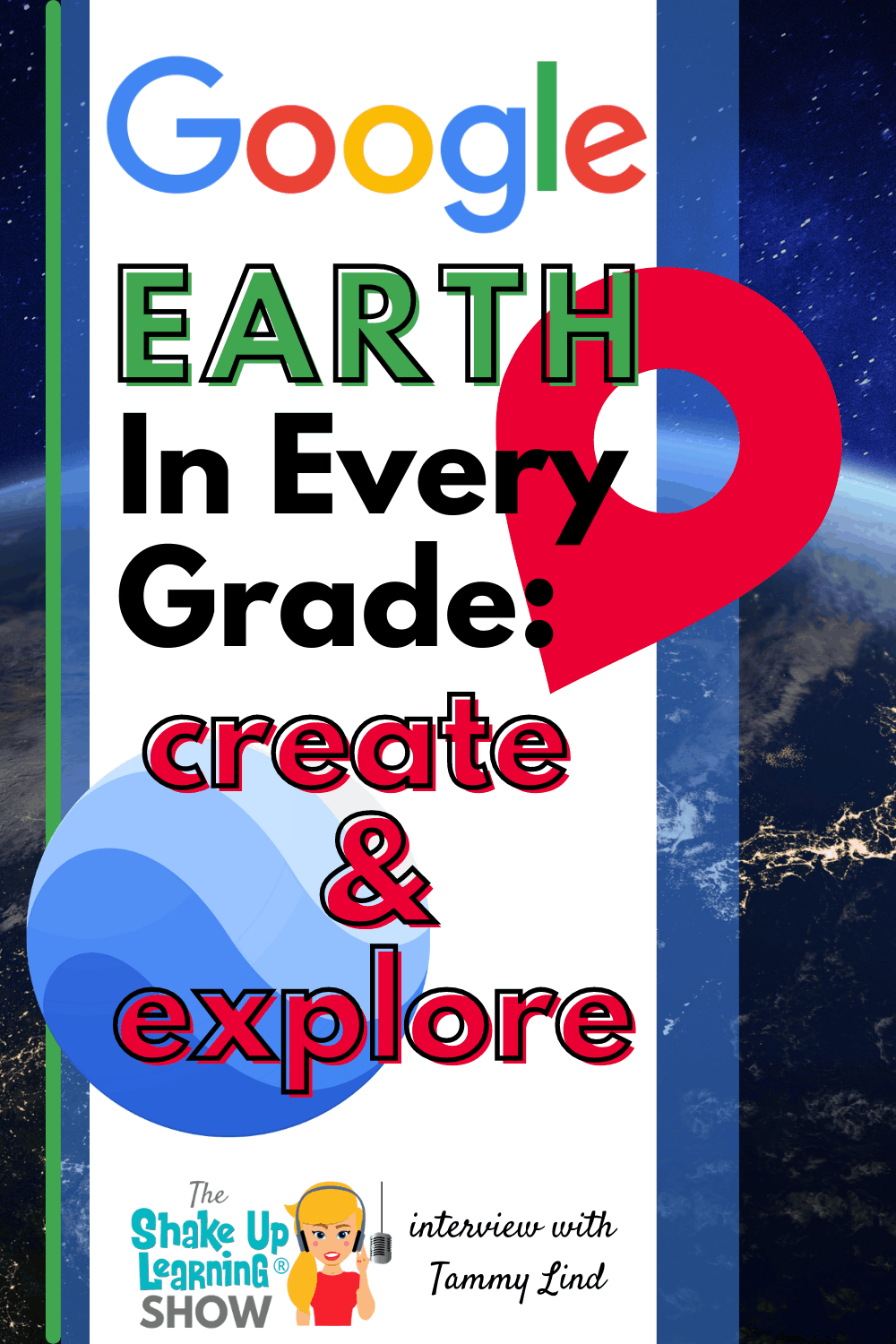 Google Earth as a classroom tool.
Tammy Lind is an Instructional Coach in Wisconsin.
A former special education teacher, Tammy is passionate and has presented at various national conferences about finding web-based technologies to make the curriculum accessible to all learners.
Tammy shares so many great ideas for using Google Earth to explore and create in every grade level and subject area.
Have you explored Google Earth?!
Listen to this article.
This episode is sponsored by Schoolytics.
Schoolytics helps you measure, monitor, and manage student engagement and assignments. It also organizes all the student engagement data from Google Classroom in one easy-to-use dashboard. And my favorite part? Schoolytics is free for teachers!
Visit: schoolytics.io to sign up!
Quick Tip of the Week (Color Code Folders in Drive)
📺  Watch this quick video to learn how!
Subscribe to Shake Up Learning on YouTube
Google Earth in Every Grade: Create and Explore!
When Google Earth first dropped people wanted to check out the street view of their own homes. Then the rabbit trail of looking at your best friend's house and the Taj Mahal and the trail could go on for hours. However, Google Earth has some very real power in the classroom which Tammy Lind helps to uncover in this episode. 
Every Grade, Every Subject
Teachers might think Google Earth is best in a History or Science classroom, but the reality is that this tool can be used across several disciplines and grade levels. One of the best-kept secrets in Google Earth is the Voyager story feature. To find it, click on the ship's wheel in the left menu. This will open another menu that includes: Nature, Games, Layers, Street View, Culture, Travel, and Education.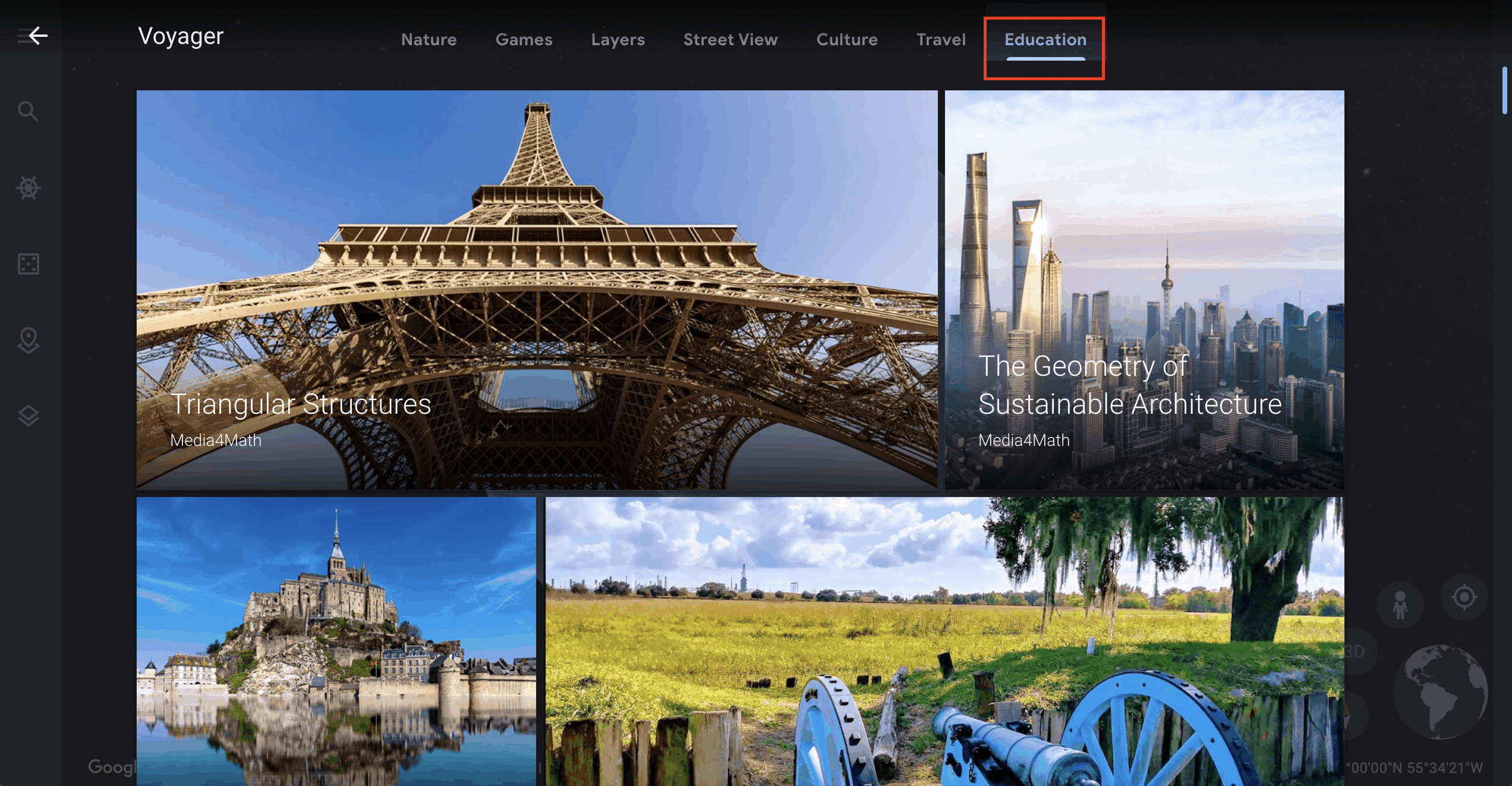 Teachers may be tempted to go directly to the Education section, which has fantastic curriculum-specific images and information, however, the other choices can be just as valuable. For example, in the Nature topic, a classroom can access several live cams from the African safari. Tammy shared this with a class of first-graders who were in utter excitement at the sights and sounds of the animals who passed by the cameras.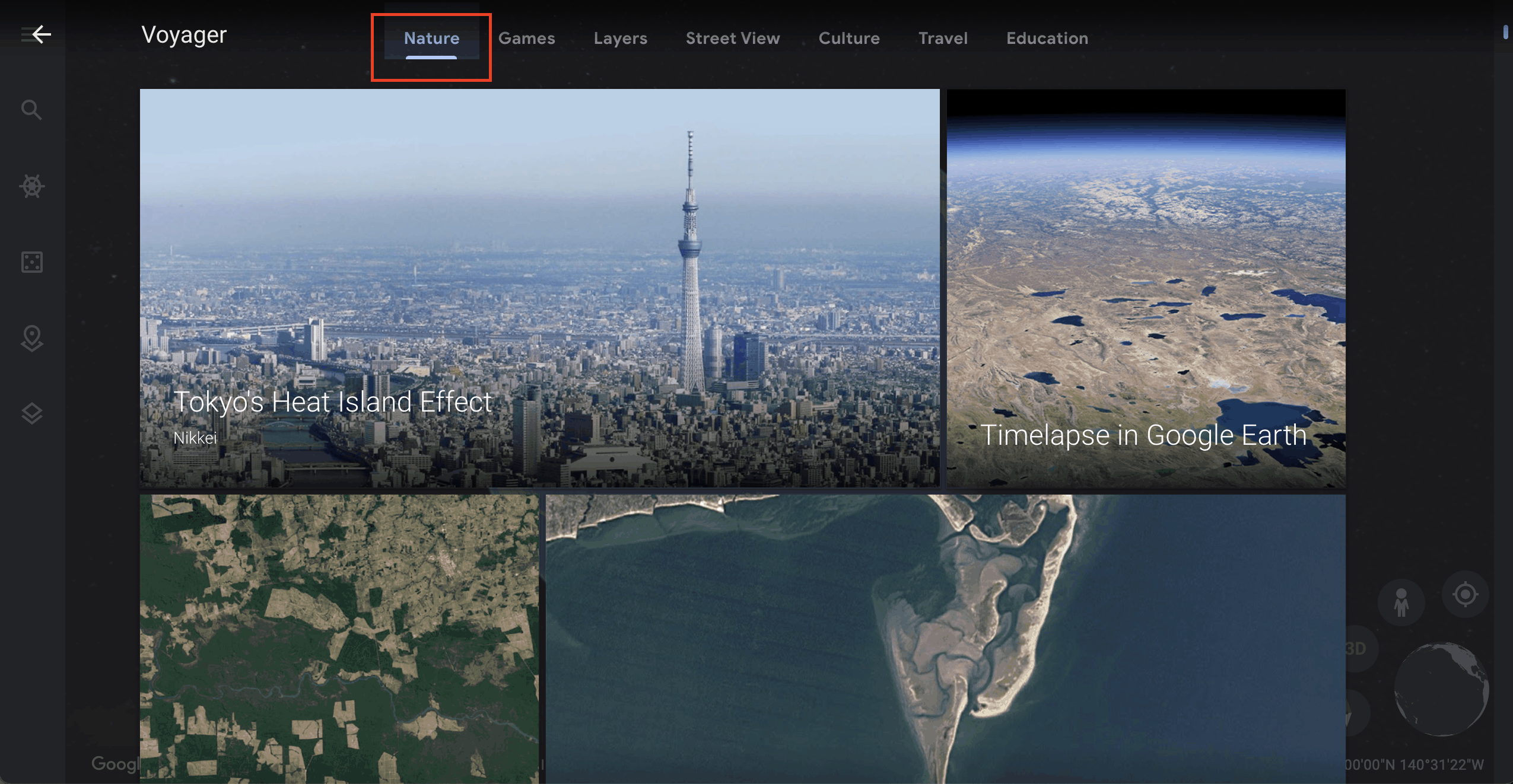 Related: Flatten the Walls of Your Classroom with the New Google Earth
Under the Game's topic, you will find several quizzes. These aren't your average multiple-choice question quizzes. The quiz topics span a multitude of topics and provide quality information on the topic along with an image that zooms into that part of the world. Kids could learn something from taking a test rather than sharing what they already knew.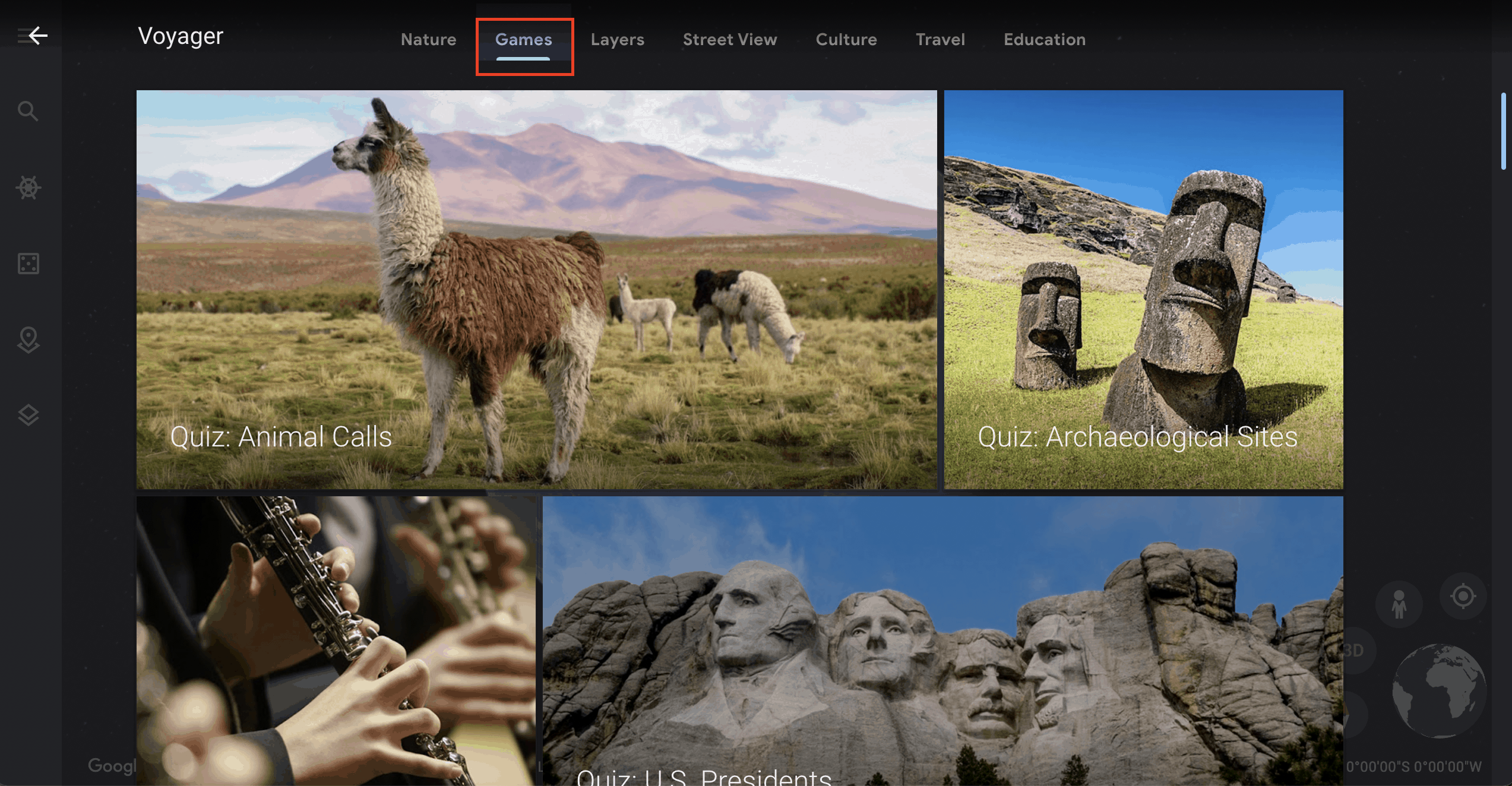 The Layers tab shows images in a timelapse. Kids can see exactly how the glaciers are melting or the destruction caused by a natural disaster. The value in making comparisons and contrasts based on time leads to rich discussions and great critical thinking.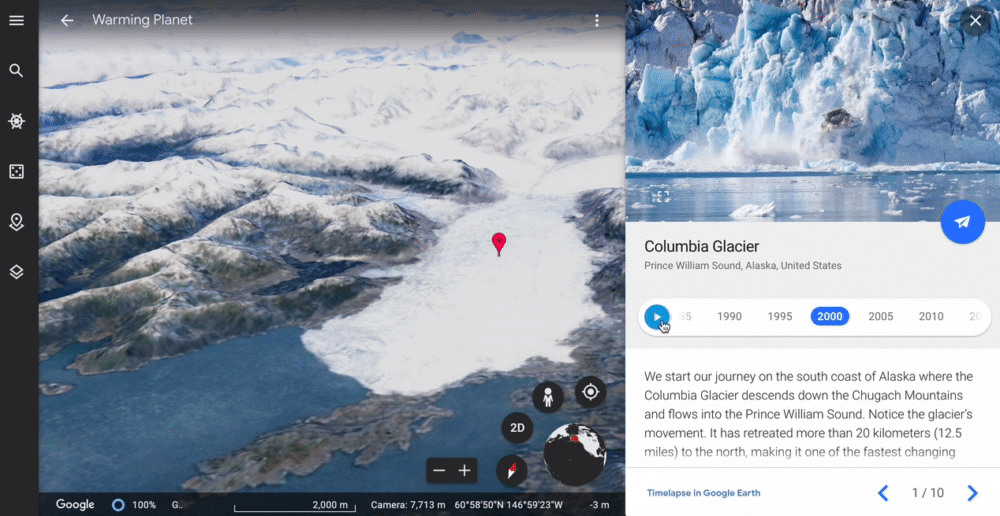 When students read about foreign places, whether that's the Boston Harbor or the beach at Normandy, Google Earth street view can take them there for a true visual. When it's not possible to physically be there Google Earth makes it possible to see. 
Choosing the Culture topic is a fantastic place to find quality information and images on several interesting cultural topics. The choices given under this tab would be a great place for students to explore when needing inspiration for a research topic. It also makes a great jumping-off point for gathering valuable information.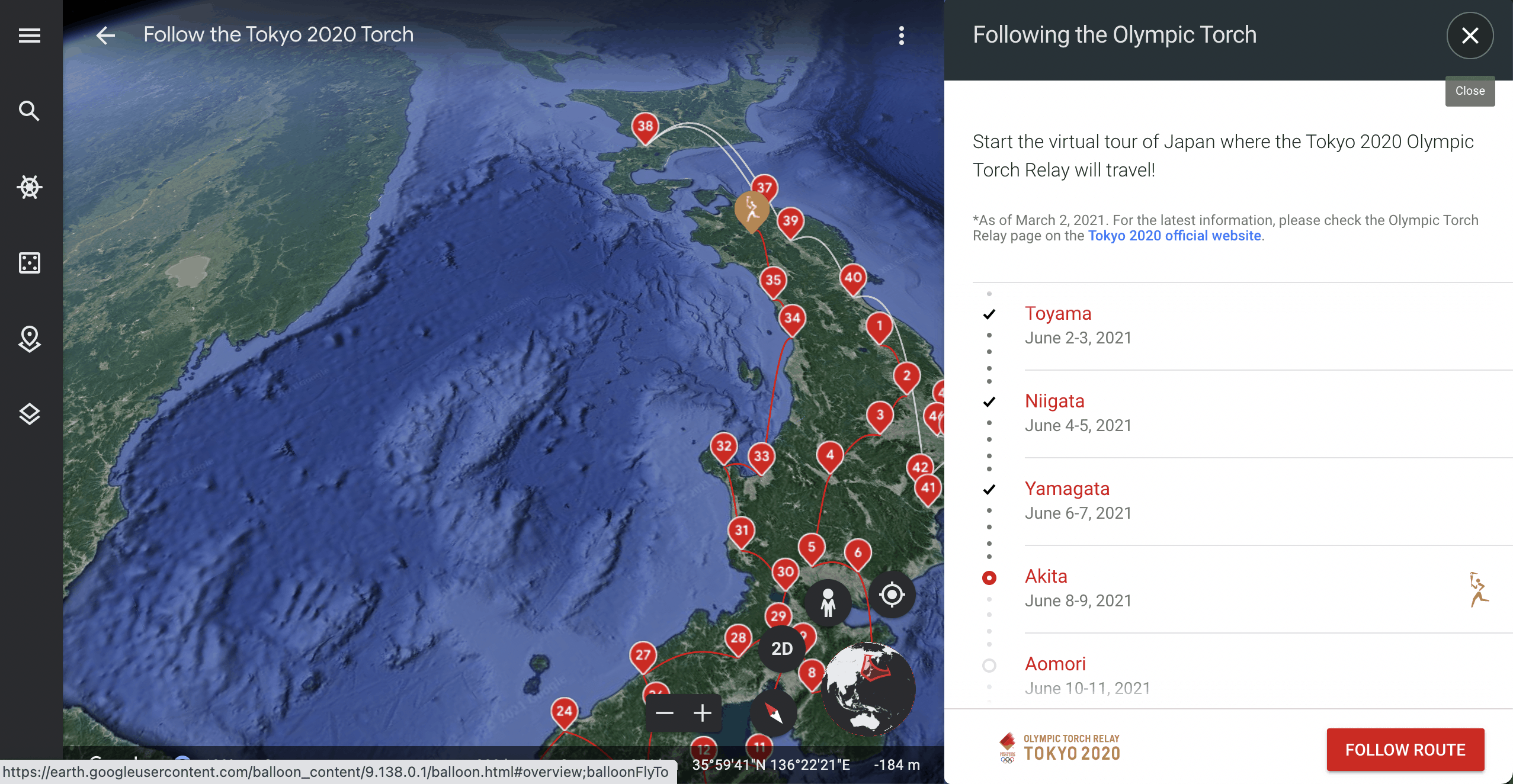 The Travel topic is another great place to spark inspiration. Google has shared many popular sites, but also several nooks and crannies some may be excited to discover. Of course, the scenery is not the only reason to visit a location, some stories focus on amazing artwork around the world, epic summer festivals, super surf spots, and so many more. 
Related: 10 Amazing Google Geo Tools for Your Classroom
Of course, the Education topic will provide every teacher with a curriculum-related option. From triangular structures and the geometry of castles to reading the ABCs from space or fairy tales from around the world. Learning through text and images increases the staying power of that knowledge. 
Google Earth Projects
Google Earth is a powerful tool to learn from, but it also has built-in features for students to create their own projects and show off their new knowledge. Using the Projects feature students can create or view other saved projects.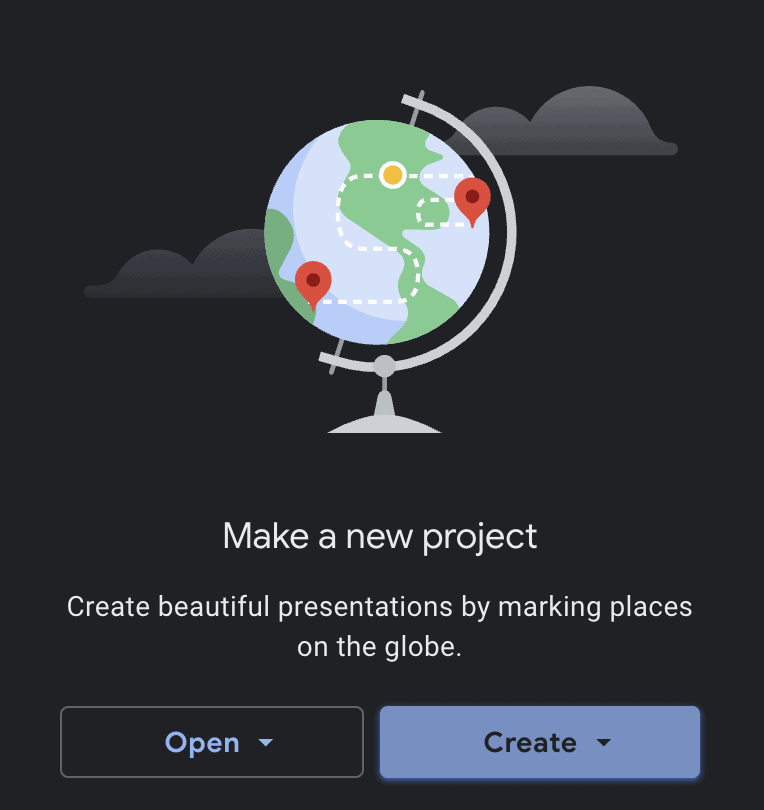 Tammy shares how she created a scuba diving project using her underwater images. Students can collaborate on these projects or work individually. They can choose to use personal photos, a great project for a photography class, or pull places directly from Google Earth. Everything students create in a project is saved directly into their Google Drive making it simple to share for collaboration purposes. 
Tammy explains how she walks students through the process of finding, evaluating, creating, and communicating when strategically using Google Earth as a teaching tool. The built-in features make this tool perfect for hitting all of the four C's in the Dynamic Learning framework. 
How to Get Started
When you're looking at the globe there is a lot to see. It can be incredibly overwhelming and provides a lot of clickbait. Tammy suggests that the first time you introduce this tool to students just let them play. Everyone likes to search for their own home. There is also a feature called I'm Feeling Lucky. It's the image of the 5 on a dice. This will choose a place to explore at random. 
Another great place to direct students to for playtime is the Voyager story feature. Sparks of creativity and inspiration are bound to start swirling around the classroom. 
About Tammy Lind
Tammy Lind is an Instructional Coach in Wisconsin. A former special education teacher, Tammy is passionate and has presented at various national conferences about finding web-based technologies to make the curriculum accessible to all learners.
Current Certifications: Google Certified Educator Level 1, Google Certified Educator Level 2, Google Certified Trainer, Google Certified Innovator, Seesaw Ambassador, and Intel Master Teacher
Tammy's most popular presentations topics: Accessibility, Google tools, and Google Geo resources
© Shake Up Learning 2023. Unauthorized use and/or duplication of this material without express and written permission from this blog's author and/or owner is strictly prohibited. Excerpts and links may be used, provided that full and clear credit is given to Kasey Bell and Shake Up Learning with appropriate and specific direction to the original content on ShakeUpLearning.com. See: Copyright Policy.
Shake Up Learning QUICKSTART GUIDE
Join the email list to get the latest information about the Shake Up Learning Book AND Get the FREE 20-Page Quickstart Guide that will help you Shake Up Learning in your classroom this year!