The New Google Earth is a fantastic way to flatten the walls of your classroom and explore the world with your students.
Did you know that Google Earth has been around for more than 17 years? That just seems crazy. The first time I saw it, it totally blew my mind. And I did what almost everyone did the first time you look at Google Earth; I went searching for my house!
With Google Earth at our fingertips, we can take our students on a journey across the globe, and do it with satellite precision.
In 2017, Google Earth took a big leap forward with the NEW Google Earth, a completely web-based, high-definition experience. We no longer need special plugins or file types to experience the wonder of this great big home we call Earth!
So if you haven't experienced the NEW Google Earth, now is the time to take a deep dive and look for connections to your classroom. No matter what you teach, I believe you can find applications for every grade level and subject area.
[Tweet "Flatten the Walls of Your Classroom with the New #GoogleEarth #edtech"]
To experience the NEW Google Earth for yourself, go to www.google.com/earth, and take a moment to click around, zoom in, zoom out, search, and go find your house. You know you're dying to!
Here's a screenshot of my neck of the woods, Dallas, Texas. (Tip: To go into 3D mode (where available), hold the shift key as you move your mouse.) Notice the menu options on the left.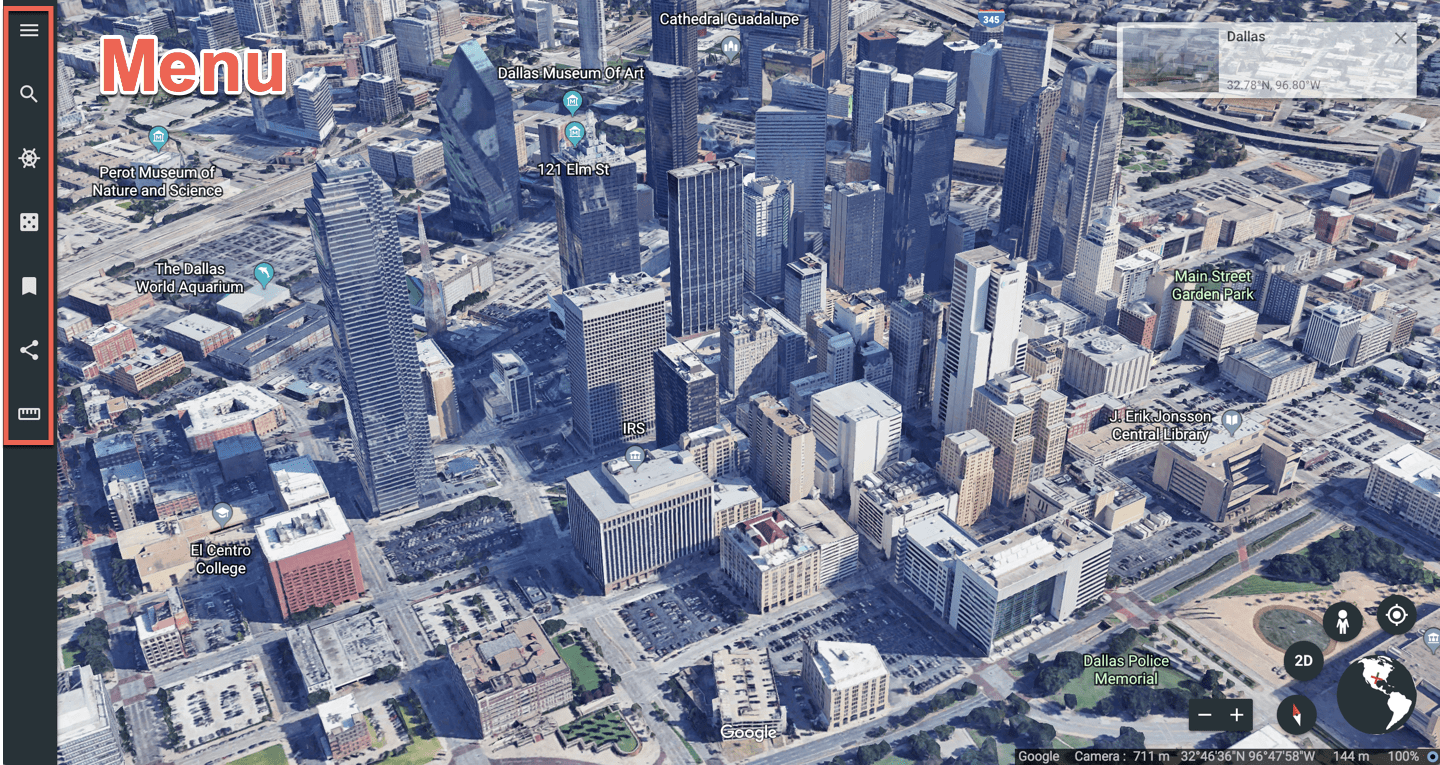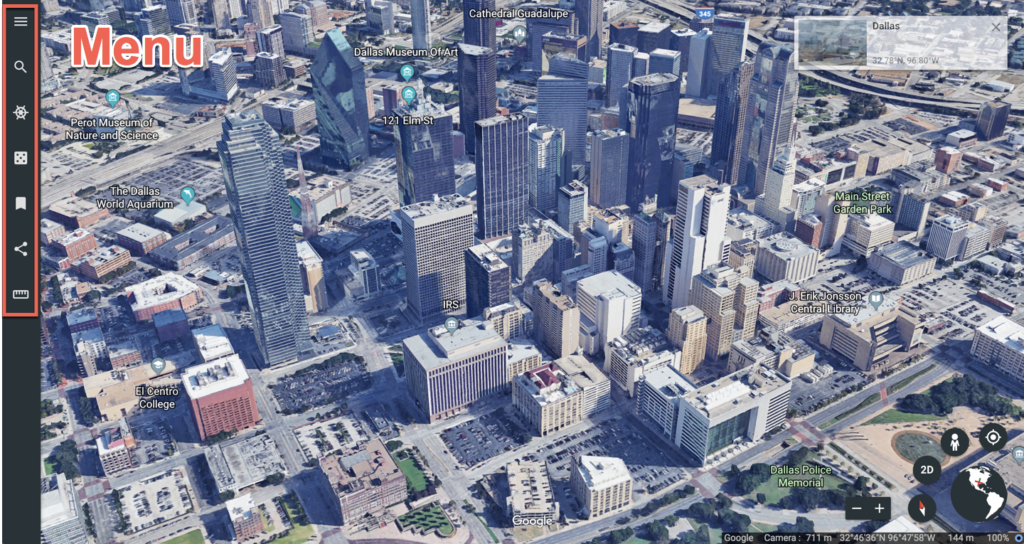 The Google Earth Menu

1. Three lines: This will take you to your account menu, settings, etc.
2. Search: Search Google Earth for anything that interests you. You can search by keyword, address, coordinates, country…try anything!
3. Voyager: Voyager will help you discover collections, interactive stories, and special topics. There's even an education section!
4. I'm Feeling Lucky: Roll the dice and randomly discover someplace new!
5. Bookmarks: Anywhere you see the bookmark icon, you can click to add to "your places," and access right here in the menu.
6. Share: Grab a link to the location, share on social media, or even share to Google Classroom and add to an assignment.
7. Measuring Tool: Select a starting point and end point to measure the distance.
---
Key features of the NEW Google Earth
:
3D Views of major cities

Look at places in history, in literature, in the news, in popular culture.

Cards pop up to the right to give you information and suggestions.

Hold in shift key as you move your mouse for a flyover view.

I'm feeling lucky: find new and interesting places.
---
Google Earth Educator Resources:
Special Voyages to Check Out

Follow the Google Earth Community
---
This post was adapted from one of the 18 Challenges for Teachers in 2018, a free ebook from Shake Up Learning. Fill out the form below to grab your copy!
---
18 Challenges for Teachers in 2018 FREE eBook!
Get the FREE eBook: 18 Challenges for Teachers in 2018! Simply fill out this form and we will send you the 83-page PDF ebook.
---
© Shake Up Learning 2023. Unauthorized use and/or duplication of this material without express and written permission from this blog's author and/or owner is strictly prohibited. Excerpts and links may be used, provided that full and clear credit is given to Kasey Bell and Shake Up Learning with appropriate and specific direction to the original content on ShakeUpLearning.com. See: Copyright Policy.