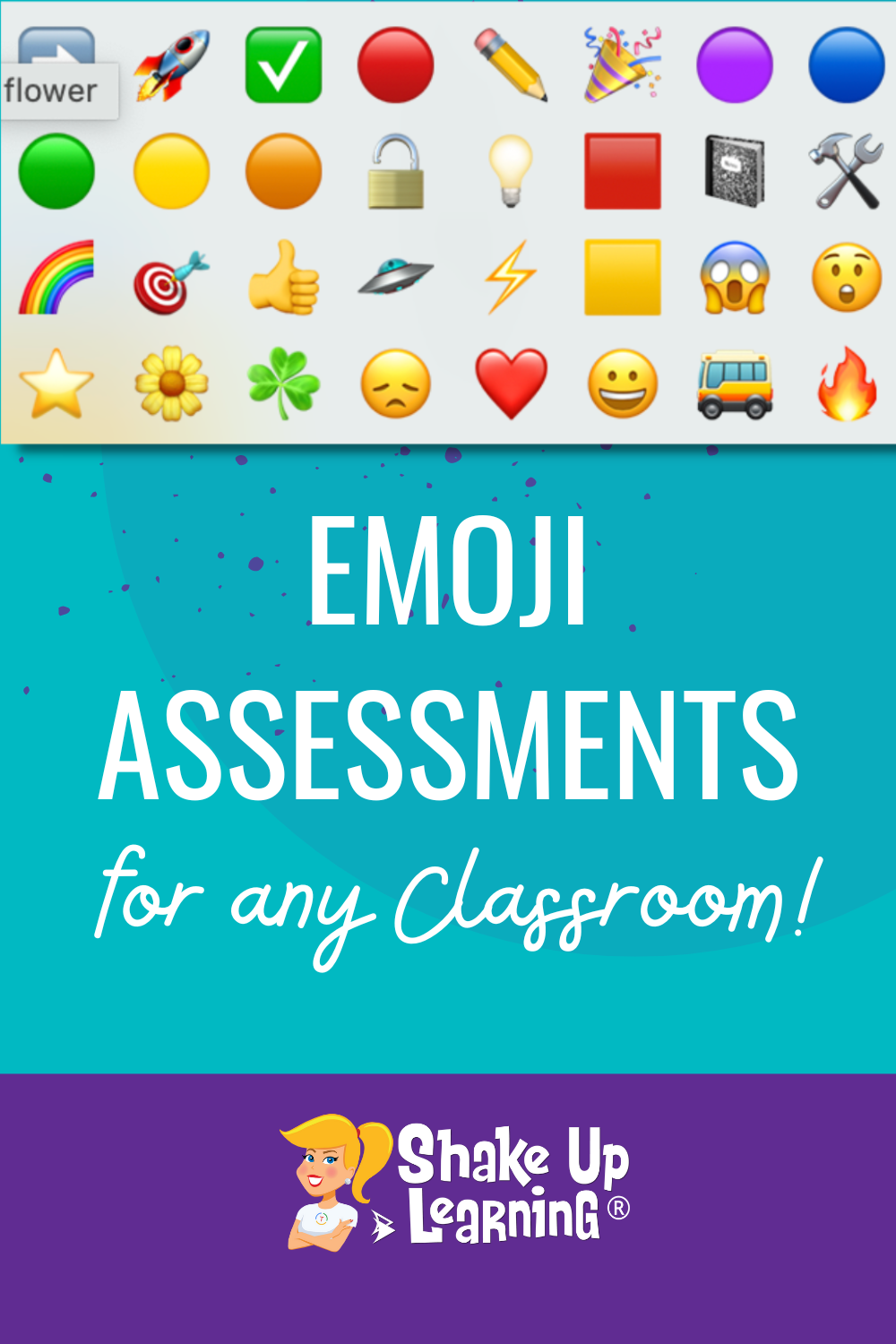 🎉 In this episode, I'm sharing ideas for using emojis in your informal and formative ✅ assessments.
This tool can be used for more than 😀 emotions and SEL!
Use emojis to create a key to check for understanding, reflect, self-assess, peer-assess, or give feedback!
Use emoji assessments in any classroom!
Listen to this episode.
This episode is sponsored by Schoolytics.
This episode of the Shake Up Learning Show is brought to you by Schoolytics. Thousands of teachers use Schoolytics every day to help them take data-driven instruction to the next level and reclaim their time for what matters most: helping students reach their full potential. Google Classroom users can start tracking student progress and spotting performance trends in minutes – for free! Join today at Schoolytics.com.
Emoji Assessments for Any Classroom
Let's take a deep dive into the idea of using emojis in assessments. Stay with me here.
The dictionary defines emoji as "a small digital image or icon used to express an idea, emotion, etc."
You can use emojis everywhere, and we all do, and our students especially do!
Now, we have been using emojis in quick SEL (social-emotional learning) check-ins, but I'm here to tell you we can do more.
I want to show you how we can use emojis to create a "key" to check for understanding, reflection, self-assessment, peer assessment, or even feedback.
And you can do this in just about ANY classroom!
Related: How to Add Emoji to Google Drive Files and Folders
Using Emojis to Represent a Non-Emotional Response
What if we could use emojis for something other than an emotional response?
What if we could use emojis for informal assessment and really tap into some visual cues for our students?
Emojis can represent just about anything you want them to represent.
When you don't know what to say in a text message, you can usually find an emoji 🙃.
But the emoji can go far beyond the smiley face. There are tons of symbols and colors that can also represent responses that are not emotions.
👍 ☘️ 🌼 ⭐️ 🌈 ⚡️ 🎯 🚀 💡 🛠  📓 ✏️ 🔓  🔴 🟠 🟡 🟢 🔵 🟣
How to Access Emojis on Your Device
Before we dig into the specific examples. Let's talk about how to access emojis on your devices.
Many do not realize that your laptop, desktop, or Chromebook has a built-in emoji keyboard much like your mobile device.
Emoji Keyboard Commands
Please note that the keyboard isn't accessible on all websites and mine can be a bit glitchy. But I still use it almost every day.
Mac: control+command+space (learn more) 
PC: Windows key + period (learn more)

 

Chromebook:

To insert emojis into documents, emails, and chat sessions:

Open your Chromebook's on-screen keyboard.

At the bottom, select Emoji.

Select the emoji or graphic you want to insert.
Emoji Dictionary Websites
There are tons of emoji websites that allow you to easily copy and paste.
My favorite is EmojiCopy.com. (Tip: I keep this bookmarked in my Chrome bookmarks bar for quick access when my emoji keyboard isn't cooperating.)
Related: Add Emoji to Google Classroom
Create an Emoji "Key" for Students
The inspiration for this idea is from my own personal learning experience. I was asked to use a color emoji to rate how I was progressing on different goals. We were asked to use the red, yellow, and green circles.
You can easily search your emojis for red and find: ❤️ 🔴 🛑 🟥. I'm going to recommend the circle or the square to avoid connecting a non-emotional response to an emotion like the connotation of a heart.
What this creates is a "key" for the emojis.
🔴  I need to work on this.

🟡  I'm making progress but not there yet.

🟢  Goal achieved! 
(Please note: Not all emojis work on every device. You may not see the ones I used above (red dot, yellow dot, green dot). Test that the ones you want to use work for you and your students' devices.)
You can create a key of colors or other symbols that work for you and your students.
This key can be reused throughout the year.
You can even post this key in the room to help students remember, or even create desk cards for students to use.
Some students may struggle to understand if you use smileys instead of symbols or colors. The smiley face, frowns, and tears, can evoke more subjective ideas and emotions.
Feel free to play with this idea. Add more colors and more options.
Create several different types of keys, like goal setting, learning target, reflection, check for understanding, procedures, directions, etc.
Check for Understanding example:
⛈  I don't understand and need help.

⛅️  I kind of understand but need more clarification.

☀️  I understand and can show what I know.
Self-Assessments with Emojis
Self-assessments are a great way to use emojis.
Emoji Reactions in Google Docs
In Google Docs you can use emojis in the comments–it's built-in! It's called emoji reactions
This would be an easy way for students to respond with an emoji using the key that you have set up (and probably added to the Google Doc).

Students could leave a comment on the doc with an emoji to self-assess. So if a student left a red dot, the teacher knows they need to intervene or reteach.
I could also see students using this to self-assess at the end of the unit by highlighting their notes and indicating the parts they need to review, and the parts they are confident about.
Emoji in Google Docs Drop-Down Menus
A new Google Doc feature that I am in love with is the drop-down menus.
When you insert a custom drop-down menu, you can insert emojis and your key in the options list. (Bonus: Use the color-coding within the drop-down to emphasize the color. And it's a great visual!)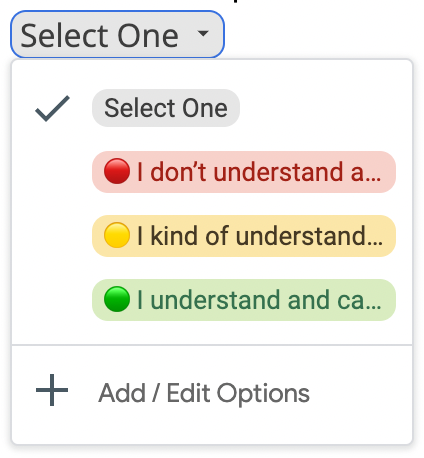 I recommend you use the first option as "Select One" so that it doesn't default to select the first option.
Below is an example I created with student-friendly "I Can" statements.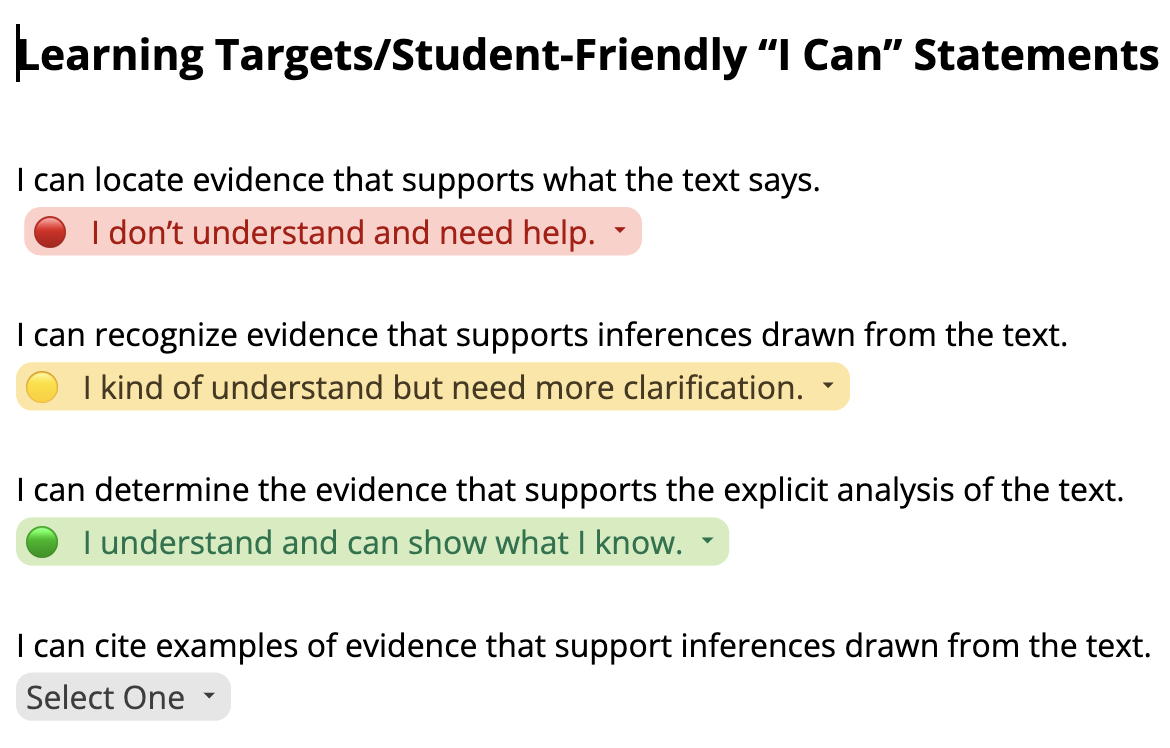 This is a really easy and clean way to use your self-assessment emoji key.
Emoji Options in a Google Sheet Tracker
I've shared trackers over the last few years, and ideas from my good friend, Lisa Johnson. Lisa contributed her templates to a guest blog post here, and to my book, Blended Learning with Google.
You can track all kinds of things in a sheet–habits, goals, emotions, reading, learning targets, and more.
You can also create drop-down selections and include emojis!
The example below is an SEL mood tracker, but you can easily create your own trackers to track whatever you want.

Related: 6 FREE Google Templates for Creative Productivity 
Emojis in Formative and Informal Assessments
There are so many other places you could use the emoji key in your formative and informal assessments.
Exit/Entry Tickets
Exit Ticket: "Exit tickets are a formative assessment tool that give teachers a way to assess how well students understand the material they are learning in class." (edutopia.org)
Entry Ticket: This is a similar idea to the exit ticket but given at the beginning of class, usually to assess what they learned the day before.
Emojis as Answer Choices in a Google Form
Google Forms are so useful for assessment. Below is an exit ticket example with emoji.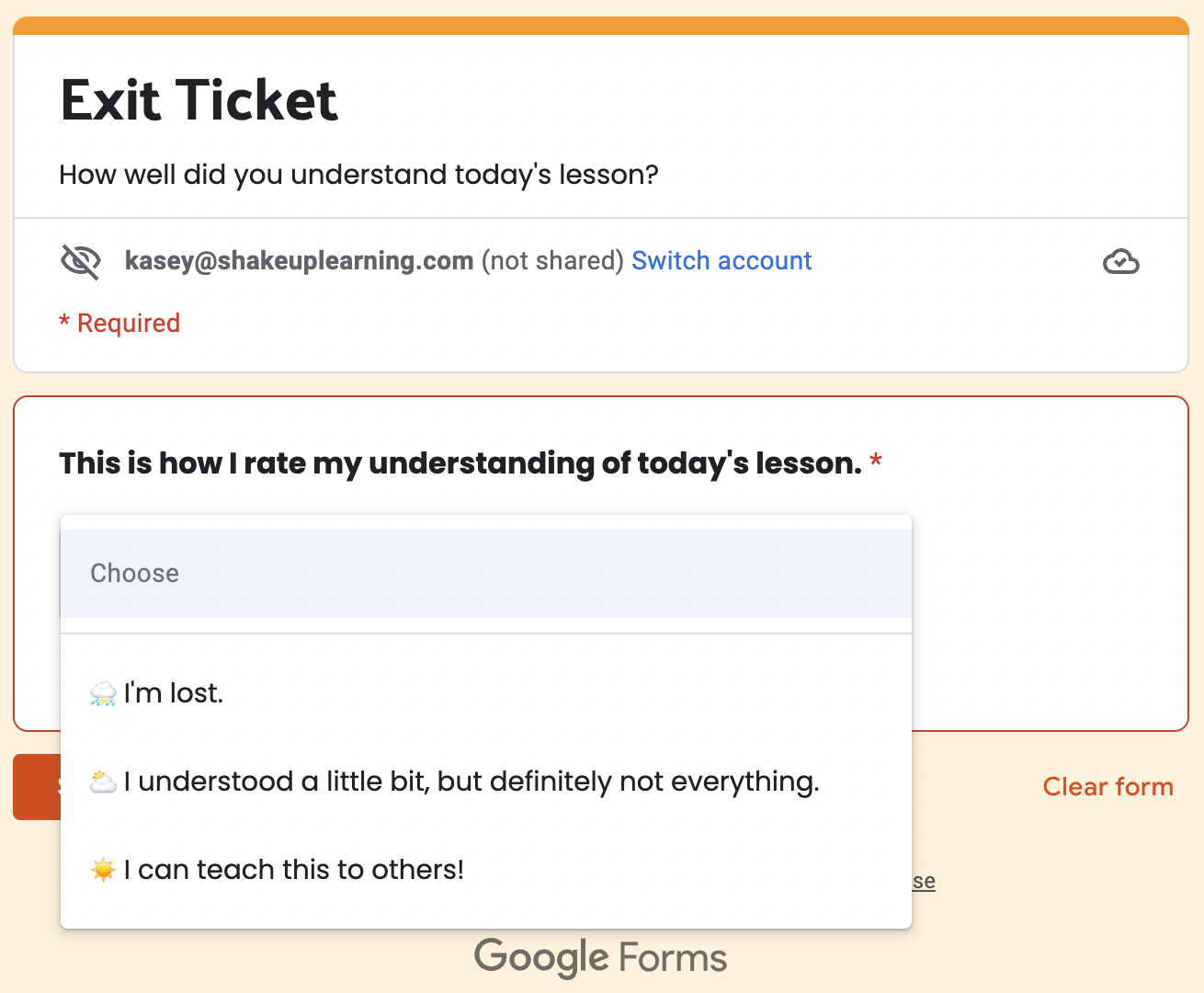 Related: 30 Ways to Use Google Forms in the Classroom – SULS0125
Pear Deck
Pear Deck is one of my favorite Google Slides add-ons, and a great formative assessment tool.
They have tons of templates–even a few with some tradition smiley face emoji. But these can be revised to fit your own emoji key!
3-2-1
3-2-1 is a great formative assessment strategy. You can customize this exactly how you want it!
3 Things I Learned Today
2 Things I Found Interesting
1 Question I Have
Add Emoji Ratings to the 3-2-1 to show confidence in responses to the 3 things I learned today.
👍🏻 I got this and I'm ready to move on.
🤦🏽‍♂️ I'm a little bit confused.
🆘 I need help!
Reflection on Learning
Reflection is a critical part of the learning process. Add the option to select an emoji rating to give a visual for the students and a quick way for teachers to check for understanding.
Feedback
Emoji can be used as feedback–teacher to student feedback, student to student feedback, or even student to teacher feedback.
Consider using an emoji key for feedback that is used over and over again.
This can range from simple stickers for encouragement. 🎉 = Great Job!
To using an elaborate key for writing feedback:
✂️ = common splice
⚠️ = check spelling
👀 = word choice
I've only scratched the surface of this idea! How can you use this in your classroom? Leave me a comment below!
© Shake Up Learning 2023. Unauthorized use and/or duplication of this material without express and written permission from this blog's author and/or owner is strictly prohibited. Excerpts and links may be used, provided that full and clear credit is given to Kasey Bell and Shake Up Learning with appropriate and specific direction to the original content on ShakeUpLearning.com. See: Copyright Policy.