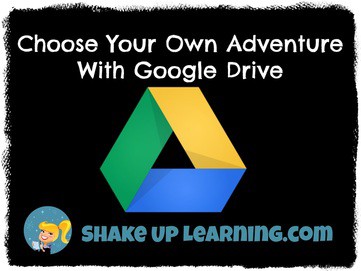 I've been developing several Google presentations and trainings for summer workshops. As some of you may know, I am a fan of menu/choice boards and facilitating teacher-centered learning experiences. In an effort to create choice, and differentiate for the multiple skill levels of educators, I have created a three-level, "Choose Your Own Adventure With Google Drive," learning experience for educators. This is not all encompassing, and definitely leans toward the more novice skill levels, but I hope this will be useful to meet the needs of the educators.
---
I created the images using Canva, which is quickly becoming a favorite of mine. If you are new to Canva, it is web-based graphic design program. You can create images, presentation slides, posters and more. I'm sure I will have a dedicated Canva blog post coming soon!
After I created the Canva images, I then converted the images to Thinglinks. If you are new to Thinglinks, Thinglinks allow you to make images interactive with links, text and video. I love doing Thinglink Mashups! See my earlier blog post: A Thinglink and Glogster Mashup.
I have one central Thinglink that links to the three interactive skill levels. Each level has it's own interactive Thinglink with links to published Google Docs. This was a tip I mentioned in my blog post last week: 5 Google Drive Tips Everyone Should Know. I'm not sure why more people do not use the "publish to the web" feature. It will turn a document into a very clean webpage. It's a really nice feature.
I will update this post as I make adjustments and try to improve this activity. I'm anxious to give it a try!
How do you differentiate for different skill levels in your professional development and training?
© Shake Up Learning 2023. Unauthorized use and/or duplication of this material without express and written permission from this blog's author and/or owner is strictly prohibited. Excerpts and links may be used, provided that full and clear credit is given to Kasey Bell and Shake Up Learning with appropriate and specific direction to the original content on ShakeUpLearning.com. See: Copyright Policy.