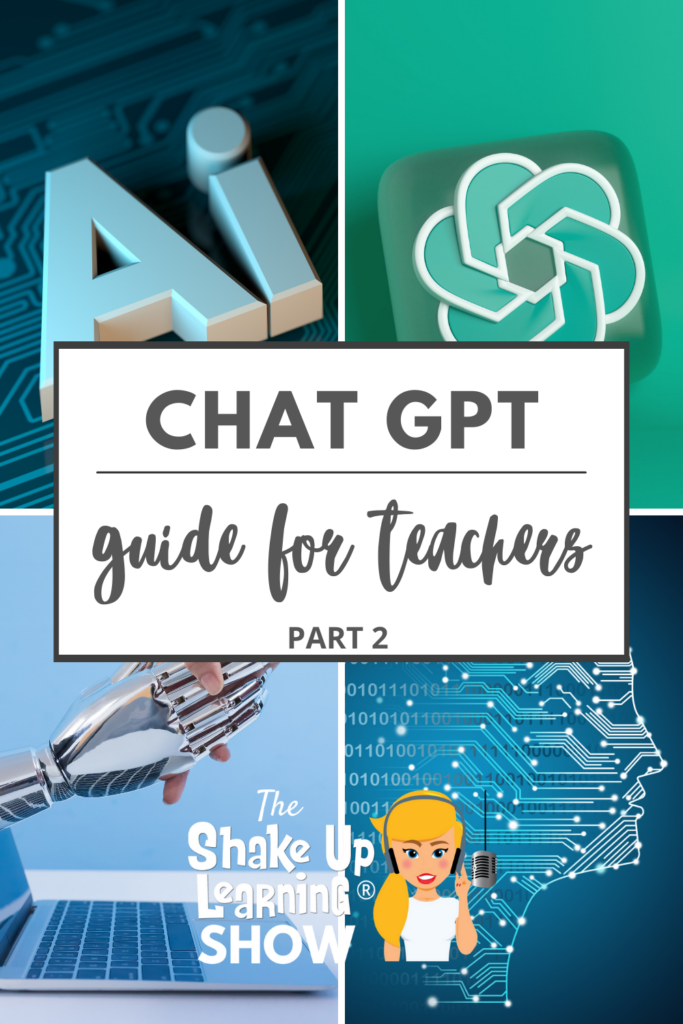 OpenAI, the company behind ChatGPT, just unveiled a new teacher guide.
In part one, I did a deep dive into the guide, breaking down the information and the suggested prompts for teachers.
In part two, we take a closer look at the newly released educator FAQ page and what you need to know about the terms of use.
Y'all! There is so much you should know and understand about AI and ChatGPT.
Listen to this article.
This episode is sponsored by Everfi.
Want to prepare your students for career and life success, but short on time? Busy teachers use EVERFI's standards-aligned, research-based digital lessons, 

recently awarded with the ISTE Seal for high quality curriculum

, to teach students to thrive in an ever-changing world. Interactive, game-based lessons designed by experienced educators help you engage students at all grade levels and bring critical real-world skills like financial education, early literacy, character education, health & wellness, and more to your classroom. Thanks to partners, these lessons are FREE for all K-12 schools and students. With back-to-school season gearing up, now is an exciting time to give your students a jumpstart on their future.  Go to everfi.com/shake to learn more, and sign up to get a virtual swag bag full of free goodies to get the school year off to a great start. 
ChatGPT Guide for Teachers (Part 2)
Last week, I shared Open AI's new teacher's guide. I wasn't overly impressed.
You can access the full guide here: Teaching with AI.
ChatGPT FAQ for Educators
This week, I am sharing the information published in their new FAQ for Educators.
The FAQ includes only nine questions, but they are at least addressing some of the elephants in the room.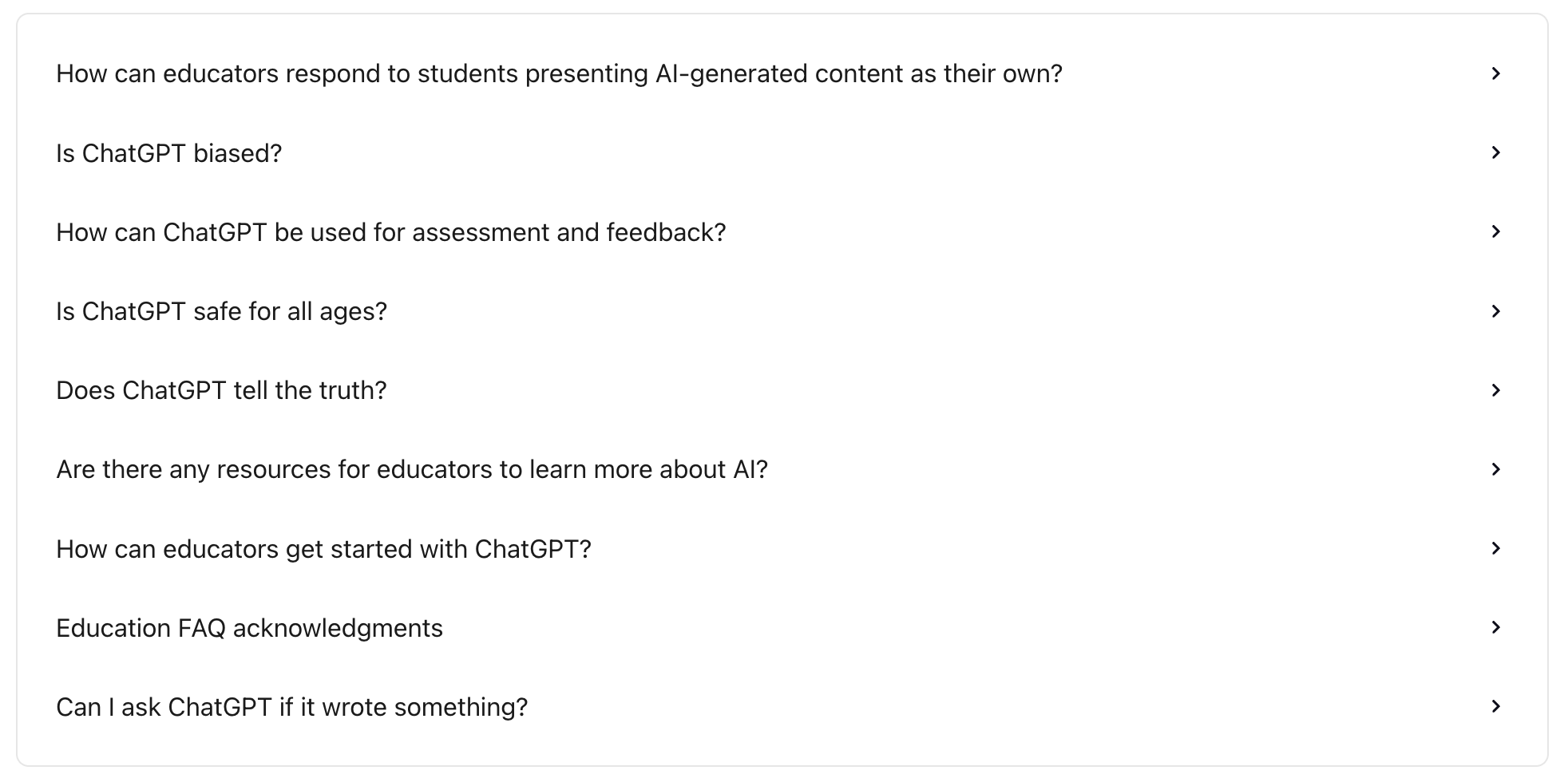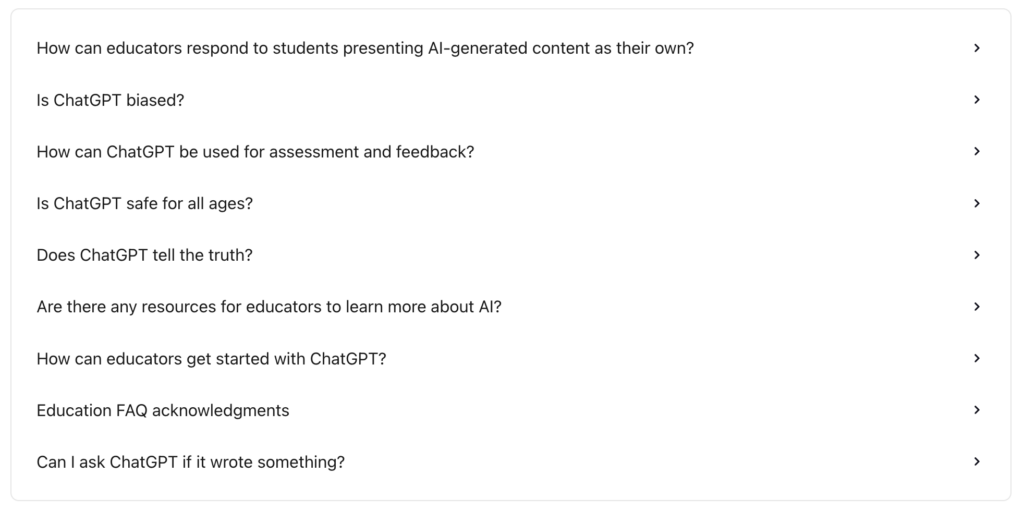 While I do want to encourage you to read these articles associated with each of these questions for yourself, here's the gist of it.
AI detectors do not work.
The biggest complaint when ChatGPT debuted was that students would use it to cheat. Well, cheating is nothing new. In my opinion, cheating is NOT the problem.
However, transparency about the use of AI gets much more complicated because the FAQ plainly states that AI detectors do not work. Even ChatGPT cannot tell you if it wrote something.
Most schools do not have AI policies in place.
Most schools have yet to put AI policies in place. Everything is so new and rapidly advancing, but it should not be ignored. I created a checklist to help outline a few things that should be considered, like privacy policies, bias, and how the AI was trained.
ChatGPT is not designed for children.
I'm going to quote this one directly!
"ChatGPT is not meant for children under 13, and we require that children ages 13 to 18 obtain parental consent before using ChatGPT. While we have taken measures to limit generations of undesirable content, ChatGPT may produce output that is not appropriate for all audiences or all ages, and educators should be mindful of that while using it with students or in classroom contexts.
We advise caution with exposure to kids, even those who meet our age requirements, and if you are using ChatGPT in the education context for children under 13, the actual interaction with ChatGPT must be conducted by an adult."
Say it louder for those in the back! Please adhere to the terms of use and get parent permission for students between the ages of 13 and 17.
While I do believe that AI is going to play a huge role in the lives of our students, I do not believe this tool should be used by children at this time.
Don't worry. This is not going to hold any student back from learning. There are already hundreds, if not thousands, of kid-appropriate uses of AI that will be at your fingertips very soon. No need to rush this!
ChatGPT is biased.
This is very important to understand and convey to your students. Here's what they say:
"ChatGPT is not free from biases and stereotypes, so users and educators should carefully review its content. It is important to critically assess any content that could teach or reinforce biases or stereotypes.
The model is skewed towards Western views and performs best in English. Some steps to prevent harmful content have only been tested in English.
The model's dialogue nature can reinforce a user's biases over the course of interaction. For example, the model may agree with a user's strong opinion on a political issue, reinforcing their belief.
These biases can harm students if not considered when using the model for student feedback. For instance, it may unfairly judge students learning English as a second language.
Educators can help students understand bias and think critically by showing how certain questions lead to biased responses. For example, a teacher could ask a student to analyze a ChatGPT-generated essay that favors a certain viewpoint. This exercise can help students recognize bias across different platforms and be responsible digital citizens."
I strongly agree with that last bullet and using bias as a teachable moment. However, again, I don't believe we need to rush this type of interaction. There will be better tools and lessons coming soon.
ChatGPT is not always factual.
The article will plainly tell you that ChatGPT can sound like it really knows what it is talking about but can be very wrong.
The model is known for making up responses, or "hallucinating," and giving incorrect or misleading information. (There are lawsuits to prove it.)


ChatGPT Terms of Use
You know those long pages you scroll through when you sign up to use a new application or install a Chrome extension? They are often filled with legal jargon, and most of us don't take the time to read what we are agreeing to.
Well, you should start to pay attention. Your data is worth a lot of money to tech companies, including OpenAI.
Here's what you should know about the ChatGPT terms of use:
Age Requirements
"You must be at least 13 years old to use the Services. If you are under 18 you must have your parent or legal guardian's permission to use the Services. If you use the Services on behalf of another person or entity, you must have the authority to accept the Terms on their behalf. You must provide accurate and complete information to register for an account. You may not make your access credentials or account available to others outside your organization, and you are responsible for all activities that occur using your credentials."
This reiterates what I said earlier about users between the ages of 13 and 17 needing parent permission.
Your content is being used to train AI.
If you are using ChatGPT directly, not a third-party connection through other applications, your content–that is anything you type into the chat box is being used to help the model improve. You can (sort of) opt out of this.
Never input any personal information into ChatGPT.
And teach students how to protect their personal information.
There's a lot to consider as the world of AI continues to grow and become more accessible in our classrooms. Always use your best judgment and follow your school's guidelines and policies.
There is much more about the terms included in the podcast that you can play above.

© Shake Up Learning 2023. Unauthorized use and/or duplication of this material without express and written permission from this blog's author and/or owner is strictly prohibited. Excerpts and links may be used, provided that full and clear credit is given to Kasey Bell and Shake Up Learning with appropriate and specific direction to the original content on ShakeUpLearning.com. See: Copyright Policy.