In this episode, I'm sharing valuable resources and considerations for evaluating AI tools for use in schools and the classroom.
School leaders must consider and evaluate any tool that students use carefully, but how do we prepare for the coming wave of AI tools?
This episode (and companion blog post) will provide a comprehensive guide and free, downloadable checklist for evaluating AI tools for classroom use.
Let's explore the types of AI, evaluation criteria, privacy and security issues, and resources.
And let's make sure we are protecting our most vulnerable and making smart decisions for our schools!
Listen to this article.
This episode is sponsored by Everfi.
Everyone remembers THAT teacher. The study hall teacher who walked you through your first college application. The social studies teacher who taught you what taxes were AND how to file them. The math teacher who used student loans to show you how interest worked. YOU can be that teacher—and 

EVERFI

 wants to help you make that kind of impact with FREE digital lessons for K thru 12 students. From budgets and banking to credit and savings, you'll find a financial literacy topic that's right for your classroom. And especially during April, Financial Literacy Month, there's no better time to equip students with smart decision-making around finances. Learn how you can share these FREE resources with students and give them a financial foundation that lasts a lifetime. Just go to 

everfi

.com/shake.
A Comprehensive Guide to Evaluating AI Tools for Classroom Use
In researching for this post and episode, I had difficulty finding school guidelines. There's a little out there.
If you listened to last week's episode, I shared some of the Dangers of AI. As a teacher and parent, I have deep concerns about placing some of the new and evolving AI tools in front of a child. Safety, privacy, and security cannot be ignored.
While I completely understand that these tools are already here and have the potential to improve teaching and learning, we cannot blindly place a 13-year-old in front of a chatbot and hope for the best. We don't know the capabilities, and things are changing so fast the capabilities of AI change
every.
single.
day.
So how do we approach this? Even though I have talked about the dangers, I have historically encouraged teachers to embrace technology and all its advantages. That's my jam! That's what I do!
I have also been teaching about AI tools for many years. It's not new. AI has been here for a long time, but what we are seeing in the Chat GPT era will change everything. And it's going to do it faster than anyone can even fathom.
I have worked on both sides of school filters and policies. I have been the teacher begging for access to something super cool (or just doing it and asking for forgiveness later). I have also worked on committees in school districts that have to determine a process for software approval and "unblocking" websites.
What we are talking about now is much bigger than a child ending up on an inappropriate website. AI can interact, chat, and influence. As I mentioned in my earlier article, I have concerns about the moral compass of different language models, the ethics, the bias, and who is in control.
I have also stated many times that I believe this technology can improve teaching and learning in many ways (and many other aspects of education in general). But the role of technology and school leaders just got way more complicated.
Since AI is embedded in everything, this is not a separate evaluation from how we approve other tools for our classrooms. This is rewriting the script and adding new protection layers for our schools and our most vulnerable students.
Let's begin with some background. We can't all be experts on AI, but we need a foundation of knowledge.


Types of AI Tools
Many tools that you already use in your schools use AI. Do you know which tools use AI? Do you know what type of AI it uses? Has the company disclosed this? Transparency is a must.
There are many categories of AI tools, but here are a few examples that might be relevant to schools:
Personalized Learning: AI tools can create personalized learning experiences for each student, adapting to their individual learning style and pace. These tools can analyze student data and provide recommendations on what topics they need to focus on, what resources would be helpful for them, and what learning strategies they should use. Personalized learning can help students feel more engaged and motivated in their education and can help them achieve better outcomes.
Intelligent Tutoring Systems: These AI tools are designed to provide students with real-time feedback and guidance as they complete educational tasks. Intelligent tutoring systems can offer support and feedback on homework assignments, practice problems, and quizzes. They can also adapt their feedback to each student's level of understanding, helping them to improve their skills and knowledge.
Adaptive Assessments: AI-powered assessments can be used to measure student learning in real time. These assessments can adapt to each student's skill level, offering more difficult questions if the student is doing well or easier ones if the student is struggling. This can help teachers quickly identify areas where students need extra support and adjust their teaching strategies accordingly.
Natural Language Processing (NLP): NLP is a branch of AI that deals with the interaction between computers and human languages. NLP tools can be used in schools to help students improve their writing and communication skills. For example, an NLP tool might provide feedback on students' grammar, spelling, or syntax, allowing them to refine their writing style.
Chatbots: AI-powered chatbots can be used to provide students with support and guidance on a variety of topics, including scheduling, homework, and study strategies. Chatbots can be integrated into learning management systems, allowing students to access help and resources whenever needed.
Overall, AI tools can be used in schools to help personalize learning experiences, provide real-time feedback, assess student progress, and offer support and guidance to students. By leveraging the power of AI, educators can create more effective and engaging learning environments that help students achieve their full potential.
Possible dangers of using these AI in the classroom include:
The potential for algorithmic bias
The loss of human interaction and engagement
The risk of data breaches or privacy violations
The possibility of AI replacing teacher expertise and judgment.
The possibility of AI breaking protocol, going rogue, or being hacked
5 Big Ideas in Artificial Intelligence
One of the most interesting resources I have found so far is ai4k12.org. To be clear, this organization was created to support teaching AI skills in K12. However, it is beneficial as we look at the whole picture.
Ai4K12 is developing (1) national guidelines for AI education for K-12, (2) an online, curated resource Directory to facilitate AI instruction, and (3) a community of practitioners, researchers, resource and tool developers focused on the AI for K-12 audience.
Ai4k12.org has published a handy document and infographic, 5 Big Ideas in Artificial Intelligence. You can download the poster below from their website.
These five ideas will give teachers and school leaders a starting point for the various types of AI we may be evaluating.
Perception: "computers perceive the world using sensors."
Representation & Reasoning: "Agents maintain representations of the world and use them for reasoning."
Learning: "Computers can learn from data."
Natural Interaction: "Intelligent agents require many kinds of knowledge to interact naturally with humans."
Societal Impact: "AI can impact society in both positive and negative ways."
Within these five big ideas, ai4k12.org has developed progression charts by grade band. (Note: these are all viewable on their site but are "drafts.")


COSN AI Report
I found the above resource in the Artificial Intelligence (AI) in K-12 SPRING 2023 Report from COSN. The COSN report is another organization great resource for school leaders.
Below is a quote from this report:
"Artificial Intelligence (AI) has the potential to influence practically every aspect of education and society as it rapidly expands both inside and outside of school. While it holds the potential to augment education to provide every student with personalized instruction at scale, it also brings a host of new challenges and considerations. Through this publication, we hope to support school and district leaders as they respond to the influx of AI in education and determine how it might impact their students, teachers, and families."
I recommend that your school leaders get a COSN membership and access this report (newly updated) here.
Ethical AI in Education
Another great resource is The Institute for Ethical AI in Education (UK). They released a framework available here.
"The Framework empowers leaders and practitioners to drive the design, procurement and application of AI on behalf of learners. But it cannot and must not be solely their responsibility to ensure that learners benefit optimally from Al in education. Those designing Al resources are ultimately responsible for ensuring that systems do not, amongst other things, discriminate against any group of learners, that they do not manipulate users, and that resources are designed in a pedagogically sound way."
This framework includes a very detailed, multi-page checklist with objectives and criteria.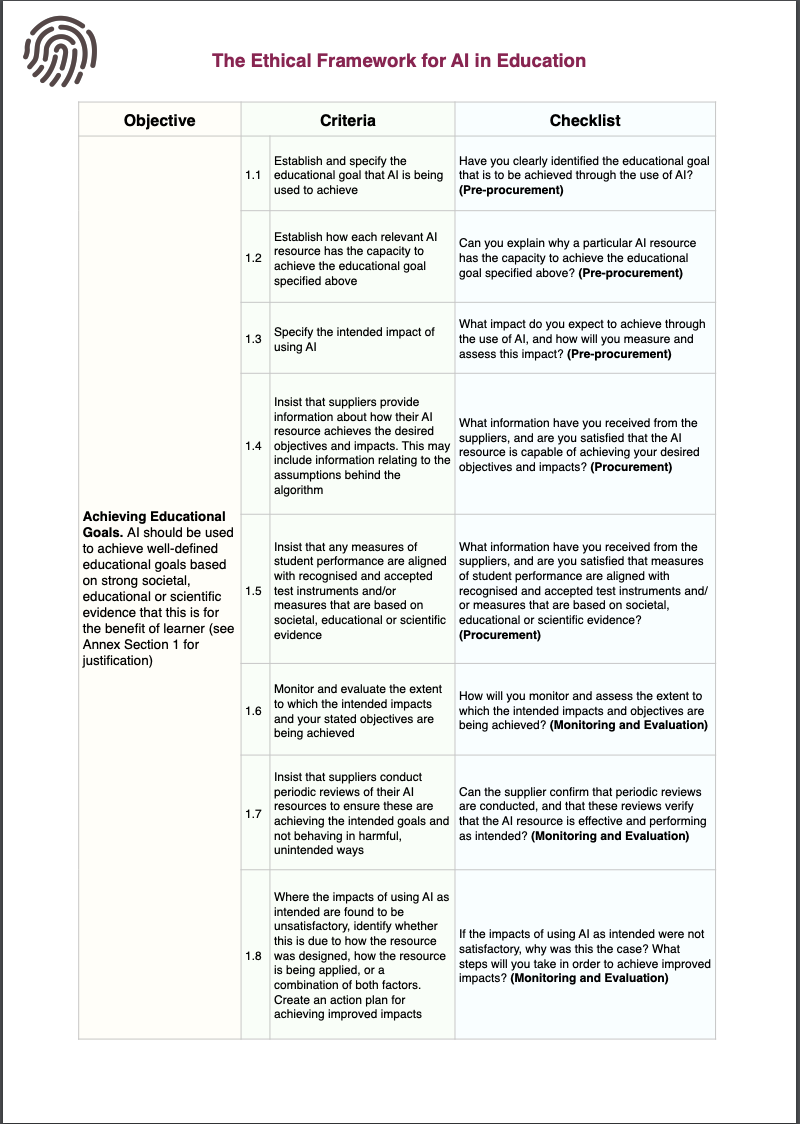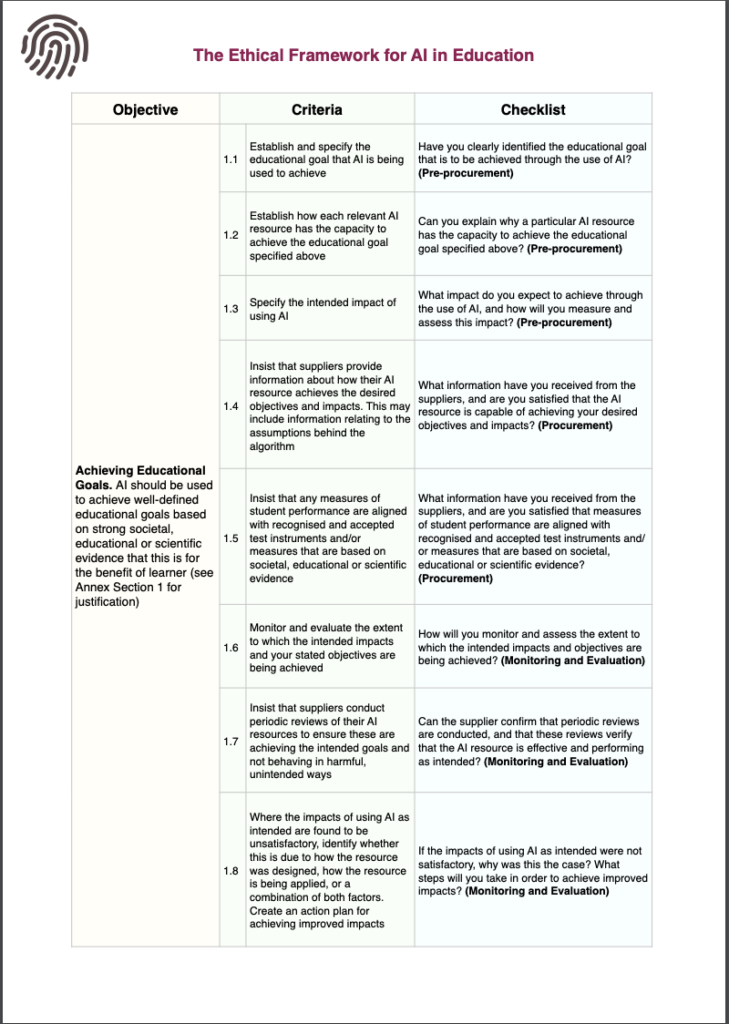 Checklist for School Leaders to Evaluate AI Tools:
Fill out the form below to download the checklist.
This checklist is a generalized list based on my research and resources. It is only a starting point for those that do not have one. This list is NOT definitive nor complete, but it is a living document that will be updated over time.
Determine the Purpose of AI Use: The first step in evaluating AI tools is to define the purpose of their use in the classroom. Consider the educational goals and objectives of using AI technology and how it can enhance the teaching and learning experience.
Evaluate Privacy and Security Concerns: Ensure the AI tool complies with privacy protection laws and policies (COPPA, CIPA, and other laws and regulations). Review the data privacy policies and terms of service to see how they protect students' data privacy. Look for tools that use encryption or other security measures to protect student data. Some specific privacy issues to look for include the following: Data collection policies and practices, Data retention policies and practices, Data sharing policies and practices, The level of consent required for data collection and sharing, The type of data collected (personal information, browsing history, location data, etc.), The security measures are in place to protect student data.
Determine the Type of AI: Consider the type of AI tool you are evaluating. Is it a recommendation system, a natural language processing tool, or a predictive analytics tool? Each type of AI tool has different capabilities and requirements, so it's essential to understand what you're dealing with. If it is Chat/Conversational: Will any students, teachers, or other stakeholders have direct access to chat with an AI-powered chatbot? How was it trained? The company should be transparent about this. How do they communicate breaches? Hacking?
Research the Reliability of the AI Tool: (This will prove difficult when the tool is brand new, but try if you can.) Look for independent studies that validate the accuracy and effectiveness of the AI tool. Also, consider if the AI tool has been used in other schools or institutions and if there is any feedback on its effectiveness.
Evaluate the Responsiveness of the AI Tool: Look for tools designed to respond to student needs in real-time. The AI tool should be able to adapt and adjust to individual learning styles and progress.
Consider the Possible Dangers of AI: Recognize the potential risks of using AI tools in the classroom. These include privacy concerns, data breaches, algorithmic bias, and the potential for AI to replace human interaction and engagement.
Involve Stakeholders in the Evaluation: Involve teachers, students, and parents in the evaluation process. Get their feedback on the AI tool and how it impacts the classroom environment and learning outcomes.
Implement a Plan for Data Management: Develop a plan for managing student data collected by the AI tool. Determine who will access the data, how long it will be stored, and how it will be deleted when no longer needed.
Consider the Cost and Maintenance of the AI Tool: Evaluate the costs of implementing and maintaining the AI tool. Determine if it fits within the school's budget and if any ongoing costs are associated with its use.
(Bias) Ensure Equity and Accessibility: Consider if the AI tool is accessible to all students regardless of their abilities and if its use is fair and equitable across different demographics. Look for evidence of algorithmic bias in the AI tool and address any disparities identified.
I hope this helps schools begin to approach this process. As I said, this is a starting point. What would you add to this list? If you have additional resources, please leave a comment!
© Shake Up Learning 2023. Unauthorized use and/or duplication of this material without express and written permission from this blog's author and/or owner is strictly prohibited. Excerpts and links may be used, provided that full and clear credit is given to Kasey Bell and Shake Up Learning with appropriate and specific direction to the original content on ShakeUpLearning.com. See: Copyright Policy.