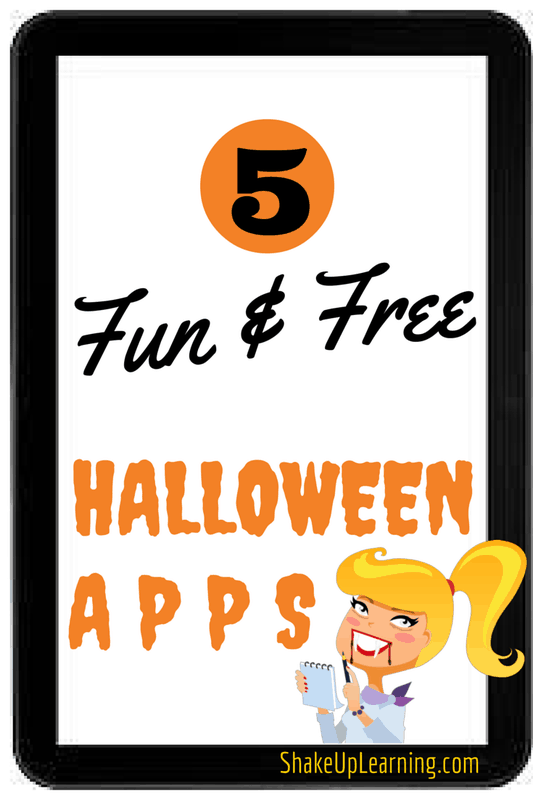 Have some fun this Halloween with these FREE iPad Apps!
This post is a little late, but I wanted to share something fun today. Check out my avatar, she became a vampire with the help of Picmonkey.Below are 5 iPad/iPhone apps to keep you the kiddos entertained today. They are all FREE!
HAPPY HALLOWEEN from Shake Up Learning!
Halloween Card Creator

Create spooky fun Halloween cards and share them with your friends.Use Halloween Card Creator on your iPhone, iPad or iPod Touch to design amazing cards with just a few swipes of your fingers.The unique thing about Halloween Card Creator is that you can customize as much or as little of the card as you want. The app comes loaded with fun Halloween backgrounds, clip art and fonts. After you've created your masterpiece you can share it with your friends and family on Facebook, through Email or save it to your Photo Album.

There are customizations galore in this using touch gestures, widgets, color wheels and more. You can even select photos from your photo album to use as backgrounds and decorations.
Monster Coloring Book

Monster Coloring Book is like fingerpainting without the mess!Everyone loves to break out the paints, markers and crayons for an intense coloring session but sometimes it's just too much work or there is not enough space or…you get the idea. With Monster Coloring Book you get all the fun at the touch of your fingers. Clean up is simple and the coloring is just as fun.
A Storybots Halloween (Jib Jab)

Looking for a fun and spooky way to share the Halloween "spirit"? Have no fear: A StoryBots Halloween is here!Cast your entire family (even Mummy) in this catchy and hilarious animated Starring You® Video and share it with all of your friends via email, Facebook or Twitter – all for free! You can upload up to five photos and dance with the StoryBots as a vampire, ghost, werewolf, mummy, and even Frankenstein's monster. This will be a "Hallo-wallo-ween" that'll have you and your kids dancing like the "Boogie" Man!The adventures don't stop with Halloween, either. The StoryBots offer a world of learning and fun year-round for kids and parents. Check out all of the StoryBots apps and content for iPhone, iPad and web.
Sago Mini Monsters

Create your own colorful monster! Make your monster happy with paint, food, and decorations. When you're finished, snap a photo to share with mom and dad. Make as many monsters as you like. Each monster is unique.Sago Mini Monsters is a carefully-crafted activity which fosters feelings of pride, ownership, and nurturing. Part of the award-winning suite of Sago Mini apps, the app is sure to get your little one laughing.
Now race against Ursula, your favorite wicked sea witch!
Play each of the 6 NEW games as fast as you can to thwart her evil plans.
And don't forget all the sinister fun you'll still have with the 18 additional games featuring your other favorite villains: Maleficent, Cruella de Vil, and Captain Hook!
Be on the lookout for more evil fun…coming soon!
Kasey Bell will be presenting at the following upcoming events:
Subscribe to the Shake Up Learning Blog to get all the latest posts:
© Shake Up Learning 2023. Unauthorized use and/or duplication of this material without express and written permission from this blog's author and/or owner is strictly prohibited. Excerpts and links may be used, provided that full and clear credit is given to Kasey Bell and Shake Up Learning with appropriate and specific direction to the original content on ShakeUpLearning.com. See: Copyright Policy.