Trainers and Coaches: Unleash Your "Incredibles" Superpowers!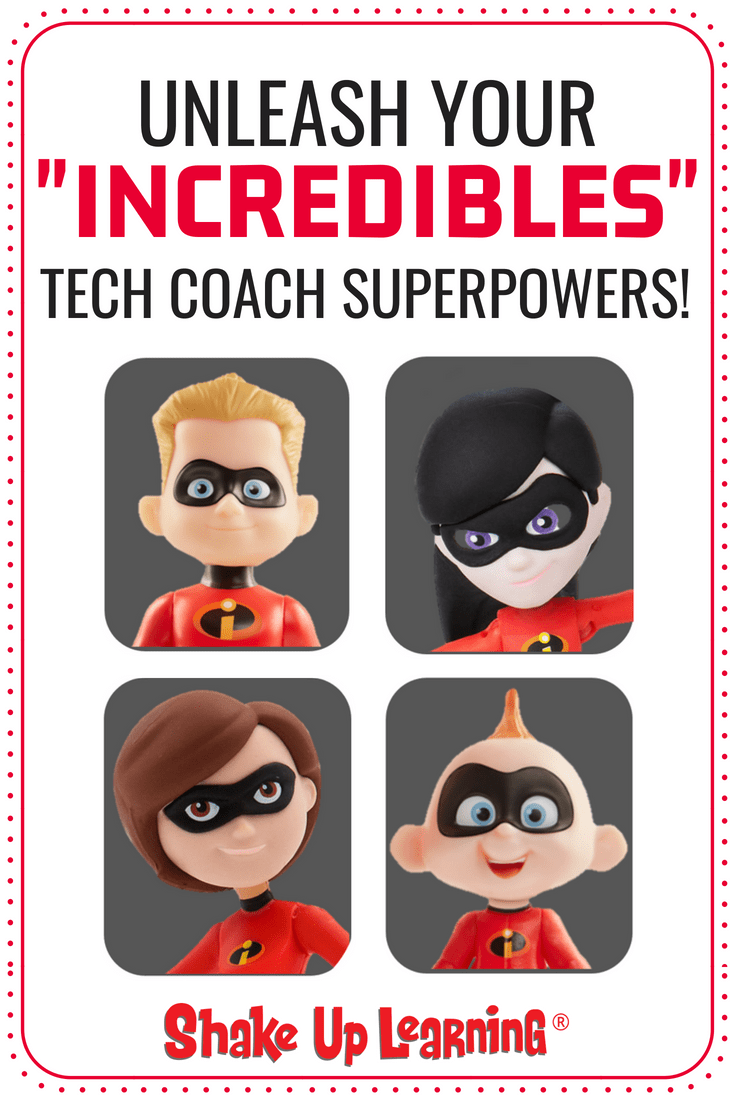 If you want to be an "Incredible" tech trainer or instructional coach, your mission must include honing the superhero skills of Collaborating and Networking, Facilitating High-Quality Professional Development, Coaching, and Mentoring, and Powering it ALL with Technology.
Thwart the "villains" that make traditional meetings monotonous and mundane. Yes! You can make "Incredibles" superpowers your PD sidekicks.
Traditional professional development does not model the best instructional practices that teachers need to experience in order to understand their value and transfer to classroom practice. So how can you provide what they do need?
Take a look at some of the Incredibles essential superpowers. Are you ready to become an "Incredibles" Superhero?
[Tweet "Trainers and Coaches: Unleash Your "Incredibles" Superpowers! #ETcoaches #TOSAchat #edtech #ISTE18"]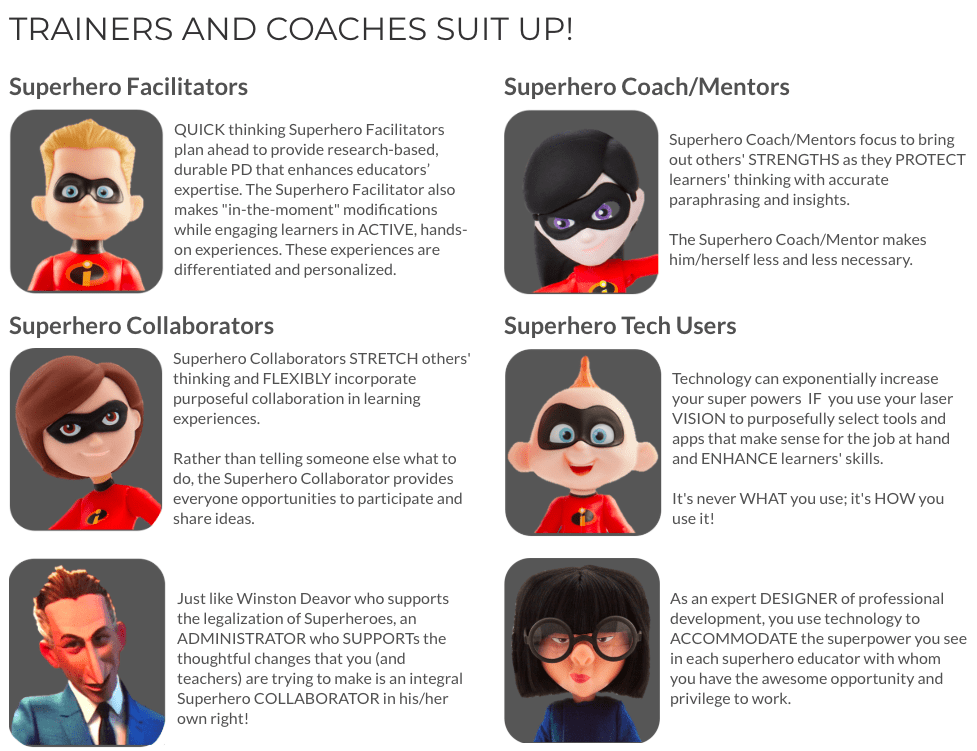 ---
Channel your inner Dash Parr by being a QUICK thinking Superhero Facilitator; plan ahead to provide research-based, durable PD that enhances educators' expertise.
As a Superhero Facilitator, you must make "in-the-moment" modifications while engaging learners in ACTIVE, hands-on experiences. Design and facilitate learner-centered instructional activities that include strategies to differentiate and personalize learning for adults. Engage educators in professional learning enhanced by technology with the ultimate goal of transfer to professional practice.
Learn more about Superhero Facilitators.
---
Just like Violet makes herself invisible, you become a Superhero Coach/Mentor by empowering teachers while making yourself less and less necessary.
Bring out others' STRENGTHS as you PROTECT learners' thinking with accurate paraphrasing and insights. Model how to design and implement technology-enhanced learning experiences while supporting educators in transferring these skills into professional practice.
Make sure to emphasize creativity, higher-order thinking skills, and habits of mind. Become less necessary over time by consulting, collaborating, or coaching to support educators as they grow their own superpowers.
Learn more about Superhero Coach/Mentors.
---
Superhero Collaborators, like Elastigirl, FLEXIBLY incorporate purposeful collaboration in learning experiences and STRETCH others' thinking.
Rather than telling someone else what to do, be a Superhero Collaborator! Provide everyone with opportunities to participate and share ideas. Engage in and develop digital age learning environments as both a consumer and contributor.
Model a variety of instructional practices in face-to-face, blended, and online learning environments including purposeful collaboration, planning for individualization, and providing choice.
Learn more about Superhero Collaborators.
---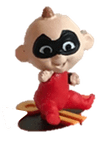 There seems to be no end to Jack-Jack's powers!
Technology can also exponentially increase your superpowers IF you use your laser VISION to purposefully select tools and apps that make sense for the job at hand and ENHANCE learners' skills.
Employ strategies for inspiring technology and instructional innovations. Identify, create, use, share, and organize a variety of resources to support purposeful technology integration. Plan learning experiences that incorporate resources and research-based instructional design practices in meaningful ways as a model for other educators.
As Edna Mode knows, it's never WHAT you use; it's HOW you use it! Be an expert DESIGNER of professional development; use technology to ACCOMMODATE the superpower you see in each superhero educator with whom you have the awesome opportunity and privilege to work.
Learn more about Superhero Tech Users.
---
Your Mission (should you choose to accept it)
Coaches and trainers, suit up! It's time to use your superpowers for good and incorporate innovative methods to facilitate effective adult learning opportunities.
Remember, "With great power comes great responsibility!" ~Ben Parker, in The Amazing Spider-man
Find a one-page summary of these superpowers on the Trainers and Coaches Suit Up: Unleash Your "Incredibles" Super Powers! website. Want to delve deeper? Prefer a game-based approach? Solve the clues for each Unleash Your "Incredibles" Super Powers Gameboard section and receive badges and certificates in addition to more information.
About the authors of this post:
Brooke Higgins (@higginsb) and Debbie Perkins (@perkinsd) are Instructional Specialists for eMINTS National Center.
They develop and implement professional development programs grounded in best pedagogical practices powered by technology for teachers, trainers/coaches, and educational leaders. They currently work with eMINTS Affiliates participating in their train-the-trainer program.
Learn more about eMINTS National Center and the eMINTS Affiliate Trainer Program.
---
© Shake Up Learning 2023. Unauthorized use and/or duplication of this material without express and written permission from this blog's author and/or owner is strictly prohibited. Excerpts and links may be used, provided that full and clear credit is given to Kasey Bell and Shake Up Learning with appropriate and specific direction to the original content on ShakeUpLearning.com. See: Copyright Policy.