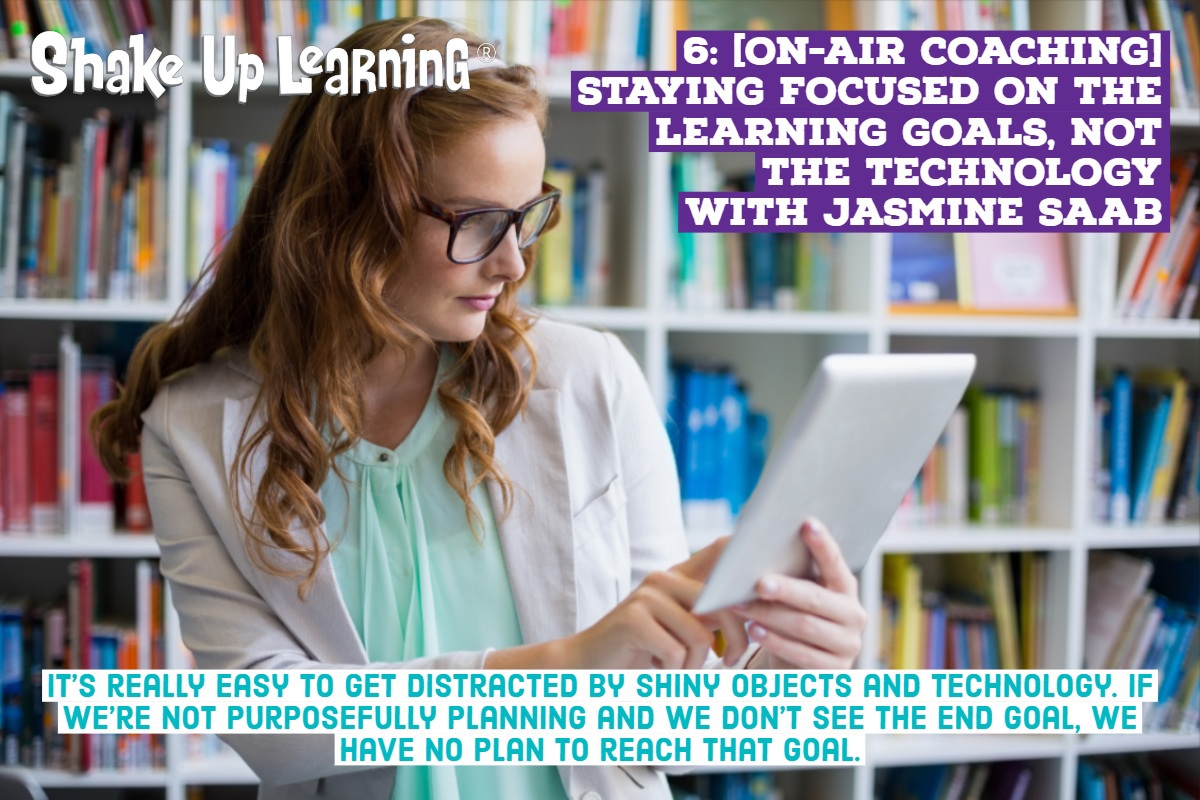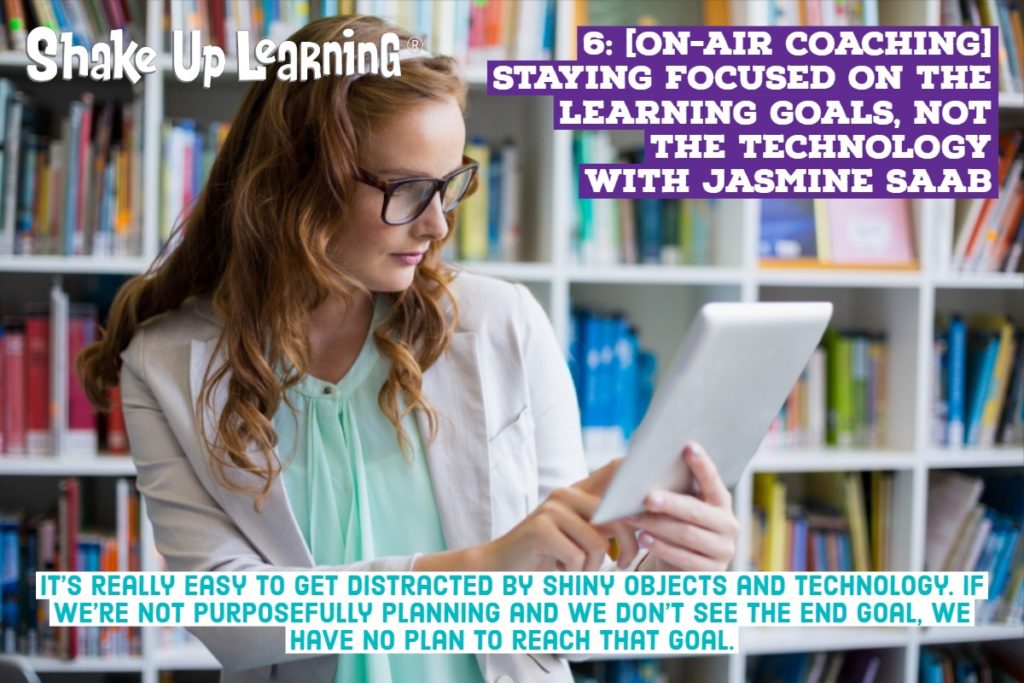 We're doing something different today! This episode features my very first on-air coaching guest, Jasmine Saab.
Jasmine is a second-year fourth-grade teacher at Marrington Elementary School near Charleston, South Carolina.
She loves integrating movement and technology from her classroom. Originally from California, Jasmine fills her time with a wide array of hobbies ranging from tandem bike riding to volunteering to singing in foreign languages.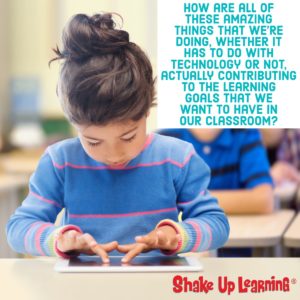 Jasmine's awards and accomplishments list is so long that I need to include it separately, so check it out below!
As you can probably guess from that impressive list, Jasmine is an excellent teacher who's doing some truly amazing things in her classroom.
As you'll hear today, she also has some struggles, specifically around technology.
She's inspired by technology without always thinking things through to the end in terms of planning and her learning goals.
And that's why she's on the show today! I'll coach her through this struggle and help her think of some new ways to think of her lesson design.
One of Jasmine's coolest projects is her robotic water cycle lesson, which involves all kinds of skills from her students.
As she'll explain, though, the lesson didn't go perfectly. In our conversation today, we'll focus specifically on this lesson, and I'll ask her a series of questions that will help guide her through ways to make it better.
We also talk about Jasmine's new classroom toy, a 3D printer and how she can design meaningful learning experiences for her students using this device.
These questions should help her (and you!) figure out how to improve various other lessons too.
Listen in for some advice on how to make sure that tech fits your learning goals, and to hear about why it's so important not to get distracted by the fun, shiny objects in technology.
In This Episode: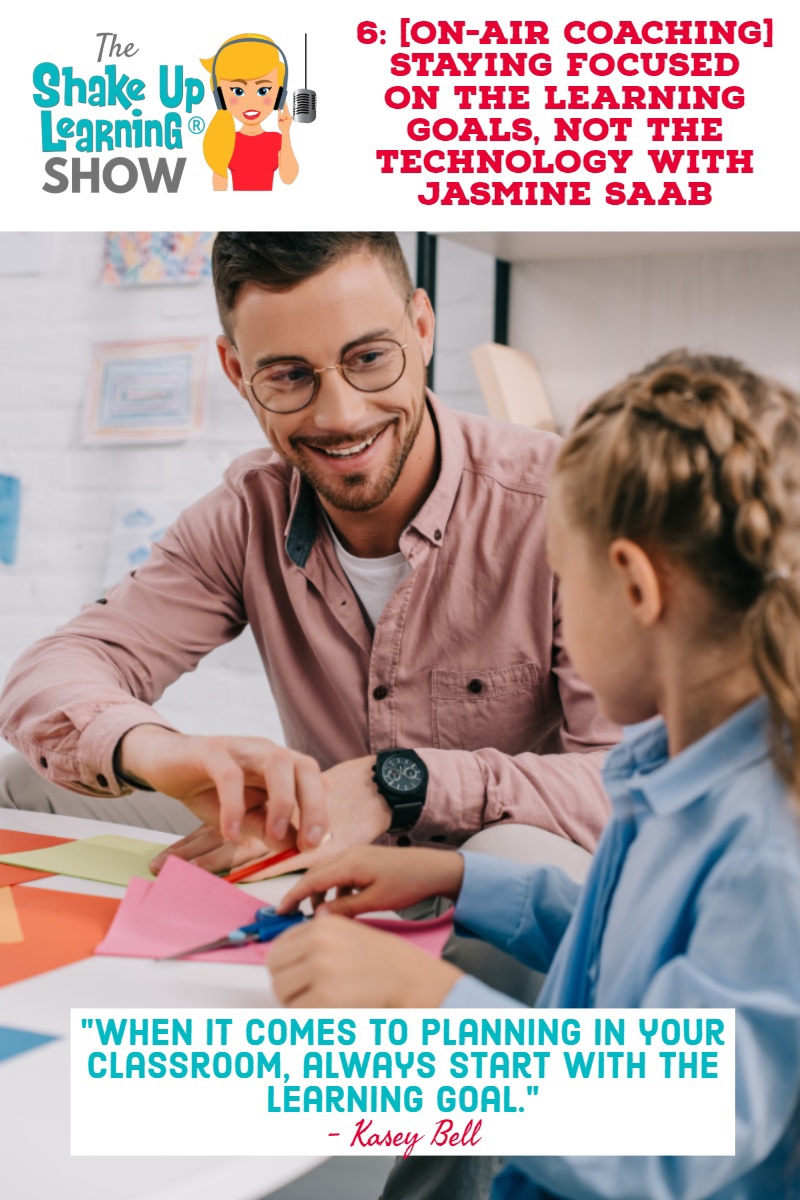 [00:28] – Kasey welcomes listeners to today's episode and explains what it will be all about.
[02:11] – Before we dive into this episode, Kasey gives a shout out to the Shake Up Learning podcast launch team!
[03:38] – Jasmine introduces herself and talks about the students and parent involvement at her school.
[08:58] – We hear about what Jasmine's class looks like on a day-to-day basis, specifically in terms of technology.
[16:54] – Kasey shares her response to all of the awesome things that Jasmine is doing in her classroom.
[17:44] – Does Jasmine have any videos of the projects she's been talking about?
[18:35] – Jasmine explains why she wants Kasey's help.
[20:14] – Kasey starts off her coaching by asking Jasmine some questions specifically about the water cycle lessons.
[21:48] – On a scale of 1-10, how would Jasmine rank her water cycle lesson?
[24:57] – Kasey responds to Jasmine's rating of her lesson, as well as the issues that she struggled with in her classroom
[26:05] – How much time did Jasmine originally plan for this lesson?
[27:44] – We hear about what would have made Jasmine's lesson a 10 instead of a 9.
[30:50] – Kasey points out the importance of having an end goal in mind.
[32:31] – Jasmine talks about the 3D printer project that she's working on right now.
[34:50] – Kasey takes a step back and offers Jasmine a piece of advice: always start with the learning goal!
[37:03] – Was there a learning goal that Kasey had in mind with all of this?
[41:38] – We hear Kasey's advice on adding in tech only when it will lead directly to learning goals.
[43:25] – Jasmine replies to Kasey's advice and talks about where her thoughts are now and what she is realizing from this conversation.
[45:48] – Kasey makes a suggestion for Jasmine.
[47:31] – What Kasey has been saying is related to the fail-forward concept, Jasmine points out.
[48:29] – We learn more about Genius Hour and how it works.
[51:40] – What are Jasmine's next steps, and what does she think she'll work on next?
[54:51] – Here's this week's podcast question: have you ever tried to integrate too much at once, like Jasmine? How do you ensure that your enthusiasm doesn't distract from the purpose of the lesson? Share your answers on your favorite social media platform using the #shakeuplearning hashtag, or post it in the Shake Up Learning Community on Facebook!
[56:06] – Kasey has three Google Certification courses, for which enrollment is opening on May 21st for a limited time! These are:
The Google Certified Educator Level 1 Academy
The Google Certified Educator Level 2 Academy
Become a Google Certified Trainer Online Course
If you want to take all of the courses, you can save by buying the bundle! And if you're interested, don't hesitate, because enrollment won't open again until November. Head to this link to learn more about the courses!
[58:34] – Thanks for listening in! Don't miss next week's episode, where I'll chat with Richard Byrne from Free Tech 4 Teachers. Subscribe to the podcast to make sure you get notified when that episode comes out, and please leave a review of the podcast! (Bonus points if you use the word "y'all" in your review.)
Podcast Question of the Week:
Have you ever tried to integrate too much at once like Jasmine? How do you ensure that your enthusiasm doesn't distract from the purpose of the lesson?

Post your answers in the

Shake Up Learning community

or on your favorite social platform.
---
Google Certification Courses Open May 21
If you have ever thought about getting Google Certified, but are unsure where to start, or overwhelmed with the content, I can help!
I have three online courses to help you reach your Google Certification goals.
(1) The Google Certified Educator Level 1 Academy
(2) The Google Certified Educator Level 2 Academy
(3) Become a Google Certified Trainer Online Course
These courses are designed to walk you through the process and give you everything you need to know to pass the exam.
I have helped THOUSANDS get Google Certified, and I want to help YOU!
But don't miss this opportunity! These courses only open twice a year.
Enrollment opens on May 21st for a limited time.
If you miss this window, you have to wait until November!
But wait…there's more!
SAVE BIG WITH BUNDLES!
Opening all of these courses at once also gives you another advantage–bundling! If you want to purchase multiple courses at once, you can save BIG TIME!
Learn more at https://GetGoogleCertified.com
---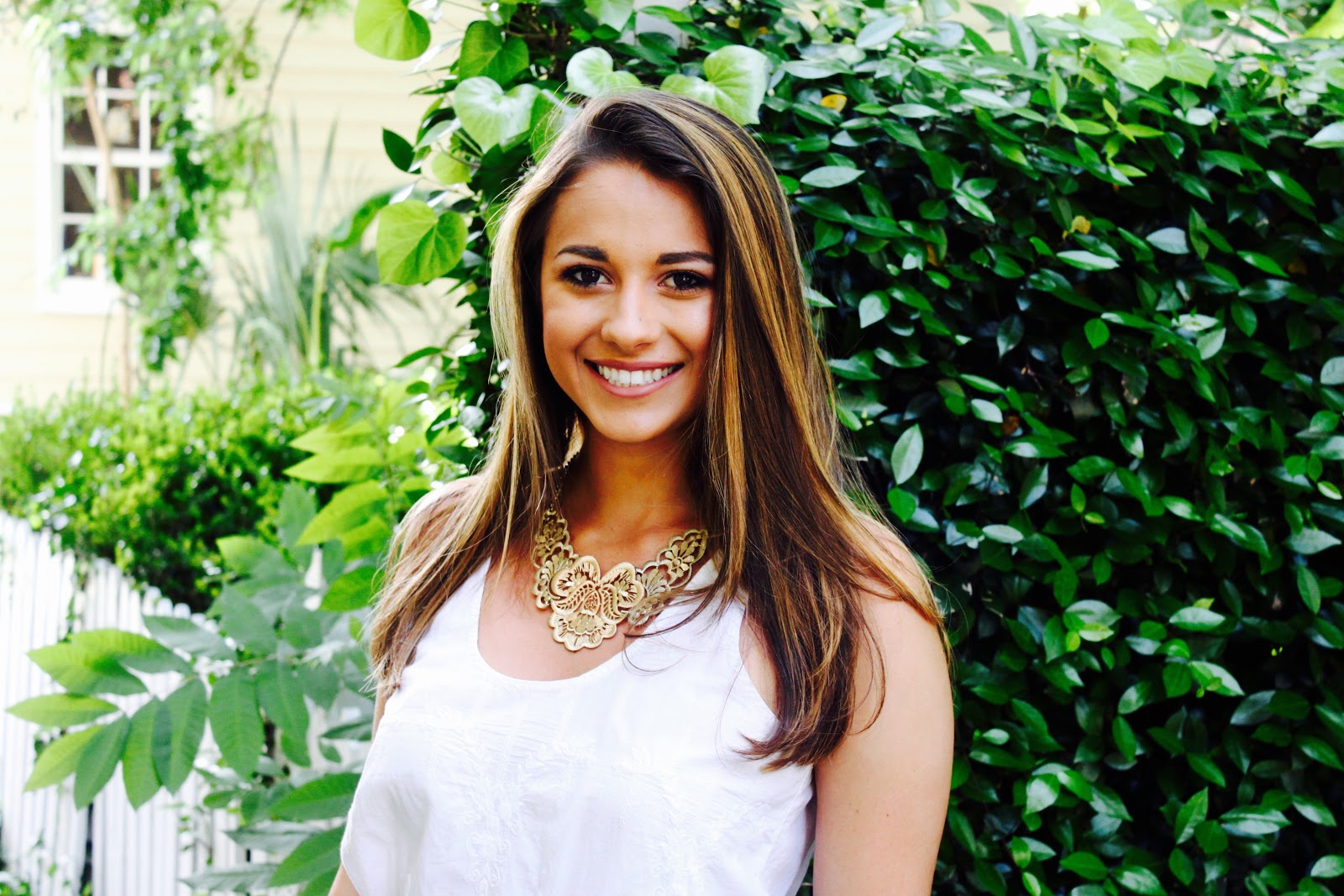 About Jasmine
Jasmine Saab is a second-year teacher, who graduated from the College of Charleston. She currently teaches 4th grade and loves integrating movement and technology in her classroom. Jasmine is originally from California but now considers Charleston her home. When Jasmine isn't working or at the beach, she is usually traveling, taking online courses, rollerblading, tandem bike riding, cooking, shopping, walking around downtown Charleston, singing songs in foreign languages, or volunteering at the Medical University of South Carolina in the Children's Atrium.
Marrington Elementary School Rookie Teacher of the Year 2018
Links and Resources Mentioned in the Episode
The Shake Up Learning Community on Facebook
Join the Shake Up Learning Book Study!
Shake Up Learning: Practical Ideas to Move Learning from Static to Dynamic by Kasey Bell
Shake Up Learning: Google Certification courses
The Google Certified Educator Level 1 Academy
The Google Certified Educator Level 2 Academy
Become a Google Certified Trainer Online Course
---
Questions & Comments
Do you have a question you would like me to answer on the show? I'd love to hear from you!
I also love to hear from students!
Leave me a voicemail and your message could be played on the podcast!
Do You Want to Be on the Podcast?
READ THIS FIRST! NO SOLICITING!
The Shake Up Learning Show hosts a variety of guests including inspiring educators, on-air coaching calls with classroom teachers, and student interviews.
Inspiring Educators
Many inspiring educators are regular guests of the show. Currently, this type of guest is INVITE ONLY.
Please do not ask to be on the podcast.
On-Air Coaching with Kasey Bell
I love to help teachers with one-on-one coaching on the podcast, called, "On-Air Coaching."
Are you struggling with one particular lesson? One piece of content or skill that's just hard to teach or doesn't seem to work well with technology?
Let me help!
Using this On-Air Coaching Application, tell me about yourself, your students, and your struggle. You may get to be on the podcast!!!
Do you know a teacher that is a good candidate? Feel free to send them the link to the form.
Student Interviews
We will also feature some student interviews on the podcast.
Students are windows to the reality of school.
Do you have a student who would be open to talking about learning and school?
(MUST HAVE PARENT PERMISSION)
Use this form to tell me about your student!
Other Inquiries
If you have other questions or inquiries about the podcast, please use this contact form.
---
© Shake Up Learning 2023. Unauthorized use and/or duplication of this material without express and written permission from this blog's author and/or owner is strictly prohibited. Excerpts and links may be used, provided that full and clear credit is given to Kasey Bell and Shake Up Learning with appropriate and specific direction to the original content on ShakeUpLearning.com. See: Copyright Policy.