Engage your students with this awesome Fake Instagram Template in Google Slides from Carly Black.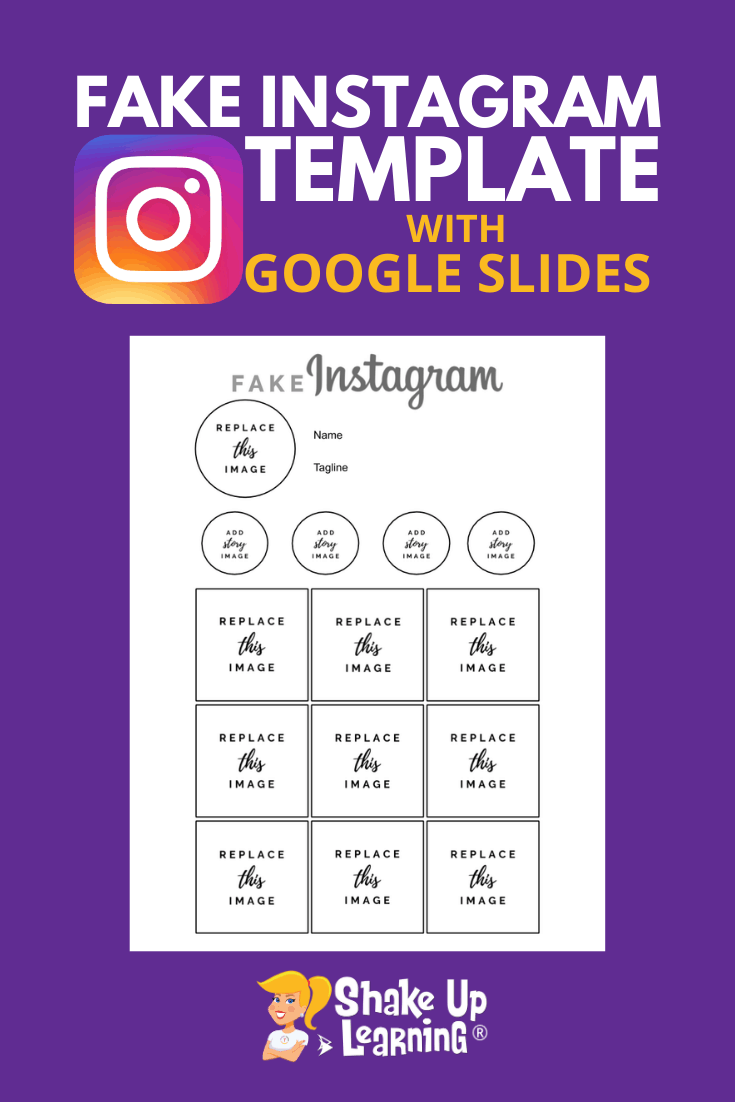 Back in episode 32 of the Shake Up Learning Show, I interviewed Lisa Johnson. Lisa shared a fake Instagram template she created in Keynote.
I knew one of our Google-loving listeners would create one for Google Slides.
Carly Black to the rescue!! Carly not only created the template, but she has also implemented it in her classroom and shares her story in the guest post below.
Carly was also featured in an "On-Air" Coaching episode of the Shake Up Learning Show. It's my favorite coaching episode!
Guest Post by Carly Black
Fake Instagram Template with Google Slides (FREE)
Leveraging social media to teach students has been a huge win for me in the classroom. Several teachers recently reported overhearing my morning students sharing with afternoon students, "Mrs. Black let us use Snapchat today! Seriously! Our assignment was on Snapchat!" Of course, they are referring to the day I taught them how to create booksnaps. I'm forever grateful that Tara Martin taught us all how to annotate text through social media. 
Imagine your mini-lesson on text annotation: you share a slide presentation walking students through the steps and examples. There are a few handouts and some notes to take. Students watch you annotate over the document camera then try it on their own in a printed story with highlighters and some color pens.
Does this sound familiar? Sure it's a visually appealing slide show, and maybe the passages are funny, but imagine telling the kids they need cell phones today. Then add they are going to use Snapchat. It brings a whole new dynamic! They sit up and listen. 
Finding ways to bring their world into the classroom for the sneaky purposes of learning will get you to that end goal every time. Of course, there was that one activity, a fake Facebook profile of a book character, that fell flat. Upon receiving the handout, a student quickly shared that they didn't know what Facebook looked like because it was "for old people." While I didn't feel that old, I also realized that my lesson needed an upgrade. 
This experience also made me jump into more of what the "kids are doing these days." I had been hesitant to join social media beyond Facebook at the time. But once I joined Twitter and Instagram, a world of collaboration with teachers around the world came into view. I had no idea teachers were sharing and collaborating over social media.
I was completely blind to the Professional Learning Networks that were available to me. This is where I found Kasey and the Google Teacher Podcast. This PLN of active and engaging educators has been one of the most inspirational places for me to gain knowledge and ideas to hone my craft as an educator.  Kasey's episode 32 of the Shake Up Learning Podcast with Lisa Johnson introduced me to the amazing materials and ideas shared on her website, Tech Chef 4 U. 

Lisa talked about a fake Instagram template she had created in Keynote but hadn't figured out how to make it in Google Slides. The timing was perfect; I had been mulling over this exact idea for an upcoming class project that students could create in order to share their independent reading. After taking a look at Lisa's example, it gave me the idea I needed to make it happen. 
Storytelling with Fake Instagram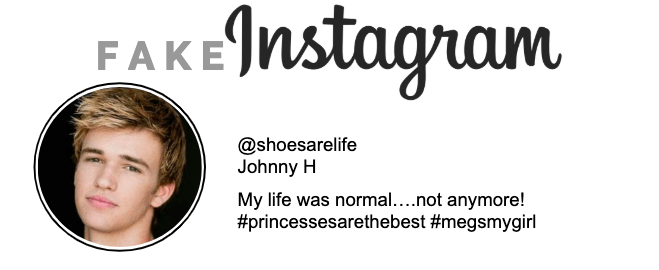 Instagram is all about telling stories. I wanted to leverage this purpose and show students how they could share their independent reading through an Instagram account. Students start by choosing the protagonist or antagonist. Inventing a profile for this character requires thinking about what that character might have to say about themself. Finish it off with a convincing profile photo, write an on-brand tagline, add a few hashtags, and include the character's name with a handle. 
When looking at an Instagram profile, there are story circles and then squares of images that represent a reverse-chronological timeline. The profile page is the first page of the fake Instagram slide deck. It includes biographical information and nine squares to represent nine of the most important events.
As guidelines for the nine images, I thought it would help students to think through the plotline. Include two from the exposition; this should show who the characters are and the setting of their story. The next four should include the inciting incident, which introduces the conflict and then three of the most important scenes from the rising action. Identify the climax and one event, each from falling action and the resolution. 
Once students have mapped out their stories based on these key points, they choose images to represent them. With the built-in Unsplash add-on, inserting photos is super easy. Students can also stage their own photos if they want a specific look.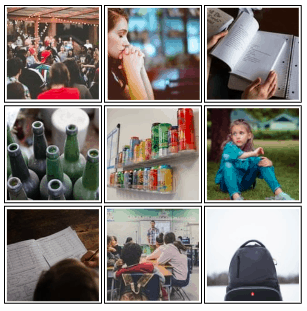 Images are only one part of this project. Students also need to write captions and relevant comments. They create handles for other characters and comment with the character's voice demonstrating further analysis of the story. Don't forget the hashtags! These are another thoughtful way to incorporate story elements.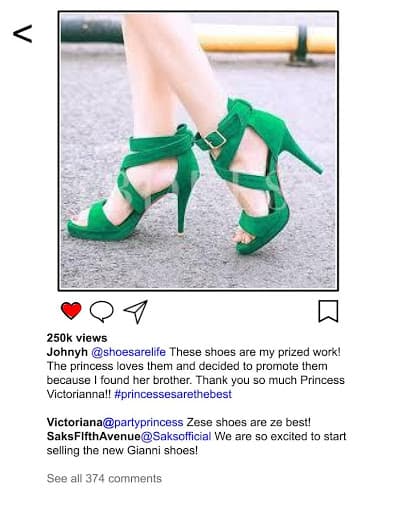 This project was a big hit! The kids enjoyed the social media aspect and being creative with the handles and hashtags. The laughter was at high volume the day we worked on these in class. Even though it was an independent project, many asked neighbors or shared their creative, funny comments. 
Get the Fake Instagram Template for Google Slides
Make a Copy | Use Template Link
Fake Instagram Activity in Other Subjects
This activity isn't just for language arts.
I could see math teachers using this for specific concepts like order of operations. Each step could be represented by an image, and the caption with comments could address the math personified.
Science teachers could use a fake Instagram account to show the stages or steps in an experiment.
Both subjects, or any subject really, could ask students to research a famous person within their field. The fake Instagram account could share their accomplishments and contributions to the field of study. 
If this sounds like a project you'd like to try out in your classroom, make a copy of your own fake Instagram template and give it a go. We would love to see what your students create or hear how the project worked for you. You can find me on Twitter and Instagram at TeachMomRepeat. 
About Carly Black
Twitter: @teachmomrepeat
Website: https://teachmomrepeat.com
Carly's class blog
Location: Ashland, Ohio, USA
Title: ELA teacher
School District/Campus (or Employer): Northwestern High School
Bio: Carly Black spends her days encouraging tenth-graders in Ashland, Ohio to believe reading and writing is totally cool. At night she chases toddlers with her teacher husband and in the morning repeats the process all over again. Find the lessons and ideas she uses to encourage her students and tame her toddlers on the blog www.TeachMomRepeat.com.
---
I frequently refer to Google Slides as the Swiss Army Knife of the G Suite tools because it is capable of being so much more than a presentation tool. In this course, you will learn how to use Slides in new and unexpected ways in your classroom that will engage your students and make learning more dynamic!
K-12 teachers are going to LOVE THIS COURSE!
This class is perfect for beginner to intermediate users to take their skills to the next level and become a Google Slides Master!
(Prerequisite: basic knowledge of slides, how to access and create new slides.)
Click here to learn more and to ENROLL TODAY!
Learn All About the Course
What's Included?
Self-paced
Video-based lessons
3 BONUS Lessons!!!

Bonus 1: Stop-Motion Animation
Bonus 2: How to Create Magnetic Poetry with Slides and Drawings
Bonus 3: 50 Google Slides Lesson and Project Ideas

Supporting Resources
Best Practices and Tips
6 hours of professional learning credit
Bulk license discounts
Get your whole team, campus, or district on board
Click here to learn more and to ENROLL TODAY!
---
© Shake Up Learning 2023. Unauthorized use and/or duplication of this material without express and written permission from this blog's author and/or owner is strictly prohibited. Excerpts and links may be used, provided that full and clear credit is given to Kasey Bell and Shake Up Learning with appropriate and specific direction to the original content on ShakeUpLearning.com. See: Copyright Policy.
Shake Up Learning QUICKSTART GUIDE
Join the email list to get the latest information about the Shake Up Learning Book AND Get the FREE 20-Page Quickstart Guide that will help you Shake Up Learning in your classroom this year!