Kelly Bell joins me to chat about Dynamic Learning Down Under and how she's leading change at her school.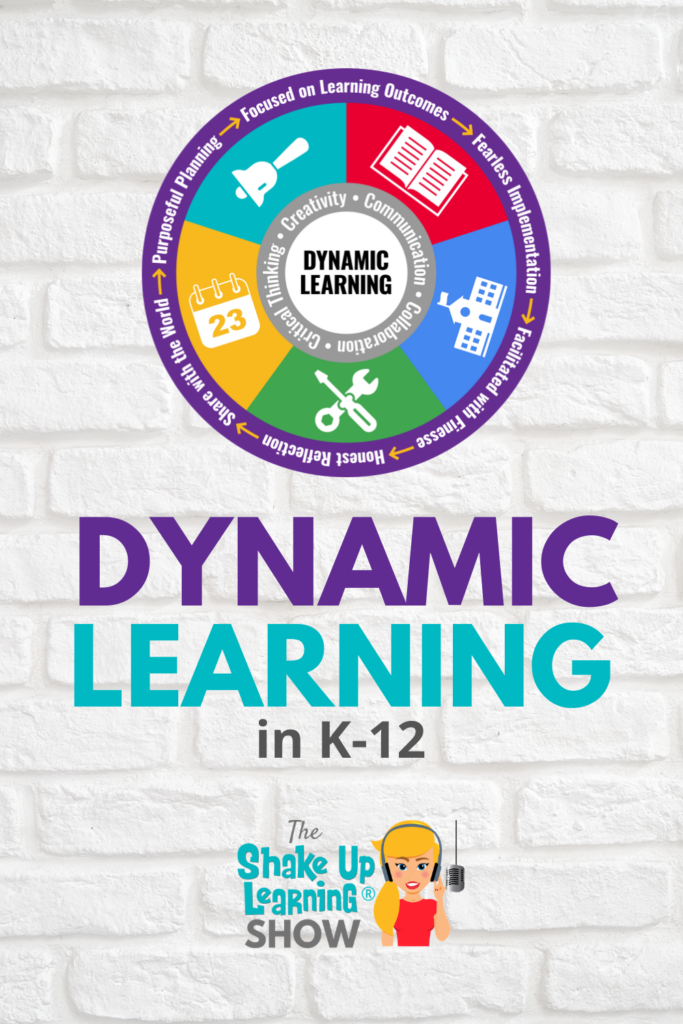 Kelly is an instructional leader and health and PE educator from Australia.
She has been working to implement the Dynamic Learning Framework and help teachers avoid burnout.
Listen in as we chat about the changes schools in Australia have made and how those changes aren't all that different from the changes being made in schools across the U.S.
Shoutout
I'm sending a huge shoutout to Amanda Alderman for creating an amazing TikTok video highlighting the Shake Up Learning book and the summer book study. You can follow Amanda on TikTok at @techgeekteacher.
Shake Up Learning is now on TikTok. Stay tuned as I figure out exactly how I want to use this platform for good and not evil ;).
Follow me on TikTok at @ShakeUpLearning.

Listen to this article:
Quick Tip of the Week
Emojis are everywhere and are a great way to engage your students. Did you know that you can copy and paste emojis into Google Classroom and Google Drive? You can use Emojis in a variety of ways, not the least of which is to organize your assignments!
Try emojicopy.com or one of the many different Emoji keyboard applications that are out there.
Watch this 2-Minute video to learn how!
Dynamic Learning Down Under
What is Dynamic Learning?
Kelly, like many other teachers, wears a lot of different hats in her school. She works in a government school on a senior campus designed to help juniors and seniors pass their final exams. She runs professional learning at her school, and works to engage her teachers in different projects to push their teaching boundaries. 
She also teaches in the physical education space. She helps to teach students about their wellbeing and health as well as how this applies to their overall lives. They delve into the details of their family structure and community, and how they affect overall wellbeing and health. 
Why We Need to Focus on Digital Equity
Kelly became very involved with her current school's ongoing learning program for their instructors because she came from a school that was digitally diverse. When she moved to a new school, she realized that not all schools were digitally equal. Many of the teachers at her new school were very averse to learning new platforms.
In many ways, the students were behind with technology as well. Their assignments were still very paper-based, and many people were only using Microsoft Word versus using the collaborative power of Google. 
Kelly is still working to change that mindset, but it really brought forth the problem of digital inequity. She continues to challenge the educators at her school to become better teachers by embracing technologies that will help their students. 
Podcasting For Change
Digital equity has been the backbone of some of her international talks and speeches, which is how she found Dan Jackson. They both are very involved in the health and wellness space and are passionate about teacher well-being. 
After changing roles and moving to her current school, Kelly became very sick with the stress and worry of trying to change the minds of so many. She came down with shingles and realized that she had to take better care of herself.
She and Dan created the Education Station Podcast. Their goal is to provide resources to teachers on a variety of topics and help them realize that they're not alone. We as teachers need to be better about providing our resources to others. There's no need to continue recreating the wheel.
What is The Learning Network?
In that same vein, Kelly started her blog and has been posting various resources that she has found that have helped her stay healthy and well. Additionally, she has been working to bring healthier classroom practices to her students. 
She has even tried incorporating stand up desks in her classroom! The things she tries are always backed by a lot of research and careful consideration as well. Take a moment to look at some of the ways that Kelly has incorporated health and wellness into her classroom and her teaching. 
Connect with Kelly:
Kelly on Instagram
Kelly on Twitter
Podcast Question of the Week: 
How can you help create more dynamic learning experiences for your students?   

Post your answers in the

Shake Up Learning community

or on your favorite social platform.
---
Go Deeper with Dynamic Learning
As Kelly shared in this episode, she is shaking things up down under and implementing the Dynamic Learning Framework.
Technology is not a magic solution for education. It is an opportunity! An opportunity to shake things up, to connect and grow, and to create dynamic learning experiences for our students!
COVID-19 definitely gave education a shakeup! Let's ensure we are making the most of the digital tools at our disposal to engage students in new ways, reach the learning goals, AND go BEYOND the old, static way of teaching.
Learn more in the book, Shake Up Learning: Practical Ideas to Move Learning From Static to Dynamic!
Join one of our FREE book studies that are held several times throughout the year.

© Shake Up Learning 2023. Unauthorized use and/or duplication of this material without express and written permission from this blog's author and/or owner is strictly prohibited. Excerpts and links may be used, provided that full and clear credit is given to Kasey Bell and Shake Up Learning with appropriate and specific direction to the original content on ShakeUpLearning.com. See: Copyright Policy.
Shake Up Learning QUICKSTART GUIDE
Join the email list to get the latest information about the Shake Up Learning Book AND Get the FREE 20-Page Quickstart Guide that will help you Shake Up Learning in your classroom this year!