As schools across the globe begin to plan for the new normal and redefine the school day and location, we must also rethink our professional learning plans for teachers and staff.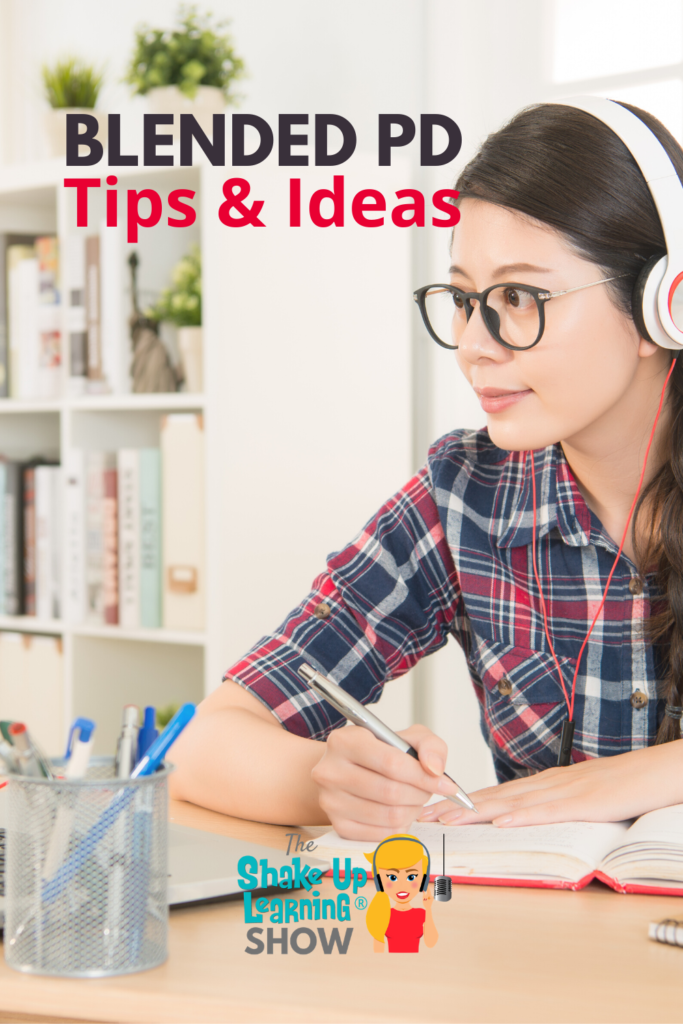 I'm sharing a framework for Blended PD. No matter what you call it–blended PD, virtual PD, online PD, remote PD, or hybrid PD, we need to rethink our professional learning methods.
As we face the new normal, redefining what school looks like, and how we will get our teachers the training they need, I want to share some ways to revolutionize professional learning.
I have put together a Blended PD Framework that I hope will help us approach this problem with purpose.
This episode is Part 1 in the series, where I will share some important steps in the planning process–the needs assessment, defining your goals, pre-assessment, and scheduling.
Shoutout
I'd like to send a huge thank you to Keaira Price for her post on Instagram about the Shake Up Learning book!
Join a Shake Up Learning book study.
Listen to this article:
Quick Tip – Google Classroom Class Template
You can create a class template in Google Classroom that can be reused over and over. Create a class with your topics, assignments, and everything ready to go! I've blogged about this idea in-depth here.
Here's a 2-minute video to learn how!
A Framework for Blended PD
In this podcast series, I will share ideas for planning, scheduling, strategies, modeling, facilitating, and everything else that I can think of to help schools make the most of the situation. This is our chance to revolutionize professional development, which needs a shakeup!
In today's episode, I will share with you Part 1 of the Blended PD Framework focuses on planning and scheduling.
While we're at it, let's just improve professional learning! I feel like professional learning has needed a bit of a revolution for a long time, and I have sat through a lot of disappointing professional learning experiences in my day. I know I have probably disappointed many as a trainer and facilitator myself. I feel like there's always room for improvement!
As we are redesigning everything, why not do this now? I have to discuss and share with you to help you figure out what's best for your teachers and for your school.  We are all better together!
I'm choosing to call this Blended PD because I feel like this is the most comprehensive definition. We all have our own definitions, so let's not get too caught up in the perfect explanation for such an uncertain time. Below are some working definitions.
Remote Learning: Students learn away from the face-to-face classroom, at home, or some other location away from school. Tasks may be online, digital, paper-based, or hands-on.
Blended/Hybrid Learning: Students learn in a combination of environments, including face-to-face, on-campus, online, digital, paper-based, or hands-on.
Remote PD: Educators engage in professional learning away from the face-to-face environment, at home, or some other location away from campus and typical training locations. Tasks may be online, digital, paper-based, or hands-on.
Blended/Hybrid PD: Educators engage in professional learning in a combination of environments, including face-to-face, on-campus, online, digital, paper-based, or hands-on.
I receive PD requests every day, but as we've had to shift to delivering virtual presentations via Zoom or Google Meet, I have had to make some significant shifts. For instance, I have been asked several times to deliver a full-day workshop in a virtual format. Y'all! It doesn't work like that. You can't just take something that was done face-to-face, put it online, and expect the same results.
"Zoom fatigue" is legit! No matter what platform you are using, there is only so long you can expect anyone, adults or students, to stare at a screen.
We have to get more creative! And let's be honest, we should have been doing this anyway.


Planning Blended PD
STEP 1: Needs Assessment
Conduct a needs assessment of all your stakeholders–what do your teachers, students, administrators, staff, and parents need during this time? A needs assessment is a process for determining an organization's needs. It usually involves collecting and analyzing data and taking actionable steps based on that data. That's data-driven decision making!
STEP 2: Define Your Goals
Using the data from your needs assessment, define the goals for your school or organization. Define your why and align with district initiatives and guidelines from your state, the CDC, etc.
What do you want them to know and be able to do?

Academic goals

Behavior goals

Cultural goals

Inclusivity and diversity goals

Accountability for students, accountability for teachers

Implementation goals (like going 1-to-1 with Chromebooks)
STEP 3: Pre-assess Your Participants
Based on the goals you have set, create a pre-assessment to see what your participants already know. Do not skip this step! This is critical to keep teachers moving forward. I know from first-hand experience what it's like to attend mandatory training on something you already know how to do.
Based on the pre-assessment data, create different PD levels, differentiate, and personalize the experience for your participants. Yes, this is time-consuming, but will save you time in the long run. 
STEP 4: Scheduling
Let go of the idea of seat time. We should collect evidence of learning required for credit hours. Letting go of this idea should open up more creative scheduling possibilities.
No one ever said cramming learning into one day was a good idea. Get creative and make the experience more meaningful!
Be strategic with scheduling! Spread out PD over longer periods of time. Break into meaningful half-days, 2-hours, or 1-hour options. Flexibility is key for COVID but also something we should have been doing long ago.
I recommend no more than 1-hour of virtual training delivery (staring at a presenter/presentation on a screen) within a 3-hour period. Avoid Zoom fatigue so the learning will stick.) It's best to spread out virtual presentations over AM and PM or even over multiple days.
Just because you can deliver a 6-hour workshop in person, doesn't mean you can just do over Zoom and expect the same engagement and results. It's too much!
Blend synchronous and asynchronous learning opportunities. Don't be afraid to combine live and recorded presentations. This will help you clone your best in-house trainers, as well as give you opportunities to differentiate, have smaller groups, and save money if you are hiring outside trainers like me.
Offer audio recording options for auditory learners and to offer supplement and accommodations. Add in time for reflection activities. Learning portfolios, which should always include reflection, are much more effective than dog and pony show evaluations.
Don't forget the follow-up! This should be part of the plan and the schedule to follow-up, give feedback and coach your participants to help reach those goals.
Coming soon, Blended PD Part 2 and Part 3!
Blended PD is not easy, and it will not look the same at every school. But the more we share and work together, the more we can improve our strategies. We have an opportunity to improve professional learning.
I hope these ideas have inspired you. What would you add?
I have much more to share. Stay tuned to the Shake Up Learning Show podcast to catch Part 2 and Part 3 in this Blended PD series!
G Suite Training for Schools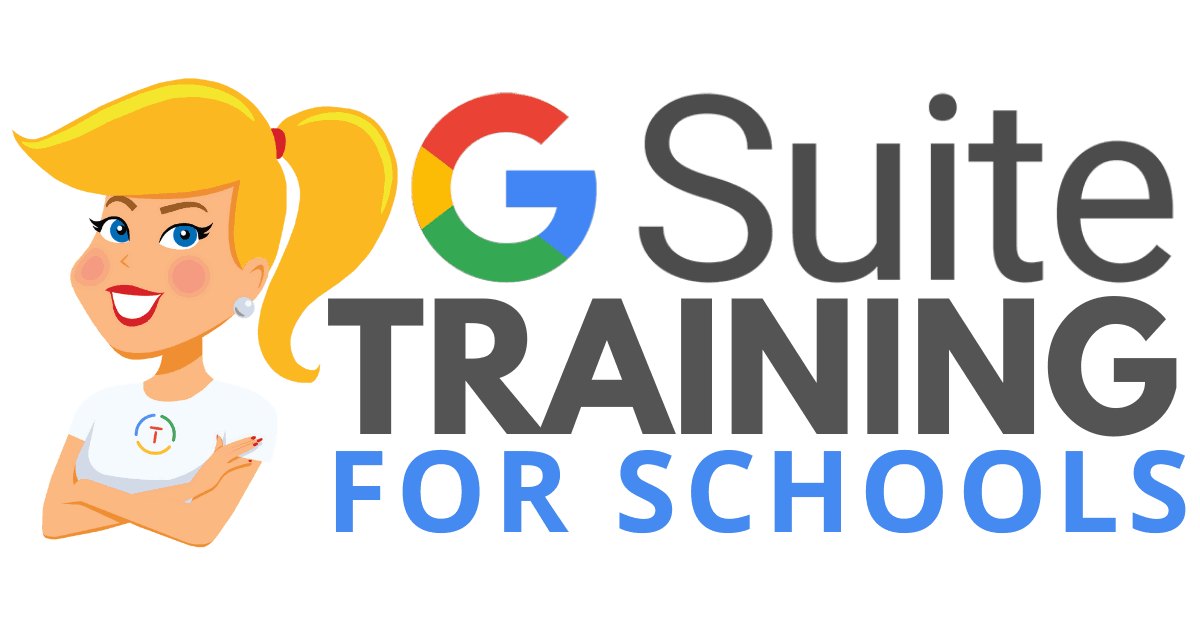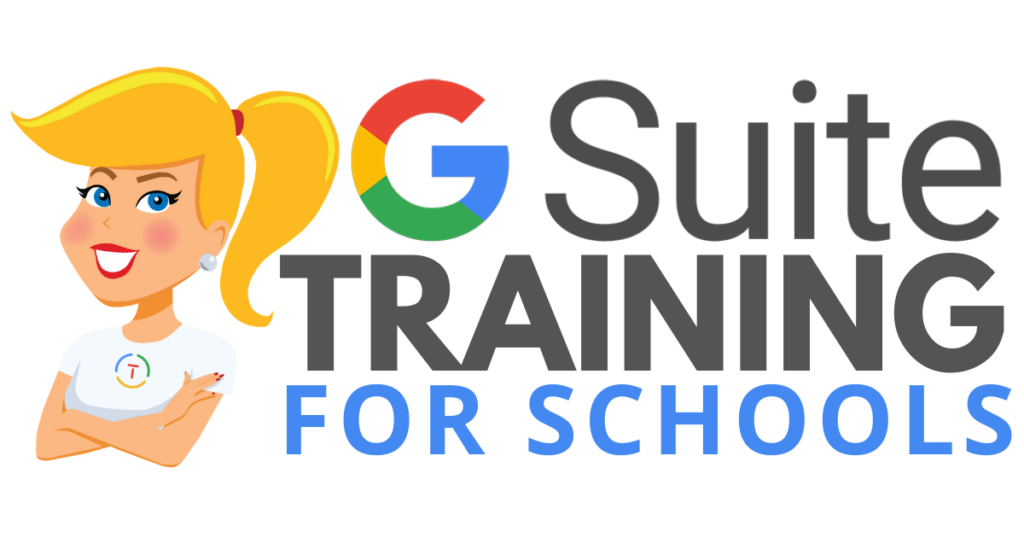 We have many programs to help your teachers learn how to meaningfully integrate Google tools and the entire G Suite in the classroom. From online courses to books, to face-to-face training, we got you covered!
COVID-19 forced many teachers and schools to scramble to find tools to deliver online assignments, design digital learning experiences, and G Suite was the number one suite of tools to help make this a reality.
Just in time resources and learning will help teachers, students, and parents survive the crisis. When we return to the new normal, G Suite skills will help set the foundation for more dynamic and meaningful learning in the classroom.
Get your entire campus or district on board with G Suite! Help your teachers learn more about G Suite tools, Google Classroom, and meaningful technology integration strategies. You can even help all your teachers become Google Certified Educators!
© Shake Up Learning 2023. Unauthorized use and/or duplication of this material without express and written permission from this blog's author and/or owner is strictly prohibited. Excerpts and links may be used, provided that full and clear credit is given to Kasey Bell and Shake Up Learning with appropriate and specific direction to the original content on ShakeUpLearning.com. See: Copyright Policy.