The biggest edtech conference in the world, ISTE, took place in Chicago last week, and y'all, it did NOT disappoint! Here are 8 Things I Don't Want You to Miss From ISTE 2018.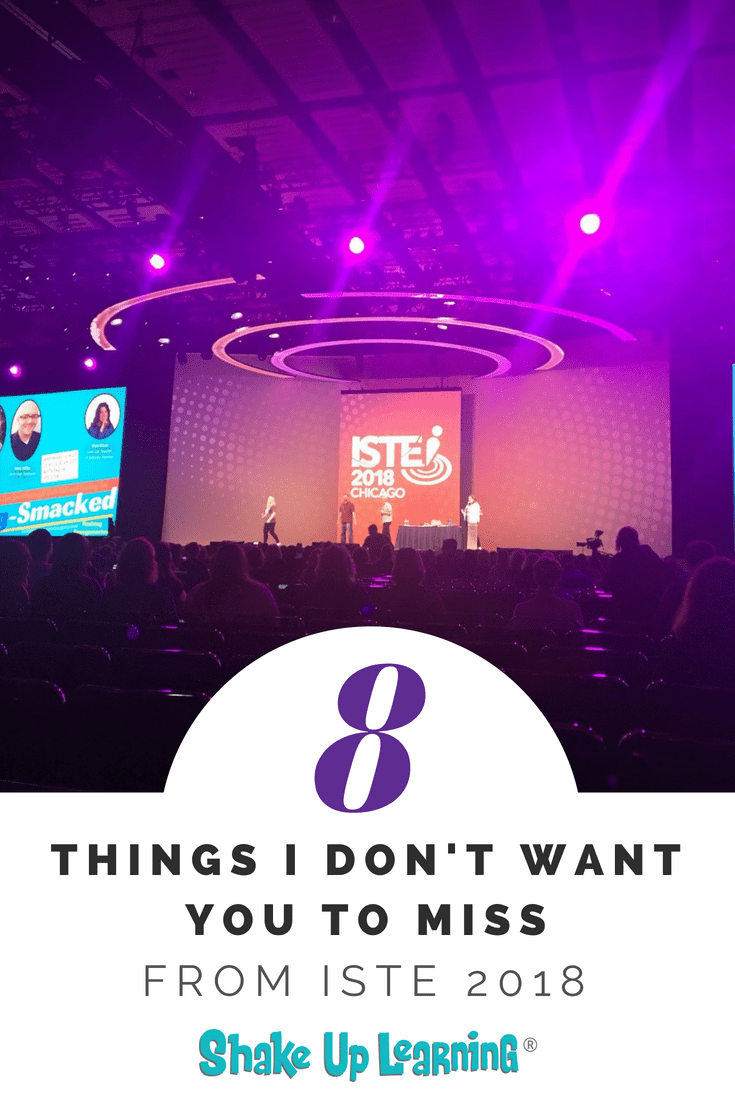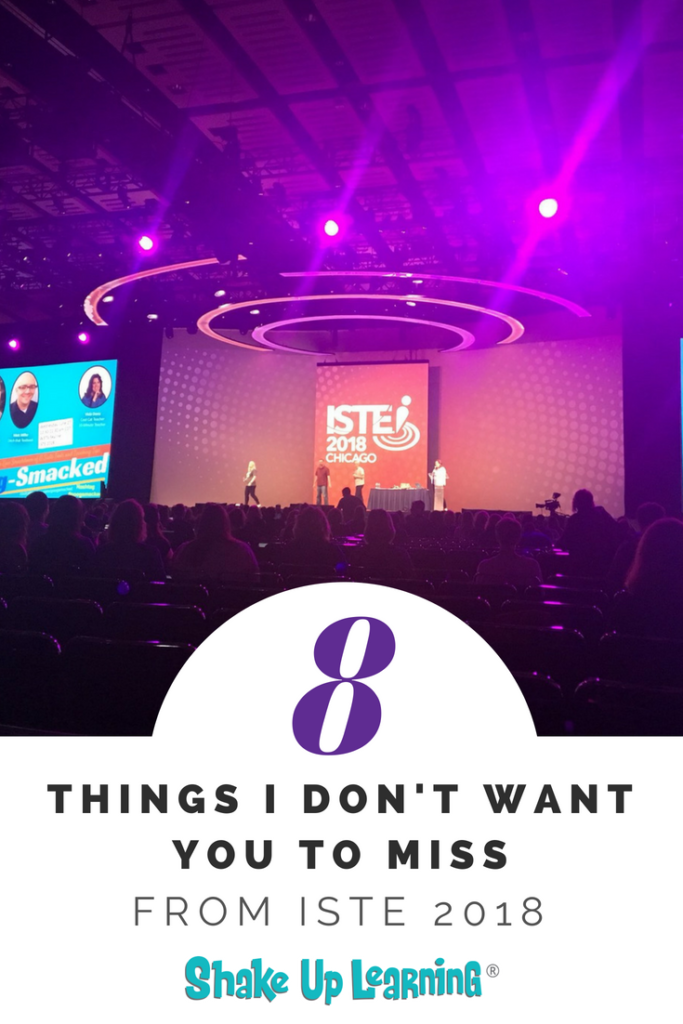 ISTE is my busiest conference, and I spend most of my time presenting and signing books. In case you missed it, I shared all of my presentations in a previous blog post. I wish I had more time to learn, but the power of connecting and sharing enabled me to cultivate some goodies even though I couldn't attend a lot of sessions.
Check out this awesome spreadsheet of crowd-sourced notes from ISTE 2018!
I love Twitter and following the #ISTE18 hashtag can help me put my finger on the pulse of what's happening at the conference. But Twitter can overwhelm, and I really wanted to get some feedback from my connections who were in attendance so I asked the Shake Up Learning Facebook Group to share their favorite takeaways. Below are some of the most interesting and presentations that they shared.
[Tweet "8 Things I Don't Want You to Miss From #ISTE18 #shakeuplearning #edtech"]
8 Things I Don't Want You to Miss From ISTE 2018
(in no particular order)
My buddies Holly Clark and Tanya Avrith did a bazillion presentations (and you can access them all here.) But I thought this creation session for Chromebooks would interest you the most!
Based on the philosophy and ideas from their best-selling book, The Google Infused Classroom, this session will help you rethink what's possible on Chromebooks!
And if you don't have a copy of their book, you can get it here. (You can thank me later!)
---
Leave it to Tony Vincent to show us the power of emojis! I have learned so many tips from Tony Vincent over the years, and I promise there are some super cool and student-centered strategies embedded in his digital handout. Learn about the history of emojis, what they mean, and how they affect communication. Below is just a screenshot from his page, and it is just the tip of the iceberg of the awesome ideas he shared!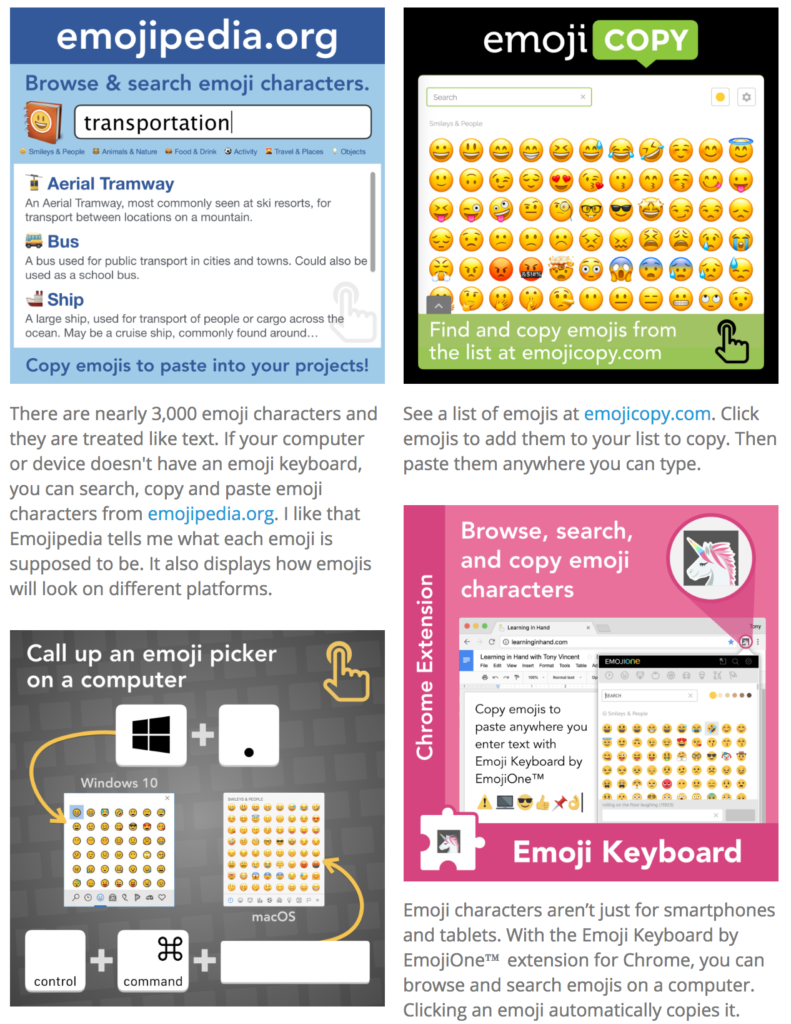 ---
As I shared in the 18 Challenges for Teachers in 2018 ebook and online course, the next stage of AR and VR is student creation and that was definitely abuzz at ISTE this year.
Melanie Arrington shared this awesome presentation link in the Facebook group. Check out all of the great ways students can now create augmented reality and virtual reality!
---
How stinkin' cute is this? Check out this awesome website of ideas and resources from the Unleash Your "Incredibles" Superpowers session by Brooke Higgins and Debbie Perkins. (Thanks to Matt Sly for sharing it in the group.)
In this site, you will find ideas geared toward tech trainers and instructional coaches on everything from collaboration and facilitation to mentoring and blended learning.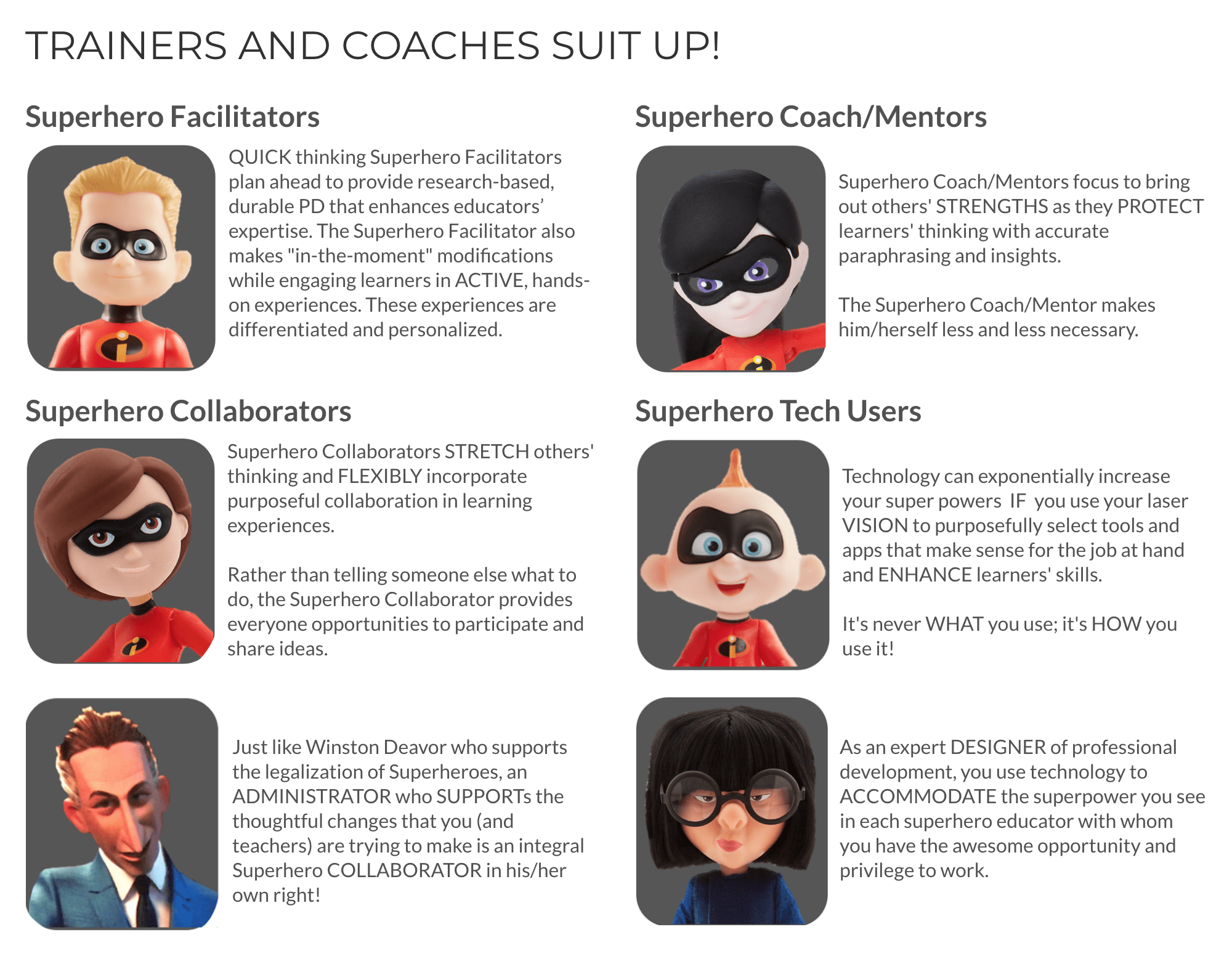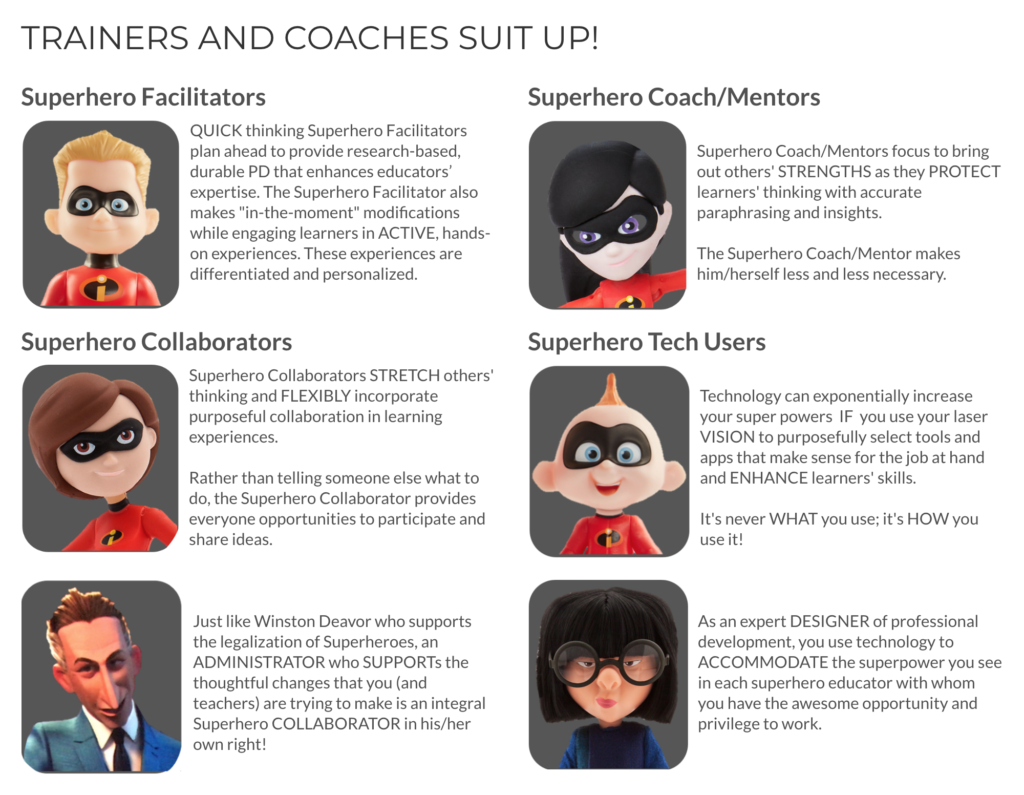 ---
Marlena Hebern and Jon Corippo presented ideas from their fabulous book, The EduProtocol Field Guide: 16 Student-Centered Lesson Frames for Infinite Learning Possibilities. I didn't get the chance to attend any of their sessions, but Kim Voge raved in our Facebook group and shared a link to all the resources. Be sure to explore not only this book but the practical templates and lesson frames to maximize student potential in your classroom.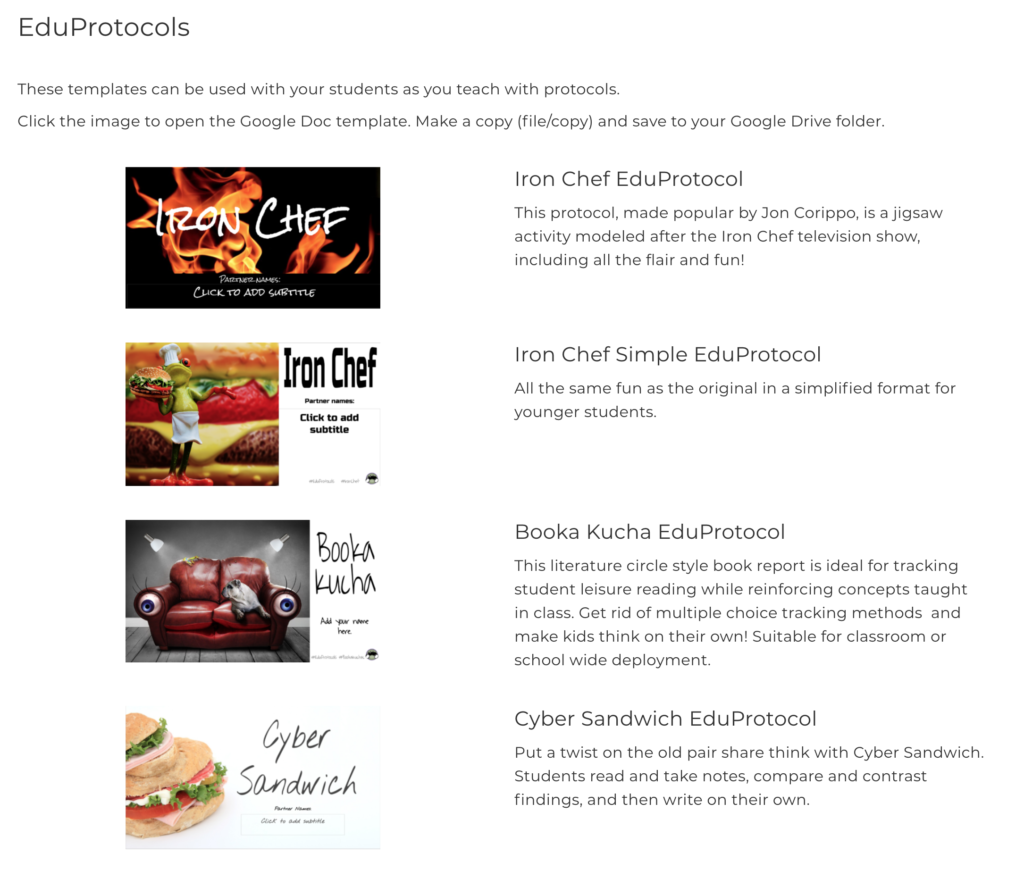 ---
Micah Shippee presented this fabulous idea on using Google Slides to create an app-like experience. Brilliant! (Again, I must mention my love for Google Slides as the Swiss Army Knife of G Suite!) Check out Micah's super cool presentation below, and thank you to Shannon Morgan for sharing with the Facebook group.
---
One of the biggest things buzzing around ISTE this year was about some of the updates that Google announced to Google Classroom and Google Forms. Google does a great job at responding to the needs of teachers and students, and I think we are on the precipice of some interesting changes.
The focus of these updates is about giving teachers more control. Whether you agree with the philosophy or not, these updates were made because teachers have been requesting it through the feedback portal. Google reads every single piece of feedback and prioritizes their updates based on teacher need.

The details of the updates were shared in this blog post from Google.
If you've logged into Google Classroom recently, you may see this new pop-up: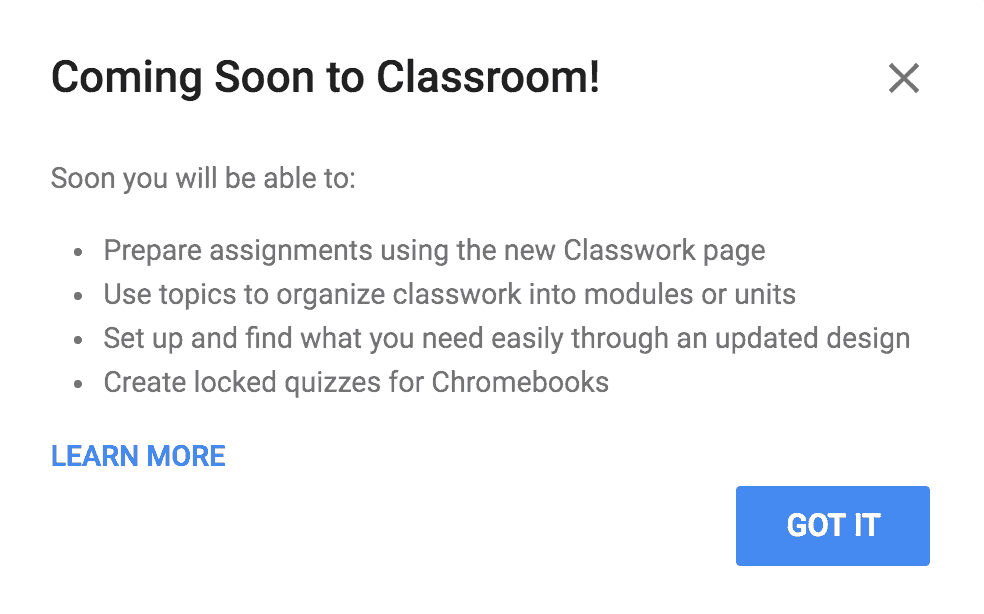 I am playing with the new features now and working on a blog post that I will share with you soon.
Click here to sign-up for beta access and to try the new features.
---
Poster sessions can spark new ideas, conversation, and can showcase student innovation. Nate Simons shared his favorites in this list. (Thanks, Nate!)
---
What were your favorite takeaways from ISTE? Please share in the comments below!
---
© Shake Up Learning 2023. Unauthorized use and/or duplication of this material without express and written permission from this blog's author and/or owner is strictly prohibited. Excerpts and links may be used, provided that full and clear credit is given to Kasey Bell and Shake Up Learning with appropriate and specific direction to the original content on ShakeUpLearning.com. See: Copyright Policy.