Google Classroom + Meaningful Feedback = Winning Combination!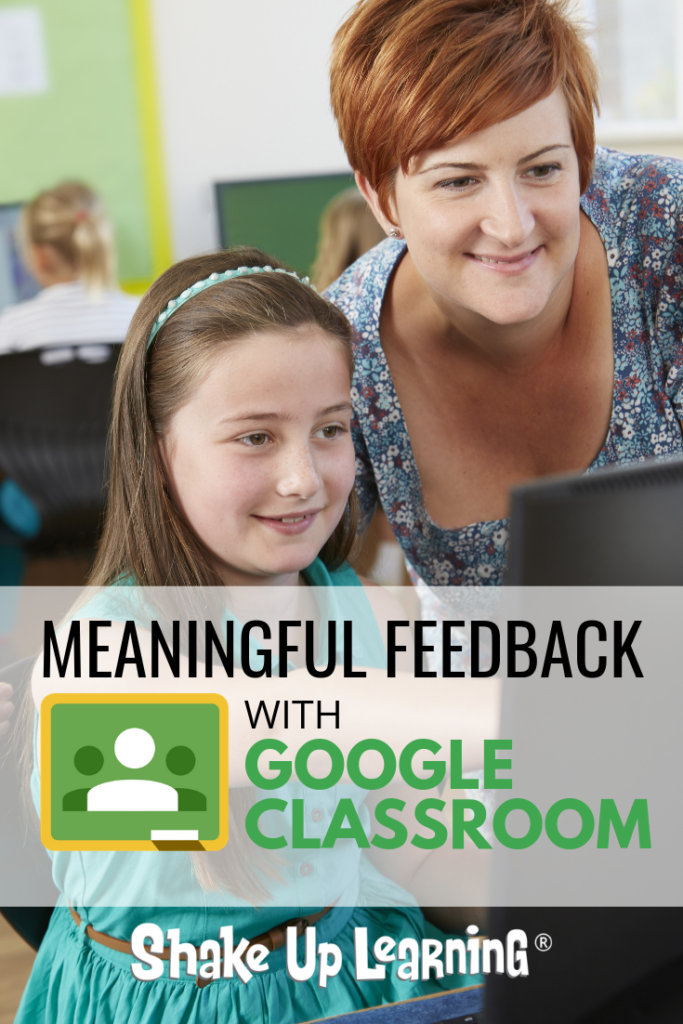 In this post, we will explore ways to give meaningful feedback in Google Classroom.
Feedback is an essential piece of the learning process that often gets overlooked or watered down.
As teachers, it can be difficult to find ways to not only give feedback to every student, but to make it meaningful to students and something that is actionable.
Susan M. Brookhart, author of How to Give Effective Feedback to Your Students, says, "Good feedback contains information a student can use. That means, first, that the student has to be able to hear and understand it. A student can't hear something that's beyond his comprehension, nor can a student hear something if she's not listening or if she feels like it's useless to listen.
The most useful feedback focuses on the qualities of student work or the processes or strategies used to do the work. Feedback that draws students' attention to their self-regulation strategies or their abilities as learners is potent if students hear it in a way that makes them realize they will get results by expending effort and attention."
Let that sink in for a moment.
[Tweet "4 Ways to Give Meaningful Feedback in #GoogleClassroom! #gsuiteedu #edtech"]
This is not just about finding errors for students but using feedback as a strategy for learning.
Feedback should be a loop, not a one-and-done task. It's a conversation between you and your students.
QUICK TIP: Getting students to read and take action on feedback can be a challenge. Try this, delay the final grade until they have responded or made revisions based on feedback.
Get the details on this, "Delay the Grade," strategy in this post from Cult of Pedagogy.
G Suite tools give us many opportunities to communicate with students, guide them toward the learning targets, and give meaningful feedback.
Google Classroom in particular offers many ways for teachers and students to continue the feedback loop.
I asked members of the Shake Up Learning Community to share their favorite ways to use Google Classroom for meaningful feedback and here's what they shared.
Below are some ideas to help you learn how to take advantage of the functionality of Google Classroom to give meaningful feedback to your students.
---
4 Ways to Give Meaningful Feedback in Google Classroom
To be clear, for the purposes of this post, we are going to focus on the Google Classroom application and not on other G Suite tools that also offer ways to leave feedback and comments.
1. Private Comments
Private comments is one of the best features of Google Classroom.
Since these are private, they are only viewable by you and the individual student. Consider this a private conversation between you and your students.
To learn more about the different types of comments in Classroom, see this previous post: Google Classroom Comments: All You Need to Know!
To add a private comment from the Student Work page:
From the Classwork tab, click on the assignment for which you would like to give feedback.
Click on "View Assignment."
Select the Student from the roster on the left.
Toward the bottom of the right-hand panel, you will see "Add Private Comment."
Click to type and add your private comment for your student.
---
Note: you can also leave private comments in the grading workflow which is covered in number two.

---
2. The Google Classroom Grading Tool
The Google Classroom Grading Tool gives teachers a workflow for evaluating student work, leaving feedback, grading, and returning student work.
To access the grading tool,
From the Classwork page, select the assignment and click on "View Assignment."
Click on the student's name in the left-hand roster.
Click on the file a student submitted and you should see the grading tool similar to what you see in the image below.
---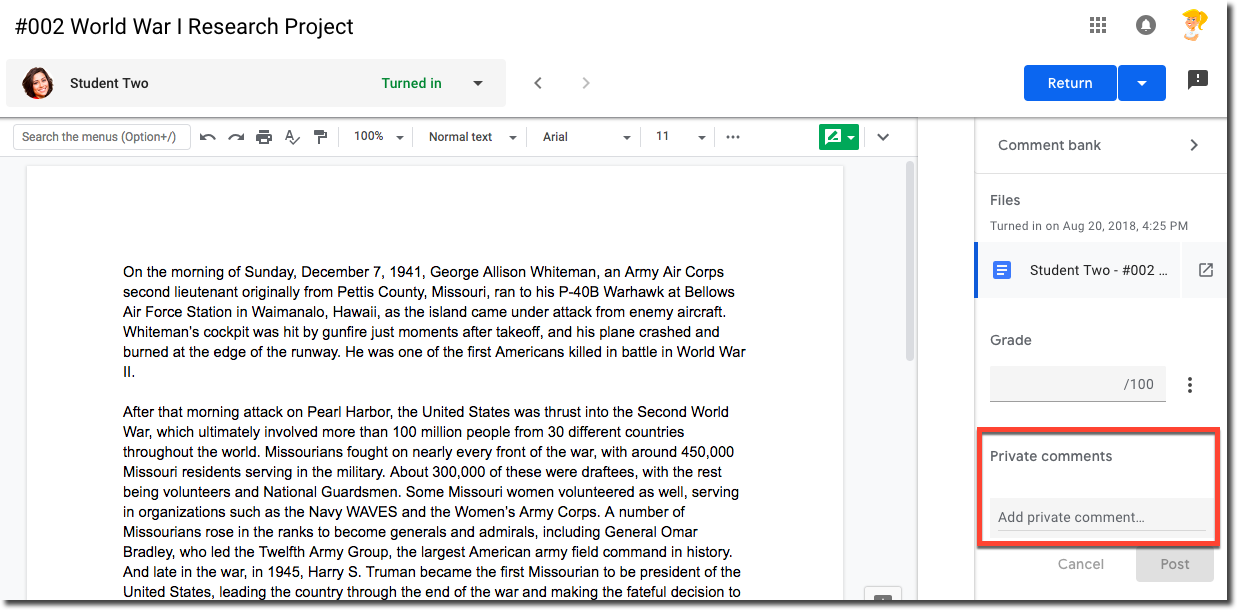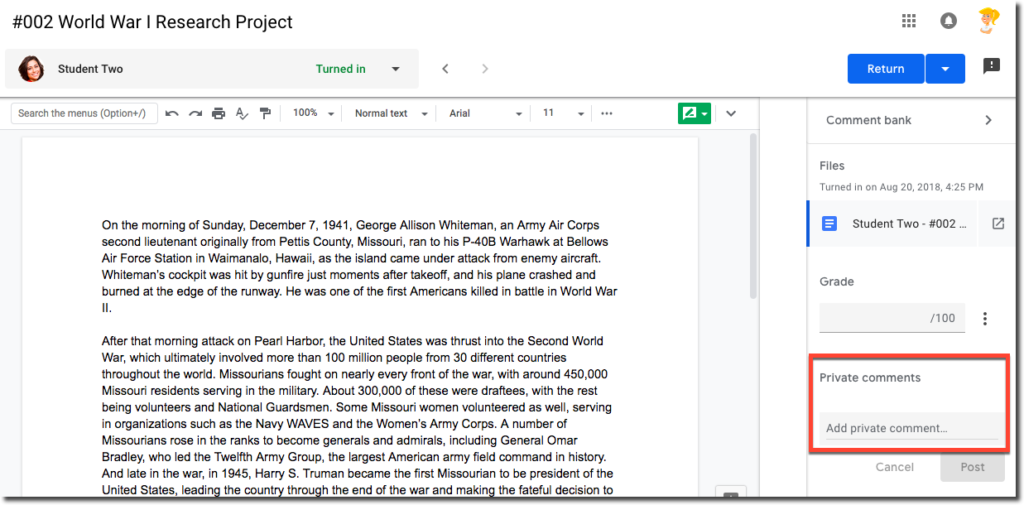 Here you can toggle through multiple student's work, leave frequently used comments from your comment bank, as well as leave private comments.
To learn more about the grading tool and other features, watch the FREE webinar: 5 Things to Know About the New Google Classroom, where I go into depth with the newer features of Google Classroom.
3. Canned Comments from Your Personal Comment Bank
Another great feature of the grading tool mentioned above is the ability to create your own comment bank of frequently used comments and feedback for students.
Click on "Comment Bank," from the right-hand sidebar.
Click on "+ Add to bank,"
Enter the comment you wish to save and click, "Add."
---
The comments you save will be saved to your account and accessible through the Google Classroom grading tool to use with any assignment.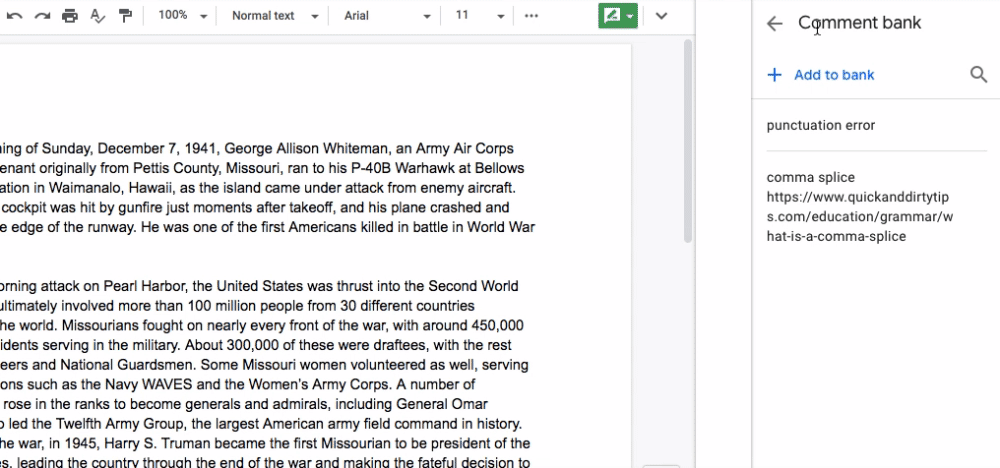 4. Annotate Using Google Classroom on Mobile (iOS or Android)
Many users don't know that there are some additional Google Classroom features that only work on mobile (for now at least).
One such feature is the ability to draw and annotate on documents.
In the mobile version of Google Classroom, you can annotate on assignments, meaning you can draw, markup, create, etc.
That annotation is then saved and can be turned in, or sent to the student as feedback. Of course, now add the power of the stylus to this application and you've got yourself a winning combination.
Click here to learn how this works in the mobile app.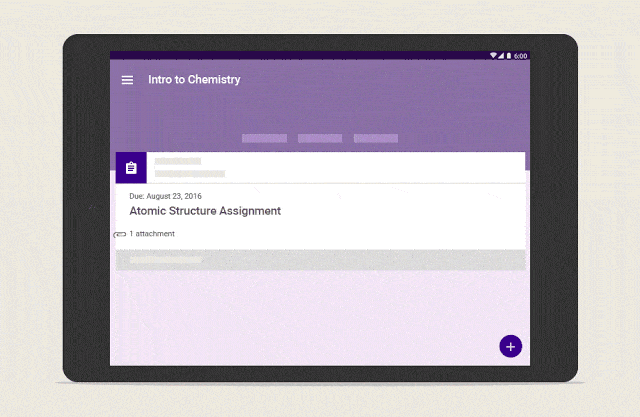 This is a great way to give students feedback on all kinds of assignments!
---
How do you give meaningful feedback for your students? Please share in the comments below!
---
Ready to Learn More About Google Classroom?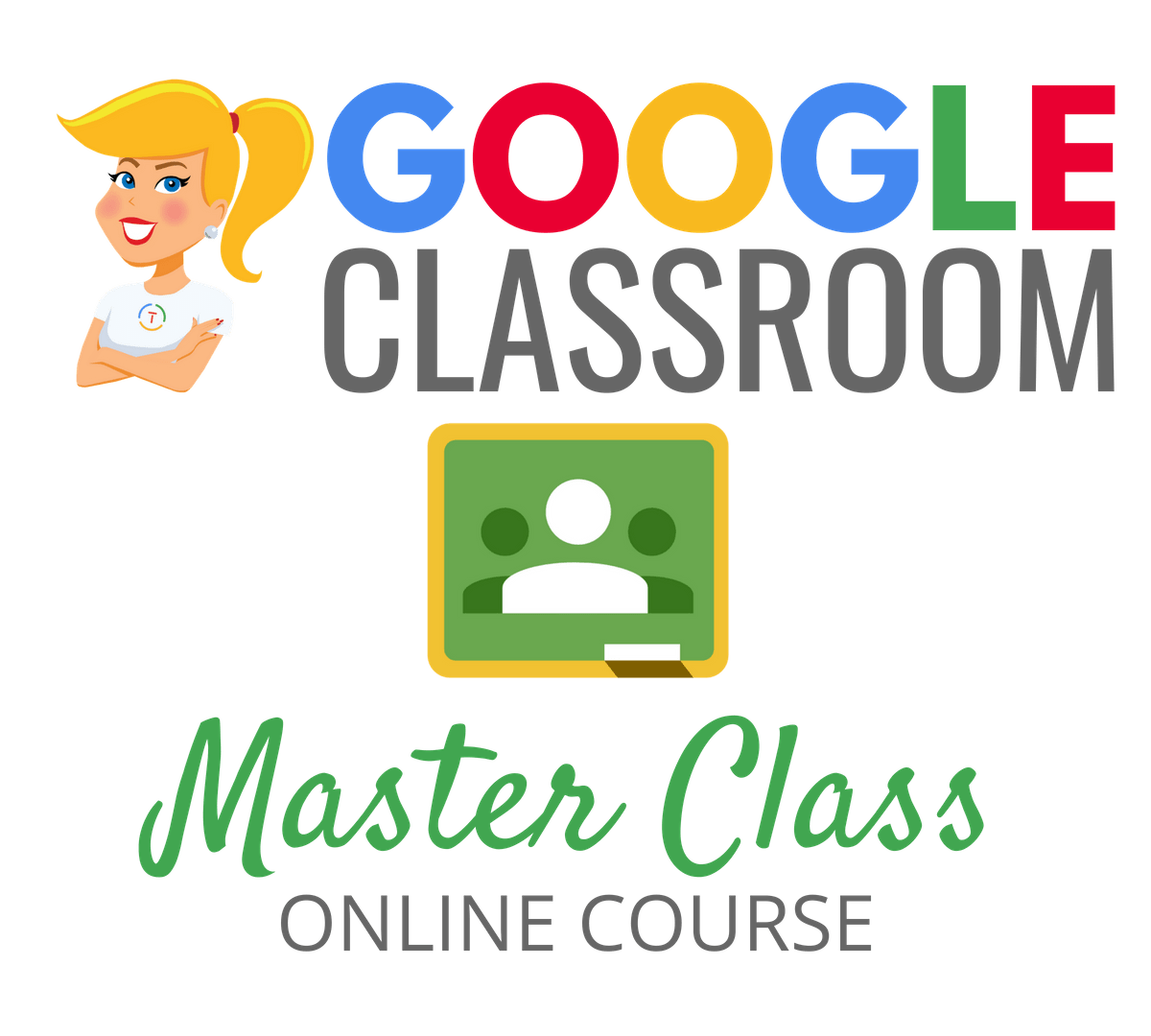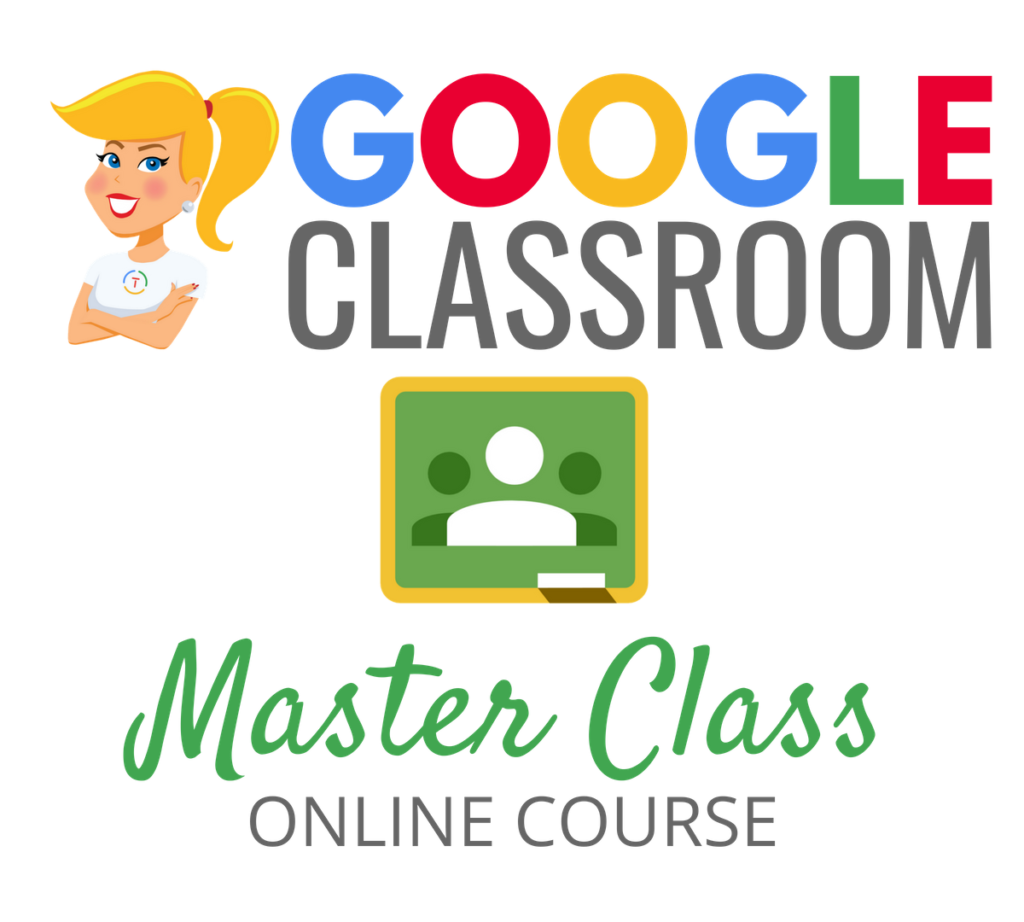 Learn all about the new updates to Google Classroom and take your skills to the next level. This course will give you everything you need to get started using Google Classroom and best practices to help you make the most of this tool.
Perfect for beginner to intermediate skill levels! Consider this your video guide to Google Classroom!
Click here to learn more and to ENROLL TODAY!
---
Learn All About the Course
---
Who Should Join the Google Classroom Master Class?
Beginners can learn everything they need to get started.
Intermediate level users can focus on learning more advanced features, tips and tricks, and best practices.
Go at your own pace.
Let's dig in! This class is for all skill levels!
What's Included in the Google Classroom Master Class?
Self-paced
Video-based lessons
5 BONUS Lessons
PDF Downloads
Supporting Resources
Best Practices and Tips
6 hours of professional learning credit
Bulk license discounts
Get your whole team, campus, or district on board
---
Click here to learn more and to ENROLL TODAY!
---
---
© Shake Up Learning 2023. Unauthorized use and/or duplication of this material without express and written permission from this blog's author and/or owner is strictly prohibited. Excerpts and links may be used, provided that full and clear credit is given to Kasey Bell and Shake Up Learning with appropriate and specific direction to the original content on ShakeUpLearning.com. See: Copyright Policy.