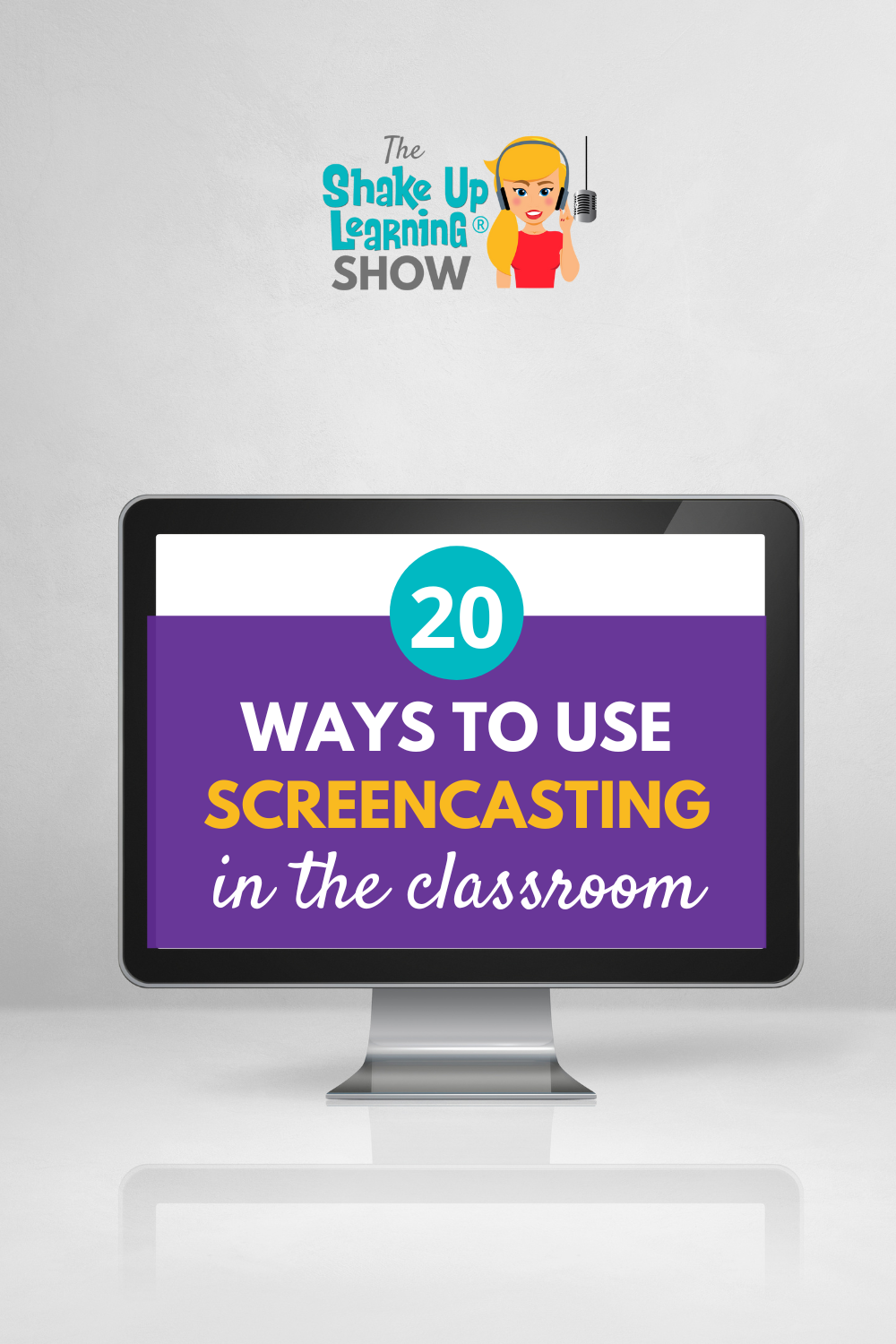 Kasey has been keeping a secret!
She's had early access to Google's brand new Screencast app for Chromebooks.
In this episode, Kasey is giving you all the details and her thoughts on this new tool for the classroom.
Plus, she'll be sharing 20 Ways to Use Screencasting in the Classroom!
Screencasting is a powerful tool in the teacher's pocket. There are so many ways to use it in the classroom and to improve learning.
Listen to this article.
This episode is sponsored by Lumio.
Lumio is a digital learning tool that will transform your lessons into active, collaborative learning experiences. Every day more schools and districts are switching to Lumio – it's truly a flexible, time-saving tool that makes it easy to turn your PDFs, Google Slides, PowerPoint, and Notebook files into engaging lessons with interactive activities, games, group workspaces, and formative assessment ALL built right in. Boost your student engagement on any devices wherever learning needs to happen. To get Lumio for FREE, head to Lum.io today.
What is screencasting?
It's recording the computer screen. If you've ever watched any of the quick tip videos these are all made through screencasting tools.
There are several great tools available!
Screencastify is one of the more simple screencasting tools that Kasey has shared. For a more robust video editing tool, ScreenFlow is the tool Kasey uses for her own YouTube channel videos.
Screencast for Chromebooks (New App from Google)
The new Chrome OS application by Google is called Screencast (Available for all Chromebooks running ChromeOS v. 103+ and scheduled for release in late June 2022).
The layout is very simple and clean. The features are also simple; no major bells and whistles to use.
This app allows you to record the computer screen and utilize the camera to record your face in a small square at the bottom of the screen.
It's possible to record the full screen, part of the screen, or a specific window. You can also annotate with a pen tool while recording!
The audio and camera can be customized in case it's necessary to use an external microphone or webcam. 
Each recording also downloads automatically to your Google Drive.
The simplicity of this app allows teachers and students to quickly learn the tool's features and use it immediately. 
One of the drawbacks that Kasey found while using this tool was how long the processing took to download the video.
Kasey also discovered that with each new recording the settings default back to the original. For example, if recording just the screen rather than having the camera turned on that setting will default to the camera being on. 
Inside the Screencast app choose Projector Recordings to begin a new recording session. Like most recording tools you'll get a three-second countdown and an indicator will appear in the bottom right corner. There is also a pen tool to annotate the recording.
Of course, this is a brand new tool and it's likely that Google will continue to provide updates and improvements. 
20 Ways to Use Screencasting in the Classroom
1. Record a Lesson
Students can always benefit from asynchronous learning; it's not just a remote teaching strategy. When students have a video recording of a lesson they can pause, rewind, and rewatch for clarification as often as necessary. Recording a lesson essentially clones you to free yourself up for other instructional needs. It's also reusable! 
2. Reflection
Asking students to reflect on their learning is a great way to gain insight into how well students understood the material. As students reflect on their work they can also share improvements and self-evaluation for future assignments. 
3. Voiceover Presentation
While it's possible to add audio to a presentation, that audio will only record within each slide. Using the Screencasting tool will allow the presenter to speak through the entire slide presentation. Allowing students to present through recording can help free up classroom time rather than having each student share. 


4. Explain a Process/Learning/Problem and Solution
Math teachers may find this helpful for going over difficult concepts. This could also work well for students sharing how they solved a problem. Of course, other subjects may also find sharing processes relate to their material as well. Science experiments and the results, especially when students may need to explain collected data. 
5. Voiceover Portfolios
Portfolios are a digital collection of student work throughout a period of time. Mike Mohammad shared on episode 91 how he uses Google Sites for this assignment. Combining the portfolio and screencasting would allow students to give an audio commentary on their work. They could share where they see growth in their work and discuss future improvements. A wonderful tool to reflect on the work they have compiled. Kasey points out that reflection can be done at multiple milestones throughout the school year rather than making it an end-of-the-year only opportunity. 
6. Teach Others
A dynamic teaching strategy to help students break down complex concepts is to have them teach them to younger students. When students are able to teach the concept to others they have a firm grasp of the skill. This was an idea shared by Mike Mohammed who asked his physics students to teach kindergarteners physics at their level. The high school students created storybooks to do this which could be read through the Screencasting app. 
Another way for students to teach or share with other students is to have students create videos to help future students. The teacher doesn't need to be the one creating every tutorial. Allow students to create tutorial videos as well. 


7. End of the Year Memories
Many teachers choose to compile a slideshow of photos to share with students at th end of the school year. Screencasting would allow teachers and students to include a special story or memory to go along with the photos. 
8. SEL Check-ins
One way for students to share how their feeling could be to record themselves sharing more about an answered SEL check-in question. Younger students might enjoy making their own faces to describe how they are feeling rather than choosing an emoji. Another option is to change how teachers check in with their students. 
9. Goal Setting
Kasey is a firm believer in students setting goals. She shares a few different ways to do this in her Shake Up Learning books. One idea shared is to have students create a vision board. Take this a step further by having students Screencast their board and explain each of the items they included on their board. Even if students write a list of goals or fill out a teacher-created document about goals, Screencasting their explanation can help students make connections about how they will accomplish these goals. Having these goals recorded allows students to revisit that recording for inspiration or motivation. 
10. Planning: Teachers and Students
When plans need to be shared with others using Screencasting can be a great option. In creating lessons for the team, teachers might find Screencasting helpful while designing lessons. Students may need to plan an extended project and share several pieces as they work through the project. Students may also be in charge of planning an event like a school dance. Sharing through screencasting can help keep the group organized. 
11. Tech Tips
Just as Kasey shares quick tips using screencasting, teachers may need to create tech tutorials for students or colleagues. Any of the tools or systems used in the classroom can be turned into a tutorial. Explaining how to find and turn in assignments on the LMS being used. How to check books in and out of the classroom library. An overview of the teacher's website and how to use it. These videos are super helpful when new students arrive or even for sharing with parents. 
12. Parent Newsletters & Announcements
Sometimes it's just easier to talk it through. People often appreciate an audio version to listen to rather than reading. 
13. Class Announcements
Certain times during the school year can be very busy, making screencasting those announcements quicker to inform everyone. The recordings can be posted to Google Classroom or emailed. 
14. Fluency Practice
English and Foreign Language teachers may find this idea for screencasting incredibly helpful. Provide students with a digital text and have them record themselves reading that text. 
15. Absent Work
Recording videos for absent students may be the simplest way to keep those students on track. Whether it's a lesson or important class information, a screencast video could allow teachers to keep those absent students in the loop. 


16. Feedback (Peer & Teacher)
This can be used for teacher feedback or peer feedback. Whether students are sharing writing drafts or projects, sharing the feedback through screencasting can give that student much more insight for edits. It's also more likely for students to listen to a video rather than reading through each comment. The same goes for teachers, it's much quicker to record a video than to type out each idea for improvement. 
17. Comment Bank Videos
While grading through Google Classroom it's possible to create a bank of common comments for student feedback. Sometimes the comment needs to be a longer explanation and it may be something several students struggle with. Creating a bank of videos can save a lot of time. 
18. Collaborate
When working with another student or teacher, writing back and forth can often not be the best form of communication. Recording a video can help communicate more effectively. 
19. Welcome & Good Morning Videos
While this might be more appropriate for those teaching online, it could still be helpful for connecting with students. Again, students who are out of the classroom for extended periods may also need these messages where they can see your face. 
20. Classroom Rules, Expectations, Processes, & Systems
Rather than taking weeks of class time to share all your process and systems create videos to share these with your new class. These videos can also be used for new students arriving in the middle of the school year. Or those very forgetful students that are in need of many refreshers. 
The list of ideas could go on for much longer! What ideas do you have?
© Shake Up Learning 2023. Unauthorized use and/or duplication of this material without express and written permission from this blog's author and/or owner is strictly prohibited. Excerpts and links may be used, provided that full and clear credit is given to Kasey Bell and Shake Up Learning with appropriate and specific direction to the original content on ShakeUpLearning.com. See: Copyright Policy.