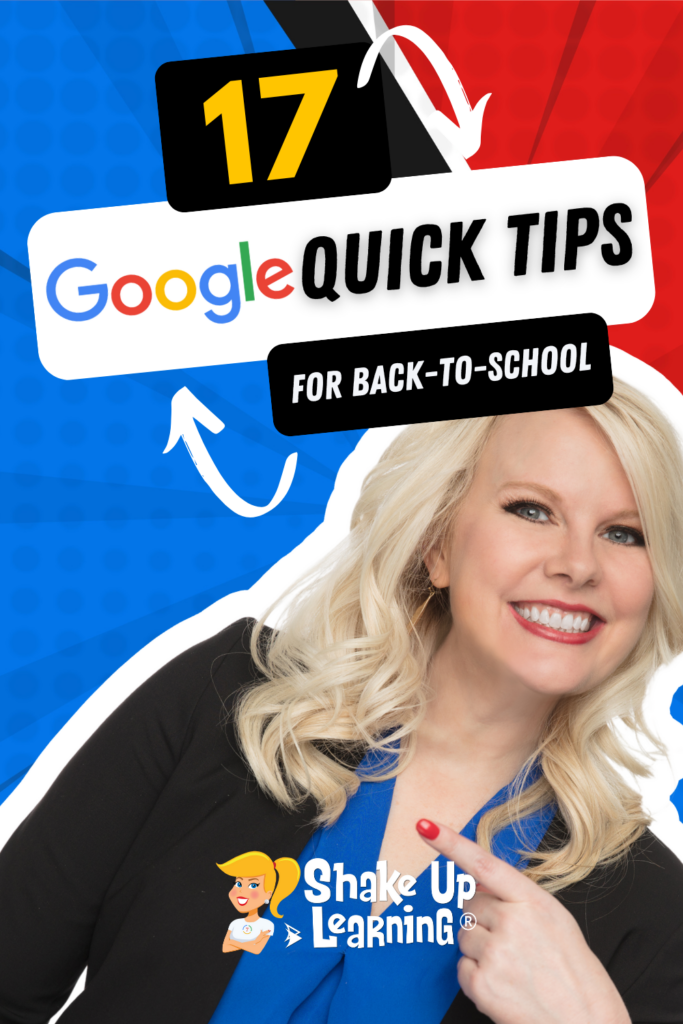 Welcome back, dedicated teachers!
As you gear up for another exciting academic year, we understand how valuable your time is.
To help you make the most out of Google's suite of tools and save precious hours, we've compiled 17 quick tips that will streamline your workflow and enhance your back-to-school experience.
In this blog post, we'll break down the key highlights from our YouTube video, providing you with a handy reference to these time-saving hacks.
17 Google Quick Tips for Back to School
00:11: Link Directly to a Google Classroom Assignment
Save your students from the hassle of navigating through multiple pages! Learn how to link them directly to a specific Google Classroom assignment efficiently. It's a simple trick that can make a world of difference in easing the assignment access process.
01:04: Add Emojis to Topics and Assignments 
Who said assignments have to be boring? Discover how to inject some fun and creativity into your Google Classroom topics and assignments by adding emojis. Emojis can capture attention and make the learning experience more engaging.
Related: 100+ Google Quick Tips Video Library for Teachers
02:24: Use Google Templates and Assign in Google Classroom 
Tap into the power of Google Templates to save time on repetitive tasks. Find out how to use pre-designed templates and assign them directly through Google Classroom, streamlining your assignment distribution process.
11:48: Use Icons in the Google Chrome Bookmarks Bar 
Organize your bookmarks like a pro! Learn how to utilize icons in the Google Chrome bookmarks bar to create a visually appealing and easy-to-navigate setup, boosting your efficiency while browsing.
13:34: Google Chrome Tab Groups 
Tame the tab chaos with Google Chrome's Tab Groups feature. Discover how to group related tabs together, keeping your browsing sessions organized and clutter-free.
Related: AI-Powered Google for Education Updates (Part 1)
16:07: Use the Citation Tool in Google Docs 
Say goodbye to manual citation headaches! Uncover the wonders of the citation tool in Google Docs, which can save you time and ensure accurate referencing in academic documents.
18:15: Create Interactive Google Slides 
Make your presentations stand out with interactivity! Learn how to create interactive Google Slides that captivate your audience and foster a more engaging learning environment.

21:07: Bookmark the Classwork Page in Google Classroom 
Get instant access to your classwork page with this nifty bookmarking tip. Save time and effort by quickly jumping to your Classwork tab in Google Classroom.
23:14: Tag Students in Class Comments in Google Classroom 
Personalize your feedback and communication with students! Find out how to tag individual students in class comments, making it easier for them to locate and respond to your messages.
Related: Custom Color Eyedropper in Google Slides!
25:00: Differentiate Assignments in Google Classroom 
Cater to diverse student needs by learning how to differentiate assignments in Google Classroom. Tailor tasks based on individual abilities and preferences, fostering a more inclusive learning environment.
26:17: Create a Reusable Google Classroom Class Template
Simplify class setup and save time on repetitive configurations. Discover how to create a reusable Google Classroom class template, perfect for new semesters or courses.
27:47: Use Private Comments for Reflection in Google Classroom
Promote meaningful dialogue with students using private comments. Learn how to leverage this feature in Google Classroom to provide personalized feedback and encourage student reflection.

31:32: Post Assignments to Multiple Classes in Google Classroom 
Efficiently manage multiple classes by posting assignments to multiple groups at once. Say farewell to redundant tasks and maximize your productivity.
32:36: How to Organize "Shared with Me" in Google Drive
Tidy up your Google Drive and regain control of your files! Explore techniques to efficiently organize the "Shared with Me" section, ensuring easy access to relevant documents.
We hope these 17 Google quick tips will be game-changers in optimizing your back-to-school season. Implement these time-saving hacks to streamline your tasks and devote more time to what matters most – educating and inspiring young minds!
🎥 Watch the full video above, and head over to our YouTube channel to subscribe!
Happy teaching and best wishes for a successful academic year! 🍎📚
© Shake Up Learning 2023. Unauthorized use and/or duplication of this material without express and written permission from this blog's author and/or owner is strictly prohibited. Excerpts and links may be used, provided that full and clear credit is given to Kasey Bell and Shake Up Learning with appropriate and specific direction to the original content on ShakeUpLearning.com. See: Copyright Policy.