16 Curation Tools for Teachers and Students
If you follow my blog, you know I curate a lot of resources for teachers. This post brings together a suggested list, a curated list if you will, of 16 curation tools for teachers and students from the Shake Up Learning community. Choosing how to curate and what tools to use can be a very personal decision depending on your own needs and preferences. That's what's so great about the world wide web of tools! There is no shortage of tools.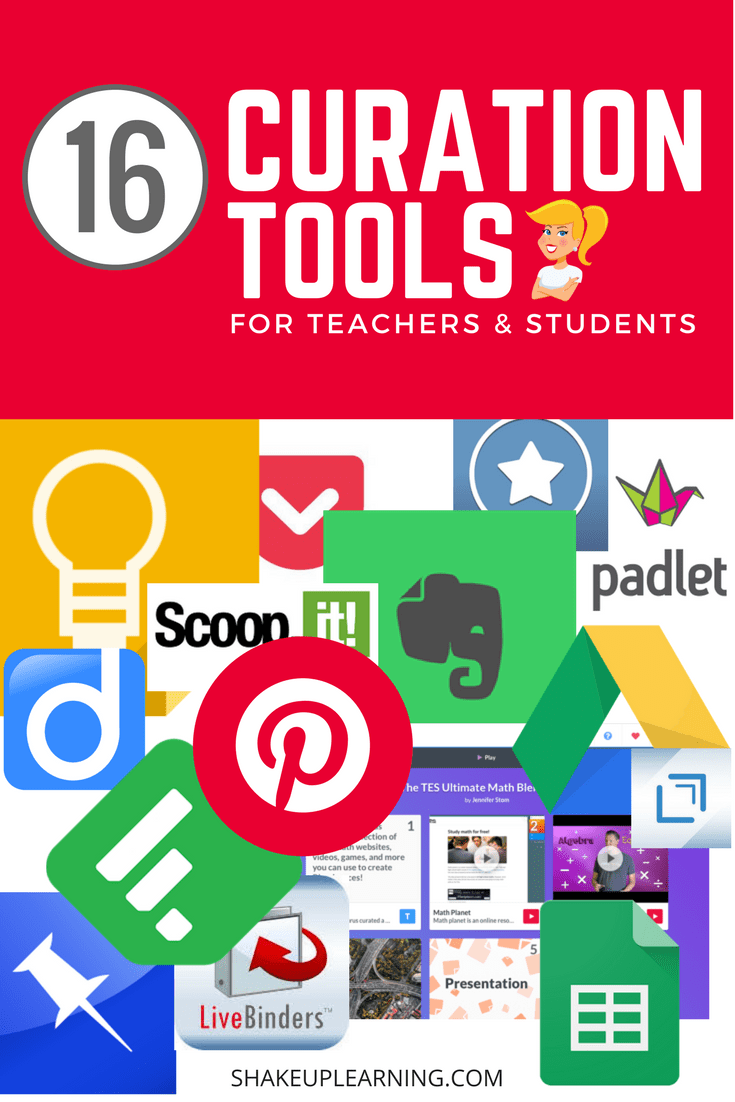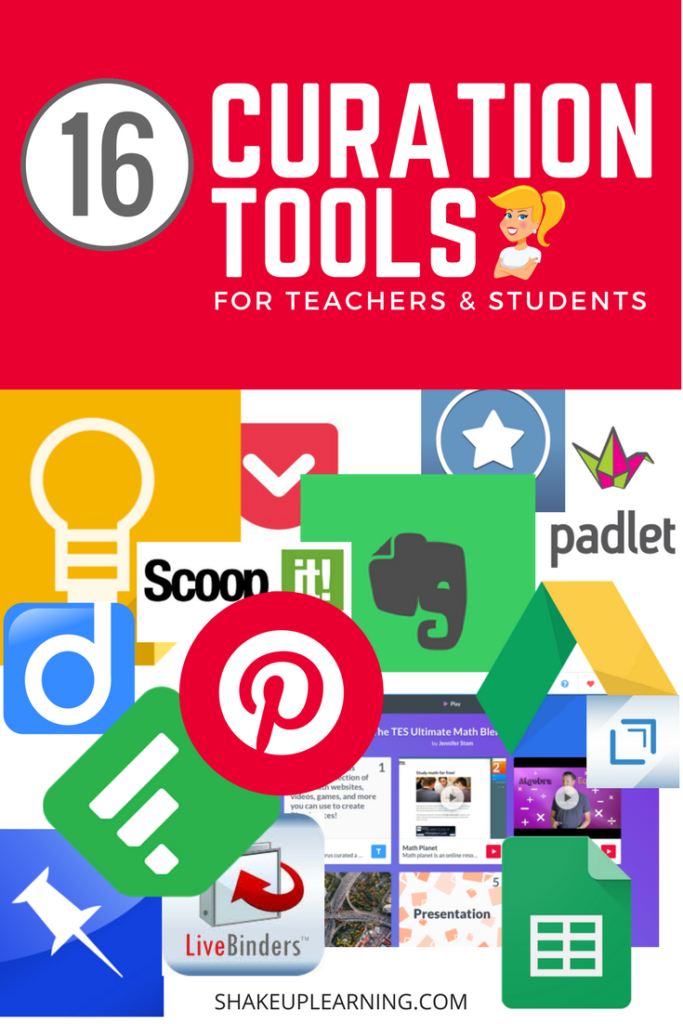 Curation is absolutely necessary in the information age! As Gayle Allen says in her book, The New Pillars of Modern Teaching, "We're assembling resources in a way that represents the ongoing story of our learning. We are the curators."
Curation takes time. It can take a lot of time, and that's why I share so many curated resources on my website. Your time is valuable. Curating on your own is great. Collaboratively curating is even better. Following bloggers and feeds that deliver resources to your (virtual) door—the best!
I use a lot of different tools to curate resources and often use this blog as a place to curate and share resources for teachers and students. So I decided to pose this question to the Shake Up Learning Facebook Group a few weeks ago, and below are the suggested resources from other teachers just like you.
Depending on the purpose of your curation, there are certain tools that may fit your needs better than others. This list has it all! Whether you are curating professional learning resources, planning a lesson, or creating something to share, there's a tool below that can help you do it!
And when it comes to helping students curate, give them exposure early! This is a valuable twenty-first-century skill and a vital part of a dynamic learning environment.
[Tweet "16 Curation Tools for Teachers and Students from the #ShakeUpLearning Community! #edtech"]
I'm not officially ranking these tools, but if I were, Google Keep would be number one. It's not only a favorite of mine but also had more mentions than any other tool from the group.
Google Keep is a web-based application that allows you to create and share notes, lists, and reminders. You can also add images, voice notes, drawings and more! Each note resembles an online sticky note that can be customized and shared. This robust tool can be used by teachers and students to manage projects, set goals, communicate and collaborate. The Google Keep chrome extension also makes this an easy way to add links to your notepad.
Want to learn more about Google Keep? Check out my Google Keep resources, including the Google Keep Cheat Sheet.
---
You may think Pinterest is dead or just for recipes, crafts, and Teachers Pay Teachers, but you are wrong. Free teaching resources are alive and well on Pinterest, and it also happens to be a fabulous curation tool for saving blog posts, research, links, and ideas.
Pinterest is a visual bookmarking tool, where users save bookmarks or "pins" onto their virtual "boards" to organize and revisit. Pinterest is also a mighty search engine! Use it to find and discover new ideas for the classroom, for your home and your life.
Want to learn more about Pinterest? Check out my Pinterest-related posts or peruse my Pinterest boards.
---
Diigo is a social bookmarking tool that I have used for several years. That says a lot! Not only can you save your bookmarks in the cloud, but you can tag, create groups, and annotate on web pages. It's also a fantastic tool for secondary students to curate and research.
Want to learn more about Diigo? 8 Reasons to Use Diigo.
---
I use Evernote on a daily basis for all kinds of notes, to do list, organization, and curation. Evernote has a lot of impressive features like collaboration, audio notes, web clipping with the Evernote extension, and the ability to add attachments and more.
Here is an excellent guide to using Evernote.
---
Pocket is a great way to save resources to read later. That is exactly what it was designed to do, and it works well across multiple devices. It's perfect for keeping up with blog posts, news articles, and updates. When you don't have time to read something, but want to come back to it, just add it to your Pocket.
---
I never really jumped on the Livebinders train, but many still love this tool for creating virtual notebooks of resources that can be organized by tabs, just like your favorite notebook. Many teachers use it for class assignments, entire units, or for the entire year. It's free and easy to use. It is also a great way to share presentation resources.
---
Scoop.it is a tool that is used to curate and share your favorite resources on a custom page. You have probably seen these shared a lot on Twitter, like curating your own little news magazine from other sources. Paper.li is a very similar tool as well.
---
Feedly is a tool for following your favorite blogs and online feeds. It's one that I subscribe to and actually have the paid version to take full advantage of all of the tools. You can organize your feeds by categories, search, and even discover related resources. (Bonus: Feedly connects to other apps like Buffer and IFTTT.)
---
I'm a big fan of Padlet, but using it for curation is something I have yet to try. But I love the idea that was shared in the community. Padlet allows you to save and curate all kinds of links, texts, video, pretty much whatever you want onto one online bulletin board.
---
Pinboard is one I haven't tried yet, but looking at the title, social bookmarking for introverts, it sounds like it would be right up my alley! It looks clean and simple and contains no advertisements. However, that comes at a price of $11/year. It is not a free tool.
---
TES Teach with Blendspace is a wonderful tool for creating blended learning lessons that bring together all of your favorite online resources and tools. I never thought of it as a curation tool, but the idea has piqued my interest.
---
Depending on how you translate this tool, this could mean just saving links to a Google Doc. However, there is a cool little Chrome extension that does allow you to save links to Google Drive. I'd love to hear how you use Google Drive to curate! Please share in the comments.
---
You can always kick it old school and log things in a spreadsheet. Google Sheets is a spreadsheet tool similar to Excel so you can easily copy and paste links and additional information into cells. This is too much work for me, but some teachers like it, so I wanted to share.
---
Pearltress is a great little tool that connects the dots between your resources…almost like mind-mapping the connections between your links and helps you organize and discover new resources. You can add and keep everything wherever it comes from – web page, files, articles, photos, notes, etc. and access and share from any device.
---
This app was shared because of its convenience on mobile and its power to connect to other applications like Dropbox and Google Drive. It's a simple note-taking application with a powerhouse of features to lengthy to list. Check it out here if you are an iOS user.
---
16. Blog/Website
A blog was mentioned during our conversation in the group, and obviously, this is one that I use a lot! Sometimes, I have to create my own curation and share here on my blog as a list, a table, or even a couple of databases that I have created to help teachers. You can post resources on a blog for yourself, to share with your class or to share with other teachers as well.
A few blogging tools to try: Blogger, WordPress, Wix, Weebly, Medium, or even Google Sites.
This is a list that could go on and on and on. What are your favorite curation tools? Please share in the comments below.
---
Learn More About Curating Resources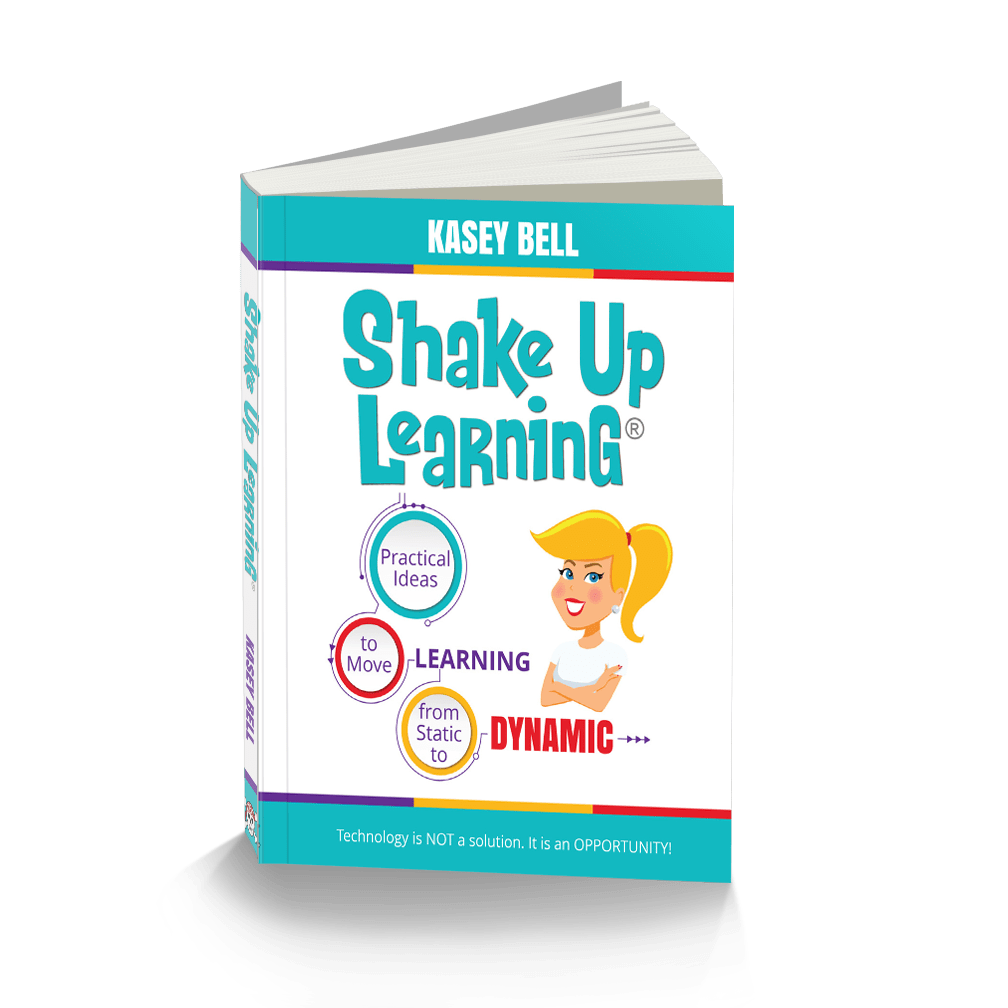 If you want to learn more about curation for learning, be sure to pick up a copy of my book, Shake Up Learning: Practical Ideas to Move Learning from Static to Dynamic.
Want to be part of the conversation? Join the Shake Up Learning Community!
---
© Shake Up Learning 2023. Unauthorized use and/or duplication of this material without express and written permission from this blog's author and/or owner is strictly prohibited. Excerpts and links may be used, provided that full and clear credit is given to Kasey Bell and Shake Up Learning with appropriate and specific direction to the original content on ShakeUpLearning.com. See: Copyright Policy.
Shake Up Learning QUICKSTART GUIDE
Join the email list to get the latest information about the Shake Up Learning Book AND Get the FREE 20-Page Quickstart Guide that will help you Shake Up Learning in your classroom this year!