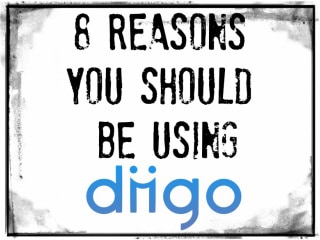 Diigo is one of my favorite, and most-used tools. Diigo defines itself as a powerful research tool and a knowledge-sharing community. At its core, Diigo is a social bookmarking tool, but it is so much more than that. Diigo offers so many features that are particularly useful for teachers and students. Below are the eight reasons you should be using Diigo.
---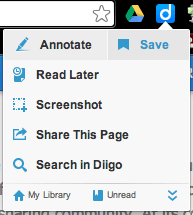 Web-based bookmarks: Need I say more? Bookmarks can be made and accessed from any web-enabled device. No more losing your "favorites!" (Goodbye Internet Explorer!)
Tagging! Tags allow you to assign keywords to your bookmarks. Tagging is so much more practical than folders, when you are forced to choose one folder for your bookmark. With tags, you can assign as many tags or keywords as you like, making it easier for you and others to locate your bookmarks.
It's Social! You can share your bookmarks with others, join and create groups and collaboratively share your bookmarks, notes and comments! You can even follow other educators to see what they are bookmarking.
Annotate the web! Did you know you can highlight, add sticky notes, and even take screenshots to add to bookmarks? You can also share a unique URL with your annotations with your students! Diigo is a great resource for student research!
Read Later is a favorite feature of mine. I often find a great resource that I want to come back to later. I just mark it as "read later," and it is saved to my library.
The Diigo App: Yes, there's an app for that! The Diigo Browser app for iOS is phenomenal. I can bookmark, annotate, share with my groups, AND it connects to my other social media accounts so I can pin it to Pinterest and tweet out the link.
Diigo Extension for Chrome: Yes, you know how I love Chrome! But the Diigo extension is my MVP. It keeps me connected to my library, and makes it so easy to bookmark, share, and annotate from my computer.
Connect Diigo to Twitter: Not only is Diigo social in its own right, but you can connect your Twitter account and have all of your Twitter favorites automatically added to your Diigo bookmark library!
---
© Shake Up Learning 2023. Unauthorized use and/or duplication of this material without express and written permission from this blog's author and/or owner is strictly prohibited. Excerpts and links may be used, provided that full and clear credit is given to Kasey Bell and Shake Up Learning with appropriate and specific direction to the original content on ShakeUpLearning.com. See: Copyright Policy.