Whoa! Did I actually title this 100+ Ways to Use a Chromebook in the Classroom?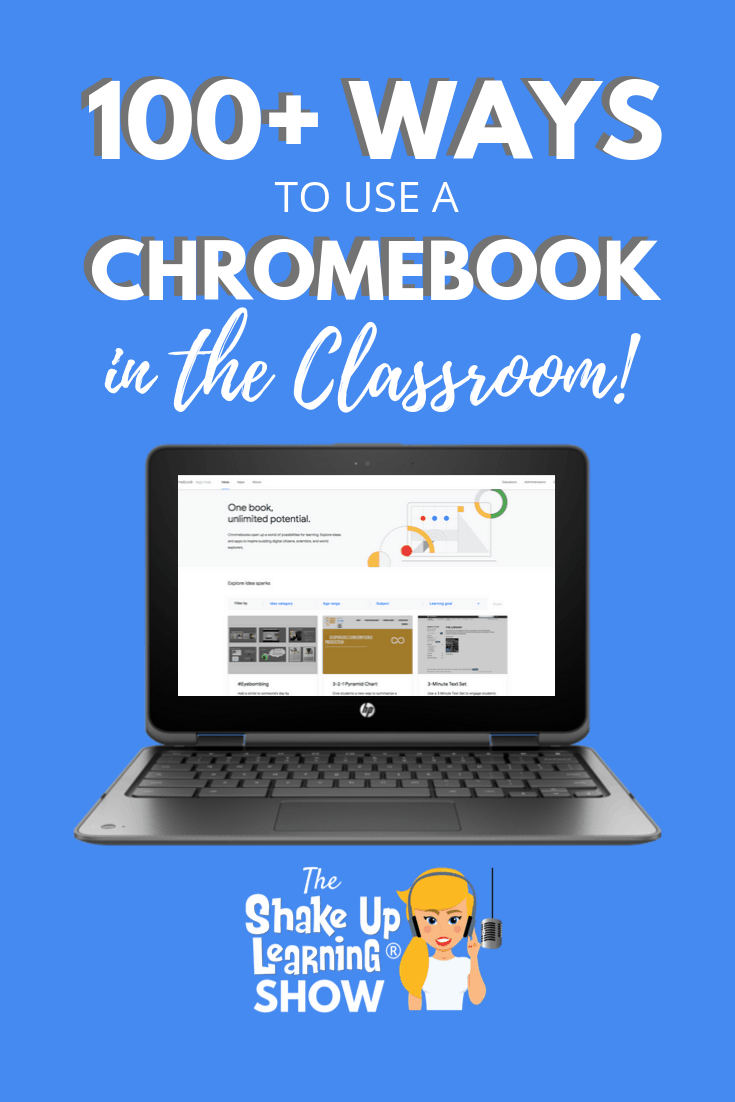 Yes, I did!
100+ Ways to Use a Chromebook in the Classroom
If you have Chromebooks in your classroom, you are going to love what the Chromebook App Hub has to offer–100+ Ways to Use a Chromebook in the Classroom.
By the way, this resource is excellent for any Google for Education school that uses the Chrome browser, not just Chromebooks!
Chromebooks are so much more than word processors and search engines; these devices can transform your classroom!
While I can't actually fit 100 ideas into this blog post and podcast episode, I can offer you a FREE Google Chromebook resource that is loaded with ideas, lessons, apps, and more!
I want to introduce you to the Chromebook App Hub from Google.
What is the Chromebook App Hub?
Here's how Google describes it: "The Chromebook App Hub, an online resource to help educators, administrators and developers work together to learn about Chromebook apps and activity ideas for schools. The App Hub is dedicated to bringing transparency to developers' data and accessibility policies, and to help decision-makers find information about apps to meet the unique learning goals and policies of their school districts."
I see the Chromebook App Hub as a bridge between developers and teachers and schools.
Keeping up with the requirements of every application, the data policies, and matching them with your school's policies can be a daunting task. But I think the Chromebook App Hub is going to make this process easier and more transparent for schools.
I also love the fact that this includes privacy and data information from the developer, so we have transparency about what these applications do and collect so we can protect our students.
Having this information in one location is going to make it easier to approve applications for classroom use.
Teachers are going to love this resource because it provides a database of apps and lesson ideas in one location.
Teachers spend countless hours searching for lesson plan ideas and ways to use their Chromebooks in the classroom. The Chromebook App Hub is designed to help teachers find the best resources, tools, and apps, sort of a one-stop-shop idea.
What Types of Resources are in the Chromebook App Hub?
Chromebook Idea Sparks
Idea Sparks are designed to help teachers create meaningful learning experiences for their students with Chromebooks.
Sparks may be merely showing some features of an app to help inspire a lesson for your classroom.
Some sparks are more robust lesson plans that you can take and adapt to your curriculum.
Things I don't like–some of these "sparks" are not really lesson ideas. They are just about the tool.
I did some digging, and I have three Idea Sparks to highlight in this post.
Each Idea Spark includes the name of the author, their location, and their Google Certifications.
You will also see a summary overview, tips for success; some will have differentiated instruction strategies for English Language Learners and special accommodations.
I also love that many of the sparks, include video tutorials to help get you started.
Then at the bottom are links back to the app information for each application used in the spark. Very handy!
Each Idea Spark will vary, but that is the general organization of the page, as you will see in the screenshots below.

Chromebook Idea Spark #1: Personalized Story Telling with Book Creator
Created by Austin Houp
Overview: "Teach students how to maximize their creativity by turning them into creators as they write, illustrate, and verbalize their own stories. Students need a platform to show who they are as authors. Young writers can use this Book Creators to craft their work and envision it published. With Book Creator, students will not only design and create their own story, but they can also turn it into an audiobook right within their creation. Once the story is created, student can export their creation in order to share it out with their classmates, family, or the world. With the tool "Book Creator," students can become creators of content while also demonstrating mastery on various state standards. Regardless of grade levels, students can develop a story told through written word, drawings, images, video, and/or audio."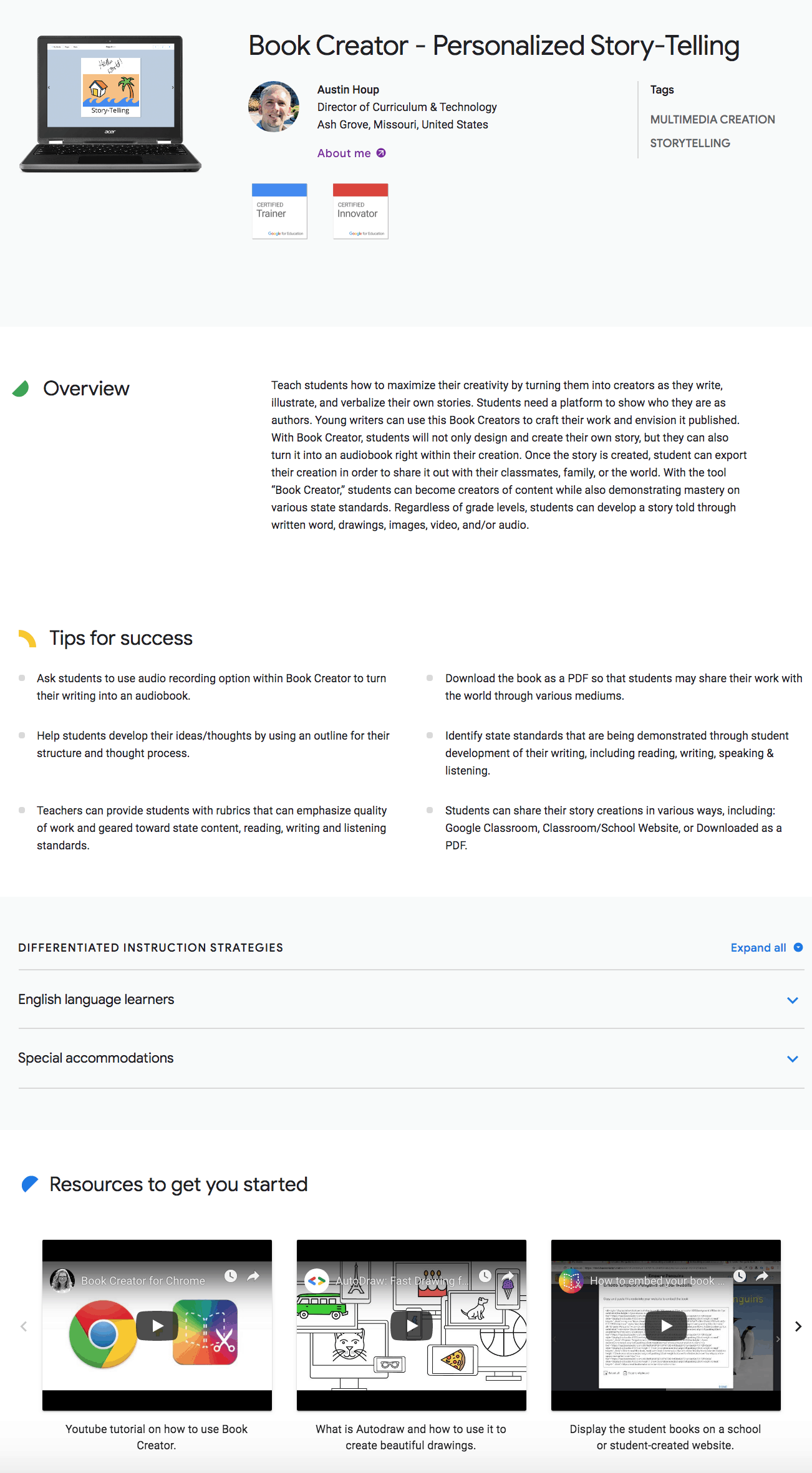 This spark is a little general and focused on one application, but might inspire you if you have never heard of the Book Creator application.
Storytelling is a great skill for any classroom.
We all have stories to tell, and we can integrate storytelling into just about any grade level or subject area.
Students can write original, creative stories, biographies, retell a historical event, retell from a new perspective, tell a math word problem as a story, tell a story of a science experiment, etc.
I love that it includes some tips and differentiated strategies.
There is also a tutorial on a newer integration that is now available with Book Creator, and that is Google's Autodraw.
Autodraw is a tool that allows you to sketch something, and through the magic of machine learning, tries to figure out what you are drawing. Once it identifies something, it will give you several ready-made drawings to choose from to use in your project. This is great for people like me who lack drawing skills, and of course, a great tool to help students be successful.
Chromebook Idea Spark #2: Building Vocabulary with Haiku Deck
Created by Lynn Gershman
Overview: "Students don't always have to use the same old graphic organizers for vocabulary. Try using Haiku Deck instead to build vocabulary. The Frayer Model asks students to take a vocabulary word, define it, provide examples, use in a sentence, and provide synonyms and antonyms. Usually, this is found in a graphic organizer and posted to a word wall. Haiku Deck takes the understanding of the word to a different level. While the vocabulary task is the same, the student has the additional task of finding or creating images to support the rest of the Frayer Model. The end result is a beautiful slide presentation of the elements of the Frayer Model for each vocabulary word. Students can share these slides to create a digital word wall."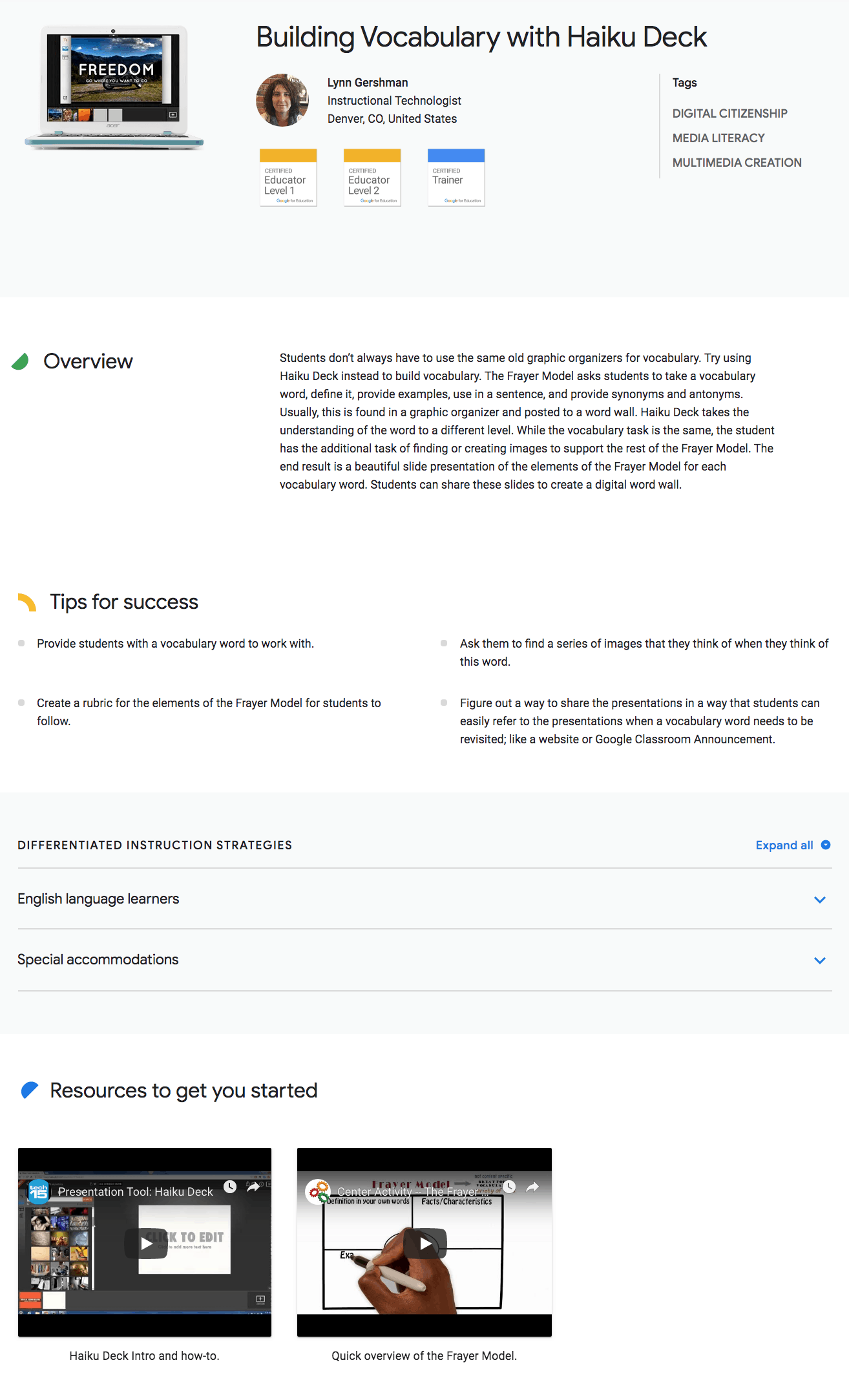 Haiku Deck is a presentation application that includes high-resolution stock photography to help you create visually appealing presentations.  It also limits the amount of text you can add to a slide–thus encouraging more engaging presentations that are not overrun with too much text.
In this Idea Spark, you are using Haiku Deck in combination with the Frayer Model graphic organizer to reinforce vocabulary skills.
So students will use the images in Haiku Deck to draw connections and deepen their understanding of their vocabulary words.
Chromebook Idea Spark #3: Building Proportion Dolls Using G Suite, Khan Academy and Screencastify
Created by Patricia Garcia
Overview: "Teachers can struggle with teaching ratio and proportion concepts to students. Encourage students create a doll of themselves by using ratios, proportions and technology. Students will work in groups of two. Teachers can flip their classroom by using Google Forms to learn about ratios and proportions using Khan Academy videos and exercises. The Forms can be assigned to be completed at home so that time in class can be used for the project. Students take measurements of different parts of their partner's body and complete two Google Docs. When finished, students create a video using Screencastify and Google Slides to explain their reasoning, present their model, and reflect about the project."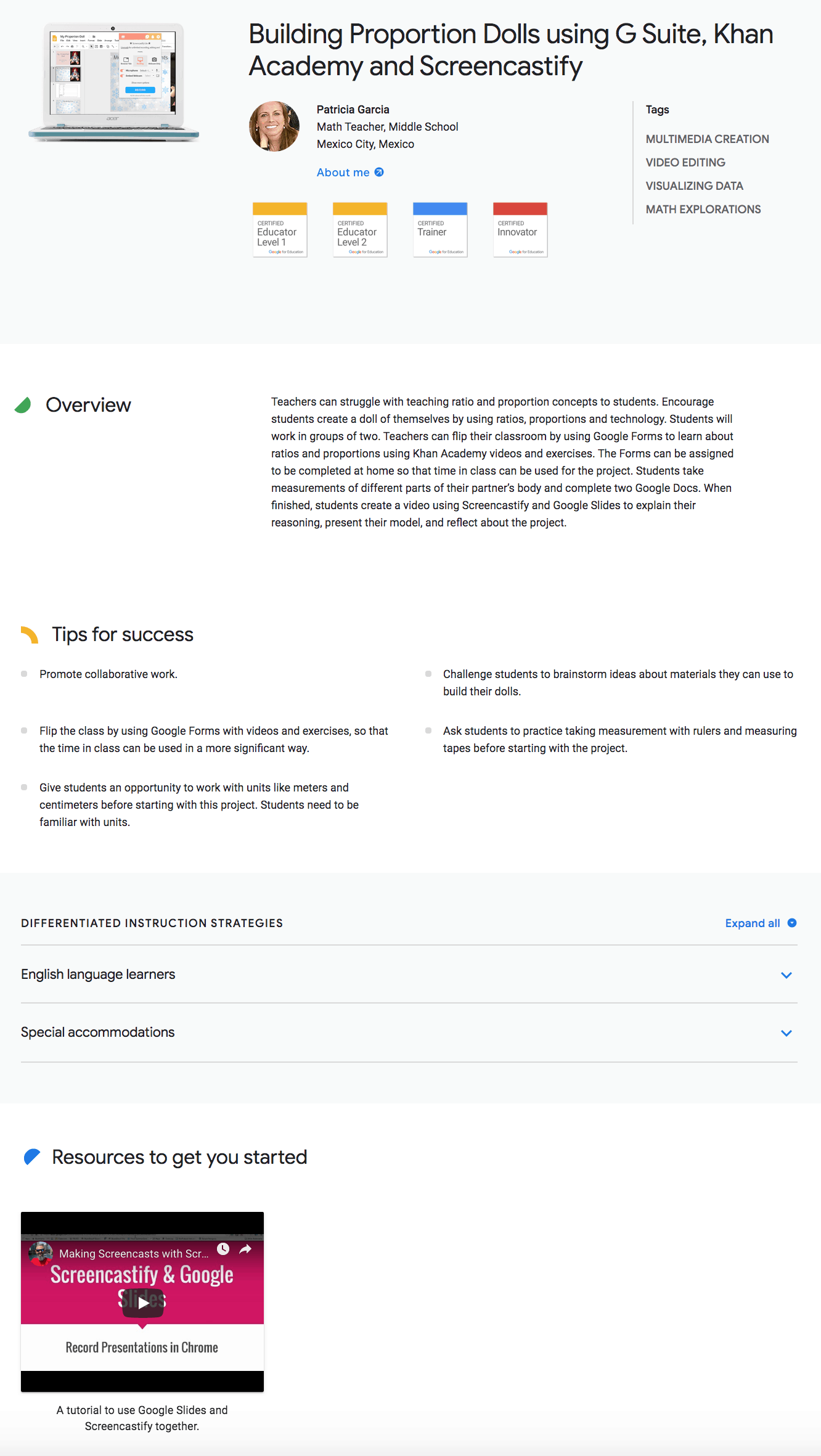 I found this Idea Spark particularly interesting for a few reasons. First, I was specifically searching for a math-related spark since so many math teachers struggle with integrating technology.
I like the fact that this is taking real-world measurements and creating something equally proportionate while using Chromebooks to create.
I do worry about the implications of body measurements and all of the body-conscious issues we have in this country. However, I think we could easily translate this into measuring something else that teaches the same skills.
I really love that this is an idea about teaching something specific, and it involves several applications–app smashing!
I would love to know if you try something similar in your classroom! (Leave a comment below.)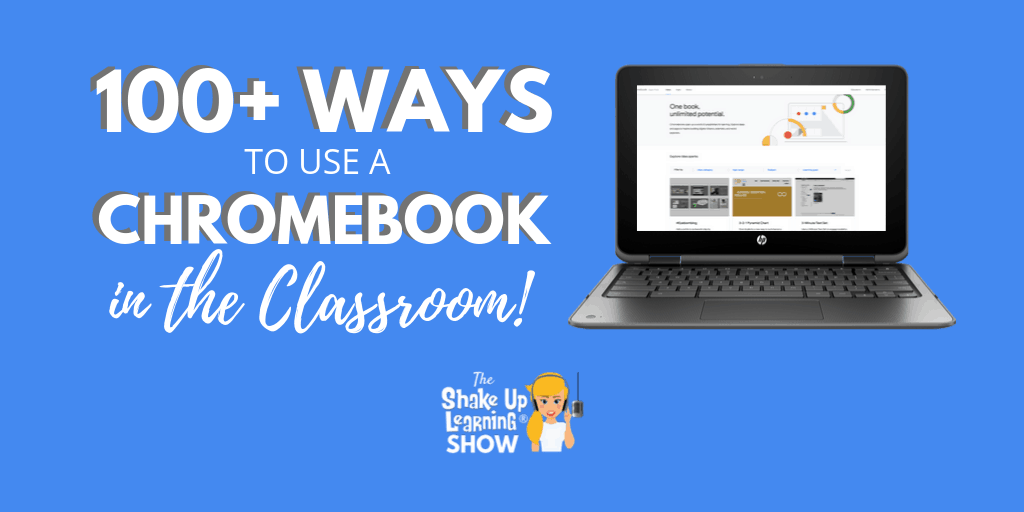 The Chrome/Chromebook App Database
The Chromebook App Database is an entire database of Chromebook compatible applications that you and your students can use in your classroom.
You can filter the apps by category, age range, subject, or language.
I found many familiar apps, as well as some new ones to explore.
This database is so powerful because it includes detailed information about each application.
When you click on an app in the database, you will be taken to an information page that includes an overview, resource videos and tutorials, related articles, free or paid, device requirements, as well as integrations, like Google Classroom.
You will also find information about the app's data policy, privacy policy, accessibility, and terms and conditions.
Knowing what these apps are doing with the data they collect is critical, as well as making sure the application meets your school's policies.
And since this information can be so challenging to keep up with, it's great to have this in one location!
"ASSISTments allows teachers to assign what they want, when they want, free of charge. The platform gives teachers and administrators the flexibility to mix and match content from a growing number of open educational resources (OER), to digitize existing content, or to build their own. Students complete homework or classwork assignments through the ASSISTments platform. They receive instant feedback and a chance to revise their work for ongoing learning. Teachers also receive feedback via reports on student and class performance, allowing them to analyze classroom trends and inform future teaching. Teachers, administrators and students love ASSISTments because it is flexible to their needs, helps make valuable class time more effective, and is compatible with Google Classroom and other OER such as EngageNY, Illustrative Mathematics and Utah Math."
Here's how it works:
Create assignments
Assist students through immediate feedback
Assess class performance
Analyze answers together
I am anxious to try this application! ASSISTments will give students and teachers actionable data and save valuable time.
"Khan Academy Kids includes thousands of interactive learning activities, books, songs, and games for kids ages 2-6. Children can learn reading, language, writing, math, social-emotional development, problem-solving skills, and motor development. Open-ended activities and games like drawing, storytelling, and coloring encourage creativity and self-expression. Adorable animal characters will guide children through lessons, and the adaptive learning path will customize their experience to help them master skills. The Khan Academy Kids curriculum was developed in collaboration with learning experts at the Stanford Graduate School of Education, and is aligned with Common Core standards and the Head Start Early Learning Outcomes Framework. Educators often use Khan Academy Kids as part of daily station rotation, to supplement what students are learning in class or to allow them to learn new topics independently. Khan Academy Kids is 100% free, with no ads, subscriptions, or in-app purchases."
Khan Academy Kids is definitely worth a look for early childhood and primary educators as well as parents.
Learn more about Khan Academy Kids
"Slido is an audience interaction platform that allows educators to crowdsource students' top questions to drive meaningful conversations, engage the whole class with live polls and capture valuable data. Use our free add-on for Google Slides to create and display live polls and Q&A right within your presentation, while your students can vote on their laptops or smartphones using just a single event code – no need to download or install any app. Check students' understanding throughout the class with live polls and create a safe space that empowers your students to share what they really think. You can let the students submit questions, with their name or anonymously, and upvote their favorite ones. This is a great way to empower especially the quieter students to speak up."
I like the possibilities Slido gives teachers and presenters. You may see this one pop up in my next presentation!
Learn more about Slido for Google Slides
Educator Resources
If you click on the "Educators" tab in the Chromebook App Hub you will find several tips and resources to help you learn more about online safety.
Included in these resources are the Connect Safely Guide to Student Data Privacy, tips for success, and additional resources like the Be Internet Awesome program (Google's Digital Citizenship game and curriculum), as well as parent guides and other online safety resources.
Podcast Question of the Week
What's one new idea from the Chromebook App Hub that you are going to try with your students this year?
Post your answer to your favorite social media platform using the hashtag #ShakeUpLearning, or share it in the Shake Up Learning Community on Facebook!
---
Google Certification Courses Open Nov. 19th!
Online Google Boot Camps–BUT BETTER!
All 3 Courses Will Open on November 19!
Mark your calendars! These courses (Level 1, Level 2, and Trainer) will open for limited enrollment on Nov. 19, 2019, and will close on Dec. 3, 2019. (It will not open again until May!)
Work on certification during your summer break!
---
What's Included in the Google Certification Courses?
Everything you need to know to pass the exam and become a Google Certified Educator Level 1!
50 Video Lessons (hands-on learning with Kasey Bell)
20+ PDF Downloadable Study Material
Lesson Checks
Private Community & Study Group
Testing Tips
Level 1 Challenges (testing scenarios)
BONUS: Includes the ENTIRE Google Classroom Master Class!
and much more!
---
Everything you need to know to pass the exam and become a Google Certified Educator Level 2!
40+ Video Lessons (hands-on learning with Kasey Bell)
20+ PDF Downloadable Study Material
Lesson Checks
Private Community & Study Group
Testing Tips
Level 2 Challenges (testing scenarios)
and much more!
---
Completely updated and redesigned for 2019!
All You Need to Know to Prepare for the Trainer Skills Assessment and Application!
Becoming a Google Certified Trainer was one of the best decisions I ever made, and it transformed my learning and my career! This self-paced, online course includes EVERYTHING you need to know to pass the Trainer Skills Assessment AND complete the application requirements, including:
18 Video Lessons
Private Community and Study Group
The Ultimate Google Certified Trainer Planner and Checklist
Exam Tips
Application and Video Tips
PD Credit Certificate (12 hours)
BONUS 1: How to Design Google PD That Works
BONUS 2: How to Market Yourself as a Trainer
---
Pricing & Bundles
Below are the prices for individual licenses for each course. (Payment plans available.)
---
Campus and District licenses available! (Click here to inquire.)
Request to pay with a purchase order.
---
BUT WAIT…THERE'S MORE!
Opening all of these courses at once also gives you another advantage–bundling! If you want to purchase multiple courses at once, you can save BIG TIME!
I'm also introducing some new bulk licensing options, so you can find more affordable ways to meet the needs of your campus or district.
NOTE: To purchase a bundle, you must purchase from the bundle page.
Here's how it works (click on the links to purchase a bundle):
---
Request to pay with a purchase order
---
---
© Shake Up Learning 2023. Unauthorized use and/or duplication of this material without express and written permission from this blog's author and/or owner is strictly prohibited. Excerpts and links may be used, provided that full and clear credit is given to Kasey Bell and Shake Up Learning with appropriate and specific direction to the original content on ShakeUpLearning.com. See: Copyright Policy.