Guess what?
Season 3 of The Google Teacher Tribe Podcast returns next week! Look for the first episode on Monday, September 17, 2018.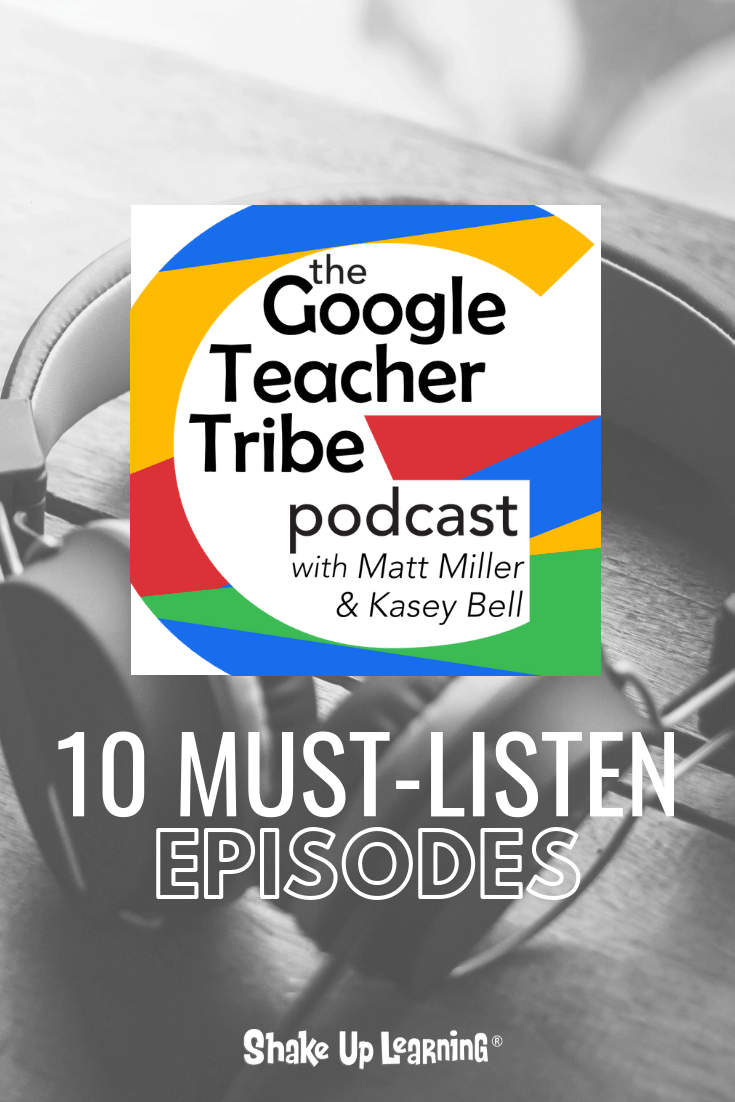 The Google Teacher Tribe Podcast is a weekly podcast hosted by me, Kasey Bell, and my buddy Matt Miller from DitchThatTextbook.com.
In each episode, we share what's going on with Google–The Google News and Updates section, which is a favorite of many because Google changes things all the time.
We also share our favorite tips and tricks for all of the G Suite for Education products, lesson ideas, templates, blog posts, and new innovations.
And last, but not least, we also interview some of the most inspiring and Googley educational leaders that we can find.
[Tweet "10 Must-Listen Episodes of The Google Teacher Tribe Podcast #gttribe #edtech #gsuiteedu"]
Subscribe to The Google Teacher Tribe Podcast
If you want to catch up on the last two seasons, check us out on your favorite podcast application.
Listen on Apple Podcasts
Subscribe on Android
Subscribe on Stitcher
Subscribe on Spotify
Subscribe on iHeart
Subscribe via RSS
Join Our Email List
And if you want each episode delivered to your inbox with the show notes that include all of the links and resources mentioned in each episode, be sure you subscribe to our email list.
10 Must-Listen Episodes of The Google Teacher Tribe Podcast
As we gear up for a new season, I thought it would a great time to look back on our 57 episodes and share some of our favorites.
These are some of my personal favorites, and some fan favorites, as well as, just memorable and fun!
Below are 10 Must-Listen Episodes of The Google Teacher Tribe Podcast.
This one is a particular fan favorite because it is when I gave Matt Miller a new nickname, #JimmyMatt! But if that doesn't pique your curiosity, the content of this episode should. Matt and I take a Googley twist on Dave Burgess's Teach Like a Pirate and give you ways to engage students using G Suite tools.
This episode is one of the most popular on iTunes. Whenever we dig into the power of Add-Ons, it is sure to help teachers take their skills to the next level.
As you may already know, I frequently refer to Google Slides as the Swiss Army Knife of G Suite, and in this episode, you can learn all of our favorite ways for using Slides in alternative ways.

This is one of my absolute favorite episodes because Joe is an absolute genius and drops some amazing knowledge bombs in this episode. Don't be fooled when you see he shared a science lesson. Every teacher can learn something valuable from Joe.
In this episode, Matt and I go a little Macgyver and share our favorite Google hacks for the classroom. Don't miss these awesome tips!
I talk a lot about the power of Dynamic Learning. In this episode, Matt and I share our favorite ways to use G Suite to support Dynamic Learning experiences for your students.
This is another favorite of mine because we talk to the Amazing Carrie Baughcum from HeckAwesome.com. Carries is a special education teacher who never fails to amaze me. You won't believe how super cool her gamified classroom is! Every teacher can pick up some super cool ideas in the episode.

If you haven't jumped on the Google Keep bandwagon, now is the time! This little note-taking and to-do list manager packs a powerful punch. Learn all our favorite tips and tricks in this episode.

You don't know what you don't know! And with Google, there's a lot of know, including the lesser-known tools and programs. Find a gem in this episode for your classroom.
This is a favorite episode because it is a program that I have personally watch grow at a local high school near where I live. The Chrome Squad of Royse City High School, a group of amazing students, that support teachers and students and their 1-1 Chromebook program.

---
Did your favorite episode make the list? If not, let me know in the comments below!
---
© Shake Up Learning 2023. Unauthorized use and/or duplication of this material without express and written permission from this blog's author and/or owner is strictly prohibited. Excerpts and links may be used, provided that full and clear credit is given to Kasey Bell and Shake Up Learning with appropriate and specific direction to the original content on ShakeUpLearning.com. See: Copyright Policy.
Google Keep CHEAT SHEET
YES! I want the FREE PDF copy of, "Google Keep CHEAT SHEET" Get this 9-page, printable pdf to save and read throughout the year.