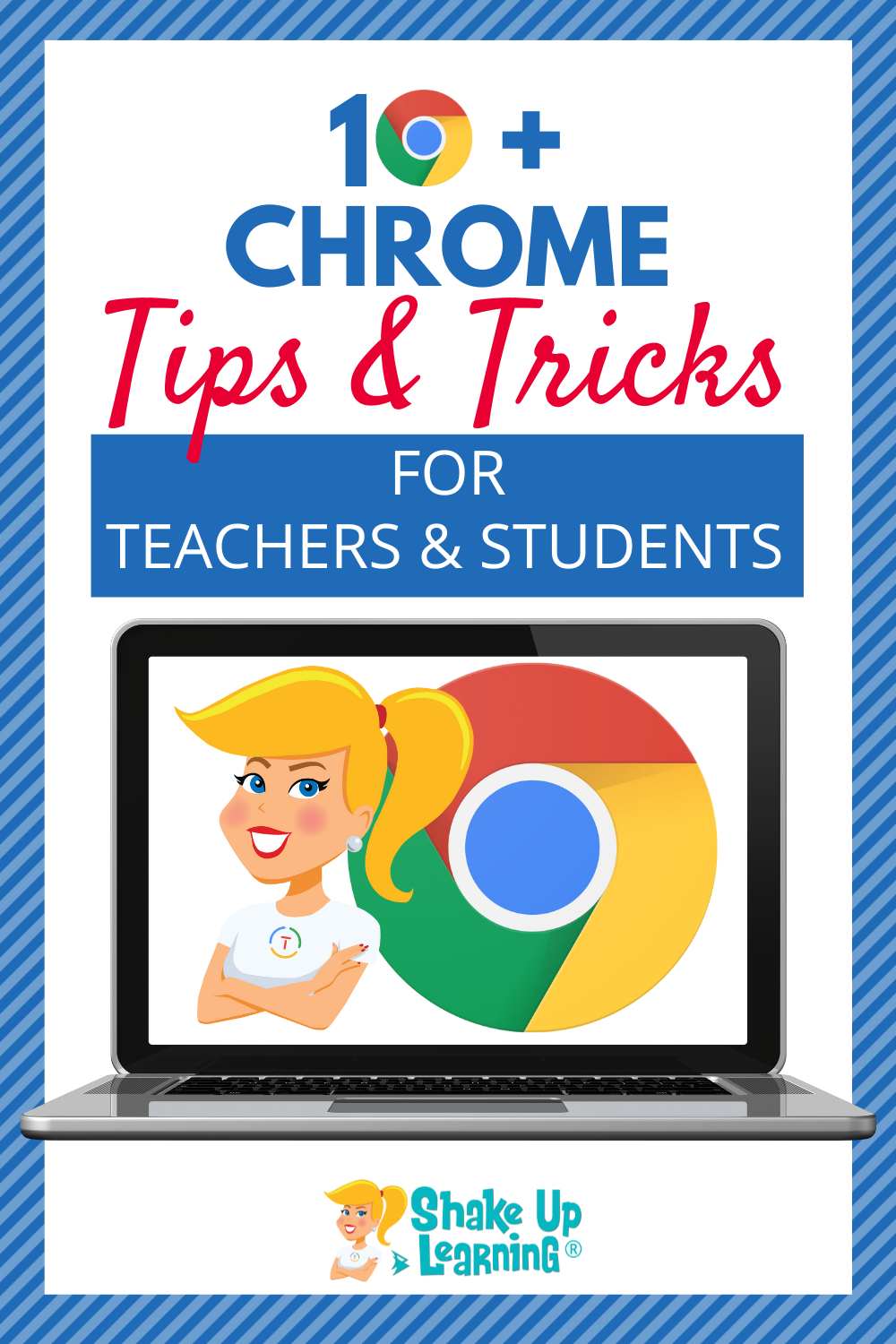 There's no place like Chrome for teachers and students!
In this episode, we are jumping into some Google Chrome updates, features, and tips for teachers and students.
Let's learn how to make the most of the Chrome browser, save time and clicks, and get organized. 
If you are using Google, you should be using Google Chrome.
Google works best with Google, y'all!
Listen to this article.
This episode is sponsored by Schoolytics.
This episode of the Shake Up Learning Show is brought to you by Schoolytics. Thousands of teachers use Schoolytics every day to help them take data-driven instruction to the next level and reclaim their time for what matters most: helping students reach their full potential. Google Classroom users can start tracking student progress and spotting performance trends in minutes – for free! Join today at Schoolytics.com.
10+ Chrome Tips and Tricks for Teachers and Students
You are going to love using these Chrome tips to save you time and stay organized in the classroom!
1. Switch Between Google Accounts Using Chrome Profiles
If you have more than one Google account, you should be using Chrome profiles to seamlessly toggle between your accounts. Watch the video below to learn how to "clean up" the wrong way, and set up your new profiles.
2. Search Open Tabs
Do you have a lot of tabs open in Chrome? I do! I am a self-proclaimed tab hoarder and I often forget what I have opened. You can easily search all your open tabs to jump to it!
Related: 5 Awesome Chrome Extensions that Make Google Classroom Even More Awesome!
3. Name and Color Code Tab Groups
Another great way to manage your tabs in Google Chrome is to name groups of tabs and color-code them. It's easy to group tabs together for certain tasks like lesson planning, research, personal, etc.
4. Share a Link to Highlighted Text on a Webpage
Have you ever wanted to share one specific part of an article on a webpage? But the page is so long that sometimes students (and adults) cannot find that special part. Share a link that highlights and sends them directly to that section.
5. Create a Custom QR Code
QR codes are a great way to share links with mobile devices. Chrome has a super easy shortcut that will let you create and save a QR code in seconds.
Related: Chrome Squad: Student Tech Teams to Support 1-1 Schools
6. Google Search Easter Eggs
Google Search is more than just a list of relevant websites. You can use Google Search to access interactive tools for your classroom. (We call these hidden gems Easter Eggs!)
7. Closed Captions for Videos in Chrome
Closed captions are great for helping students understand the information in videos. CC is available in Google Meet, YouTube, and more, but did you know that Chrome will generate captions for other videos on the web? Check out this video to learn how.
8. Mute a Tab
Ever been annoyed by the noise on a website? Or automatically playing background music? Maybe you just need to stream something, but not listen to the sound. You can easily keep playing but mute the tab.
Related: How to Add a Folder to the Chrome Bookmarks Bar
9. Continue Where You Left Off
As someone who uses tabs to help me remember where I left off from one day to the next, I love this feature. Set Google Chrome to reopen the tabs you had open when you closed it so you can pick up where you left off.
10. Pinned Tabs
I have some tabs that are more important than others, and some that I ALWAYS leave open–like Gmail and Google Drive. I keep these "pinned" which means that are always open and always at the front of my tabs.
Related: 13 Tools to Record Audio on Chromebooks and Other Devices
Did you like these tips? What would you add to this list. Please leave a comment below to let us know!
© Shake Up Learning 2023. Unauthorized use and/or duplication of this material without express and written permission from this blog's author and/or owner is strictly prohibited. Excerpts and links may be used, provided that full and clear credit is given to Kasey Bell and Shake Up Learning with appropriate and specific direction to the original content on ShakeUpLearning.com. See: Copyright Policy.