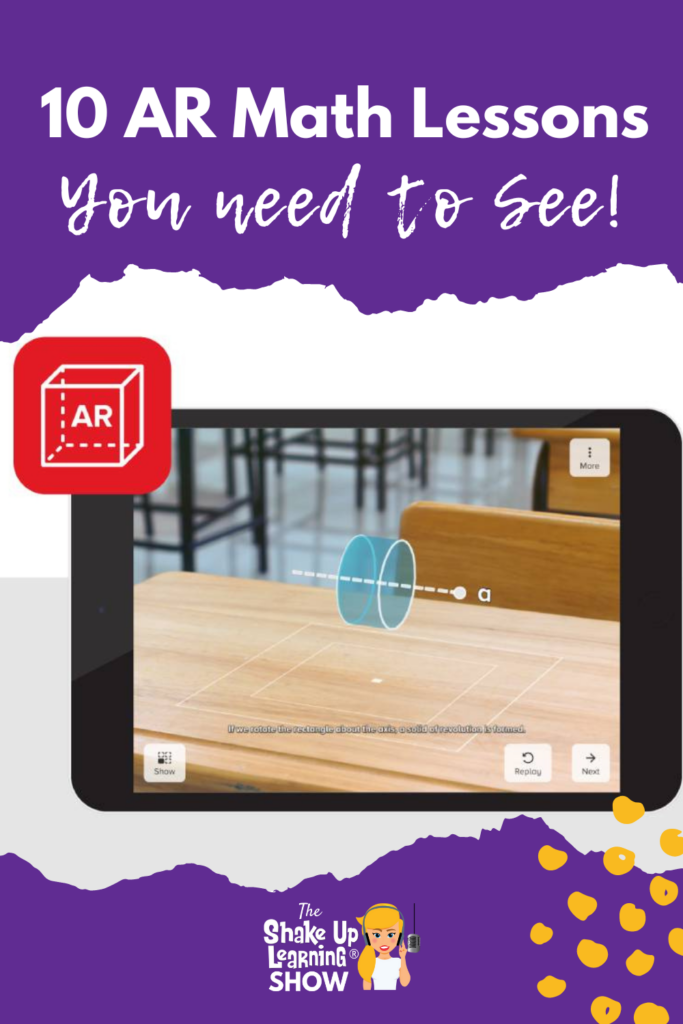 In this episode, I'm chatting with AR expert Jaime Donally about the awesome (and FREE) AR Math lessons from Verizon Innovative Learning HQ.
In honor of Mathematics and Statistics Awareness Month, this week's post is focused on math.
Jaime shares her favorite lessons, how to use them, what you need to get started, and the McGraw Hill AR app!
Math teachers (6th grade and up), you will love this episode!
Listen to article.
To inspire tomorrow's brightest minds, educators need today's best tools. Introducing Verizon Innovative Learning HQ, an easy-to-use, free online portal that empowers educators to bring new ways of learning into the classroom. The site offers tools for all educators regardless of the technology available to them, including hundreds of free standards-based lessons, immersive educational experiences, and professional development tools to help them learn new skills and feel more confident with technology integration. It's all part of Verizon's commitment to helping close the digital divide. Start your journey at verizon.com/shakeup.
10 AR Math Lessons You Need to See
Jaime Donally is back for a third time on the Shake Up Learning Show! This time we are talking specifically about augmented reality apps for math (6th-12th grade). Math teachers are always asking for specific resources, and sometimes it can feel difficult to find the right technology. At times, the tech seems more cumbersome than just working problems on paper. Well, this article and interview is well worth your time!
Today, we are exploring the award-winning McGraw Hill AR App and the FREE lesson plans that are exclusively available through the Verizon Innovative Learning HQ portal.
Related: Engaging Students with Immersive Learning Experiences
About Verizon Innovative Learning HQ
With nearly a decade of experience working to close the digital divide through Verizon's education initiatives, Verizon is scaling its resources and providing next-gen learning for all.
Verizon Innovative Learning HQ is a free online education portal built in partnership with trusted education partners, including McGraw Hill and Discovery Education, empowering educators to help bring new ways of learning and next-gen tech into the learning experience.
The online portal offers tools for all educators regardless of the technology available to them. The site includes:

Hundreds of free lessons for K-12 ranging from supplemental turnkey lessons to yearlong courses.
Immersive learning experiences with AR/VR that can be accessed with technology ranging from mobile devices to VR headsets.
Microcredential-aligned professional development to help educators learn new skills and feel more confident integrating technology into the learning experience. *Micro-credentials may qualify for CEU's (Continuing Education Units) in various districts/states.
The online portal is free, easy to use, and resources are simple to integrate.
Educators can begin their journey by visiting this link to learn more and register for free.


McGraw Hill AR App
McGraw Hill AR is an augmented reality app that includes free, standards-aligned, publisher-grade lessons that unlock a world of possibility–no prep or guesswork required. Currently, the app features Algebra readiness and 3D geometry content for grades 6 and up that can supplement any core curriculum by:
Connecting challenging, abstract mathematical concepts to recognizable, daily objects that students can manipulate and explore.
Stimulating engagement and improving retention through interaction, exploration, and multi-sensory experiences.
Working with existing technology in your classroom like smartphones and tablets.
Check out this demo video from Jaime below:
10 AR Math Apps (with FREE Lesson Plans)
These lessons are AWESOME, and they are exclusively available through the Verizon Innovative Learning HQ portal.
These lessons include step-by-step directions for teachers, tips, and extension activities. There are also downloadable student materials.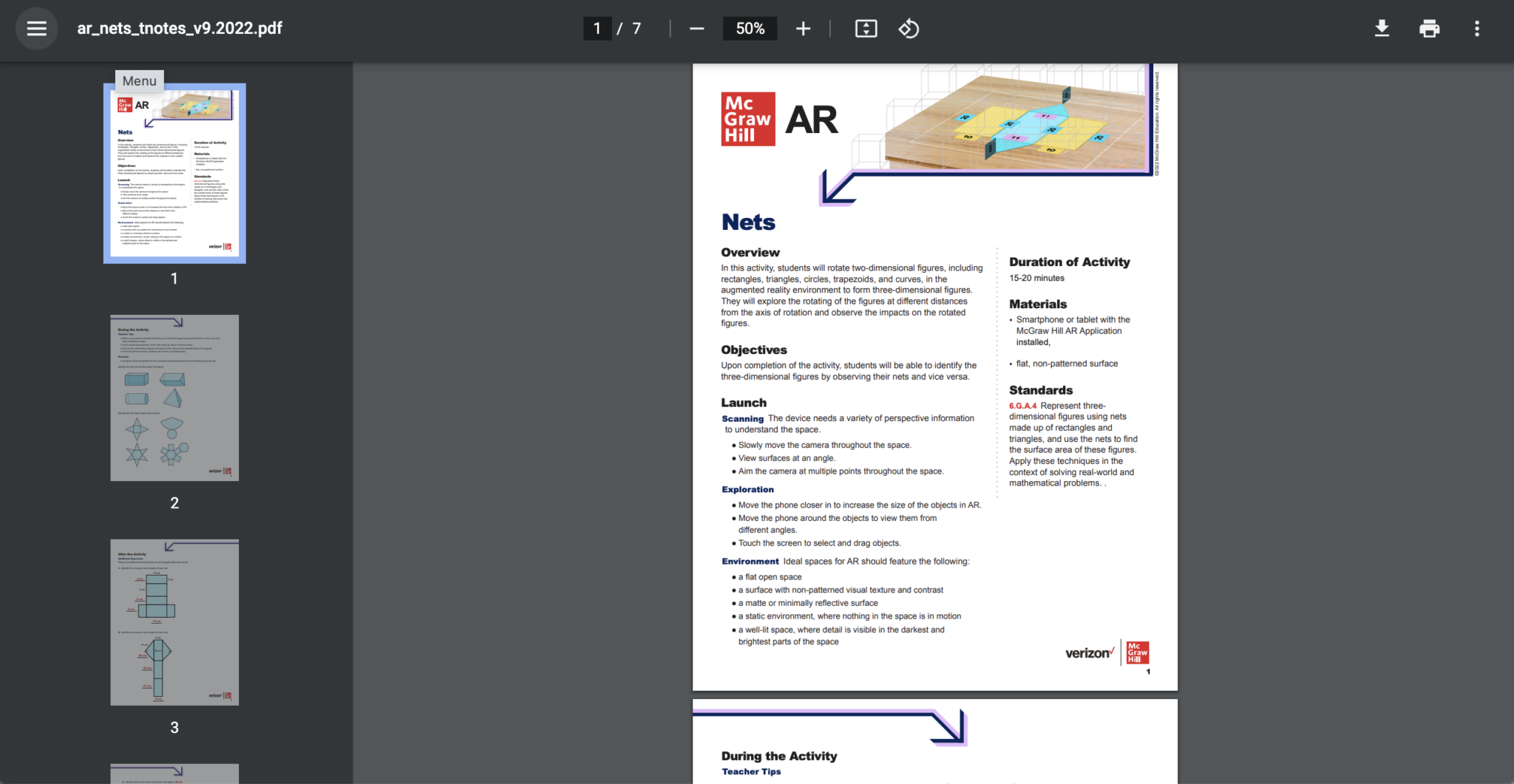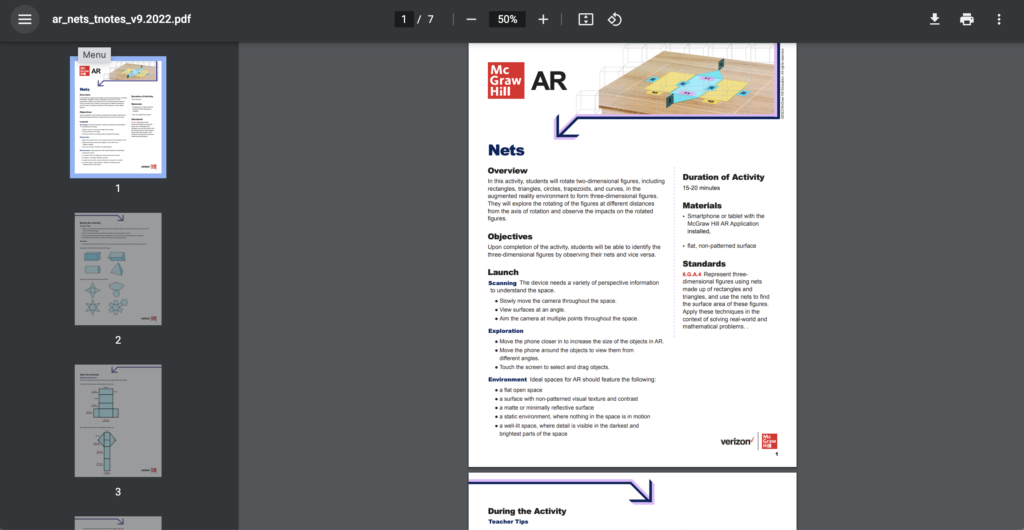 Below are links to the lessons in the portal. You will need to create a login to access them. It's all completely FREE!
Which app will you try?
About Jaime Donally
Twitter: @jaimedonally + @GlobalMaker
Websites: ARVRinEDU.com + GlobalMakerDay.com
Bio: Jaime Donally is a passionate technology enthusiast. She began her career as a math teacher and later moved into Instructional Technology. Her desire to build relationships has brought about opportunities to collaborate with students and educators around the world. She provides staff development and training on immersive technology as an edtech consultant.
​Her latest adventures include the launch of Global Maker Day and the #ARVRinEDU community, events, and presentations. She works as an author and speaker to provide the practical use of augmented and virtual reality in the classroom.
© Shake Up Learning 2023. Unauthorized use and/or duplication of this material without express and written permission from this blog's author and/or owner is strictly prohibited. Excerpts and links may be used, provided that full and clear credit is given to Kasey Bell and Shake Up Learning with appropriate and specific direction to the original content on ShakeUpLearning.com. See: Copyright Policy.